This 'human zoo' eco-resort will cage guests while the animals roam free
Nature comes first at architect Bill Bensley's Worldwild China, which, when it opens in 2022, will feature seven luxury hotels set amid a wildlife sanctuary.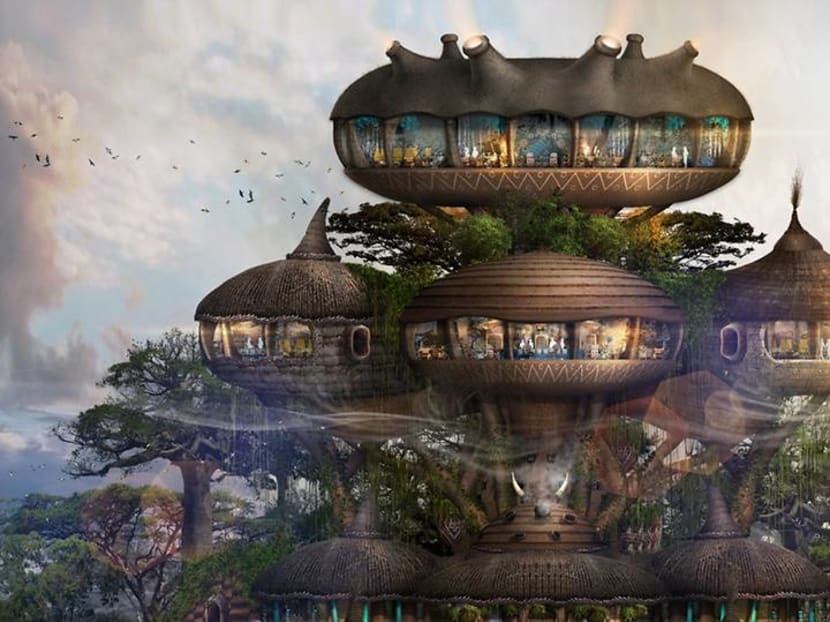 When Bill Bensley was approached by a client to design a zoo with 2,000 hotel rooms on a large piece of land in Wuchuan, Guangdong, the architect, known for his radical designs, decided to flip the concept on its head. Why not cage the humans, and let the animals run free instead?
The "cage" in question isn't an actual structure, but a reference to the guest rooms. From their windows, balconies and terraces, visitors will be given an uninterrupted view of the wildlife sanctuary, where rescued endangered animals roam free.

The resort, named Worldwild China, is scheduled to open in 2022. "It is my dream that the mistreated animals of overpopulated zoos in China could run free there. We are reassigning non-predator animals from Chinese roadside zoos to create an ecosystem where they can all thrive," said Bensley. 
"I am planning a wildlife reserve without cages or predators, as that simplifies the equations significantly. Instead of fences we will use natural barriers... such as rivers, mountains, forests or [ditches]."
"I am planning a wildlife reserve without cages or predators, as that simplifies the equations significantly." – Bill Bensley

The seven luxury hotels will be spread across three zones representing the continents of Asia, Africa and Australia. Asia's hotels will be called Dzong (734 rooms) and Dragon's Nest (97 rooms), which will be operated by Hyatt. Africa's hotels will be called The Colony Lodge Hilton (850 rooms) and Stone Town Conrad (109 rooms).
Australia will have three hotels: The Waldorf Astoria Worldwild (220 rooms) and the Fish River Settlement by Waldorf Astoria (46 rooms). Australia's tented camp, Kamp Koala (28 rooms) will be a Shinta Mani Bensley Collection Hotel. In total, there will be 2,084 hotel rooms at the resort.
Each hotel will have a luxury spa and with a focus on sustainability. Only local techniques and ingredients will be used, infused with the character of each hotel depending on the zone it is located in.
No two hotels will be alike in terms or architecture or experience, with each telling a different story. The Asian hotels are inspired by Bhutan, Ladakh, Nepal and Tibet, which will show in their architecture.
In Africa, the two hotels are inspired by termite colonies and the cliffside homes of the Dogon and Telem people. The Australian hotels are inspired by the Gold Rush era and the many types of people who flocked to the area in search of gold, like ex-convicts, settlers and naturalists.
Worldwild will also have four trains which will "visit" all three continents in the reserve. The three luxurious sleeper trains are named Tasmanian Tiger for Australia, Oriental Expresso for Asia and the African Queen for Africa. Each train will have five cabin wagons with suites that accommodate up to 40 guests; a restaurant wagon; and an observation wagon.
The fourth train, named Iron Horse, will conduct day tours in all three regions, winding around the park and taking visitors to eight different stops. At each stop, visitors will experience a staged performance with educational aspects on wildlife, environmental protection and sustainability. 
All in, 95 per cent of the resort's 2,000 acres of land will be dedicated to the animals, while only 5 per cent will be dedicated to guests. "I want to set an example that gives animals the respect they deserve," Bensley said.
"I want to set an example that gives animals the respect they deserve." – Bill Bensley