What is bread sushi? Masterchef Singapore judge Bjorn Shen explains
At chef Bjorn Shen's tiny restaurant Small's, guests can book a "doughmakase" experience where raw, cooked or cured seafood are served on bread instead of sushi rice.
In February 2020, Artichoke's chef Bjorn Shen, who is also a Masterchef Singapore judge, opened up what is arguably Singapore's smallest restaurant, a tiny 2m by 2m space he called Small's.
Small's started off as a private dining space, which only accommodated four people at a time. It is also Shen's R&D kitchen, which the innovative chef describes as his "room of bad ideas". It began its journey by serving pizza omakase, inspired by the pizza he used to enjoy growing up in the 80s and 90s.
Small's took off and Shen soon realised that he wanted it to be more than just a pizza omakase joint, but a space of creativity where he would eventually "move on from pizza and start omakase-ing other things that had never been omakase-d before", he said in a press release.
And so, starting Jan 18, guests can book a "doughmakase" experience at Small's, where Shen will serve what he calls "bread sushi". Essentially, raw, cooked or cured seafood will be served on bread instead of sushi rice.
The bread that sit underneath pieces of fish will be made from high hydration, long-aged dough and will be given textures and tastes with different cooking methods such as high temperature baking, low temperature baking, binchotan grilling, deep frying and steaming. Each type of fish or seafood showcased will be paired with a style of bread that best complements it.
Expect more than fish on bread, however. The tasting menu, which will change daily depending on ingredient availability, will feature three snacks, eight to 10 bread sushi, one hotpot and two sweets. One of the dishes that will feature on the opening menu will be lightly seared engawa (flounder fin) with a stir-fried green papaya salad, sitting atop a fresh charcoal-grilled bread, topped with frozen ankimo (monkfish liver) shaving.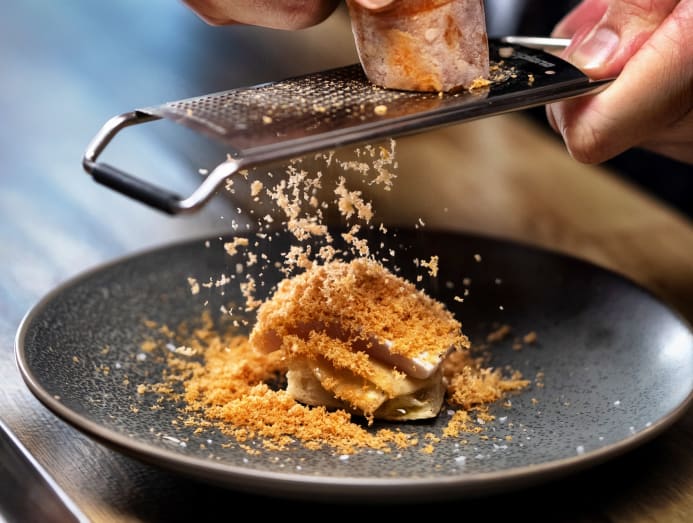 As Shen concludes in his note to the media, "what a time to be alive".
Intrigued? Small's will open for reservation from the week of Jan 18 for groups of two to five. Reservations can be made here.