Miss having a cup of bubble tea? Try these boba cakes and desserts instead
It may be a while before bubble tea shops are back in business, but these boba-inspired sweet treats can satisfy your cravings in the meantime.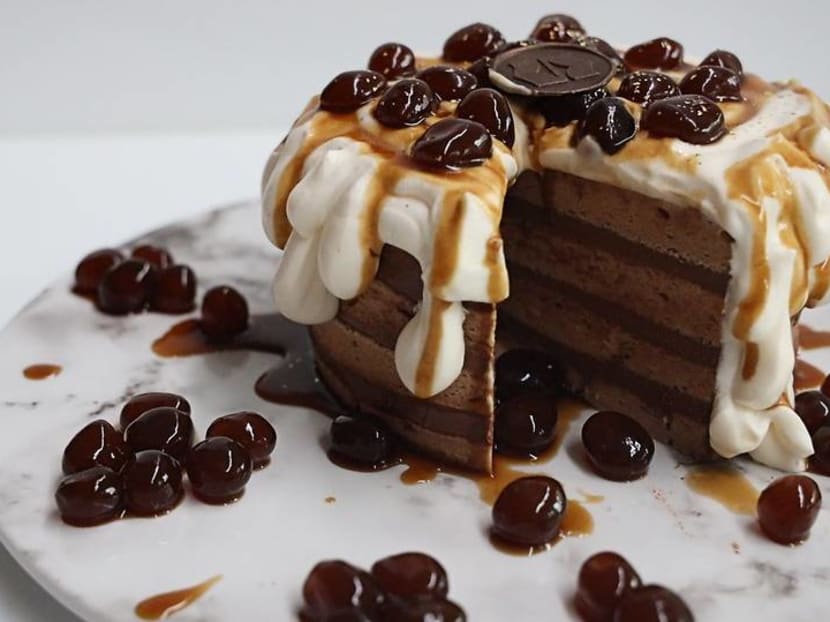 Sad news for purveyors of bubble tea – when Singapore exits circuit breaker on June 2, standalone beverage stalls are still not allowed to reopen, meaning you'll have to wait a little longer to get your hands on your favourite cup of boba. 
The good news – dessert shops have since reopened for takeaway and deliveries, and some of these places are selling bubble tea-inspired sweet treats. While you patiently wait for the likes of Gong Cha and Koi to fully resume operations, these bubble tea desserts could satisfy your cravings.
BUBBLE TEA LAVE CAKE
Located at the lobby of Shangri-La Hotel, Shophouse offers a selection of artisanal pastries and designer cakes. Shophouse's pastry chefs have now created their own rendition of the coveted bubble tea beverage in the form of a Bubble Tea Lava Cake. Layers of Earl Grey Japanese sponge cake sandwich 64 per cent Manjari chocolate-infused tea ganache to form the familiar flavours of milk tea. The cake is topped with mascarpone cheese chantilly cream, along with chewy gula melaka pearls.
To order, email shophouse.sls [at] shangri-la.com
EARL GREY BUBBLE TEA
Parisian patisserie and restaurant Antoinette's rendition of the boba beverage comes in the form of an Earl Grey Bubble Tea dessert. The ogura cake is designed to look like a cup of bubble tea, with a layer of earl grey chiffon cake at the bottom and salted cream cheese above it. The dessert is then topped with black sugar pearls and fresh mango cubes.  
To order, click here
BUBBLE TEA TARTS
Local bakery Edith Patisserie specialises in customised cakes, but its Bubble Tea Tarts are also a hit. The almond tart shells and handmade and baked till golden brown, then filled with tea-infused ganache and topped with pearls. The tarts are available in limited quantities and come in two flavours – original milk tea or matcha.
To order, click here