Remember the good ol' days of buffet spreads? They're back. Well, kind of
In the new normal, buffets are still around – except they're going a la carte.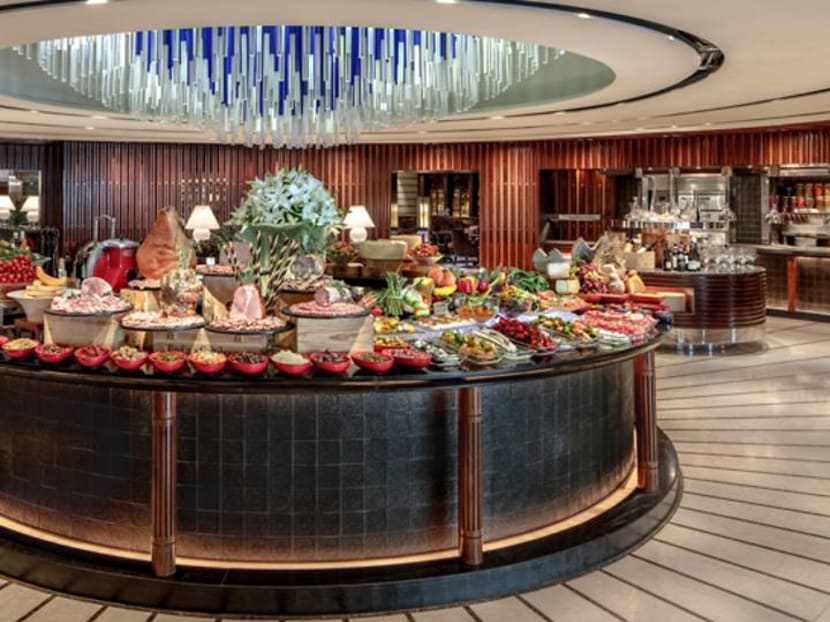 Once upon a time, Singapore made an art of buffet dining. Nowhere else in the world could be found in a single establishment the endless, fine-quality spread of foods like freshly shucked oysters, seafood on ice, cold cuts and quintessential Singaporean dishes like laksa served alongside everything from roasted meats, Indian breads and curries, a la minute waffles, crepes, ice cream, cakes, pastries, cookies… if you could eat it, they probably had it.
But, like travelling, the lavish buffets of the pre-pandemic past must be now be set aside for a new, more sensible brand of hedonism. With hygiene now of utmost concern in the new normal, restaurants once celebrated for their unending buffet spreads have had to tamp it down or in some cases, shut it down, at least for the time being.
BUFFET, BUT MAKE IT A LA CARTE
Take Regent Singapore's Basilico, famed for its bountiful Italian-style Sunday brunch buffets. Its dedicated cheese room, foie gras station and polished countertops that once heaved with the likes of cold cuts, roasts and pizzas, have now given way to modest semi-buffet-style meals. Appetisers like burrata, smoked salmon, poached lobster and Italian cheeses are prepared a la minute and served to the table, while main courses can be ordered off the a la carte menu. Like the appetisers, desserts come in unlimited servings on a platter at the table.
The hotel's popular Manhattan Bar, which used to host boozy Sunday brunch buffets, now sees trolleys holding accoutrements for the likes of Bloody Marys wheeled around from table to table. A menu of five cocktails is crafted behind the bar and hot food served upon order.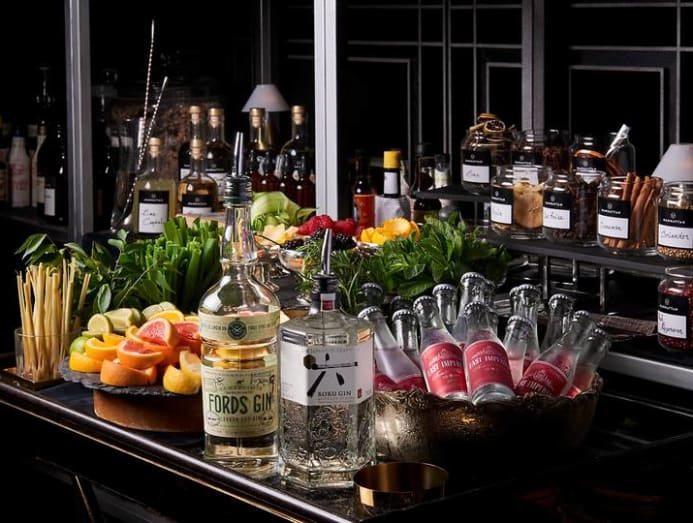 Over at Asian Market Cafe at Swissotel The Stamford, chefs continue cooking at live stations, but buffet items are presented to tables in silver dome sets, harking to the traditional Malaysian way of serving food on special occasions.
"It's not likely that we will see buffet dining returning to how it was before COVID-19," predicted Emmanuel Benardos, general manager of F&B at Fairmont Singapore and Swissotel The Stamford.
"Guests are understandably more particular about hygiene levels now and this will directly impact how they prefer food to be served to them at the table or from a protected buffet line."
The latter is already being practised at restaurants like One-Ninety at Four Seasons Hotel Singapore, where acrylic guards are placed around the buffet table.
Meanwhile, at Beach Road Kitchen at JW Marriott South Beach, "Chefs On Show" have taken over the traditional buffet format, with roving live stations and chefs passing around freshly prepared dishes from the extensive buffet menu.
WEEKEND WILES
The Fullerton Singapore's Town Restaurant, which used to host spectacular daily buffets highlighting local and heritage cuisine, now only opens on Sundays when it serves an a la carte brunch buffet. Popular favourites such as fresh seafood on ice, grilled Angus beef and roasted leg of lamb remain on the menu but are served upon order.   
Weekend champagne brunches recently returned to Italian restaurant Zafferano, which now serves a selection of 10 starters, four main courses and desserts upon order, accompanied by unlimited pours of champagne, wines and soft drinks from 12pm to 3pm on Saturdays and Sundays.
Other popular buffet restaurants such as Melt Cafe at Mandarin Oriental Singapore are closed until further notice, while The Edge at Pan Pacific Singapore will reopen on Aug 24 for a la carte buffet.
THE MERITS OF MODERATION
The upside to this new style of buffet dining is less waste as food is served to tables in judicious portions. Guests typically ask for additional servings only when they've finished their first. Sous chef of Basilico, Valerio Pierantonelli, said his restaurant has seen a reduction of between 20 to 30 percent of food waste since self-service was discontinued.
"In addition to generating less waste, there's also better quality control since food is prepared a la minute and served to the table, which offers an added element of service," added Angelo Ciccone, executive chef of Regent Singapore. "Stories of provenance can be shared and queries answered immediately, which enhances the interaction between guests and chefs."
While there is nothing quite like grazing the lengths of an extravagant buffet line, a la carte buffets where food is only handled by service staff will just have to do for now. As that old trope goes: Things could be a lot worse.