Tuna marrow, 'potatoes & plankton': Dining at Raffles Hotel just got funkier
Carnivores and those with a penchant for the unusual, rejoice: Butcher's Block at Raffles Hotel is a surf 'n' turf restaurant with a twist.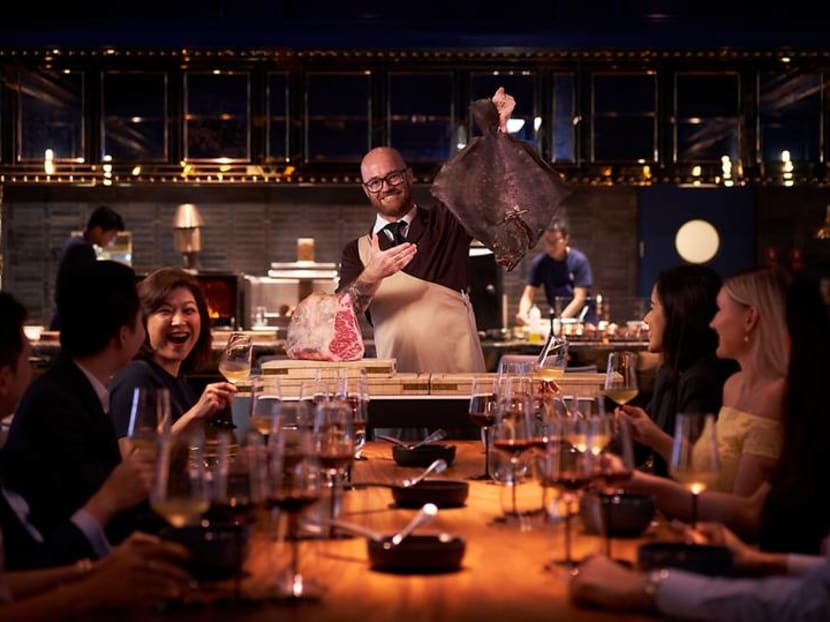 From the elegant Franco-Japanese stylings at La Dame de Pic to the satisfying pan-Chinese offerings at Yi by Jereme Leung, there is no shortage of dining options at Raffles Hotel.
Where does that leave Butcher's Block – the newest kid on the block, which opened in January – then? The answer was revealed at a recent tasting.
With a name like Butcher's Block, one might think that it's a classic steakhouse. That's only partly true: Fish and seafood are also served, making it more of a surf 'n' turf joint, albeit one with polish.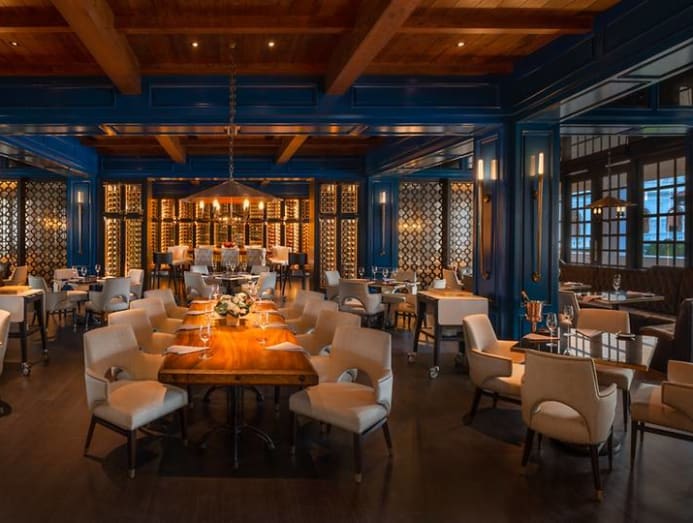 The restaurant interior sets the mood: Timber rafters, Prussian blue columns with French mouldings, leather banquettes. It's enough to transport one to a French provincial manor house.
Diners can choose from an a la carte menu, or, for a special experience, they can opt for the OAK (One of a Kind) Table. Meant for a party of eight, this experience (S$398++ per guest) features off-the-menu specials and unlimited pours of four wines handpicked by Raffles Hotel's head sommelier Eric Li, as well as the tableside theatrics of chef Remy Lefebvre.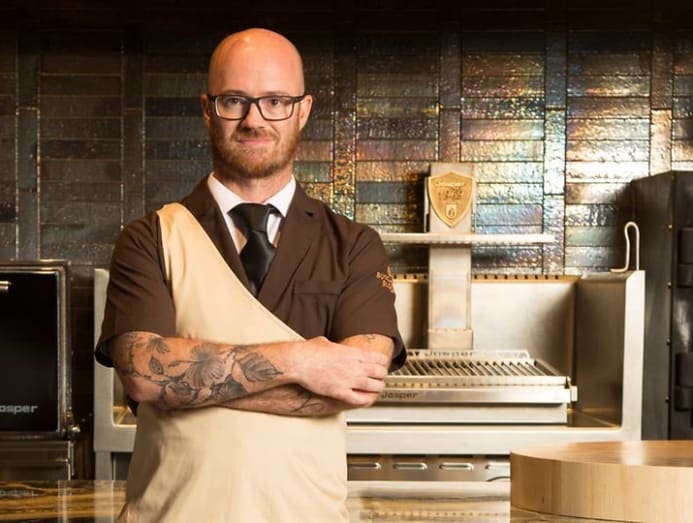 The restaurant sources its beef from Australia, Ireland and Japan, ordering full carcasses so that the entire animal can be used. In Australia, Lefebvre works with Rangers Valley, a highly rated producer that prides itself on its genetically superior stock, procuring full bone-in loin Wagyu crossbreed WX MBS7+.
From the Emerald Isles comes John Stone, a premium dry-aged Irish beef specialist that boasts pedigree cattle with traceable lineage. Here Lefebvre procures full loin bone-in cuts. In Japan, Lefebvre works exclusively with two small family farms, one in Saga (by Murata San) and one in Kagoshima (by Kusunoki San), which he believes produces "exceptional beef at the utmost quality".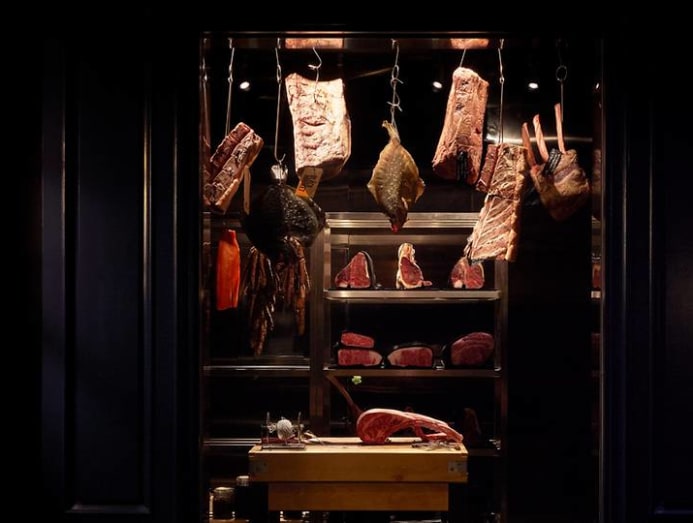 Our five-course menu opened with a plump, hand-dived Norwegian scallop in a pepper sauce, alongside a roasted artichoke drizzled in a black vinegar dressing. We were floored by the soft, powdery texture of the artichoke, but found the scallop a tad too briny for our liking.
Next was a duo of wagyu A5 and bluefin tuna, served in a red wine reduction infused with tuna blood. We were somewhat put off by the use of blood, and had to overcome the psychological barrier before tucking in.
As an accompaniment, this dish was paired with tuna marrow served in tuna vertebra. The marrow had an intriguing jelly-like consistency, very unlike the custardy texture of beef marrow. We might have warmed to this side dish were it not served in the vertebra – its resemblance to human vertebra was another psychological barrier to overcome.
Regrettably, the aged wild turbot – grilled and dressed with sauce vierge, a French sauce composed of olive oil, lemon juice, chopped tomatoes, basil and red onion – was rather forgettable. Its flesh was firm but not particularly flavourful, though some might call it delicate. This was served alongside "Mitraille" potatoes and plankton, the latter imparting not as briny or exotic a quality as expected.
The meal's saving grace came in the form of the Porterhouse steaks. We were given two versions, grain-fed and grass-fed, that were cooked to perfection. The former was delightfully buttery while the latter, nuanced with a complex flavour profile.
The four wines offered as part of the OAK Table experience are not meant as pairings. Instead, the idea is to let guests discover new sensations. The Library, an exposed wine cellar, houses more than 200 different wine labels, including a wide selection of natural wines.
Not exactly fans of natural wines, we remained unconvinced by the New Zealand sauvignon blanc (Hermit Ram, 2018). Meanwhile the 2016 Chateau Martet, a merlot, was as expected. A pleasant surprise was to be found in a nero d'avola from Sicily (Azienda Agricola Cos, 2015), a blend local to the island. We were most won over by the champagne: A non-vintage, premier cru blanc de blancs from boutique producer Larmandier-Bernier.
The restaurant is open for dinner service (6pm to 10pm daily), but OAK Table is only available on Friday and Saturday evenings (reservations essential).