Why Singapore's top chefs take their choice of the humble butter very seriously
Some get it from the other side of the world, others make it from scratch – but they all have in common a passion for butter at their restaurants that are by themselves worth celebrating.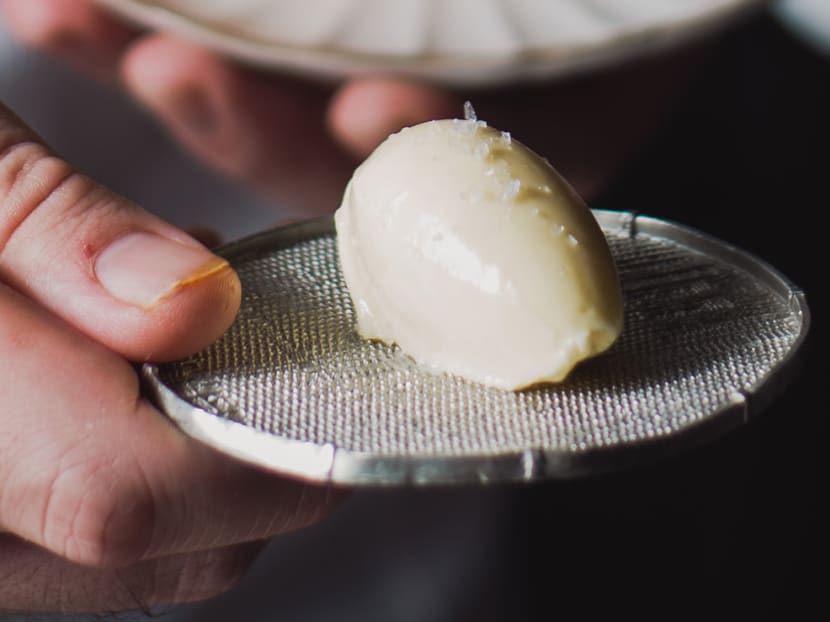 Created by churning milk or cream, the reason for butter's longstanding association with gastronomic indulgences could be boiled down to the simple fact that it is made mostly from milk fat.
And the fine sort of butter is at least 80 per cent milk fat – also referred to as butterfat – which means the promise of a lot of flavours and enticing textures.
And even in the face of a growing consumer nod to less fatty foods and lighter cuisine, particularly in modern gastronomy over the last decade, butter maintains its place as an essential ingredient in the culinary arts.
It's a versatile dairy product that boasts a variety of consistencies, from the cultured to the clarified, and thus continues to shape our love for a variety of emblematic dishes.
Just as it remains critical to French cooking and the likes of culinary icon Joel Robuchon's world famous mash potatoes, butter has also claimed a place in Asian food cultures – be it in the nostalgia of savouring a steaming bowl of fragrant white rice with a nugget of salted butter and a light drizzle of soya sauce, or an exquisite serving of murgh makhana (aka butter chicken) from your favourite north Indian restaurant.
And there are also good reasons to contemplate the butter served tableside the next time you dine out.
From compound butters infused with rendered beef fat, bone marrow or more familiar flavours such as fine herbs, miso, or spice blends like shichimi togarashi, to the unadulterated best from some of the most celebrated producers, the humble butter at these restaurants are by themselves worth celebrating.
COUNTRY PRIDE
Because the best butters are produced across Europe and even Asia in Japan, chefs in Singapore have chosen to feature the artisanal finest from the home country of the cuisine their restaurants specialise in. It's a shrewd and sure way to affirm the kitchen's commitment to quality and provenance.
For instance, over at local contemporary Italian stalwart Buona Terra, resident chef Denis Lucchi prefers Beppino Occelli butter from Italy's Piedmont region. Made from skimmed cream, extracted at low temperatures from filtered fresh milk using the centrifugation technique, the butter is light and creamy with a decidedly silky consistency.
Similarly, Jaan by Kirk Westaway serves a "uniquely sweet and fresh, creamy yet light butter" from the chef's hometown of Devonshire in England, a region renowned the world over for its excellent clotted cream.
"The reason for the butter's distinct and delicious taste is attributed to a really high milk and cream content, and very light seasoning. And that's not just any milk, but Devonshire milk from cows that roam the area's rolling green pastures and graze on the freshest, greenest grass," he shared.
This aspect holds even greater significance when taking into account Westaway's culinary philosophy, which is to reinvent British cuisine "through a refined and authentic interpretation with fresh produce and respect for provenance".
Served tableside with freshly baked sourdough bread and sea salt flakes if required, Devonshire butter, he affirmed, is a fitting representation of the best of British produce.
The restaurant is also the only place Westaway believes diners in Singapore can sample this true-to-source ingredient. It is no surprise that he also uses the butter in his cooking – brushed over gently roasted langoustines or tossed in lightly cooked vegetables – but only delicately, as his focus is on serving dishes that are light and fresh.
SPECIAL TREATMENT
It's one thing to expect the best restaurants to work with only the finest products. But there are also clues to the quality and flair on offer when it comes to the sometimes overlooked butter at bread service – beyond the fact that the butter should be served at the optimum temperature.
According to Les Amis' chef Sebastien Lepinoy, the colour and texture are crucial in determining the quality of the butter.
A good butter, he explained, has to be a beautifully light, almost white colour, and creamy. The colour can also be indicative of its freshness.
"A good butter contains 18 per cent of water," Lepinoy continued, but added how even the best can start to "pleurer" (weep), losing moisture, hardening and developing a yellow hue over a period of days.
The solution, though, is surprisingly obvious and straightforward. It is nearly impossible to miss how Les Amis serves the largest portion of butter per table in town: A generous 125g block of Pascal Beillevaire's finest unsalted butter from France's Loire Valley.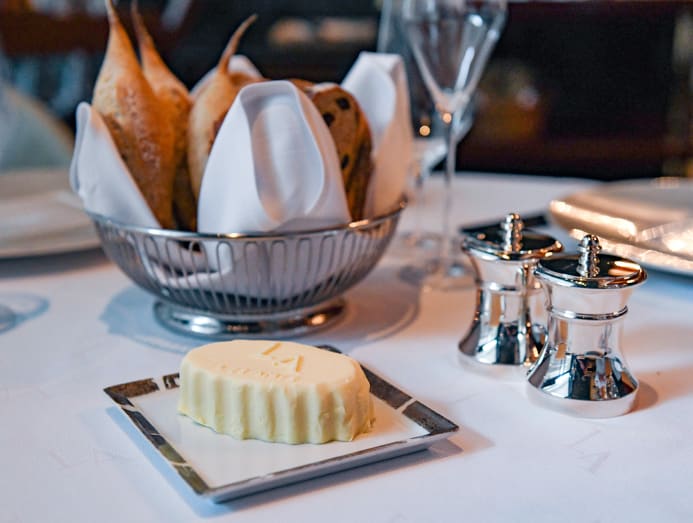 Of course, there is a 30g portion reserved for a table of two. But aside from the fact that Beillevaire's butter is made using only the creme de la creme – which is the top layer of cream –  the butter served here has undergone a unique process to preserve its creamy, airy viscosity.
Unlike commercially available butter – or any of Beillevaire's selection of butters, for that matter – this butter features optimum "air incorporation", which further ensures it remains extremely creamy and white in colour. This takes into consideration the time required to fly the butter from France and the maximum storage period at the restaurant of no more than seven days.
BESPOKE BEST
Another notable modern dining concept with a firm appreciation for ingredients and products, and boasts the promise of class and consistency, is Preludio.
Chef-owner Fernando Arevalo had even paid a visit to the small town of Pamplie in western France's Deux-Sevres department, where the town's internationally acclaimed butter is made. Convinced that only Pamplie's butter – one of just three in France with an AOP (Appellation d'origine protegee) label – would suffice, it remains the choice butter for his restaurant, which uses around 15kg of it every week.
This is a cultured butter but flaunts a perfectly balanced buttery and milky flavour, says Arevalo.
Made using fresh milk from a network of 60 dairy farmers located within an 80km radius of the facility, and matured with live cultures for 16 hours before it is churned, the result is a creamy mouthfeel piqued by nutty notes and a subtle tang.
He explained: "The main reason for using cultured butter besides its (intense) buttery taste is that the melting point is higher, which is a big advantage when emulsifying sauces and making compound butters." The latter includes options flavoured with caramelised onion, and another with uni, Espalette pepper and lemon.
Pamplie butter, Arevalo explained, "is more buttery and creamy at room temperature, even after adding liquids. And (this) will allow your sauces to hold better at high temperatures". As such, the butter is said to provide a perfectly balanced canvas for chefs to paint with their style of flavours, a quality that has earned it a reputation for being "le beurre de chefs" (or "the chefs' butter").
That's not to say that some chefs don't prefer to make their own butter. To make his restaurant's seaweed butter, Chef Drew Nocente of Salted & Hung starts with doing just that.
He uses full fat cream that is lightly fermented overnight and flavoured with creme fraiche, salt and then seaweed, which he also pointed out is the by-product of the seaweed oil his team makes for another dish. In the same way, buttermilk produced in the making of butter is used to make components like an uni-buttermilk emulsion.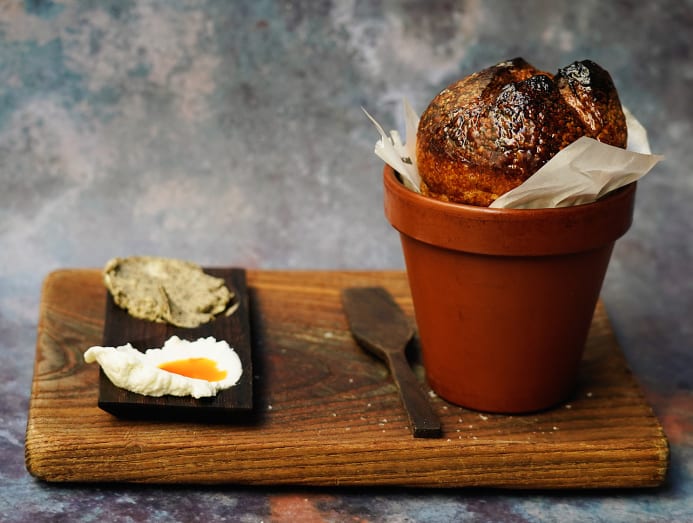 "I enjoy making butter. Churning it in-house allows us to control the flavours, and it is also part of a 'minimal waste cooking' approach that ties in with my philosophy of 'zero food waste dining'," Nocente declared, noting as well how the seaweed lends a greater depth of savouriness to the butter, as well as a welcome hit of umami.
Ultimately, having greater control over basic yet essential elements of one's cuisine is almost always a good thing. Just ask chef-owner Michael Wilson of contemporary restaurant Marguerite, which proffers a simple butter made in-house using French cream, and seasoned with one per cent of its weight in salt.
"We shape it into a ball and manipulate it to look the pistil of a flower," Wilson shared. "It's fresh and the flavour is good, of course, but the ethos of the restaurant is handcrafted; if we could make our own olive oil we would probably give that a crack, too."
Now isn't that a wonderfully fatty proposition.