This new SoCal Italian restaurant will have you dreaming of California with feel-good vibes of yesteryear
California Republic at Amoy Street charms with its sophisticated take on 1960s retro chic. Here's our exclusive first look inside the latest F&B joint from the folks behind Firangi Superstar, Fat Prince and Neon Pigeon.
I've been California Dreamin' since my last trip there in 2019 and the days can't pass fast enough till I'm back in the Golden State next month. But for now, there's California Republic to indulge the wanderlust.
The newest restaurant concept by The Dandy Collection (Firangi Superstar, Fat Prince, Neon Pigeon), which opens on Friday (Apr 1), drips with nostalgia as if the LP skipped. 
Step through the threshold at Amoy Street and you find yourself back in the glorious 1960s; in a suburban Southern California (SoCal) living room harking back to a glorious era in American iconography when woodie surf wagons and sunken living rooms were all the rage. A precious rewind to a time when pop culture and counterculture would collide. And if you weren't yet around to witness that cultural moment in history in the flesh, a visit to California Republic is even more so quite the trip.
As you walk into the refurbished shophouse space, an atomic clock  greets you at the entrance as the warmth of wood and a fireplace centrepiece (a collection of candles aesthetically sequenced to resemble a fireplace) set the vibe.
LESS AUSTIN POWERS, MORE AMERICAN HUSTLE
The 65-seater interior is sectioned into four distinct "rooms" that can be best described as modern retro. Sputnik lamps hang overhead while dark leather booths and upholstery and cushions bearing funky patterns lend texture and an eclectic accent. We especially love the booths carved with little nooks shelved with books a little frayed at the edges to suggest they've been well-loved. And on the walls, vintage Hollywood posters adorn. We even spot a rotary dial phone and a transistor radio adding touches of retro chic to some keenly-designed corners.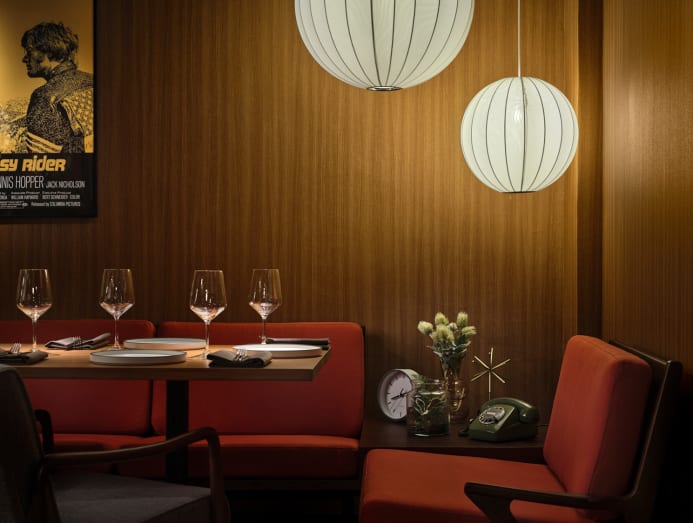 This is a time capsule indeed, but one that's less Austin Powers and more American Hustle – eschewing kitsch for chic and curated for today's Insta feed. Fun, but still pure class. And that, to us, is groovy, baby.
It took me right back to my grandma's digs growing up as an 80s kid against an interior design backdrop rolled over from a decade (or two) earlier. It certainly made me wistful for simpler times, and that's precisely what co-founder and chief visionary officer Michael Goodman had intended when he designed the space in collaboration with EDG Design.
"I didn't want it to be about my childhood or upbringing but I did kind of want it to be about when I was 16 and I was home in the living room and my parents were away and I decided to have a little party," he shared candidly.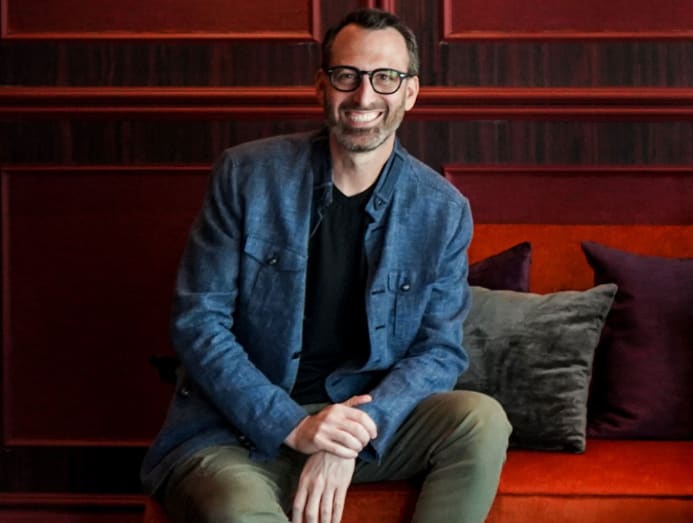 "You know what I think of when I'm designing a restaurant? I think about it like a mixtape; like when I was a kid and I wanted to make a mixtape for somebody special, and you wanna put yourself in it but you also wanna make sure the other person actually loves every song in it," added Goodman, who grew up in New York and moved to California in his mid-20s, and has a fascinating background having reinvented himself several times on his career journey from musician to chef to hospitality designer and restaurateur.
COAST TO COAST
One could almost imagine The Jackson 5 rolling out in choreographed sequence and busting out their signature dance moves to ABC or I Want You Back in their trademark bell bottoms. But you're not likely to even hear any of these 1960s classics playing in this space. No California icons the likes of The Beach Boys on the playlist, either.
Instead, each bite (or sip) will transport you to a walk on the West Coast as Tame Impala's Remix of Miguel's Waves plays in the background.
Like the inspired space, the cuisine at California Republic is infused with creativity tempered with simplicity and freshness; an intersection that celebrates the coast and the farm, created by Goodman and further refined through the lens of co-founder Rohit Roopchand and director of operations Mike Pekarsky.
The restaurant's SoCal Italian menu is close to the heart of Goodman and Pekarsky, both having spent a large part of their childhood growing up on the East Coast with a steady diet of New York Italian food before leaving the bite of the Big Apple for the coasts of California.
"American-Italian food is something both Mike and I grew up with; he's from New Jersey, I'm from New York and we both moved to California (but we didn't know each other till we moved here). When we both moved out [to California], we were both blown away by what SoCal Italian food is. And it's really cool; it's lighter, it's got this buzzy vibe to it, it's based around what's happening around California with food and the farms," said Goodman, who moved out to Asia some 20 years ago and has called Singapore home for the past 11 years.
And to give it that distinct vibe and approach that Italian cuisine in SoCal is really about, the trio turned to another old pal, David Almany, former head chef of Mozza and Angeleno, who's since moved to Los Angeles.
Like a true pandemic story, Almany fine-tuned the recipes and consulted from his home kitchen in SoCal over Zoom sessions to bring the authentic California food experience across the oceans.
Start off with the coastal flavours of the Grilled Oysters, inspired by Goodman's goto-spot in Marshall, California: A quaint little shack by the Hog Island Oyster Company located on the side of the inlet where the oysters are farmed and served fresh with a gentle waft of seaweed.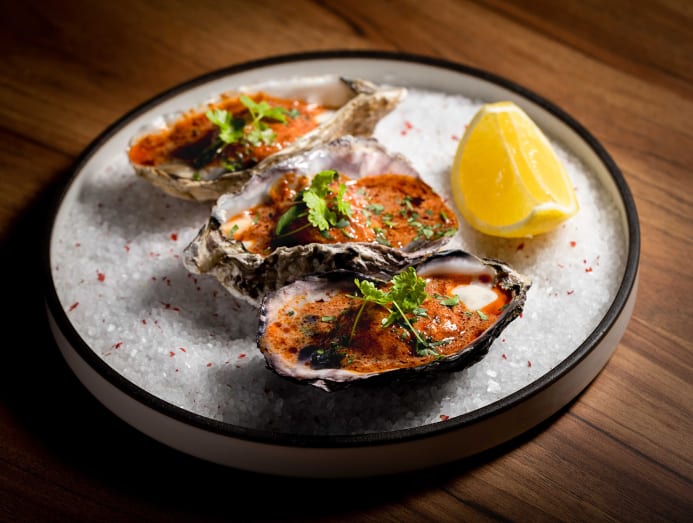 At California Republic, the Pacific Northwest oysters are grilled with a Chipotle chilli, bourbon and garlic compound butter, with every piece an homage of Goodman's fondest memories of California.
The Baked Stuffed Clams are another classic SoCal staple, baked in a mixture of butter braised leeks, breadcrumbs, Vermouth and bacon.
Moving on to Small Plates, the Grilled Calamari may sound familiar, but it's a different animal altogether here. The beautifully tender calamari come "with a touch of Dandy": Nestled in a Romesco sauce of fire-roasted peppers and tomatoes, and served with a side of Sourdough.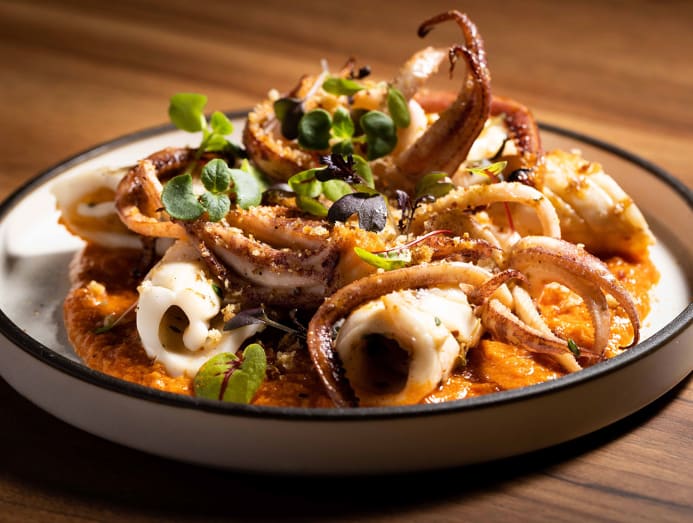 And the Meatballs al Angeleno, which pays tribute to Chef David Almany's famed meatball recipe, is even tastier with this little backstory: Goodman calls this the best meatballs he's ever had and asked Almany for the recipe when he first tried it with the promise to never put it on a menu. But voila, here it is, because Almany agreed to lift the embargo on his famous meatballs for more to enjoy in the form of a classic Italian-American meatball sub during California Republic's lunch service.
ALL YOU KNEAD
Then, there are the pastas. The pastas lovingly handmade by a dedicated team of artisans daily. The pastas that inspire us to write odes about. The pastas that Goodman describes as a "warm hug".
"It's comfort food, there's a simplicity to it. We're not trying to reinvent the wheel here, we're just trying to make a really cool wheel and the wheel should be current and modern but it shouldn't be a replacement for the old wheel. At the end of the day, we're a different wheel and I think it's cool because the food is recognisable and comfortable, but it's still unique and it's still us. I don't think you would find these pastas in another place in the way we've done them and the way we've thought about them," he explained.
Here, everything is kneaded, rolled and shaped lovingly by its in-house artisans. There are five carefully curated offerings including the Celery Root Cappellacci, which we sampled.
Cappellacci is similar to tortellini, but shaped more like the kind of gold ingot motif you see often during Chinese New Year. And this version is stuffed with celery root puree and cooked in a sauce of roasted mushrooms. Here especially you get a taste of that SoCal simplicity and lightness they've been talking up, that is intriguingly deceptive in the depth of flavour brought forth. Bonus: Here's a pasta that doesn't leave you feeling heavy and sluggish after. How delightful.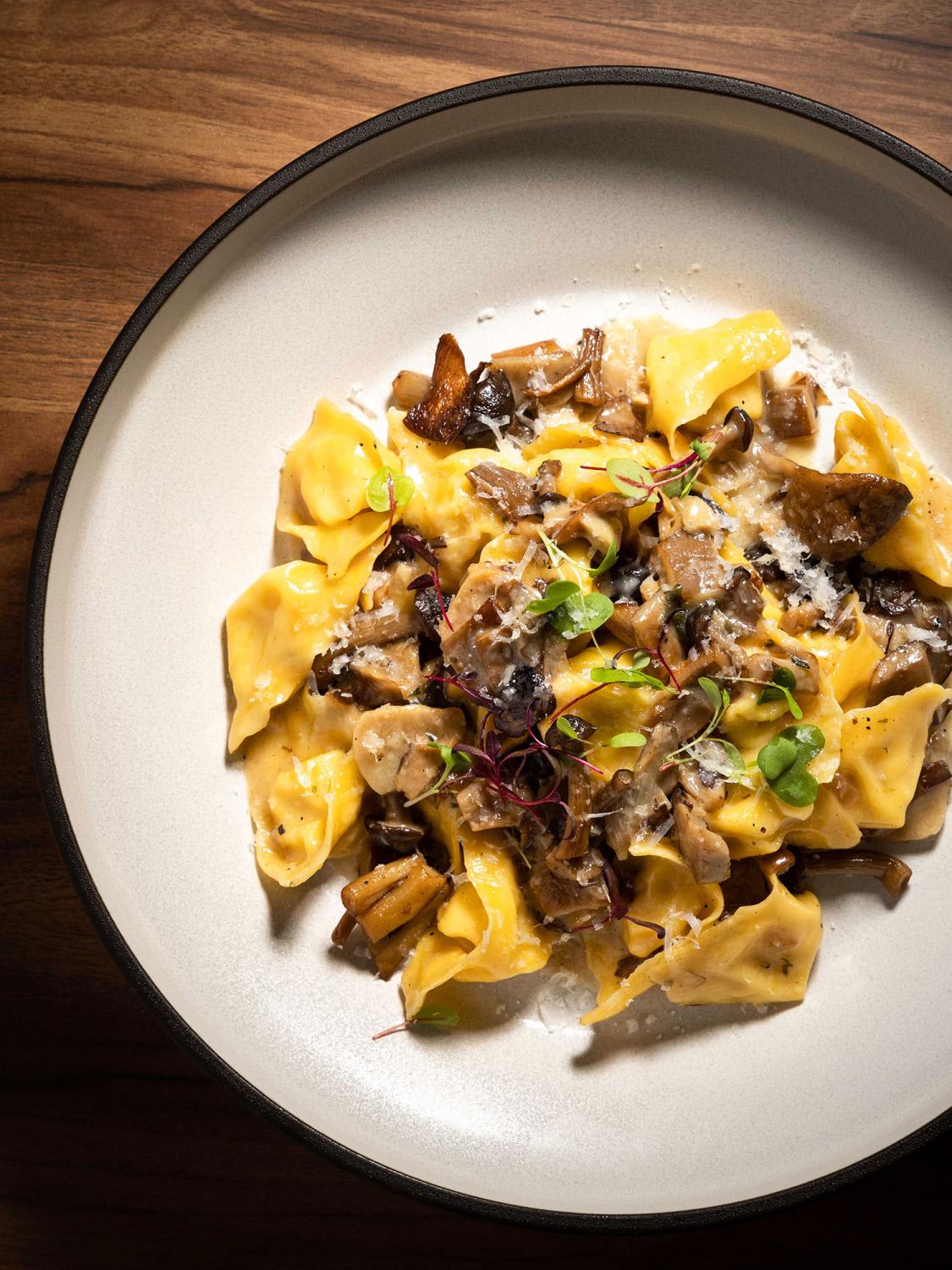 Try also the Smoked Bucatini, which is smoked before being tossed in a revised pork ragu in bianco with classic Soffritto. Revised how? This bianco, unlike the classic, also conveys a light, fresh feel, and the pasta is finished with Parmigiano shavings and a touch of bone marrow.
As for Large Plates, the Lazy Man's Cioppino is yet another warm embrace. Or seafood stew for the soul, I should say. It's a classic San Francisco tomato-based stew in which sits a selection of deshelled shellfish (hence the "Lazy" in the name) plus some mussels and clams still-in-shells so it's all still very pretty.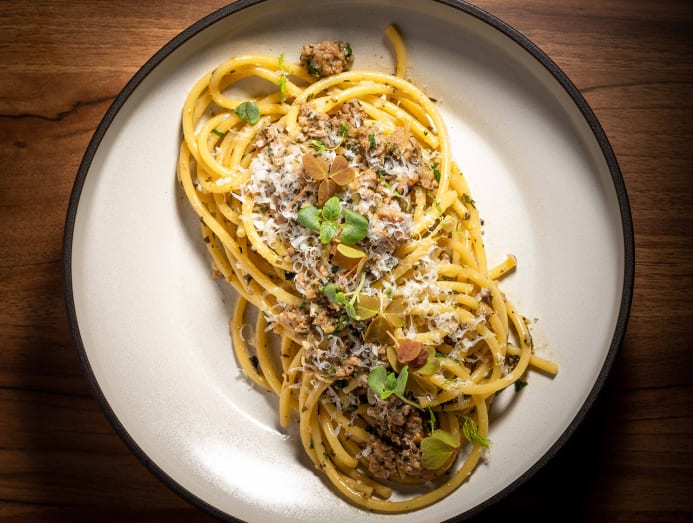 Be sure to also order the West Coast Garlic Mops to soak up all that flavourful sauce. Inspired by California's Garlic Knots, which were a childhood staple for many kids growing up on the coast, the dough is bathed in a mixture of garlic, oregano, extra virgin olive oil and Grana Padano, and arrives at the table in a cast iron skillet direct from the oven.
THE PROOF IS IN THE PROOFING
Now I've got to say, this is so LA. California Republic's drinks philosophy gets a big thumbs up from this almost mid-lifer who's grown to loathe the idea of waking up with a hangover.
Cocktails are organised in three categories, from zero alcohol options like the Shredding The Gnarley mixed with elderflower, mint, Granny Smith and cucumber, to the half-proof Know Your Way To San Jose made with Veritas Rum, Green Acid and Baldoria Verdant Vermouth, and the full alcohol options like the Tiffany-Twisted, which is its version of the potent Negroni.
It's a lovely, thoughtful nod to inclusivity in my view, as teetotallers in the party need not feel left out or relegated to your typical over-sugared, juiced-up mocktails or sodas for beverage choice. This way, those in favour of cleaner, healthier living can still have a great night out – if toasting with a water just doesn't look as good for the 'gram.
And, though Goodman insists his lighting design philosophy derives from the very antithesis of that so as to encourage diners to be more present in enjoying the dining experience, you can't run from that Instafamous life when those California dreams come calling. And neither can a space this pretty.
California Republic opens on Apr 1 at 88 Amoy Street. For reservations, email info [at] socalitalian.com or call 9784 9487. For more details, visit https://www.socalitalian.com/