Foodie Capitol: 6 dining venues to check out at The Capitol Kempinski
A retro American diner, an updated German beer garden and four other establishments vie for your attention.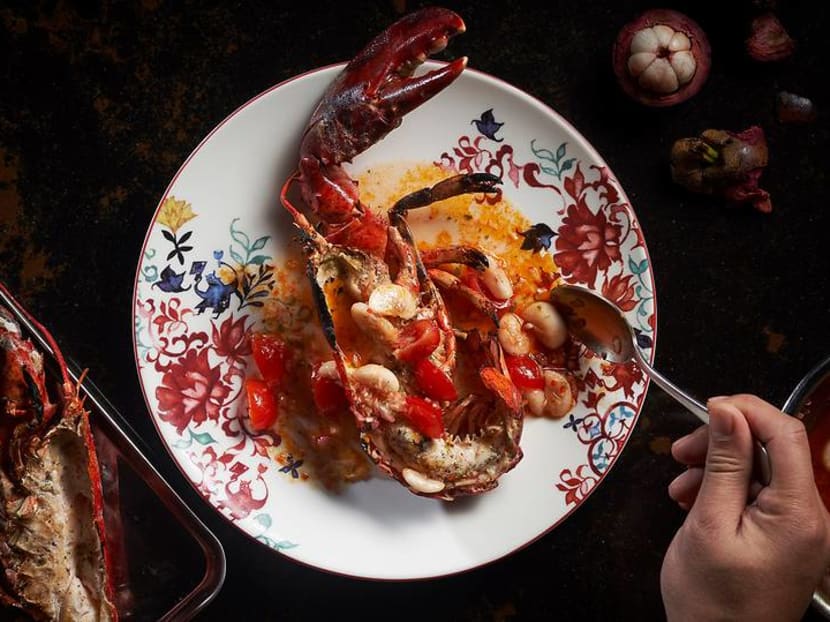 If you've sauntered past Capitol Building or Capitol Piazza recently, and noticed an inordinate amount of hoardings, that's because the mall is undergoing a tenant refresh. Don't be put off by this state of flux, however; there are actually a host of new (and upcoming) f&b offerings, particularly in the arcade connecting Capitol Building and The Capitol Kempinski. Here are six venues that are already open and well worth checking out.
CASUAL, BUT CLASSY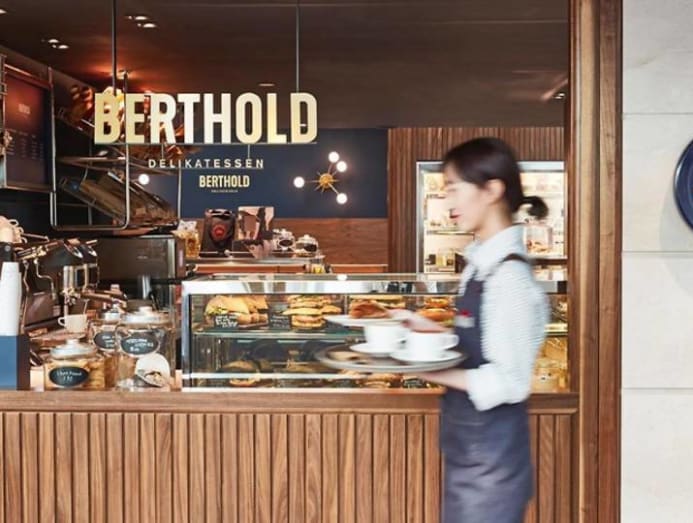 Channelling the timeless elegance of a classic 19th-century European cafe, Berthold Delikatessen, with its dark wood panelled walls, black-and-white tiled floors, marble-topped tables, smartly-aproned staff, and gleaming glass-fronted counters piled high with sandwiches, pies, cakes, quiches and tarts, is the ideal pitstop for a fuss-free lunch or coffee break.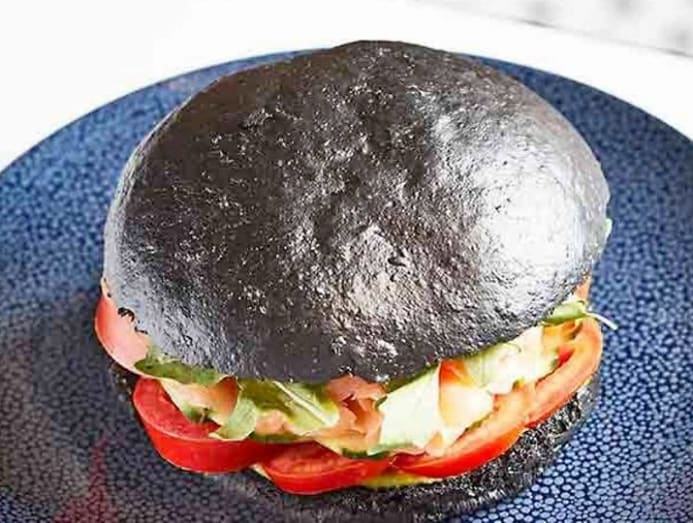 Our perfect bistro meal here would start with a Waldorf or beetroot salad, followed by either the charcoal brioche with chicken or smoked salmon, or the dark rye sourdough with pastrami rye, and a decadent fruit tart or slice of Black Forest cake. Washed down with a cup of German-blend java, of course. For a spot of people-watching, head up to the mezzanine level, or choose a table the sheltered alfresco area underneath a row of soaring palm trees.
We'd prefer to linger here for a chat with a friend, or even alone with our journals and laptops. But if you're in a rush, you can always grab something to go.
Berthold Delikatessen, #01-84 Arcade@The Capitol Kempinski
RETROLICIOUSLY DELICIOUS
Whether you're a #Instafoodie hipster, a parent trying to entice your picky rugrat to a meal, or taking someone from the Merdeka/Pioneer generation out – or doing all three at once – Capitol Milk Bar should lead to smiles all round. The retro all-American-themed diner is a recreation of the famous Magnolia Snack Bar that called the old Capitol Building home in the 1960s.
Neon signs, vintage posters, formica-topped tables, vinyl-upholstered seating, mosaic-tiled floors, and oversized glass jars filled with colourful candies (which you can buy by weight) evoke cheery nostalgia, while the menu of hotdogs, burgers, sandwiches, milkshakes and sundaes reflects a refined, contemporary approach to typical diner fare.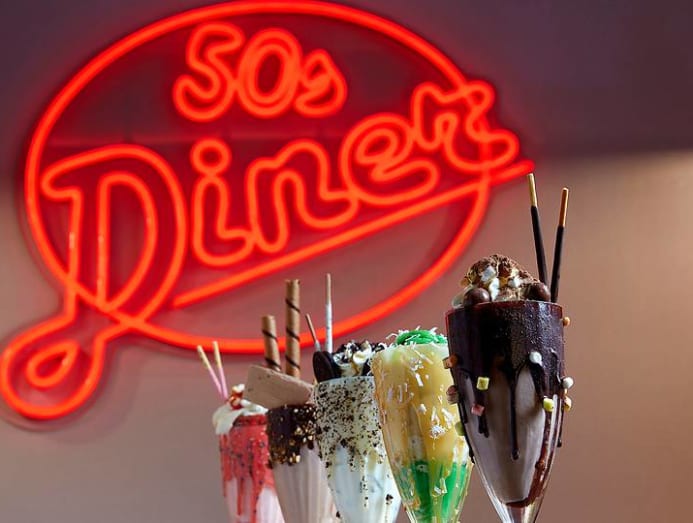 For example, The Capitol sandwich features pulled pork, arugula, pickled cucumber, yuzu cabbage slew and apple butter barbecue sauce, while The Sir Douglas Fairbanks is a focaccia roll with smoked salmon, preserved lemon gel, cucumber apple yoghurt and pistachio cream cheese. And the beef patties used in the burgers (yes, even the kids' burgers) come from Black Angus cows, no less.
The jumbo version of the Rio Rita hotdog, comprising a 1m-long spicy beef sausage topped with arugula, chili con carne, mozzarella cheese and tomato salsa is particularly Insta-worthy, and best shared with at least one other hungry dining companion, because you NEED to save room for dessert. For example, the Capitol Milk Bar Banana Split upgrades your favourite childhood treat of vanilla, chocolate and strawberry ice cream and banana – except here, the banana is "split" in a more creative manner: Think caramelised banana raisin, banana vanilla espuma, freeze dried banana and banana rum glaze.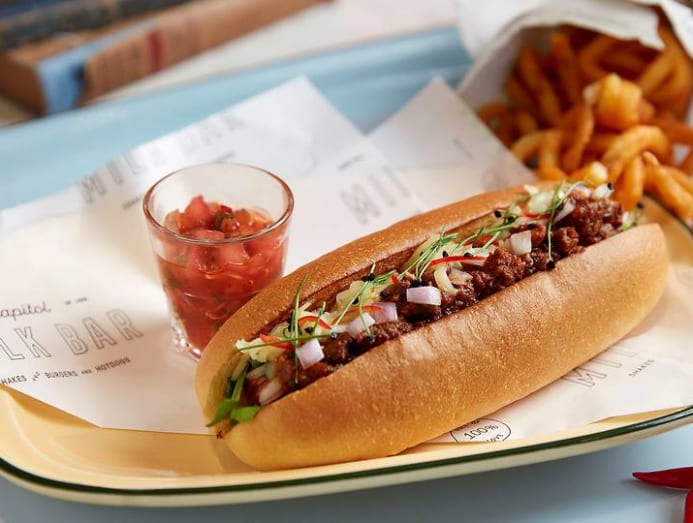 The pretty milk shakes served in tall, curvy retro glasses are another must-try –  chocaholics should definitely gun for the Dinosaur, which comes fully loaded with marshmallow, malt balls, chocolate Pocky and a generous heap of cocoa powder.
Capitol Milk Bar, #01-84B  Arcade@The Capitol Kempinski
GREEN, GIRLY, GORGEOUS … AND GERMAN
Most of us associate German food with raucous beer halls in dark, dank, wood-beamed basements. Frieda, with its sophisticated botanical-themed decor and reinterpretation of traditional German fare with Austrian influences, makes for a truly refreshing counterpoint.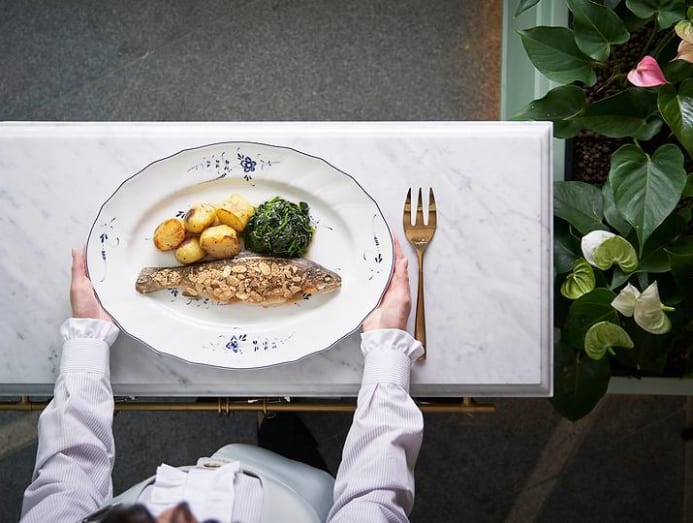 Divided into four different spaces, Frieda's Daybar, which is inspired by urban-chic Berlin, serves up German liquors, and German beers on tap – look out for the happy hour deals! Frieda's Garden, a sun-dappled covered al fresco space accented with hanging potted plants and conservatory-inspired glass and wrought-iron outdoor furniture, is perfect for girly gatherings (order the platter of grilled sausages and meatloaf to graze on); The Pantry's open kitchen offers an interactive experience with the chefs, while the Dining Room, with its sage-green velvet booth seats and beautiful floral wallpaper-accented wall panels, sets the tone for a romantic evening.
The food here aims to be as good as what your grandma would make, if she were German. Think crispy on the outside, tender on the inside Oven Roasted Pork Knuckle, slow-cooked in an aromatic pork stock with bay leaves, peppercorns, cloves, juniper berries, garlic and onion for three hours, served alongside pretzel dumplings, and house-made sauerkraut. Or perfectly breaded wiener schnitzel with potato salad, cucumber-dill salad and cranberry sauce. For lighter fare, options such as Pretzel Dumplings with Creamy Mushroom Ragout, or Pan-fried rainbow trout with roasted almonds, baby leaf spinach and parley potatoes, are available.
Frieda, Unit 01-87, 01-K1-K2 Arcade @ The Capitol Kempinski
TEATIME FOR TAITAIS
Not all of us can be full-time taitais, but every so often, we can certainly pretend to be one for an afternoon. Grab a girlfriend (or three) and head for the discreet luxury of Capitol Kempinski's Lobby Lounge, where plush armchairs, soothing live music (either by a harpist, violin trio or pianist, depending on the day) and a fashion showcase accompany five-course high tea. Dainty nibbles like Chicken Rice Arancini, Crab Quiche and Smoked Duck and Cantaloupe Cornet with Thai Dressing, Prawn Salad with mango salsa, cranberry scones served with caramelised passionfruit chocolate jam, raspberry yuzu meringue tarts are accompanied by five types of tea. The Lobby Lounge's High Tea set (served from 3pm to 6pm daily) is priced at S$58++ with tea pairing, and S$78++ with tea pairing and two glasses of champagne.
reservation.15stamford [at] kempinski.com ()
DARK, HANDSOME AND SEXY
If your Cuba trip is still a distant pipe dream, The Bar at 15 Stamford is THE place to drown your sorrows over Singapore's largest selection of rum – a whopping 160, to be exact. If rum's not your poison, there are also more than 250 wines, and other spirits (even absinthe), on offer as well.
Dark, handsome and sexy, the Jaya Ibrahim-designed space simply oozes vintage glamour heavily tinged with tropical exoticism. A long wood-topped bar counter, bedecked in colourful tilework and accented by rattan-backed stools, leads into the parquet-floored lounge area, where mahogany-toned armchairs and caramel-hued leather banquettes beckon one to cosy up and unwind.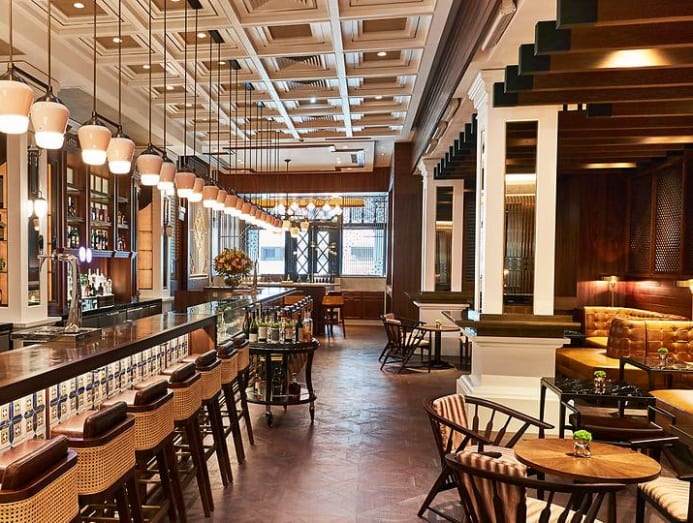 Sip on some of the world's rarest rums, such as Silver Seal Fine Caroni Heavy Rum 1997 Wildlife series No. 2 from Trinidad's famed (and long closed) Caroni Distillery, or peruse the cocktail menu (which comes in a charming leather bound scroll) for libations featuring gin, pisco, vermouth, cachaca and of course rum, created by Senior Head Bartender Edriane Sherwyn Lim, whose last port of call was the famed Atlas Grand Lobby and Bar.
Speaking of ports of call, fascinate your date or drinking kakis with trivia pertinent to the bar's historic location. For example, Joseph Balestier, the first appointed US Consul to Singapore in 1836 (and yes, the road is named after him), lived with his wife and son in a bungalow at the junction of Stamford and North Bridge Roads. An avid horticulturalist, he had a pineapple and sugarcane plantation, and even distilled his own rum!
That's assuming you can keep your facts straight after imbibing the bar's signature cocktail, the Plantation 1840 – incorporating Black Tears Rum, sweet vermouth, pineapple juice, sugarcane juice, lemon juice and mint, it's served in a pretty copper mug and almost goes down too easily, but packs a surprisingly strong kick. Better line your stomach with some bar snacks, such as the fish tartare, which features gojuchang-dressed tuna, avocado and tomato in crispy nori shells shaped using kueh pie tee moulds, or beef short rib rendang sliders.
Verdict: We'll drink to this 80-seater watering hole that's intimate enough for a hot date, classy enough for after-work drinks with clients you need to impress, and roomy enough to accommodate bigger groups.
The Bar at 15 Stamford, The Capitol Kempinski Hotel Singapore
ASIAN WITH A TWIST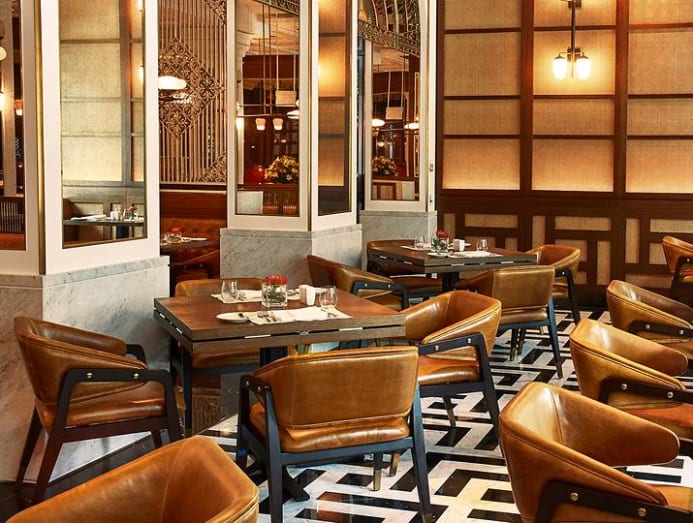 Designed to evoke the sense of a multi-faceted Asian kitchen, Capitol Kempinski's 150-seater flagship eatery 15 Stamford by Alvin Leung serves up an All-Asian menu alongside steak house classics.
Headlined by the chef behind three Michelin-starred Hong Kong eatery Bo Innovation, Leung pays tribute to his favourite Asian dishes from Korea, Indonesia, Thailand, Malaysia, Hong Kong, the Philippines and Singapore, but with a refined, imaginative twist.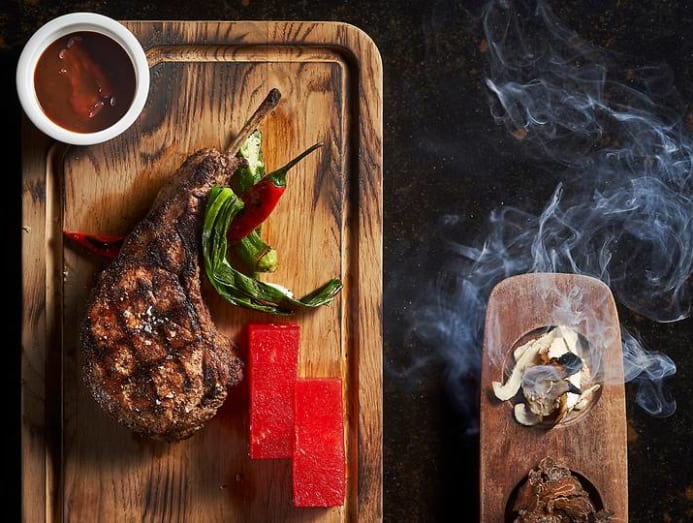 As such, the laksa comes with char-grilled tiger prawns, jasmine tea-smoked onsen quail eggs and house-made dried shrimp floss; bak kut teh is reinvented as a chargrilled pork chop marinated in herbal spices, and accompanied with angelica-infused watermelon and a bak kut teh-infused barbecue sauce; Chili Crab features Alaskan King Crab instead of the Sri Lankan mud crab that's normally used. Other new ways with familiar tastes include Malaysia-inspired 72 hour US Short Ribs Rendang with picked cabbage (the beef chunks are cooked sous-vide in rendang marinade), and traditional Hong Kong dessert Mango Pomelo Sago with Coconut Snow presented in the form of ice kachang.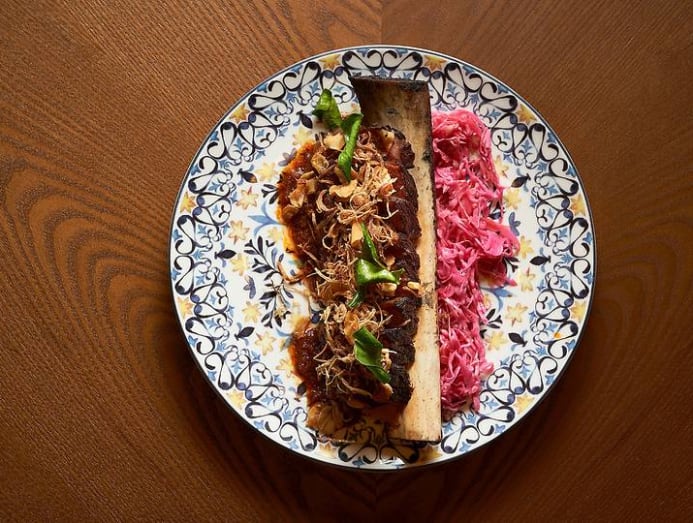 If you or your dining companions prefer something from the customised wood and charcoal grill that takes pride of place in the open kitchen, 15 Stamford offers premium cuts, such as A5 Japanese Wagyu Beef Striploin or MBS 3-4 Australian Tomahawk, and seafood such as whole Boston lobster and tiger prawns, perfectly seared on the outside and juicy inside, accompanied by Asian-inspired sauces such as Thai Hollandaise or Laksa Leaf Chimichurri.
We'd come here for business lunches, or with guests from out-of-town who want a taste of Asia, but are not quite ready to brave Newton Circus food centre or zi char restaurants.
15 Stamford by Alvin Leung, The Capitol Kempinski Hotel Singapore