New wedding space alert: Meet the St. Regis Singapore's Caroline's Mansion
Evoking a classic townhouse with a foyer and grand staircase, Caroline's Mansion seeks to recreate the old-world opulence through a very tasteful contemporary lens.
If you were a Real Housewife in New York during the city's Gilded Age (1870–1900), there would be no parties more lavish, glamorous or exclusive than the ones thrown by society doyenne Caroline Astor (1830–1908) – she of the powerful and influential Astor clan. An invite to such a fete therefore guaranteed one's place in society.
Fast forward 120 years and 15,300 km, and Caroline's Mansion – a new space at The St. Regis Singapore – seeks to recreate that old-world atmosphere of grand living (and partying). In fact, in the two months since its opening, it has already hosted several soirees for fashion houses and foreign banks, as well as high society events such as The Tatler Design Awards 2019.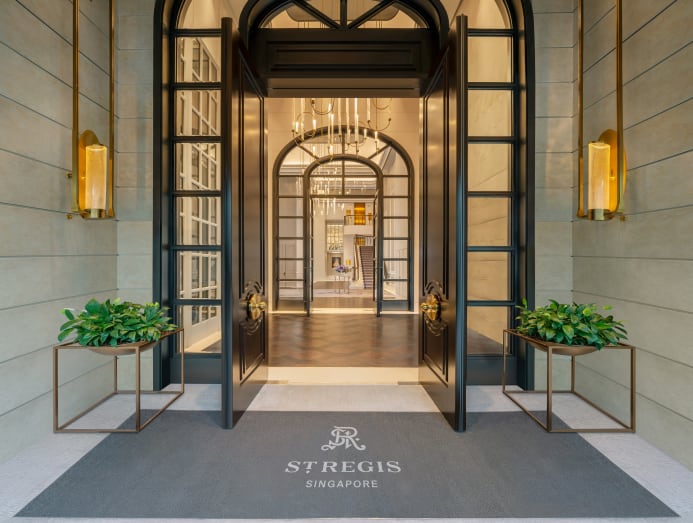 Named after Caroline, mother of The St. Regis founder John Jacob Astor IV, the 370 sqm (almost 4,000 sq. ft.) Mansion sits adjacent to the hotel proper. It was converted from the hotel's indoor tennis courts. Upon arrival, you're greeted by a pair of carved mahogany doors and smartly-turned-out doormen that recreate the experience of entering an upscale apartment in Manhattan's Upper East Side – Caroline Astor's original home on Fifth Avenue and 65th Street, to be precise.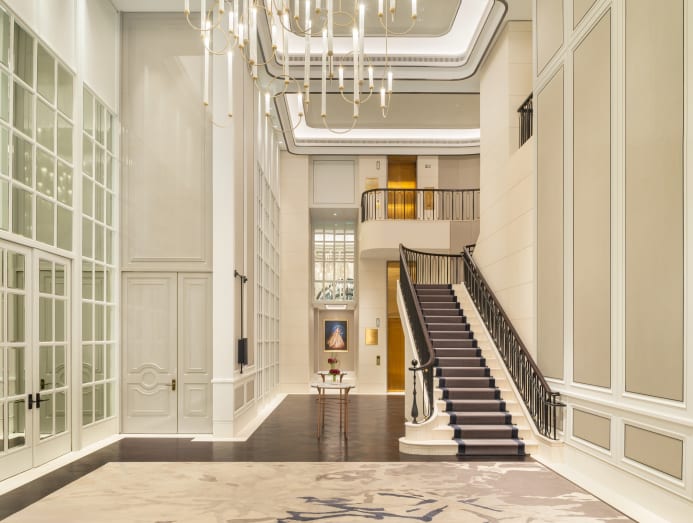 Inside, you'll find the layout similarly evoking that of a classic townhouse, with a foyer, grand staircase (leading to the hotel proper), and Great Room – New York real estate parlance for entertaining suite.
Here, of course, the Great Room is the ballroom, and it boasts 9m-high ceilings. It can be converted into a series of three intimate venues if the occasion calls for it. Taking centrestage is a brass-panelled feature wall studded by a marble fireplace and an artwork by David Hockney.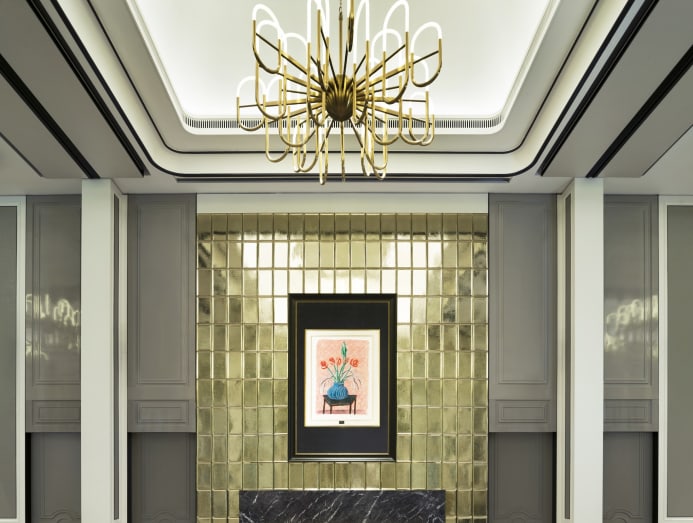 Decorative elements, such as wood marquetry and custom-made carpets, are replicated from the design of Astor's home. Even the drapes are inspired by Astor herself – they're woven from a jacquard fabric used on many of her dresses. Were Astor alive today, we think she'd feel right at home.