Oysters and S$40,000 beds: Redefining the cruise experience on Bordeaux's rivers
We took a leisurely five-day sail around France's wine region on a lush boutique river cruise that carries just 124 passengers and a heated infinity pool.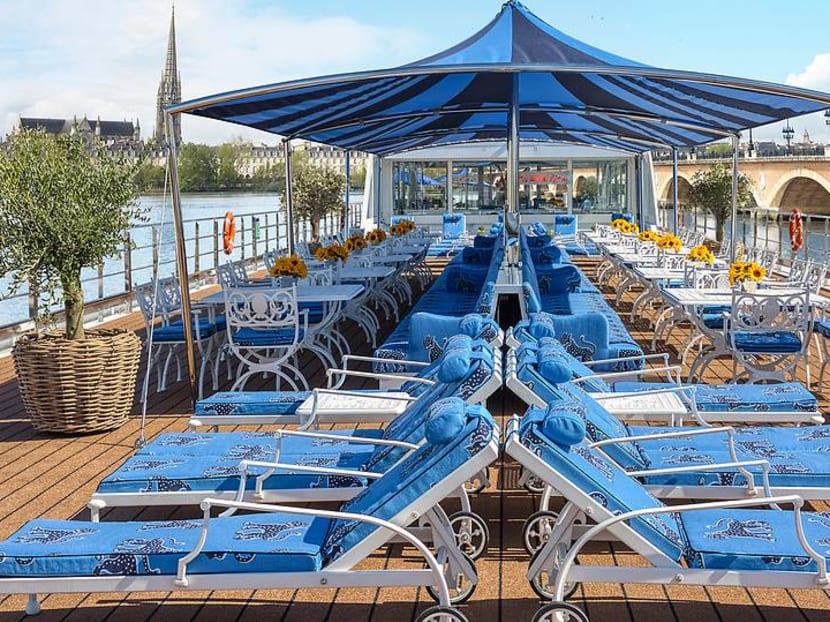 If you're like me, the idea of a cruise will strike fear into your heart, bringing to mind enormous ocean liners, hordes of screaming children running from the pool in wet flip flops, and long queues for overboiled sausages and limp pasta at the buffet. Thanks, I'd love to come, but I have to stay home and wash my hair.
Things changed when I was recently introduced to a different sort of cruising: The boutique river cruise, sailing not the high seas but the distinguished waterways.
A five-day meander along the Garonne and Dordogne rivers of Bordeaux, France, on the charming SS Bon Voyage was a sojourn that hearkened back to a bygone era where sailing was a glamorous thing – waking up in a luxuriously appointed stateroom; spending long, languid afternoons hugging the shoreline; and spotting 18th-century chateaux along the banks while lounging in a sun-drenched deckchair.
IN SHIPSHAPE CONDITION
Yes, this was certainly no Singapore River boat ride. The SS Bon Voyage, part of the Uniworld Boutique River Cruise Collection, is a newly transformed and completely redesigned ship that carries just 124 passengers. It has a Murano glass chandelier presiding over the lobby, a champagne bar modelled after Yves Saint Laurent's own drawing room, marble bathrooms, works of art from the owners' personal collection hanging on the walls and the only infinity pool – heated, might we add – on the rivers.  
And it's not just about discreet luxury but also about impeccable service with Uniworld, which has one of the highest staff-to-guest ratios of any cruise line.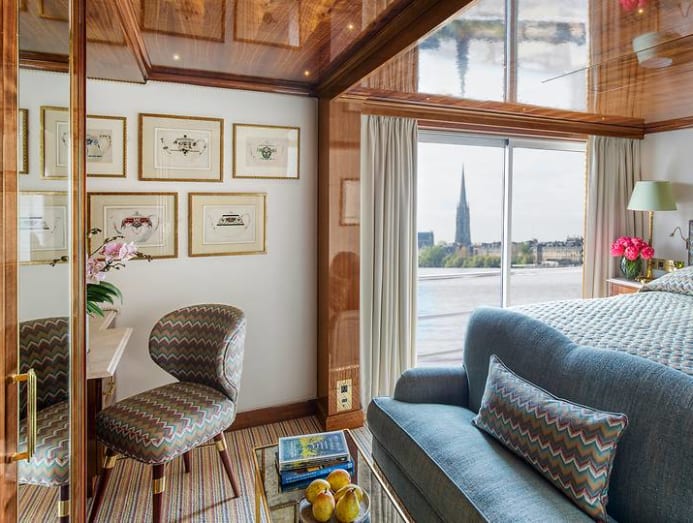 But the ultimate luxury, as far as I was concerned, was the Savoir bed, made famous by London's Savoy Hotel, that takes pride of place in each stateroom.
There were whispers of this legendary US$30,000 (S$40,500) bed going around the ship long before I even had the chance to lay my plebeian head on its otherworldly pillow. Savoir beds, I read, are crafted with things like "cashmere combed from the neck of Mongolian goats" and "tufts of hand-laid loose horse tail". I still don't know what hand-laid horse tail is. But I do know now that sleeping in this bed of glory is truly the only civilised way to spend a night. I woke up feeling like if there had been a pea under the mattress, it could never have escaped my royal notice.
Of course, a leisurely vacation is only 50 per cent sleeping – the other 50 per cent, needless to say, is eating.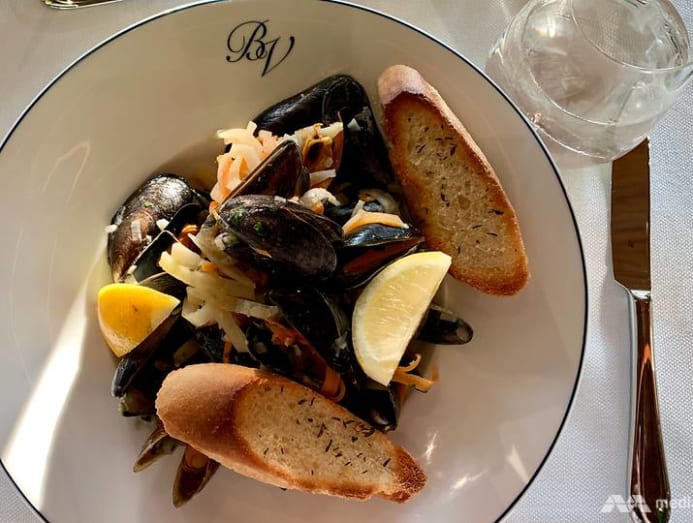 With four different dining venues on board, the chefs pay great attention to the seasonality and regionality of the produce, drawing menus up based on what's available at the local markets on any given day. When I spotted mussels in white wine listed as a starter one evening, I asked if I could have them as a main. I was served a towering plate of fresh, sweet Bouchot mussels served with toasted garlic bread. 
On other days, the dining rooms served up regional specialties, such as white bean soup topped with a spoonful of apple mimose (the apples are diced and marinaded in lemon juice, the chef explained to me); flammkuchen or tarte flambee, an Alsacian pizza; and deconstructed gateau basque, a crumbly custard tart. 
Pavel, our waiter, urged me to have a cannele – the eggy, caramelised bite-sized treats baked in distinctive copper moulds originated right here in Bordeaux. "These are my favourite," he sighed, with infectious enthusiasm.
As the cruise fare is all-inclusive – gratuities as well – you feel free to indulge in as many glasses of wine as polite society would deem appropriate. After all, what else would you do in the wine country of Bordeaux?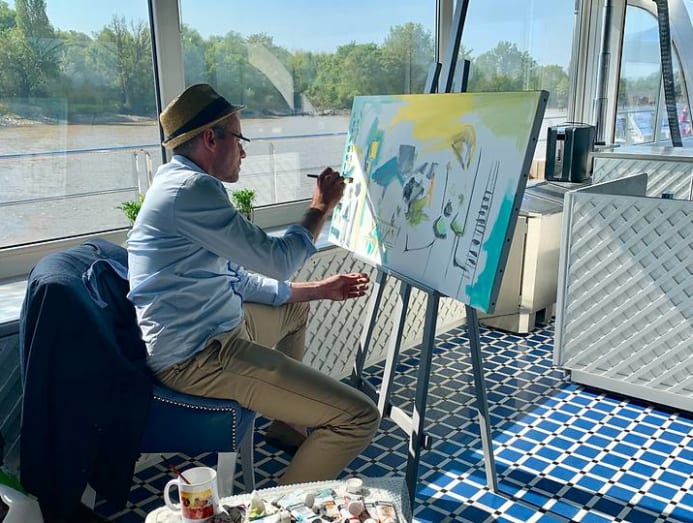 IMBIBE AND DEGUST
Naturally, many of the shore excursions had to do with learning about and tasting wine.
The city of Bordeaux is home to La Cite du Vin museum with its iconic building shaped like a swirl of wine. And the region around it offers innumerable picturesque chateaux, with their vineyards and wineries.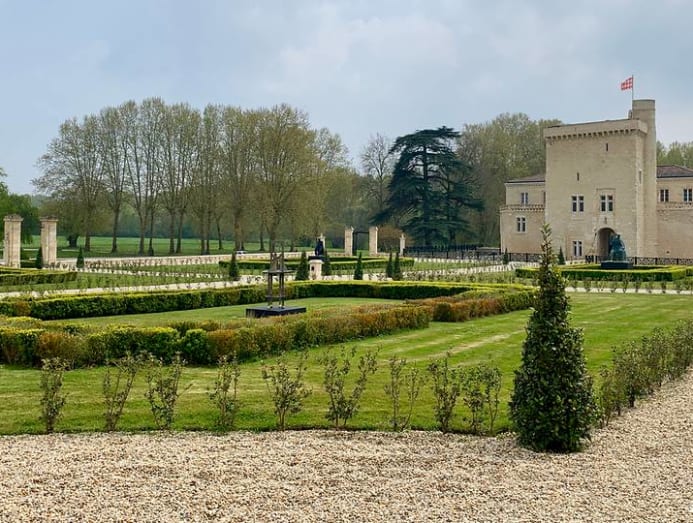 I wandered around Chateau La Tour Carnet in the Medoc, on the left bank of the Gironde Estuary, and got a peek into its medieval fortress as well as its cellar, where wine is aged in oaken barrels. Needless to say, I had to sample the product as well.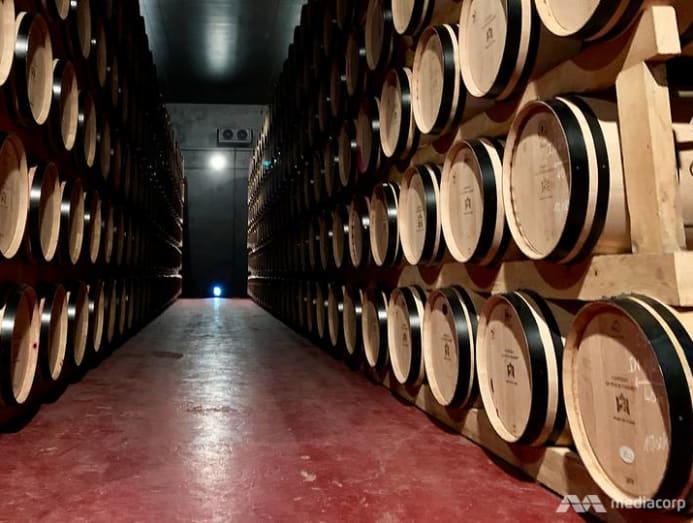 Then, at Chateau Ambe Tour Pourret, I donned an apron and gained an insight into French cooking at an intimate session conducted by private chef Jerome Oillic.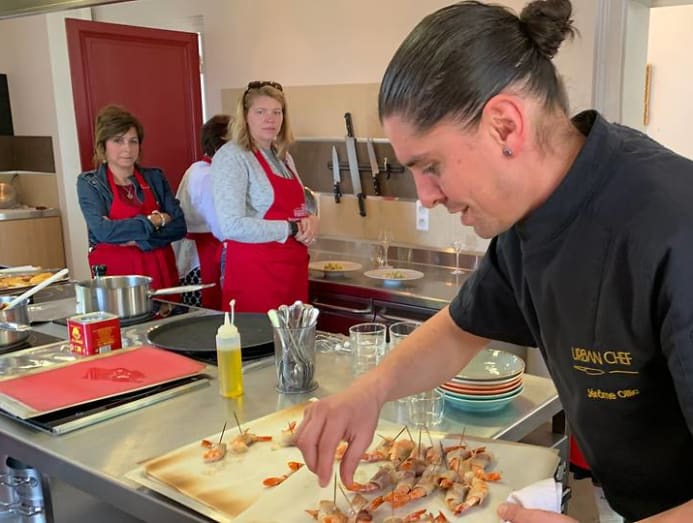 Together, we made a meal of crispy shrimps and Bayonne ham with salad; chicken with mushroom cream, courgettes and raisins in homemade pesto – there is just something about fresh French chickens that blows all other birds out of the water – and caramelised pineapple with vanilla and amber rum cream for dessert.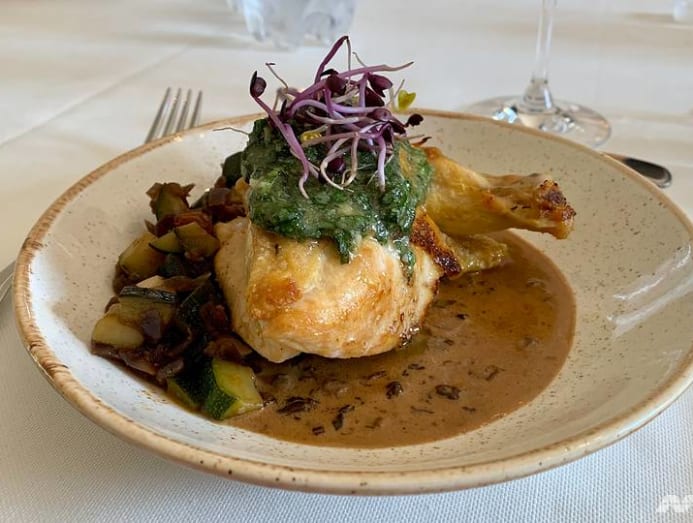 Of course, when you have sliced your own courgettes between sips of wine and not lost any fingers in the process, it is quite easy to convince yourself that you are Alain Passard or Pierre Herme. 
But often, when it comes to delicious delicacies, you don't need any fancy kitchen action – just incredible freshness. At a regal old fort where our ship pulled up, we were met by Bertrand, a local farmer who was already at work shucking oysters. The small, plump bivalves, slurped straight from their shells with a squirt of lemon and paired with champagne, were crisp, sweet and briny, tasting intensely of freshness, salt and sea – especially when inhaled in the nippy morning air.
TOP DECK
The ship offered a host of other activities, including biking tours, yoga sessions with the on-board wellness coach, an archaeological tour of bunkers constructed during the second World War, and a walking tour of the town of Saint Emilion, a UNESCO World Heritage site with an impressive 12th-century Monolithic Church.
My favourite excursion required a 5am start that ultimately proved to be worth sacrificing the time that could otherwise have been spent in my US$30,000 bed: A pre-dawn hike up the famous Dune of Pilat in the Arcachon Bay area. At 110m above sea level, it is the tallest sand dune in Europe. 
France is perhaps the last place you would expect to find a giant pile of sand, but here, nature has decided to form one by blowing sand inland from the Atlantic ocean. On one side of the towering dune is forest and a bird sanctuary; on the other side is the beach and blue water. The hike is not for the faint of heart, but the view of the sunrise from its summit is a transcendent experience and an unforgettable way to welcome a new day.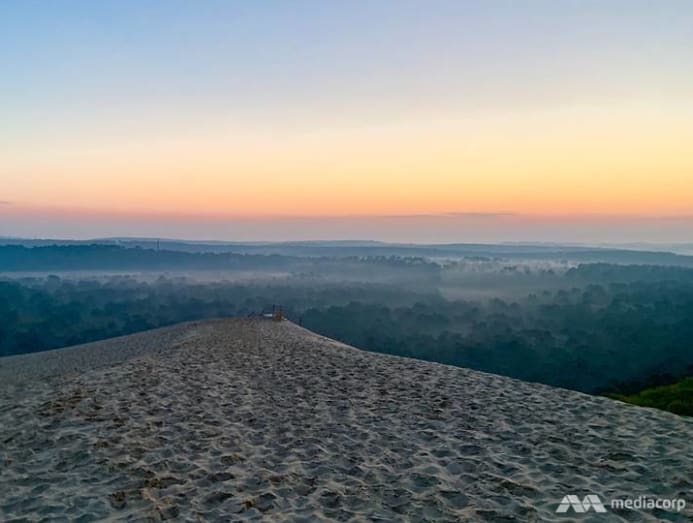 After the round, orange French sun had risen into the sky, I trekked down the other side of the dune to find myself on a breathtaking stretch of beach, from which it was a short walk to a breakfast of what just might be the best croissants in the whole of France, in the bakery-cafe of the stunning yet cosy Hotel Ha(a)itza designed by Philippe Starck.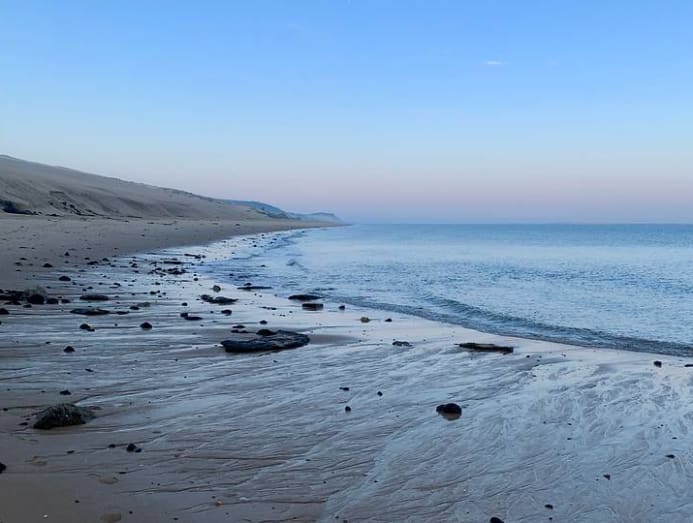 From the shore of the mighty ocean, I returned to the stately rivers and estuaries, to continue sailing into the splendour of an endless afternoon, with no people I had to meet and no places I had to be – just a glass of wine, a deckchair in the sun and a whole lot of savoir faire.
The SS Bon Voyage sails on three itineraries through France: The eight-day Brilliant Bordeaux, 15-day A Portrait of France and 22-day Ultimate France. For more information, visit uniworld.com or contact the reservations team at 6292 2936.