There's plenty more you don't know about Singapore's culinary heritage
By recapturing the essence of 100-year-old recipes and introducing them to a new generation, chef Damian D'Silva inadvertently offers diners a taste of what we didn't know we were missing.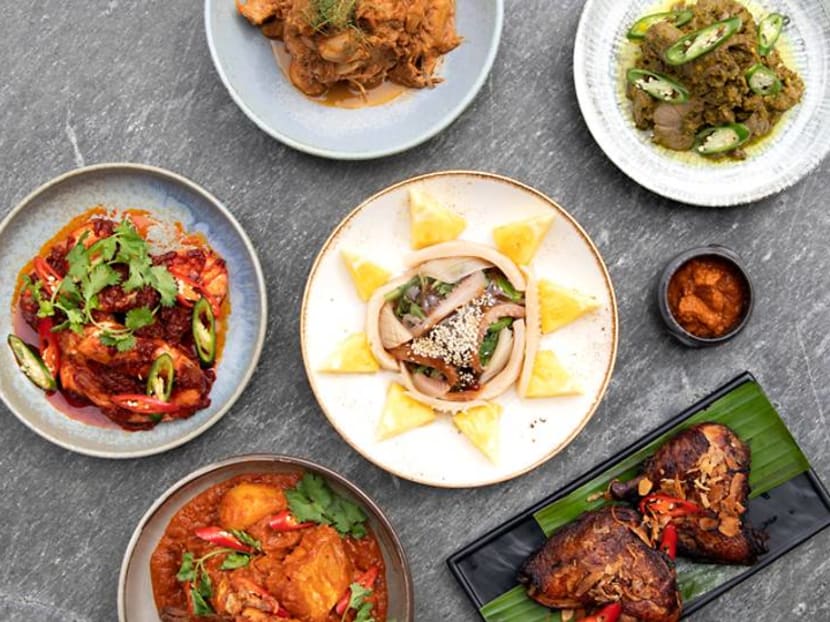 The beef striploin sambal hijau tastes familiar. It is bright with the citrus notes of green chilli and mildly sweet from its shallot-enriched rempah (spice mix). There is the earthy grassiness of ground coriander and fennel warmed by the heat of those chillies cooked low and slow. It is not a dish any of us has had before, yet it bears a hauntingly soulful familiarity.
Such is how most of our meal at Restaurant Kin progresses. The dishes from chef Damian D'Silva's latest menu are at once new and familiar; a mash-up of flavours we recognise and sometimes eat at home. It is, intrinsically, Singaporean family food – except from a family of a different time.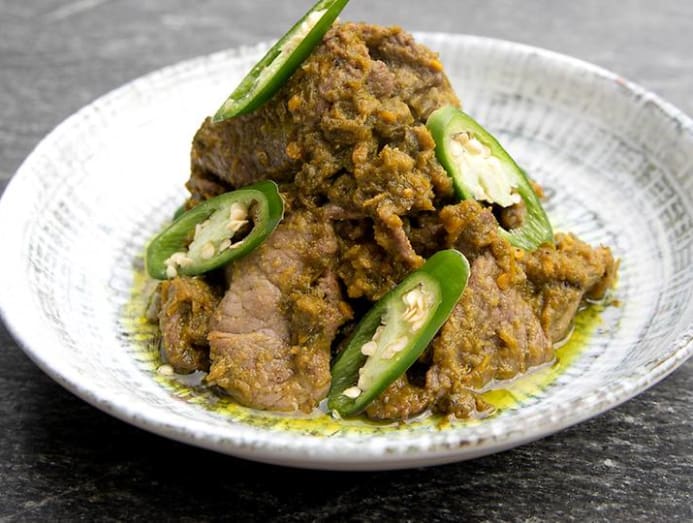 At 65, D'Silva's standing as the "grandfather of Singapore heritage food" is well earned. Few others have embodied and advocated the merits of our multicultural cuisine as much as he has.
Part-Peranakan, part-Eurasian and a child of the kampong era, D'Silva's diverse experiences have given his dishes a colourful tapestry – Indian-inflected egg rolls, Indonesian-accented stews, Chinese stir-fries and Eurasian curries; these are all part of his personal foodways that zigzag across the valley of his childhood home in Opera Estate to the kampong of his father's best friends, and the HDB flat in the eastern heartlands where he now resides. As ever, all this is represented in his new offerings at Kin.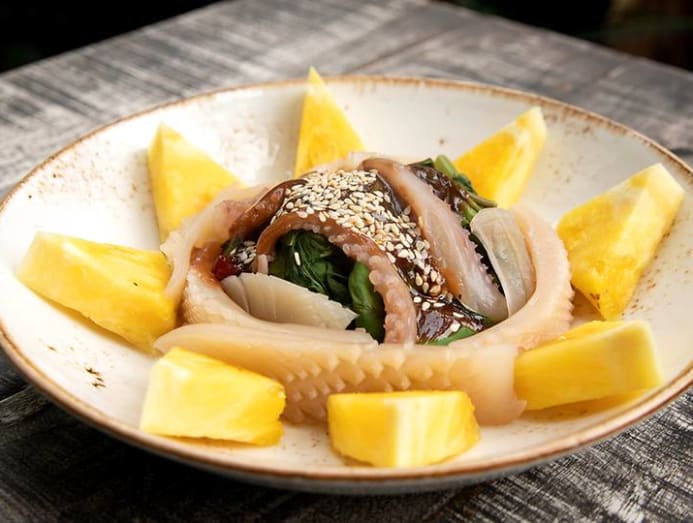 Among the updated repertoire is the Chinese hawker classic cuttlefish kang kong, a dish many of us know by its Hokkien name, ju her eng cai. Kin's rendition is decidedly elegant with perfectly blanched cuttlefish and kang kong (water spinach), and a sweet dressing heady with hae ko (fermented prawn paste). Unique to D'Silva's family is the addition of sunny wedges of honey pineapple that help cut through the dish's richness.
By now, followers of D'Silva's personal folklore are familiar with Aunty Zainab, the wife of his father's best friend who introduced him to the allure of Malay and Indonesian cuisine. Plumbing memories of eating at her table, D'Silva has introduced ayam kalasan to Kin's menu, a Malay-Indonesian fried chicken number that he's updated with European cooking techniques.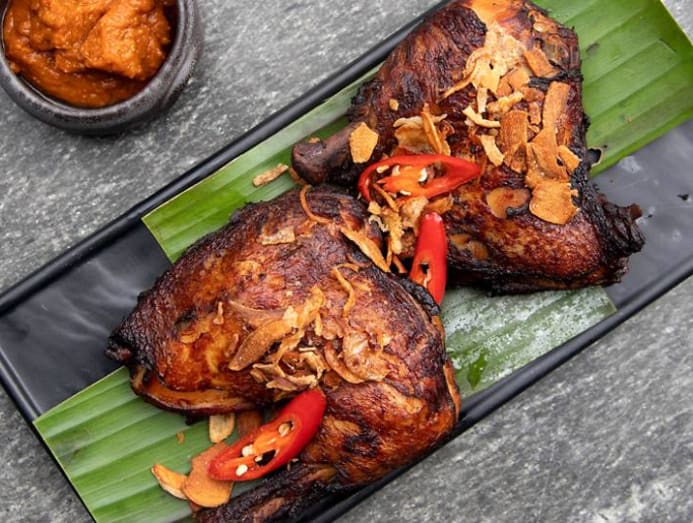 To make said dish, D'Silva braises the "chicken Maryland" ever so gently in coconut water and aromatics before deep-frying it to a delightful crisp. Bite into the chicken and its crisp exterior yields to succulent, spoon-tender flesh.
Chicken Maryland, incidentally, reflects D'Silva's late-colonial-era upbringing when the term referred to the cut of the bird that comprises the drumstick and thighs. Another element that makes this dish particularly good is the turmeric-scented sambal spiked with the concentrated spices of the chicken's reduced marinade.
Among the greatest hits at our lunch is the nangka rendang, unripened jackfruit stewed in a nuanced coconut gravy suffused with no less than 15 spices. The resulting dish is hearty yet light, with a delicate complexity of flavours recognisable to any diaspora who shares history in Southeast Asian fare.    
The highest praise we save for the pork knuckle debal, a heavenly riff on the Eurasian festive staple thanks to the addition of a hunk of smoked pork knuckle braised to quivering tenderness. Lashings of vinegar and hot English mustard at the end of cooking imbues the dish with moreish acidity. Never mind that our guts are bursting at the seams, this is like Christmas and every occasion worth celebrating bundled into a single-bowl feast.
In other words, we don't stop eating.
Like the beef striploin sambal hijau, debal curry is a cherished dish that comes from D'Silva's late grandfather's extensive repertoire. And as "the rebel chef" (a self-styled moniker that D'Silva certainly lived up to in his younger days) mellows into his sexagenarian years, it has dawned on him that these recipes now date back at least a century.
By recapturing their essence and introducing them to a new generation, D'Silva inadvertently offers diners a taste of what we didn't know we were missing.