Former Corner House chef Jason Tan opens new restaurant on Tras Street
Restaurant Euphoria will take chef Jason Tan's signature "gastro-botanica" cuisine, rooted in his love for vegetables, to new heights.
The former head chef of Corner House has struck out on his own, opening his much-anticipated culinary playground, Restaurant Euphoria. The intimate 26-seater restaurant is located on the vibrant Tras Street, and will showcase Chef Jason Tan's signature "gastro-botanica" cuisine, born out of his love for vegetables.
Tan departed Corner House earlier this year, where he spent six years. During his tenure at the Botanic Gardens restaurant, Tan became the first and only Singaporean chef to receive both a ranking on Asia's 50 Best Restaurants from 2016 to 2020, and one Michelin star from 2016 to 2019.
Restaurant Euphoria represents a new chapter for Tan, who co-founded JTAW Design, a restaurant culinary design studio, with business partner Arissa Wang. Euphoria will be JTAW Design's flagship restaurant.

While Tan will continue to showcase his signature gastro-botanica cuisine, the menu will be entirely different from what he used to serve at Corner House.

Tan created gastro-botanica in 2014, an original culinary philosophy showcasing carefully sourced and premium prepared vegetables, meats and seafood, where prominence and elaboration are given to botanical elements of vegetables, tubers, herbs, spices and fruits.
Tan calls his menu at Restaurant Euphoria Gastro-Botanica 2.0, as he takes his philosophy to new heights with new innovations. The only dish that he has brought over from Corner House is his signature Cevennes onion dish, dubbed My Favourite Vegetable. Even so, the dish will be presented in four new artful ways.
Tan conceived gastro-botanica as a cuisine based on French techniques. But while traditional French cuisine is rooted in mother sauces such as bechamel, veloute, espagnole and hollandaise, Tan has created his own meatless versions, made purely from botanical essences.
They are collectively named Gastro-Botanica Essences – La Symphonie de Legumes, comprising Legumes Demi-Glace (brown), Legumes Vin Blanc (white), Legumes Emulsion (emulsion), and Legumes Essence (pure and clear). The essences contain 100 per cent pure vegetable extractions and reductions, giving rise to all the sweetness, savouriness, sourness, bitterness and umami necessary for flavouring a dish.
Another highlight at Restaurant Euphoria is the Oignon Jamboree, which features lightly pickled pearl onions, a yellow onion puree, and a subtle Legumes Essence broth flavoured with essences of charred onions and kombu. 
The dish is drizzled with spring onion oil, and crowned tableside with Oscietra Prestige caviar that is only served at three leading restaurants in the world, and exclusive to Euphoria in Singapore.
There's also an exciting bread course featuring a "mochishire", a cross between Brazilian mochi bread and Yorkshire pudding. It will be served with a caramelised onion dip.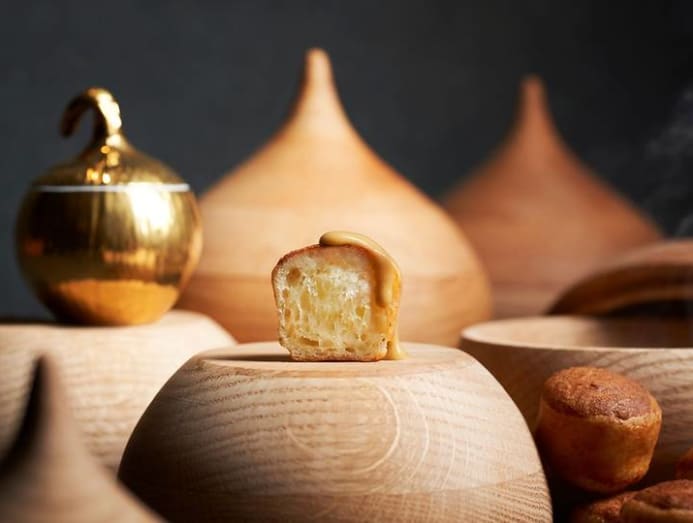 Diners can also look forward to Tan's trio of snacks for the Amuse Bouche including a wave-shaped feuille de brick studded with a puree of the season's best vegetables, Baerii caviar, seasonal flowers, and the Dancing Orchid, one of the first Oncidium hybrids developed by the Singapore Botanic Gardens in 1939. This edible variety is exclusively grown for Tan to showcase his gastro-botanica cuisine.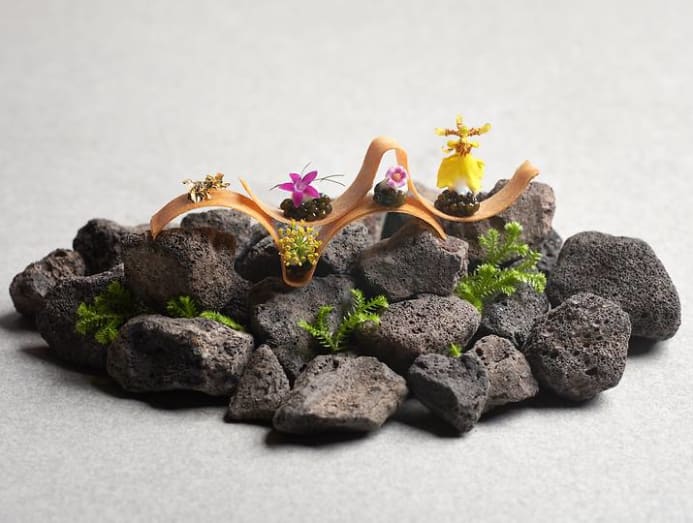 The menu closes with a Sweet Corn dessert featuring a cornflake semifreddo, Dulcey chocolate-coated buckwheat puffs, sweet corn butter financier, and corn and calamansi nitrogen snow.
Restaurant Euphoria is now open for dinner from Tuesday to Saturday (6.30pm to 11pm), with lunch launching later in November. Prices start from S$208 for six-courses and S$258 for eight courses.
For reservations, click here