Unique Chinese New Year treats to splurge on, from fugu yusheng to truffle bak kwa
Truffle-infused bak kwa, an S$8,800 meal for five, individual portions of Buddha Jumps Over The Wall. 'Tis the season for eating your prosperity.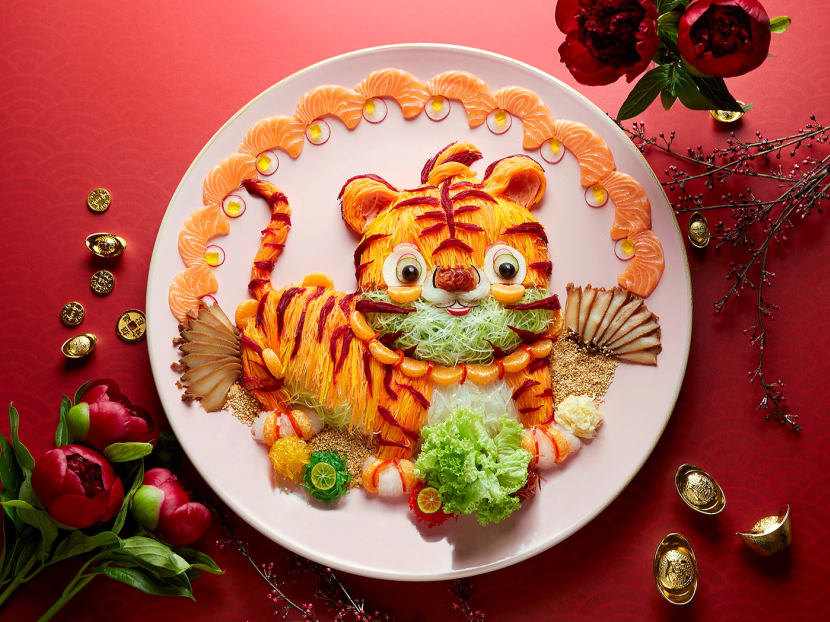 Chinese New Year (CNY) comes hot on the heels of the Christmas and New Year festivities. But gird your guts because that doesn't mean it isn't any less of an occasion to celebrate. If anything, CNY turns our attentions to a different kind of feasting, one unfailingly replete with symbolic foods, must-have traditional snacks, and yet more bonding over meals with close friends and family.
If you're looking to splurge on your loved ones and have an auspicious S$8,888 to spare, one-Michelin-star restaurant Summer Palace has debuted a Grand Dynasty menu. Served in its intimate Pearl private room, the meal for five people is presided over by Chinese executive chef Liu Ching Hai.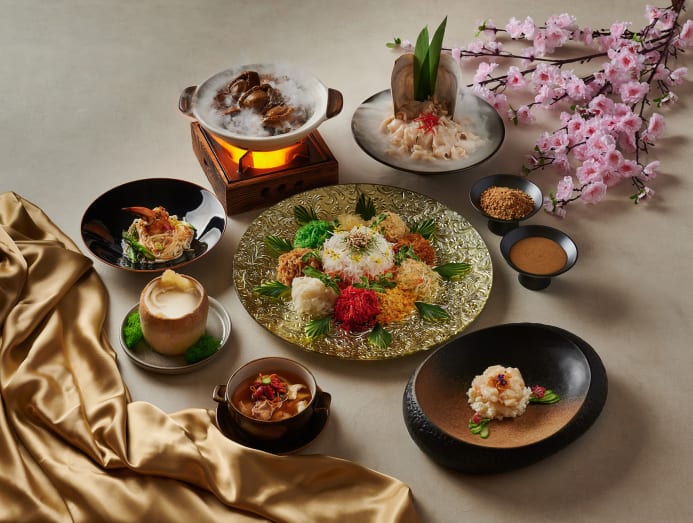 Over the course of the evening, expect all manner of indulgent ingredients such as cordyceps which are priced upwards of S$5,000 for 100 grams and Grade 5A bird's nest. These will feature in dishes like sashimi-grade Alaskan geoduck and ikura yu sheng, double-boiled "treasure" soup with cordyceps sinesis, and double-boiled bird's nest with almond cream. The nine-course menu is paired with a 30-year aged pu er tea. Order 72 hours in advance.
For splurge-worthy nourishing at home, Crystal Jade is offering personal portions of Buddha Jumps Over The Wall at S$88 per portion (minimum order of two). This edifying broth – with abalone, fish maw, sea cucumber and conpoy – is simmered over six hours to yield comforting, wholesome flavour. Available till Feb 10 at select Crystal Jade outlets.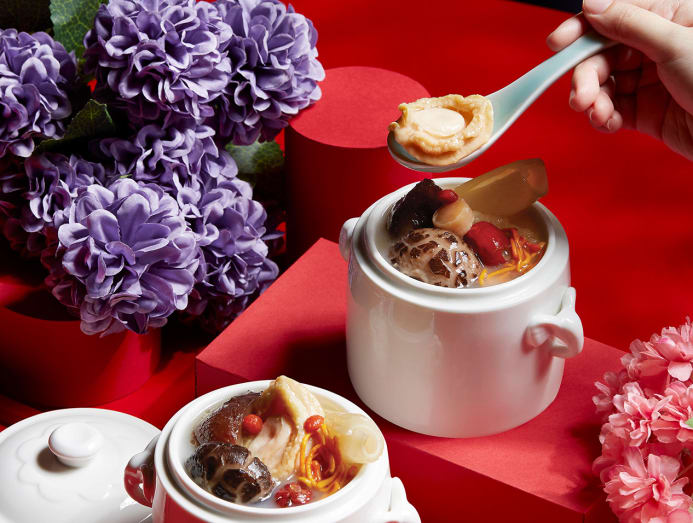 What price art? When it comes to yusheng: S$688. That'll will buy you a platter with the most adorable arrangement of a playful tiger made by Jade Restaurant's executive chef and self-professed artist Leong Chee Yeng. Beyond the usual melange of vegetables like carrots and cucumbers, the Premium Gold Rush Yu Sheng is flecked with champagne jelly, features fans of abalone and salmon, and comes with a refreshing kumquat dressing. Order three days in advance for dine-in only.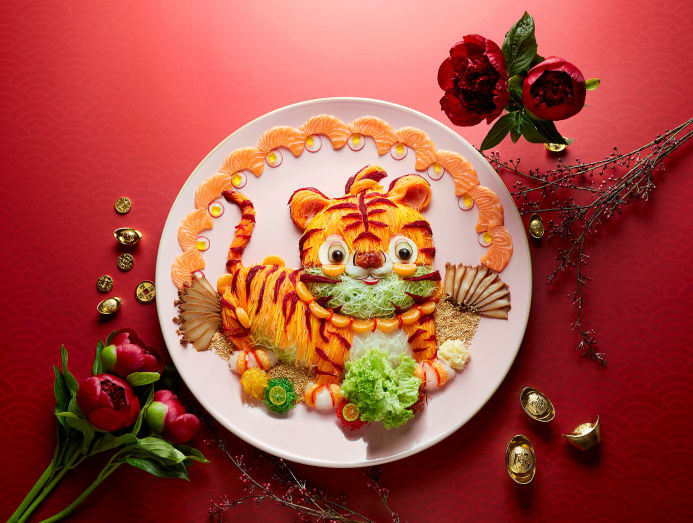 To up your bak kwa gifting game, turn to Tablescape's bak kwa with fresh black truffles (S$68 for 600g). Marinated for hours in a complex mix of aromatics such as oyster sauce, brandy and truffle paste, the meat is the grilled over applewood and charcoal in a Josper oven to seal in its nuanced, smoky flavours. Presented in a lovely woven basket, the bak kwa is anointed with gold leaf and shavings of fresh black truffles for an extra luxe touch.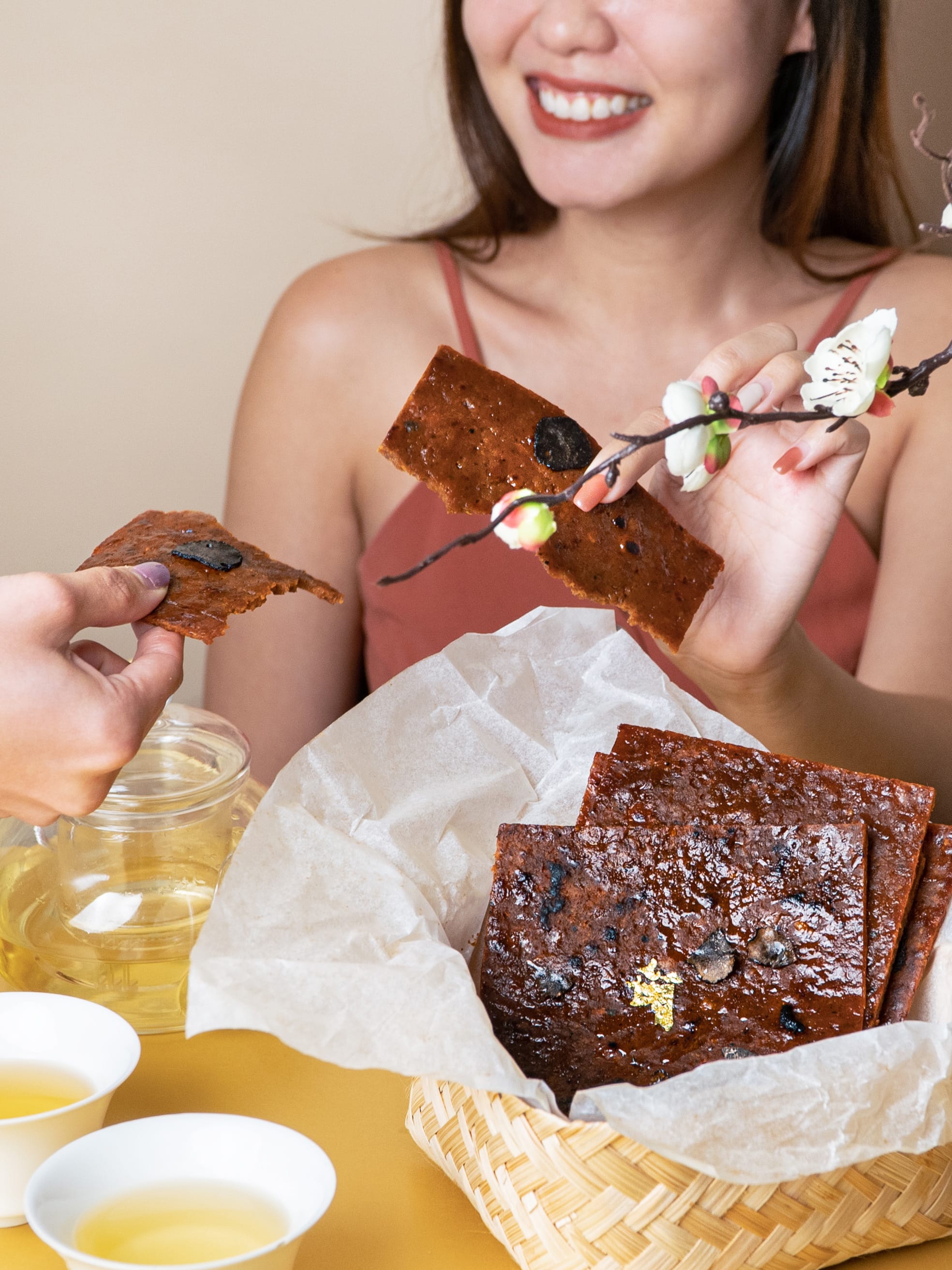 Pair the grilled meat with TWG Tea's Chinese New Year-edition Tiger Hill Tea (S$48) – a smooth, robust blend of black and Darjeeling first flush teas from the Himalayan mountains. Its deep flavours are brightened by delicate hints of fruity undertones and vanilla beans that makes it a great accompaniment to full-bodied CNY snacks.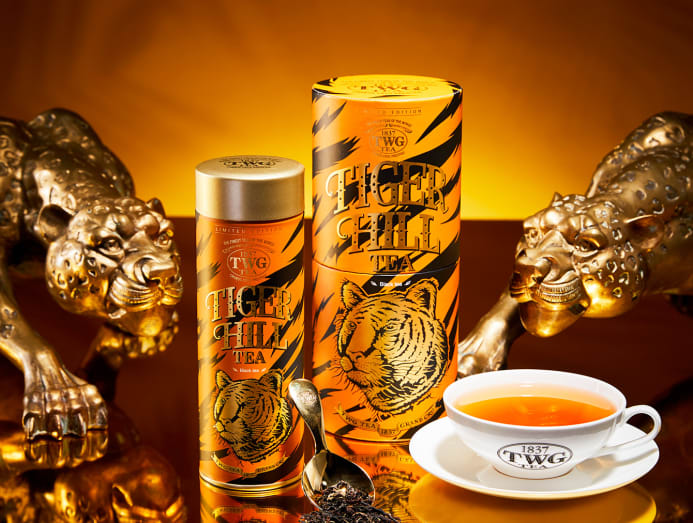 Even if you're celebrating as an intimate duo, a sumptuous reunion meal can be had at modern Cantonese restaurant Madame Fan, where individually plated dishes include Bridges lobster and Hokkaido scallops soup spiked with 20-year Gu Yue Long Shan rice wine and pan-fried marble goby fillet with shaved black truffles. The Chinese New Year set menus start from S$98 per head at lunch and S$148 at dinner.
Likewise, smaller dining parties can order special CNY a la carte offerings at Shisen Hanten, such as braised Inaniwa udon with lobster and garlic in a superior golden broth (S$58 per serving). The braised pork ribs with lotus seed in red glutinous rice is another seasonal delight worth the splurge and the calorie count, especially given that it's served with mantou to mop up all that tasty slow-braised gravy.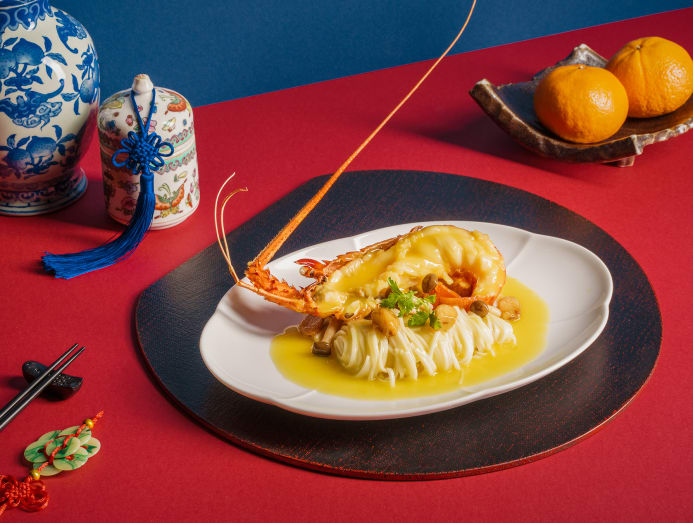 For yusheng that's out of the ordinary, head to Si Chuan Dou Hua, which has brought back its Fugu (pufferfish) version (S$198), this year served with greens that come fresh from local farm Petalicious. Expect to find the likes of ulam rajah, ice plants, edible flowers and Sichuan leaves that imbue the mix with a warm buzz much like Sichuan peppercorns, but without the sucker punch of heat. That the slivers of fugu are arranged to depict the face of a tiger is an impressive bonus.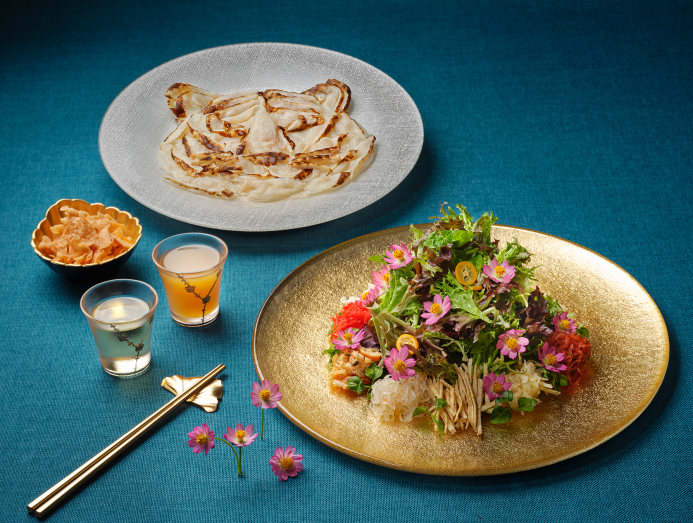 Pineapple tarts are dime a dozen this time of year, so if you're in the market for tarts with a difference, check out Shangri-La Singapore's Yuzu Charcoal Pineapple Tarts that are brightened with the zing of the Japanese citrus and tinged black with charcoal. Of course, there's gold dust to negate that darkness, giving these ingot-shaped tarts a touch of modern huat!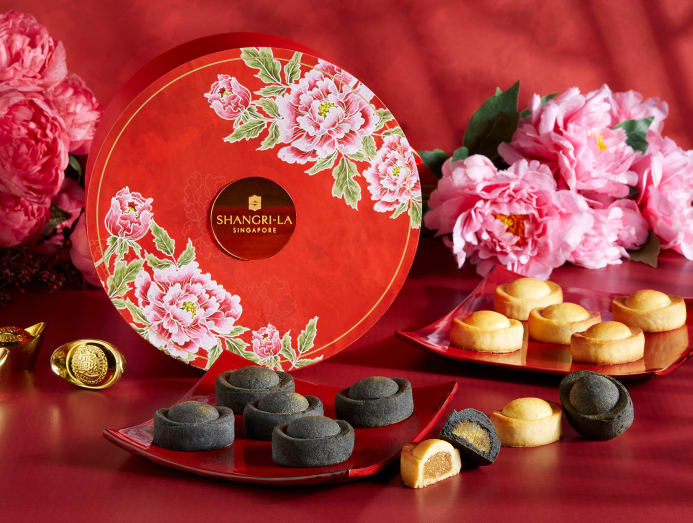 Lastly, if pencai is a must-have on your CNY table, just about every Chinese restaurant has its own over-the-top rendition. At Yan, 18 delicacies are served in a braised duck sauce (S$325); Min Jiang has a version featuring braised spring chicken with Iberico pork rolls and abalone (S$361.66); while at Sofitel City Singapore, the Magnifique Pen Cai (from S$388) harbours a base of truffle-braised cabbage. It's really a question of how lavishly you want your treasure pot to runneth over.