This Singapore private dining experience features bakwa and love letters
In celebration of Chinese New Year, The Macallan is teaming up with acclaimed chef Justin Foo for a two-night private dining experience packed with festive favourites.
If you're done making your Chinese New Year (CNY) visiting rounds but haven't yet had your fill of festive favourites, here's a private dining experience you can consider booking.
The Macallan has unveiled its latest edition of its exclusive private dining experience, this time in collaboration with acclaimed chef, personality and content producer, Justin Foo. Foo has conceptualised an exquisite whisky pairing menu in celebration of the festive season.
The menu is packed with iconic CNY favourites, inspired by Foo's personal experience of house visiting.
Opening the dinner is Tea & Biscuits, featuring stuffed egg roll crackers with pork floss, salted egg and rose petal cream, paired with the Classic Cut 2021 whisky served via a pipette dropper.
Also indulge in Foo's Grandma's Recipe, a comforting crab and scallop egg drop soup paired with the Double Cask 12 Years Old.
The highlight of the meal is Foo's Bakwa, comprising semi-cured spiced beef hanger steak smoked in oolong tea and black garlic puree, paired with the Rare Cask.
For dessert, there's the Almond Lapis, a classic childhood favourite made of almond jaconde and amaretto buttercream, pineapple jam and toasted coconut.
The menu shines the spotlight on A Night On Earth, a limited-edition single malt with vanilla sweetness and notes of dried orange and spice blends, blending harmoniously with the CNY delicacies presented.
The dinner is taking place on two nights only – Feb 21 and Feb 28 – at The Macallan at Raffles Singapore. Limited seats are available each day, priced at S$272+ per person. Reservations can be made here.
In the spirit of CNY, customers will also receive a complimentary limited-edition bottle chain with every bottle purchase at The Macallan Raffles Boutique, while stocks last.
Meanwhile, for whisky collectors in search of a rare find to add to your collection, The Macallan has now unveiled The Reach, a single malt whisky aged for 81 years. It is the brand's oldest whisky yet.
The Reach was crafted during the Second World War and laid to rest in 1940 before The Macallan was compelled to close its doors for the first time in history.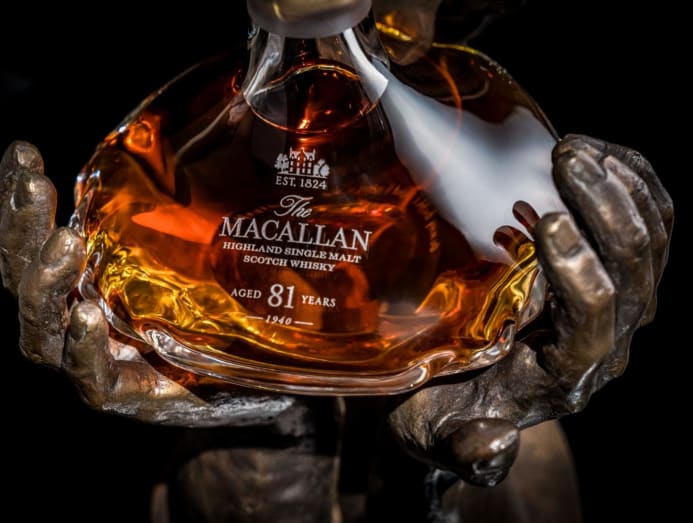 It is crafted from a single, sherry-seasoned oak cask and is encased in an exquisite decanter created from mouth-blown glass, cradled on a bronze sculpture of three hands. A cabinet crafted using wood from a fallen elm tree, thought to have been on The Macallan Estate in 1940, houses the decanter.
The Reach is highly limited to only 288 decanters worldwide. Those interested can reach out to The Macallan at Raffles Singapore at 8351 3499.