Whip up a feast this Chinese New Year with recipes from Singapore's society ladies
From homemade XO sauce to poon choi and pineapple tarts, cook up a storm for the festivities with these recipes from Singapore's social set.
It's that time of the year again when the family gathers to exchange good wishes for the new year and feast on scrumptious food. Each year, you make it a point to prep the table with an array of delectable dishes that will impress your relatives and friends.
If you're in need of inspiration this CNY, here are five recipes from Singapore's society luminaries.
DR JADE KUA'S CURRY CHICKEN
"Curry is a mainstay of my husband, Emil's, Peranakan household. This recipe has been in his family for at least five generations. His grandmother would procure the spices at the market and sun-dry them at home. Emil has since continued this tradition. 
"Even when we lived in Tiong Bahru, you would find a canvas splayed out in the back alley with all his curry spices catching the sun. The spices would be sent to a mill and the powdered mix would be packed and then distributed among family and friends.
"Last year, Emil decided to go an extra mile to research the provenance of the spices, look at milling options and have them properly packaged. The lockdown happened and he remained in Malaysia, so he set up a Facebook and Instagram page @grannyscurrypowder, opened it to the public and all followers who wrote in were mailed a sachet for free. 
"We got a lot of positive feedback and were happy that people got to try and do something with us over lockdown," shared Dr Jade Kua, a paediatric emergency specialist.
INGREDIENTS
1 small chicken, cut into similar sized pieces
1 clove of garlic
300g shallots
2 slices of galangal
1 thumb of fresh turmeric
3 stalks of lemongrass
2 potatoes, peeled
Quarter head of cauliflower
4 okra
2 eggplants 
1l coconut water, coconut milk, water or milk (or any combination)
PREPARATION
Remove the breast of the chicken and cut into eight pieces. Separate the drumstick and cut into two. Separate the thigh and cut into two. Remove the wing. Split the drumlet in half and the winglet in half, leaving the joints intact.
Split the chicken down the middle to remove its spine. Section the ribs into bite-sized portions.
Lightly pan-fry each piece, focusing to get a slight browning of the skin only and set aside piece-by-piece, as the skin becomes ready (the chicken meat is still quite raw). Set aside.
Cut two peeled potatoes into eight pieces each, soak in water for 30 mins, dry the pieces; portion out quarter head of Cauliflower and halve 4 okra and 2 eggplants, brush with olive oil.
Roast the potatoes in the oven until the skin is crisp, then add the cauliflower, okra and eggplant until all are slightly browned.
Mix 100ml of water with a sachet of Granny's Curry Powder to form a paste.
Pound a clove of garlic and 300g of shallots, two slices of galangal, a thumb of fresh turmeric and three stalks of lemongrass.
On a medium flame with 75ml of oil, fry the garlic and onions until the onions are limp and just turning brown. Add in the paste and fry until the oil starts to separate from the rempah. 
When the oil begins to separate from the rempah, add 1l of water and bring to a boil. Return to a high flame, lower to a simmer once it comes to a boil.
Add to the simmering curry. The curry is ready when the meat gives to the touch of a fork. Salt to taste, then serve.   
DR KAREN SOH'S HOMEMADE LUXURIOUS XO SAUCE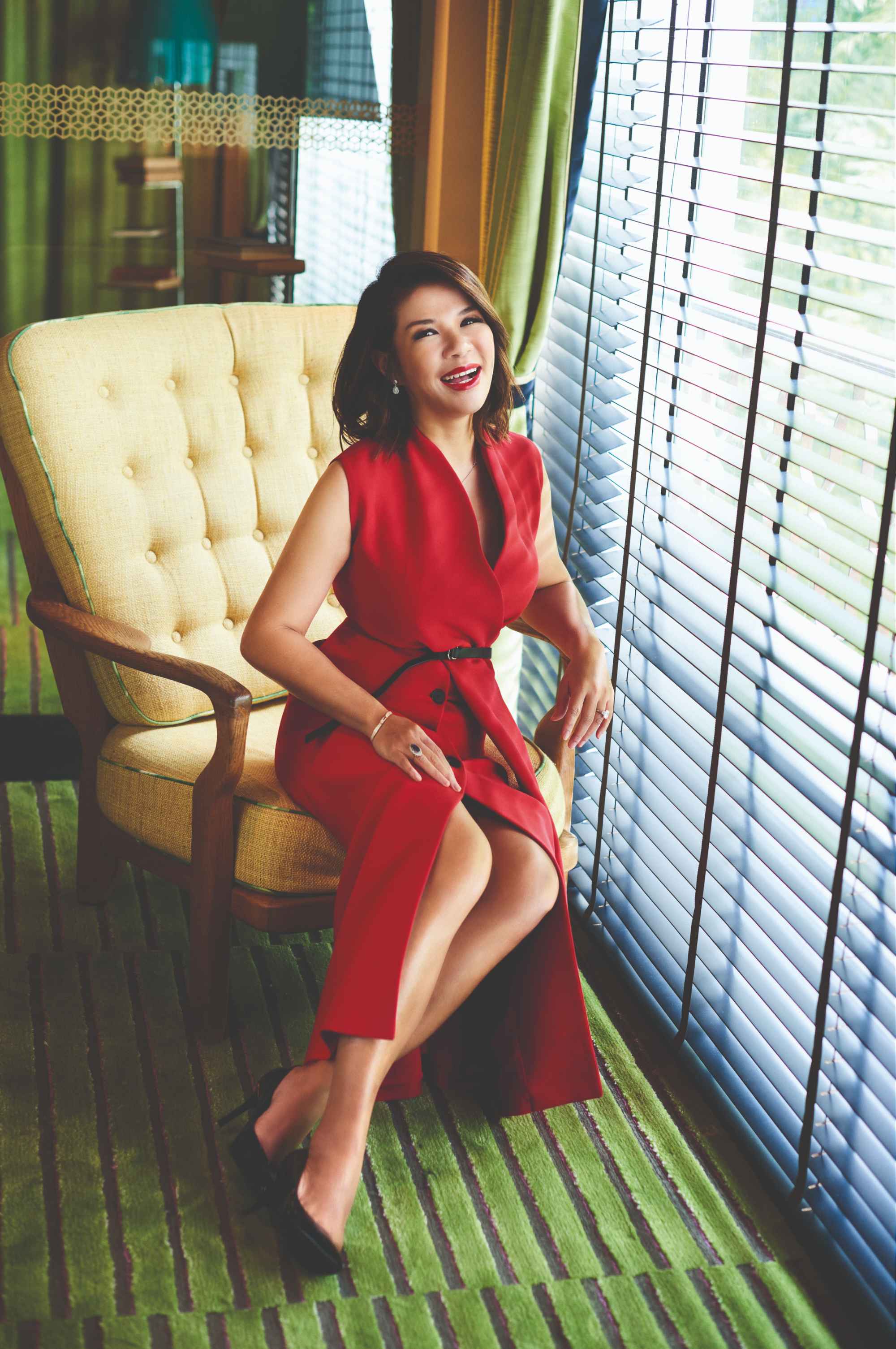 "I chanced upon this recipe for Luxurious XO sauce on Chubbyhubby.net. The scallops I use are hand-carried from Japan. Instead of standard ham, I use Iberico ham from Spain. It takes a long time to make the sauce, from all the prep work to frying which takes a lot of work, hence I only do it once a year! 
"To me, this Luxurious XO sauce reflects good luck (because of the red colour), health and blessings. My favourite go-to dishes to pair with this sauce are carrot cake, mee pok and stir-fried vegetables," said Dr Karen Soh, medical director of Prive Clinic.
INGREDIENTS
225g dried scallops
200g dried shrimp
200g shallots, peeled and coarsely chopped
10 garlic cloves, peeled and coarsely chopped
150g fresh red chillies, de-seeded and coarsely chopped
400ml peanut oil
100g dark brown Muscovado sugar
100g streaky bacon, finely minced
PREPARATION
Soak the dried scallops in 2/3 cup of tepid water in a heat-proof dish for one hour. Almost all the water will be absorbed, and the dried scallops should be sufficiently softened such that they break apart when gently pressed. Steam until tender, which will take 30 to 90 minutes (depending on the size of the scallops). Remove dish from heat and let cool, reserving the juices. Finely shred the scallops. Set aside.
Rinse the dried shrimp under tepid tap water. Drain. Pat dry. Grind into a fine floss using a food processor (or use a mixer if you have one). Scrape out and set aside in a separate bowl. Using the pulse function, grind the shallots until finely minced. Scrape out and set aside in a separate bowl.
Using the pulse function, grind the garlic and chillies together until finely minced. Scrape out and set aside in a separate bowl.
Heat the oil in a large heavy pan (I use a cast iron one) over medium-high heat. Fry the shallots, dried shrimp and sugar until the sugar begins to caramelise, stirring constantly. Add the garlic and chilli mixture, bacon, dried scallops and their reserved steaming juices. Turn heat down to medium. Continue to fry for about 30 minutes, stirring constantly. The finished condiment should be highly aromatic with a deep russet hue.
Remove from the heat and let cool completely. Store in airtight containers in the refrigerator for up to two weeks. Or freeze for up to two months; thaw overnight in the refrigerator before using.
FANTY SOENARDY'S KUEH LIDAH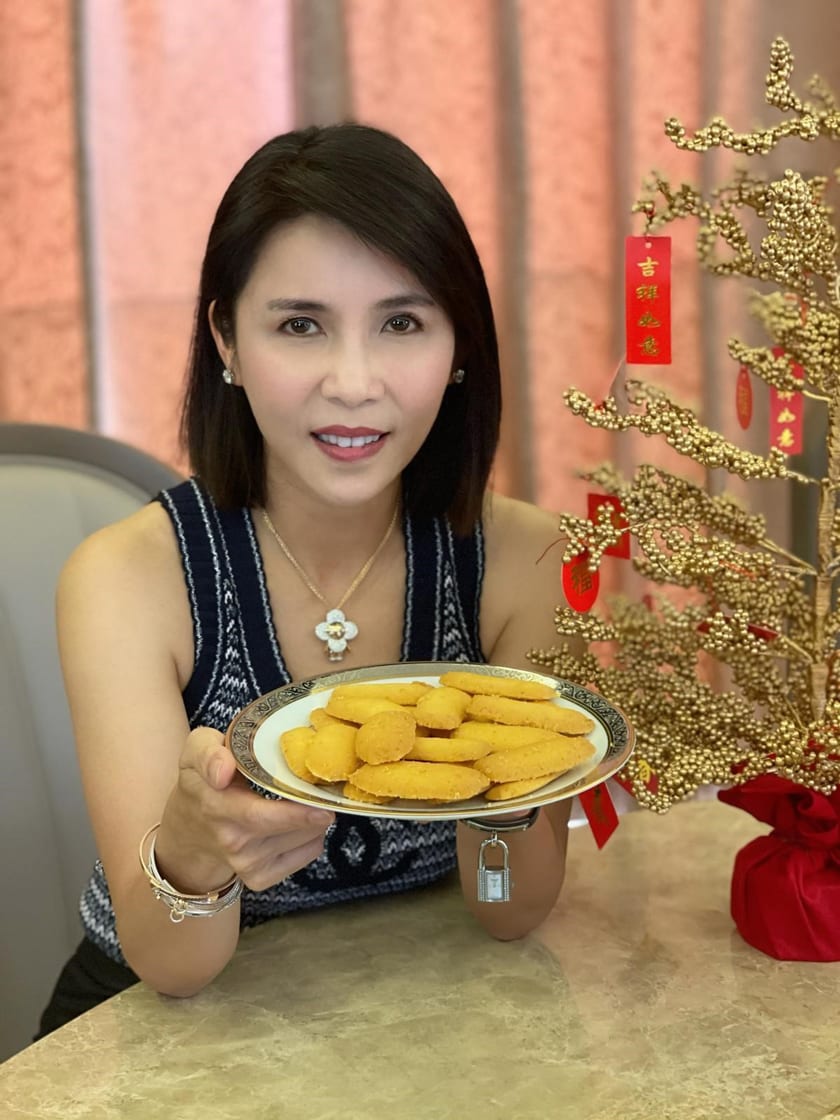 "Kueh Lidah, or sometimes known as Lidah Kuching, is an Indonesian cookie similar to meringue. Its main ingredient is egg white. During the Chinese New Year festive season, I usually bake Kueh Lapis for my close friends. As only egg yolk is needed in this cake, I'll use the leftover egg white to bake the Kueh Lidah cookies. I can adjust the sweetness level, and the cookies have a sweet fragrance and a crisp texture. They instantly melt in your mouth," said Fanty Soenardy, a homemaker.
INGREDIENTS
260g sugar
550g butter
500g self-raising flour
200ml egg white
100g grated cheddar cheese
PREPARATION
Beat egg white till white and light.
Beat butter with sugar, then add in flour. Following which, add in the cheese and egg white, and blend till even.
Once ready, set oven to 160ºC. Bake till golden-yellowish. It should take approximately five to eight minutes, depending on your oven.
KELLY KEAK'S ABUNDANCE AND PROSPERITY POON CHOI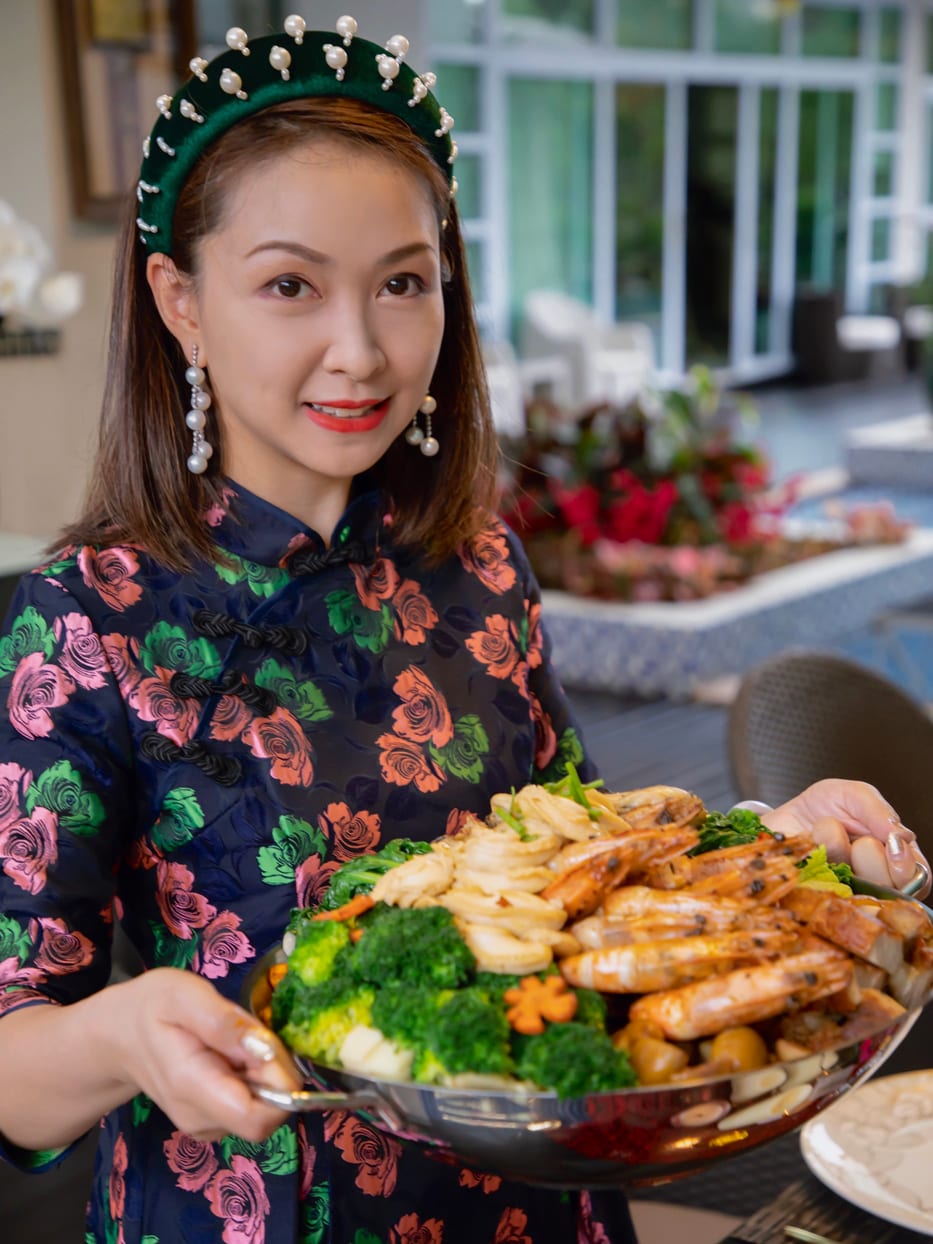 "Poon choi is an auspicious one-pot dish served in a very big pot during festive periods, especially during Chinese New Year. I specially prepare this as a pre-Chinese New Year celebration and for my mum's birthday. It requires much teamwork between my family members and I to prepare and cook the ingredients, which brings us together. 
"Back in the old days, different families had different cooking methods for poon choi, in keeping with their own customs. The recipes were often kept secret, regarded as an inheritance passed down the generations. Similarly, my mum also has her own unique poon choi recipe for our family," said Kelly Keak, managing director, MTM Skincare.
INGREDIENTS
12 large prawns (adjust to individual consumption)
60g dried mushrooms (soaked and softened)
500g fresh sea cucumber (washed; soaked and softened if using dried ones)
150g fried fish maw (soaked and softened)
300g dried oyster (soaked and softened)
100g chestnut
300g pumpkin (cut into chunks)
300g yam (cut into chunks)
100g beancurd
1kg roasted pork
1/2 soy chicken
1 can abalone
300g broccoli (floret only)
300g of other vegetables you like, preferably those with auspicious meanings
500g white radish (cut into chunks)
1 pack of fatt choy
Broth:
1 tbsp chopped garlic
2 packets of yuan collagen broth (including preserved mushroom soaking liquid)
PREPARATION
Heat the oil and fry the yam, pumpkin and beancurd till golden brown and set aside. Heat the pan with oil again, pan-fry the oyster with garlic, seasoning with oyster sauce and sake.
Season the prawns with pepper, soy sauce and garlic. Pan-fry until golden. Or air-fry for 10 minutes at 180ºC.
Drain the soaked mushrooms, stir-fry in a wok then slightly lower the heat. Pour in 2 tbsp of oyster sauce and 1 tsp sugar for seasoning, then pour in the ginger cubes, garlic and scallion. Mix evenly. Pour in chicken broth until it covers the mushrooms then cover with lid. Bring to boil, then turn to low heat and cook for 50 minutes. Once the mushrooms fully absorb the soup, they will become chewy and juicy.
Put in the soaked sea cucumber for blanching (you can add some ginger and scallion to temper the smell). Rinse in water after blanching process. Then, boil some chicken broth and put in sea cucumber and fish maw, cover up and bring to boil. Turn to medium heat and cook for five to eight minutes. Set aside.
Boil a pot of water to cook the white radish, broccoli and other vegetables, then set aside. Add some rock sugar to remove the bitter taste of radish.
Use the remaining chicken broth for the sea cucumber and fish maw to cook the abalone until it turns soft.
Use boiled water to soak the fatt choy until it spreads naturally. Add a few drops of oil to remove dust, then use a colander to rinse with normal water. Shape the fatt choy into a globe and put it into the chicken broth with abalone. Set the cooked fatt choy aside with a bowl. Abalone remains cooking.
Air-fry the roasted pork and soy chicken with ginger slices to achieve a crispy taste for five minutes at 200ºC.  
Start stacking the ingredients in layers. White radish, mushrooms, sea cucumber and fish maw, broccoli, fatt choy, scallop, roasted pork, soy chicken and prawn. Remove the abalone from the soup and layer on top of the dish.
Lastly, use the remaining chicken broth and season with premium soy sauce and some white wine to make it more fragrant. Add some sesame oil. Normally, corn starch is added to thicken the soup but I prefer the lighter version without starch. Bring to boil and pour on top of the dish evenly.
TJIN LEE'S PINEAPPLE TARTS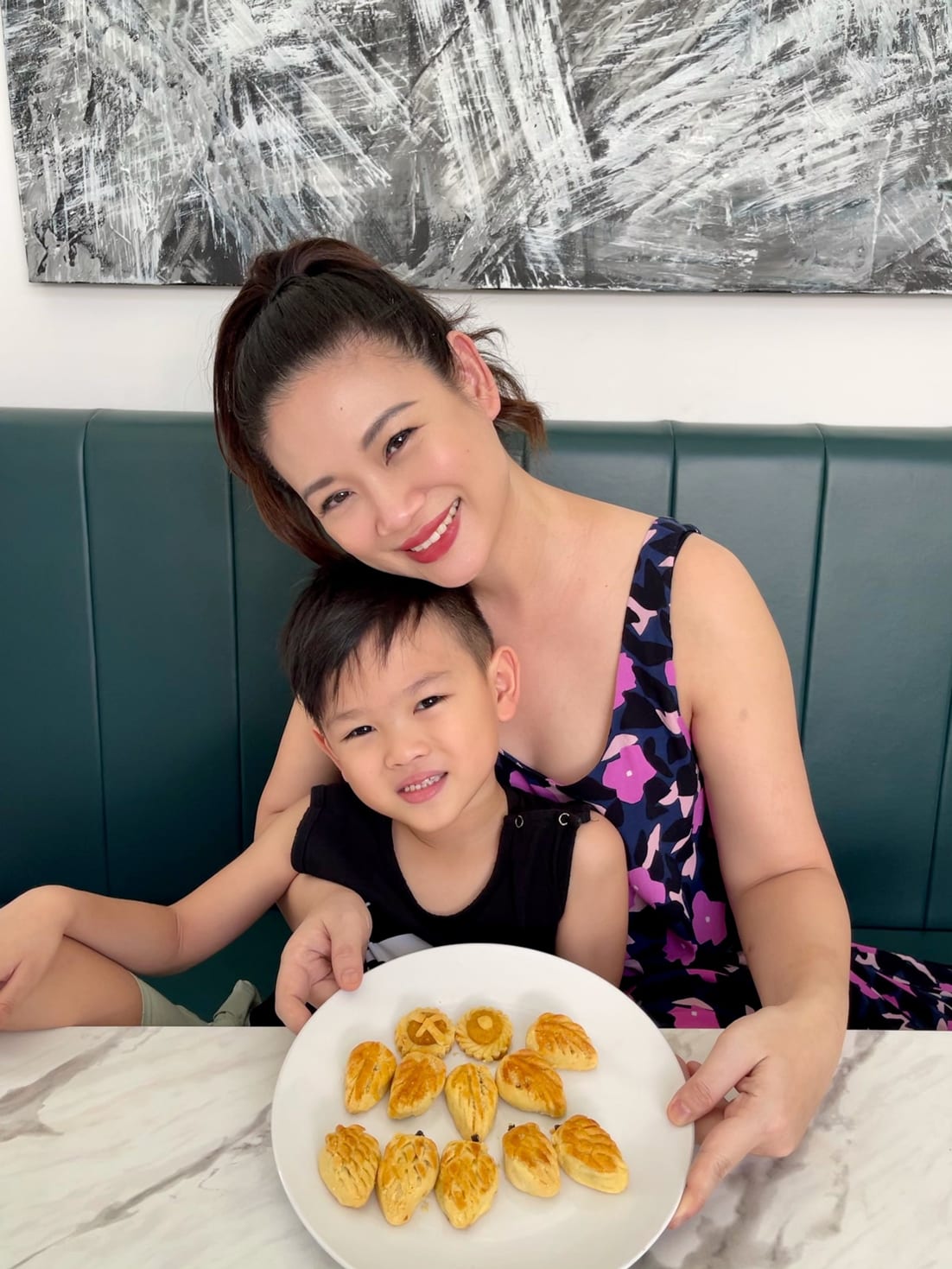 "We just recently moved into a new home, and received a warm welcome from our new neighbours. This pineapple tart recipe belongs to Aunty Alice Chua who lives upstairs, and she popped by to teach the kids how to roll the pineapple jam and knead it into the pastry shells. 
"It was a fun activity for the kids to be part of, and was also the first time we baked in our new oven, in our new home. To me, a house isn't a home, until it's properly christened with the smell of fresh baking!" quipped Tjin Lee, managing director of Mercury Marketing & Communications.
INGREDIENTS
Pineapple jam:
3 pineapples (cut and clean the pineapples, remove core/eyes)
100g-150g sugar
3 pandan leaves (tied in a knot)
Optional spices:
1 stick of cinnamon
2 star anise
2 cloves
Pastry:
50g icing sugar
200g plain flour 
200g cake flour
80g milk powder
20g corn flour
2 egg yolks
1 teaspoon vanilla essence
300g cold butter, cut into cubes
1/2 tsp salt
1 beaten egg for egg wash
PREPARATION
Pineapple jam:
Grate pineapples, strain the juice.
Chop the grated pineapples till fine.
Place chopped pineapples, sugar and pandan leaves into a cooking pot together with the optional spices, if desired.
Cook until almost dry over moderate/slow heat for one hour.
Keep stirring until mixture is thick and sticky.
Cool the jam and store in refrigerator overnight.
Shape jam into round balls (about 8g each) and place in refrigerator till ready to be used.
Pastry:
Sift plain flour, cake flour, milk powder and corn flour into a bowl. Add icing sugar.
Rub cold butter with tips of fingers into flour mixture.
Beat egg yolks, vanilla essence lightly into a box, add into flour mixture.
Remove dough and cover with cling wrap. Refrigerate for 20 to 30 minutes if dough is too soft.
Divide dough into 80 small balls.
Flatten the dough and fill the centre with jam balls and wrap round it.
Shape and mould as desired. 
Place tarts on a greased tray.
Preheat oven to 170ºC to 180ºC.
Bake in oven for 10 minutes.
Remove tray and glaze pastry surface with egg wash.
Return the tray into oven for another 15 minutes until the tarts are slightly brown.
Allow to cool, then serve or store in airtight containers.