Singapore bartenders share: 4 Christmas cocktail recipes to make at home
From a drink inspired by a blueberry cake to a twist on the Singapore Sling, these recipes from the city's top bartenders are just the concoctions you need to rev up the festive mood.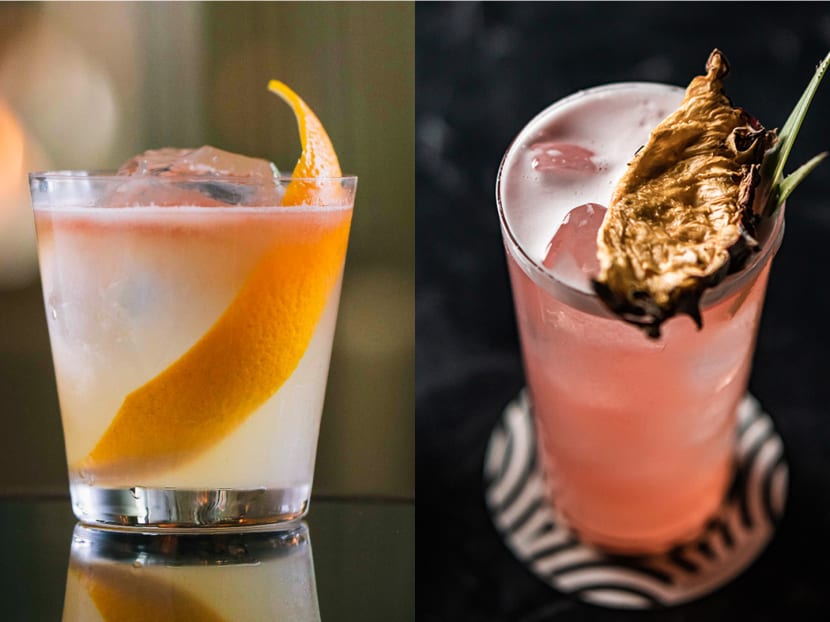 Tired of the same old Christmas punch? Don't fret. We get four bartenders to share some fun cocktail recipes that would wow your guests this festive season.
CHRISTMAS SYMPHONY BY JESSE VIDA, HEAD BARTENDER OF ATLAS
Vida has rustled up a gin sour inspired by warming winter spices, such as ginger and clove, which you would find in a hot mulled wine. "There's some almond syrup in there as well, which works great with those flavours," he said. "It's like drinking Christmas!"

He recommends pairing it with snacks that are savoury and a little sweet – bring out those roasted salted candied nuts.
Ingredients
25ml lemon juice
15ml Orgeat / almond syrup
5ml ginger syrup
10ml Velvet Falernum
55ml dry gin
Method
Add all the ingredients into a shaker, shake and strain into a rock glass with big ice cubes. Garnish with 10 dashes of Angostura bitters and an orange peel.

For those who don't own a bottle of Velvet Falernum – a liqueur with flavours of cloves and sweet lime – Vida suggests dropping a clove on top of the drink as a garnish to evoke the same aroma.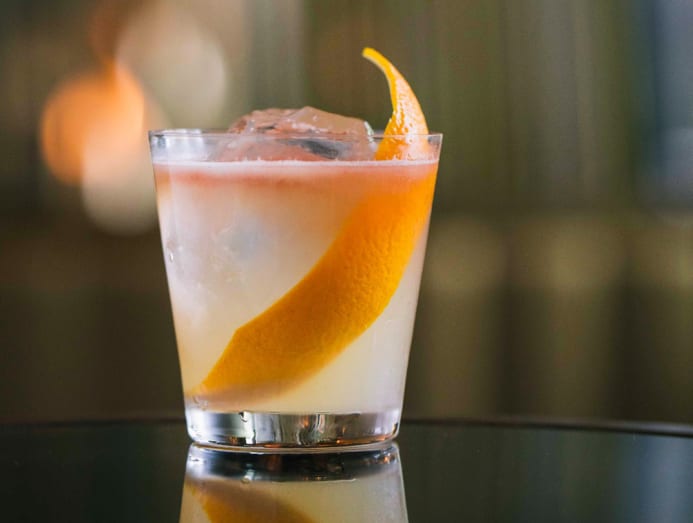 CHRISTMAS MONKEY SLING BY EDU ZAMORA, BAR SUPERVISOR OF SMOKE & MIRRORS
Zamora's cocktail is a Christmassy twist on the famous Singapore Sling. He recommends serving it anytime of the day or as a pre-dinner sip as it is fruity, light and refreshing.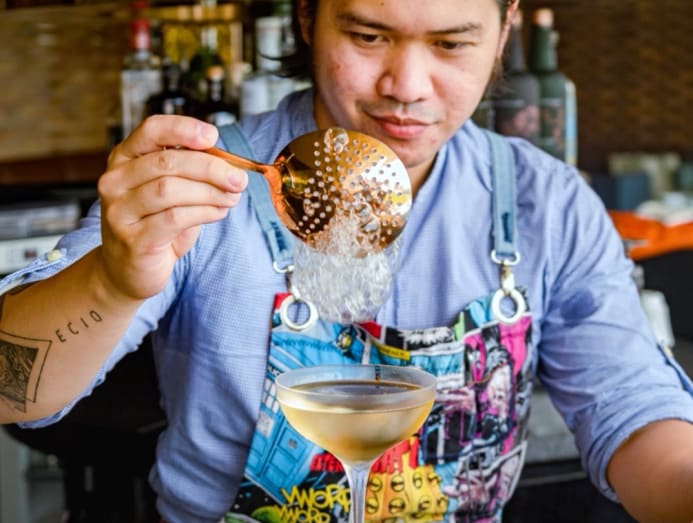 Ingredients
40ml Monkey 47 Gin
7.5ml grenadine
15ml special Christmas liqueur*
15ml lime juice
40ml pineapple juice
*Special Christmas liqueur
3 cinnamon sticks
2 pcs star anise
4 pcs cloves
Your favourite dark rum
Method
To make the Christmas liqueur, mix 500g of sugar and water at a ratio of 2:1. Add herbs and simmer till sugar is dissolved. Let it cool overnight. Strain before using and combine with dark rum at a ratio of 1:1.
Use a shaker to combine your Christmas liqueur with the rest of the ingredients. Shake well and strain into a highball or tall glass.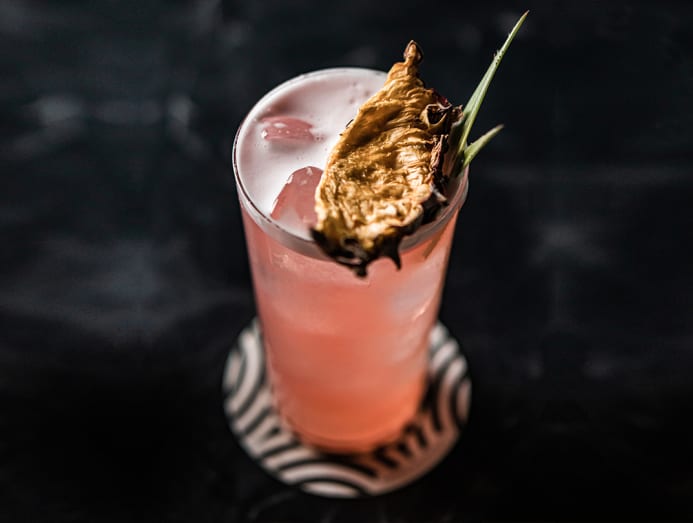 BERRY BERRY CHRISTMAS BY SHELLEY TAI, BAR AND GENERAL MANAGER OF NUTMEG & CLOVE
Tai's recipe was inspired by the blueberry Christmas cake, one of her favourite holiday cakes. The tipple is a riff on the whiskey sour, using blueberries and winter spices.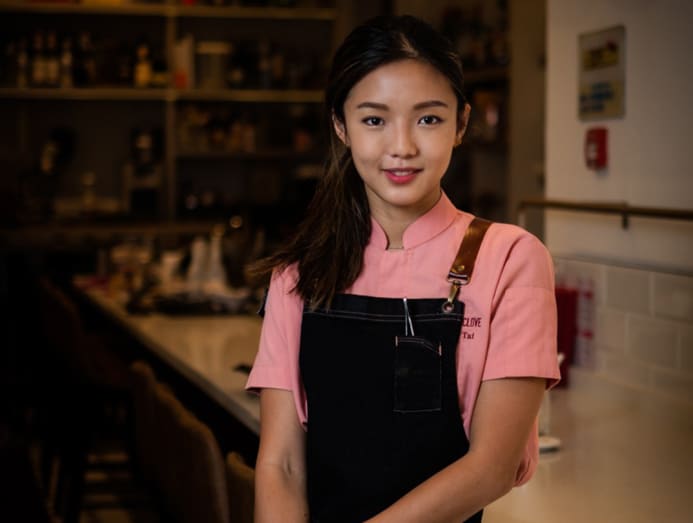 Ingredients
50ml bourbon
30ml lemon juice
20ml spiced blueberry syrup*
10ml egg white
*Spiced blueberry syrup
100g fresh blueberries
200ml water
2 to 3 cinnamon sticks
2 whole cloves
2 pcs star anise
200g sugar
Method
To make the spiced blueberry syrup, add all its ingredients except sugar into a medium saucepan. Bring to a light simmer until spices start to release aromas. Add sugar and stir to dissolve. Set aside to let it cool. Strain into a glass jar and store in the refrigerator.

Add the spiced blueberry syrup and the rest of ingredients into a shaker and shake for 30 seconds without ice. Add ice and shake again until well-chilled. Strain into a coupe or rock glass. Garnish with a rosemary sprig.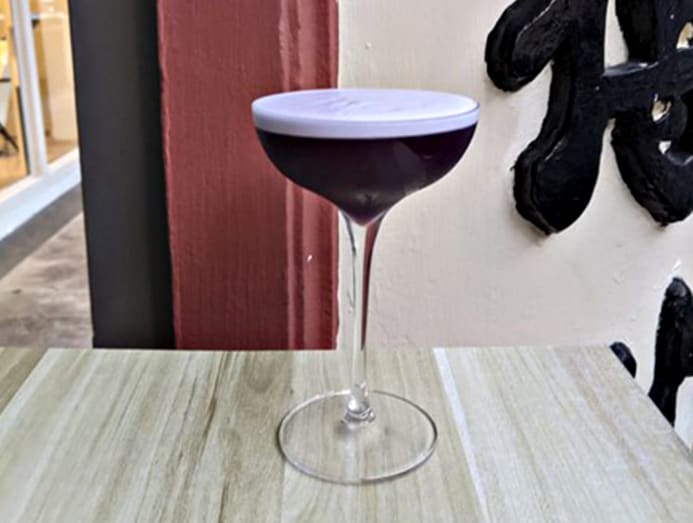 NOCHE BUENA BY KELVIN SAQUILAYAN, HEAD BARTENDER OF MANHATTAN, REGENT SINGAPORE
Saquilayan, who hails from the Philippines, hasn't seen his family since the pandemic broke out. The homesick bartender misses his mother's creme caramel, a customary Christmas treat. The Noche Buena, which means "good night", is a Coquito-inspired cocktail that captures the rich, creamy vanilla notes of his mum's caramel custard.
The drink's tropical touches of rum and coconut pair well with savoury snacks like spice-dusted popcorn, roasted nuts, rice crackers, or truffle fries, said Saquilayan. A dark bitter chocolate with a coconut filling like a Bounty bar is also a nice match, he added.

The Noche Buena is not on Manhattan's menu, but Saquilayan is more than happy to make it for you if you visit his bar. Just give him a wink and say the secret password: Noche Buena.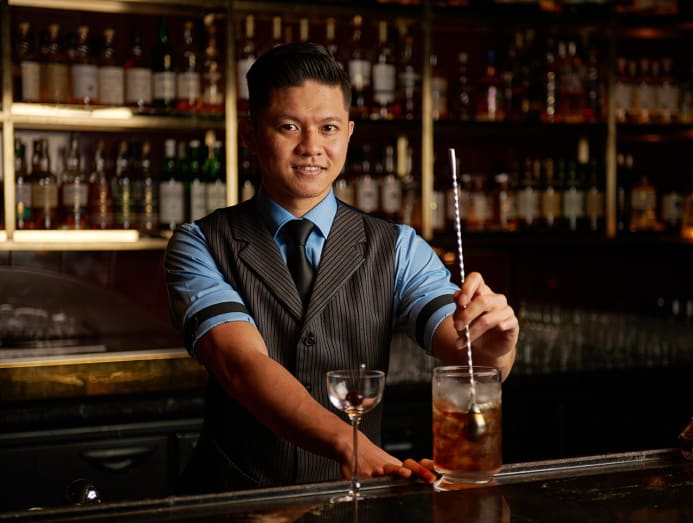 Ingredients
45ml Flor de Cana Rum
1 egg yolk
20ml coconut milk
10ml whipping cream
15ml maple syrup
10ml bourbon vanilla
Pinch of salt
 
Method
Add all the ingredients into a shaker, shake and strain into a flaked coconut-rimmed copa glass. Sprinkle with freshly grated nutmeg.