A new co-working space with 'wellness room' to open in Singapore's CBD
Located in the Afro-Asia building, this is co-working space operator The Great Room's largest location in Singapore. In the dedicated wellness room, members can immerse themselves in sound healing, breathwork and yoga activities.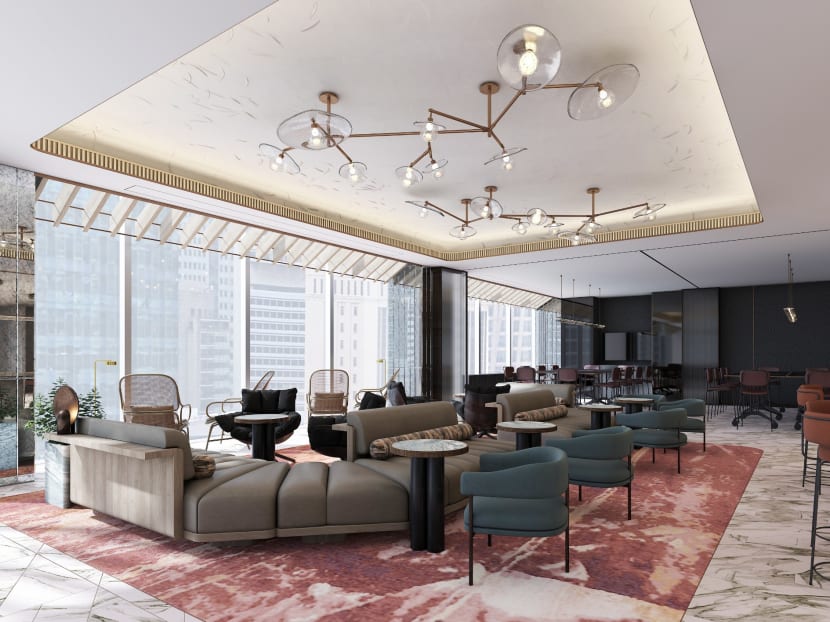 After many months of working remotely, Singapore is now making a transition back to the physical workplace. The pandemic has changed the way people work, so how will the workplace transform accordingly?
A new co-working space, set to open its doors in October 2021, gives a glimpse into the office of the future. This is premium co-working space operator The Great Room's fifth location in Singapore.
Taking up a sprawling 37,000 sq ft across three floors of the 19-storey Afro-Asia building, the space will be the operator's largest location in Singapore.
As demand for flexible workspaces continues to grow, The Great Room at Afro-Asia is "well-primed to meet the needs of an ever-evolving workforce", the company said in a press release.
It features 50 dedicated offices, up to 16 on-demand hot offices, 41 hot desks, and a host of conferencing and meeting areas that can facilitate both small and large group discussions.
"The opening of The Great Room at Afro-Asia comes at a time when the world is rethinking the concept of the workplace. This next chapter of our brand is a starting point of a journey towards a more sustainable work environment, as well as our continued evolution in human-centric design in this new era of hybrid working, and individual and corporate wellbeing," said Jaelle Ang, co-founder and CEO of The Great Room.
It is designed by award-winning Hong Kong-based designer Joyce Wang, who was inspired to create a treetop sanctuary in the heart of Singapore's business district. Interiors are sophisticated, biophilic and human-centric, featuring the use of recycled and upcycled materials.
Soaring ceilings and windows bring in natural daylight, known to be the optimum light for working, into the space.
To furnish the space, The Great Room has collaborated with local artisans. The Drawing Room, a space for members to gather for discussions and socialising features a long communal table designed by local craftsmen Roger&Sons.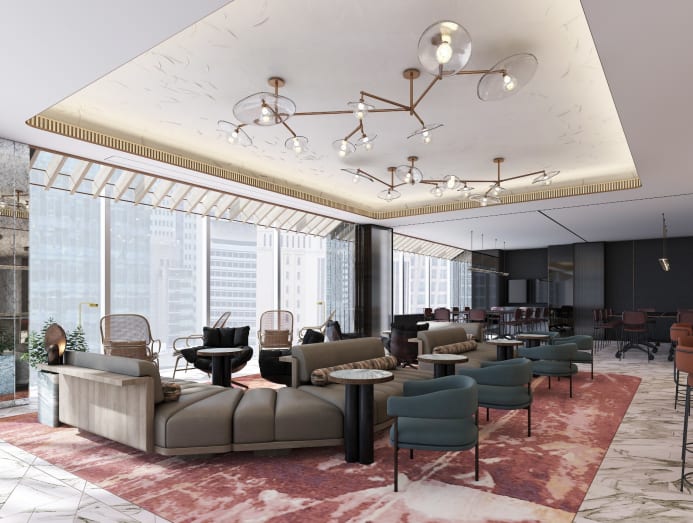 The table is crafted from Singapore-grown mahogany wood, resulting in a net-zero carbon footprint. Mahogany is a fast-growing species in tropical climates like Singapore and thus requires half the time to regenerate.
Lighting specialist DJCoalition was engaged to design the lighting, prioritising energy reduction and efficiency without compromising on ambience.
Highlights of the space include a Wellness Room, a first for The Great Room, where members can immerse in restorative programmes designed to boost their wellbeing. Activities include sound healing, breathwork exercises and yoga.
There is also a Sky Garden on the fifth floor, which can be used as an outdoor event area.
In addition, The Great Room regularly organises a roster of knowledge sharing programmes for members. This includes a fireside chat series with international opinion leaders on topics ranging from climate change to women's empowerment.
Members will also be invited to regular networking events and entertainment activities, such as craft workshops and a monthly social event.