What it's like on a cycling trip through a part of Europe that few tourists see
Five friends embark on a 161km-bike trail that follows an old train track, winding through Bosnia, Herzegovina and Croatia.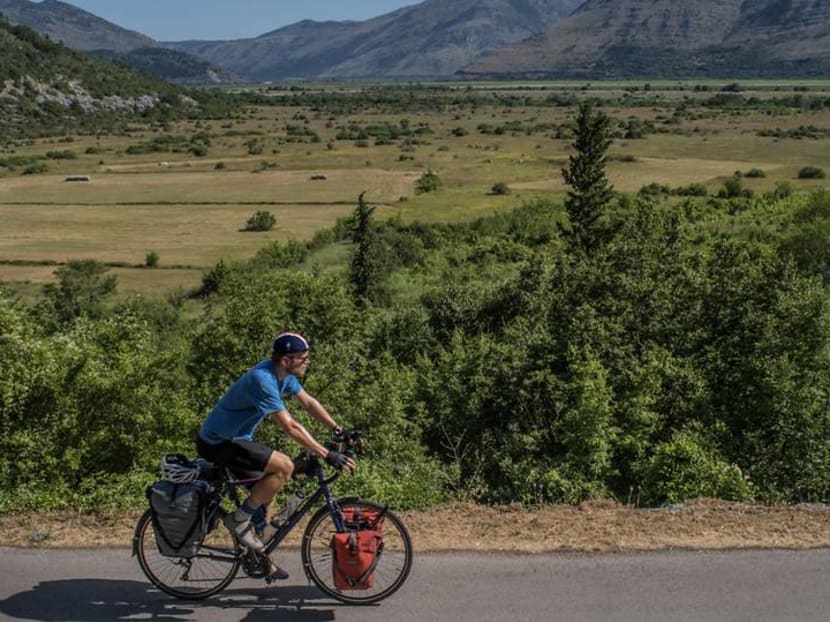 My four friends and I rolled our bikes to a bar one sunny afternoon near the town of Zitomislici on the banks of the emerald green Neretva River in rural Bosnia. We stopped at Neretvansky Gusar, as the bar is called, to restock our water supply. There was only one problem: "I only have ice-cold beer," apologised the longhaired proprietor, Nikola Bevanda, who prefers the nickname Svabo, slang for 'the German'.
We looked at one another, and simultaneously dropped our bikes. A few minutes later, cans of cold beer in front of us on the outdoor picnic table, Svabo appeared, a half-empty bottle of off-brand Canadian whiskey in hand, and the impromptu party was officially on. "It's all rock 'n' roll," he said. "That's my life's motto."
Little did we know at the time that "rock 'n' roll" would be our motto, too – only much more literally – for this bike ride. It was the beginning of a three-day, two-wheeled journey through Bosnia. My four friends and I were pedalling the Ciro Trail, a 2-year-old bike path that follows an old railway line from Mostar in Bosnia and Herzegovina to Dubrovnik in Croatia. When I'd heard the 100-mile (161km) trail is flanked by fields still littered with land mines, past villages abandoned since the Balkan conflict of the early 1990s, and by old railway stations converted to hotels and restaurants, I knew I had to do it.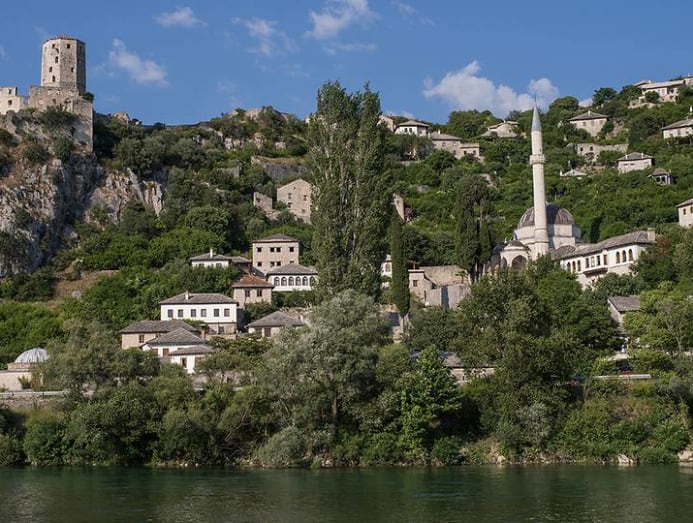 The combination of recent history and Bosnia's stunning natural beauty was appealing. As I told people about the coming trip, some friends were so intrigued they invited themselves along: Kim Barker, a reporter for The New York Times; Caroline Trefler, a guidebook editor; and the brothers Vedran and Darko Perojevic, owners and chefs of the Dubrovnik restaurant Azur. Kim and Caroline arrived fully prepared for the ride with proper equipment. The brothers Perojevic, having lugged fold-up electric bikes to Mostar for the ride, were decidedly less so. And I, the organiser of the trip, could have packed more than a few T-shirts, a baseball cap and swimming trunks. One aspect that helped, though, is that Kim, Caroline and I rented bikes from the Dubrovnik-based tour operator Epic Croatia, which offers reasonably priced mountain bike rentals and a transfer (with the bikes) to Mostar so we could do the trail just one way.
We were cruising through the town of Surmanci when we hit the brakes for an outdoor market. We were about four miles from Medjugorje, where in 1981 six children claimed to have had a vision of the Virgin Mary; the town has since been a major pilgrimage stop. Surmanci was close enough to the holy village to get into the act of selling pilgrimage souvenirs. Women called to us to part with our money for beaded bracelets, images of the Virgin, and wooden crosses. "Lady!" they yelled repeatedly at our female companions. "Lady!" Kim bought a few knickknacks to give to friends back home. And she also acquired the nickname "Lady" for the rest of the trip.
After sleeping in the comfortable but no-frills Motel Jelcic in the unremarkable town of Capljina that night, we began Day 2 by pedalling past sleepy villages and across rusty iron-lattice train bridges. The path would often gently curve along a mountainside, revealing its former self as a train line.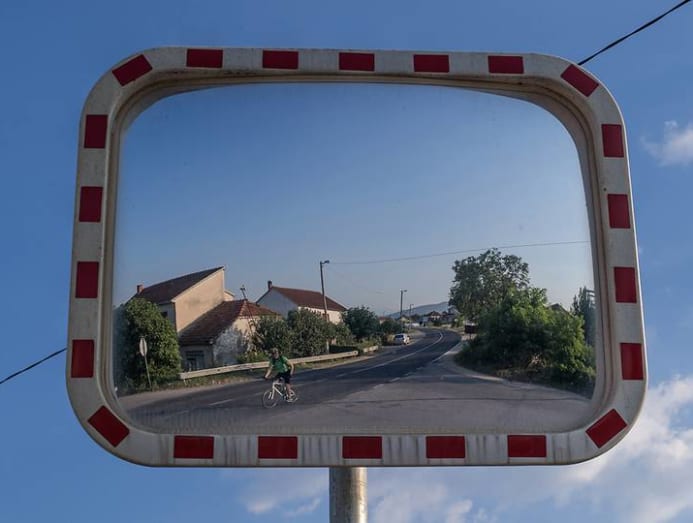 The first train chugged out of Dubrovnik toward Mostar on July 15, 1901, with dignitaries seated in carriages as the train was met by cheering crowds. In 1976, the rail line was deemed no longer financially feasible by the then-ruling Yugoslavian government and shut down. These days it's mostly foot-powered vehicles that chug along the trail, thanks to an effort by local bicycling clubs on both sides of the border to do something with this unused stretch of trail, and to help bring tourists to a part of Europe few outsiders see.
About five miles into the day's ride, we came to a fork. The signposts indicated we could take the easier paved route or power through the uphill gravel trail that directly follows the old rail line. We opted for the latter and were rewarded with views of Hutovo Blato, a nature reserve that is mostly made up of marshland and tall, dark green, pyramid-shape mountains, part of the Dinaric Alps. Pedalling mostly uphill and on tennis-ball-size chunks of white limestone was the 'rock' portion to the previous day's 'roll'. It wasn't easy, but we stopped frequently to admire the surroundings.
At one point, we encountered 20-foot (6.1m)-tall walls of white limestone. Someone had spray-painted on the stone 'Beware of bloody vampires' in Bosnian. Vedran translated it, and we all chuckled and shrugged. But then a few miles later, we got the joke. As we turned a corner, an ominous black passageway awaited us. Vedran and Darko led the way, pushing their bikes into the erstwhile train tunnel before completely disappearing into the blackness.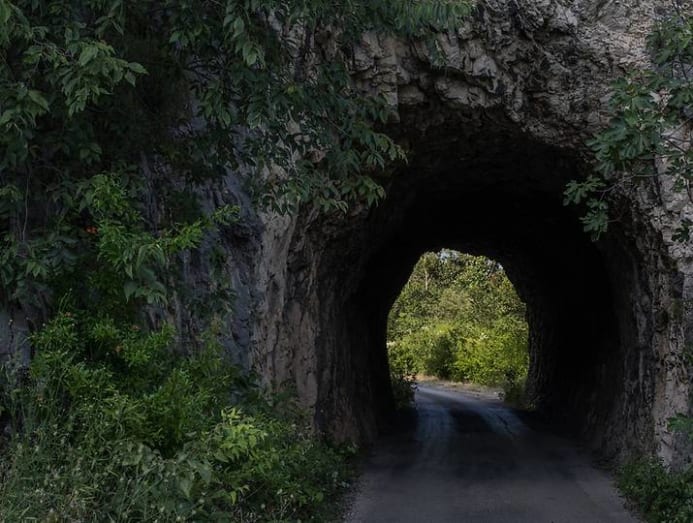 About halfway through the 400-foot tunnel, still completely black save for Caroline's flashlight, we began hearing a cacophony of high-pitched, squeaky, chirping noises. And it wasn't our bicycles. We all paused. I could feel my heartbeat speeding up. What kind of army of creatures was awaiting us?
Caroline pointed her flashlight up to the ceiling and we all screamed at the sight: Hundreds of bats swirling just over our heads. We had roused them from their sleep, and they didn't seem happy. Vedran was trying to play it cool, as we pushed our bikes faster through soft bat guano. My tire inadvertently rubbed against his calf, and he let out a loud, panicked scream. We all laughed, which lightened the mood. After we pushed through the tunnel, we took a breather, relieved that none of us had been converted to vampires. Or so we hoped. Back on the bikes, we crossed the iron Stangerova Cuprija bridge.
A couple of hours later, we cruised into Ravno and checked in to our hotel, Stanica Ravno, a former railway station that opened as a hotel last year. The first thing we did, naturally, was go to the outdoor restaurant and order a round of beers.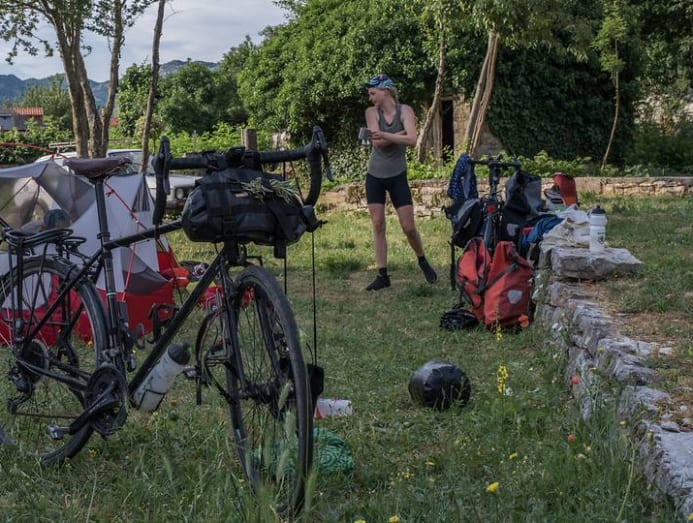 That night, our last in Bosnia before crossing the border, we feasted on grilled meat and sipped local wine at the hotel restaurant, happy our adventure with the bats was over. The next day we began by having coffee at Gostinica Zavala, a former train station that is now a restaurant. Inside was a photo of the day the Ciro Train first pulled through the village of Zavala in 1901. The railway was flanked by hundreds of people cheering as the train chugged by. We cheered that the path in front of us was mostly paved and relatively flat.
Darko would occasionally stop to pick things off trees and plants on the side of the trail – sour cherries, hibiscus, mulberries, oregano – and offer it to us. A perk of travelling with a chef. We followed the long, gentle curve that stretched along the side of Popova Polje, one of the largest valleys in Bosnia. Here the road signs began to change from the Latin alphabet to the Cyrillic. We were now entering Republika Srpska, a quasi-autonomous strip of Bosnian-Serb land that was the result of a compromise that ended the Bosnian War at the Dayton Accords in 1995.
Just after passing through the village of Hum, a haunting hodgepodge of grazing cows and abandoned 19th-century buildings, many in a state of disrepair (and where apparently about 10 people still reside), we began seeing ominous signs on the side of the trail brandished with a skull and crossbones and the word MINE in Cyrillic. Then we came upon a group of guys, some wearing what looked like bulletproof jackets, standing around smoking and chatting. They were part of a Bosnian team from Norwegian People's Aid, an NGO that locates and defuses land mines.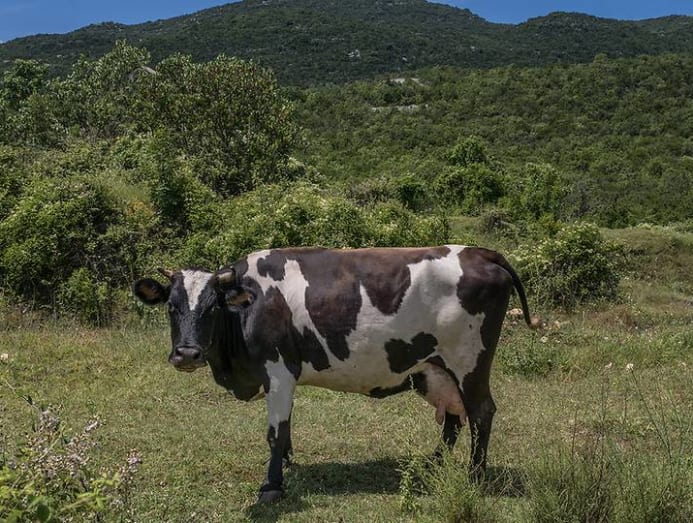 The group's leader, Nerven Stonic, said, "We're trying to rid this area of land mines with the hope to open it up to tourism – making it better for people like you to ride through." That's when Vedran asked if they had any water. "If we did," Stonic said, "we'd certainly offer it to you." Vedran made an offer of his own: "How about an ice-cold beer?" Stonic laughed and said, "That would be great, but in our line of work, it would be seriously questionable if we drank alcohol on the job."
The guys picked up their metal detectors and went back to work, and we picked up our bikes and pedalled the last five or so miles before reaching the Bosnian-Croatian border. In the now-abandoned town of Uskopje, we went by the railway station, now populated by cows. They watched us bike by, seemingly unfazed, and then, in the town of Ivanica, we reached the border, experiencing that odd feeling of being on a bike sandwiched by revving automobiles.
After a quick stamp of our passports, we coasted down a steep, paved path that delivered us right into Gruz Harbor in Dubrovnik. We sailed past the former railway station where the Ciro Train first made its inaugural journey and right into the bar at a new craft brewery, the Dubrovnik Beer Company, where we had one last celebratory ice-cold beer. "It's all rock 'n' roll," we said, and clinked our pint glasses.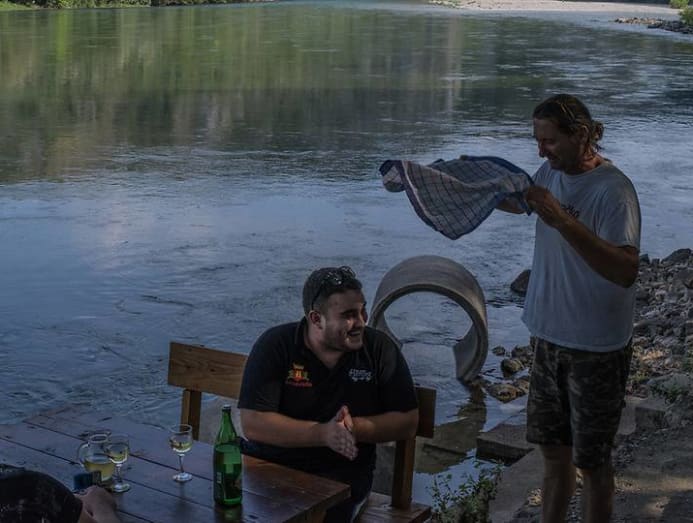 By David Farley © 2019 The New York Times