Daycations in Singapore: With travel making a comeback, are they here to stay?
Daycations – or daytime experiences at a hotel without the overnight stay – emerged as a new trend during the pandemic. But with travel returning slowly but surely, we talk to hospitality experts on their long-term appeal.
Pre-pandemic, the thought of taking a daycation in a coveted luxury hotel in Singapore was almost inconceivable. Why would anyone pay good money in order to check-in and check-out of a hotel within the same day?
But when COVID-19 hit, daycations emerged as a new strategy for hotels to lure locals and utilise their empty rooms and spaces. 
Hotels began launching attractive daycation packages that included spa treatments, dining deals, and access to facilities such as swimming pools and gyms. One of the first to do so was Shangri-La Rasa Sentosa, Singapore, which launched its Paradise In A Day package in July 2020. 
"Paradise In A Day was designed for guests desiring an escape, and encompassed the perks of a relaxing vacation without the commitment of an overnight stay. It offered daytime access to our beachfront location along with a suite of lifestyle offerings, and the assurance that their wellbeing and safety remained our priority," said a spokesperson from Shangri-La Rasa Sentosa, Singapore.
Following the success of Paradise In A Day, the resort went on to launch Rasa Sunset In Paradise in September 2020, which offered guests beach and pool access, sea sport activities, a welcome cocktail and a choice between several BBQ platters. It is currently running a pop-up beach club experience in collaboration with champagne house Veuve Clicquot. 
"We have received extremely positive responses for all our daycation packages to date. There were several instances when the daycation experiences were sold out within minutes of launch and guests would express interest to be informed of the upcoming slots release or the next daycation experience," said the hotel's spokesperson, adding that the resort has also seen repeat daycation guests.
At a time when remote working was the norm, work-from-hotel daycation packages also proved to be popular. First rolled out in November 2020, Pan Pacific Hotels Group (PPHG) continues to offer work-cation packages across its hotels and suites. These include Pan Pacific Singapore, Parkroyal Collection Marina Bay and Parkroyal Collection Pickering.
"Daycation packages open an alternative channel for revenue during the pandemic. Average occupancy rates across the board have taken a hit – we are a long way from the highs of 80- to 90 per cent occupancy in pre-COVID-19 days – and the staycation business is largely skewed towards weekends and holidays. Daycations are a good way for us to fill our rooms during the weekdays and lull periods, when guests can enjoy a quieter environment with fewer crowds as well," commented Cinn Tan, chief sales and marketing officer at PPHG.
Tan noted that the group has seen "good demand" for its daycation packages, reaching hundreds of bookings a month.
ONE-STOP PLATFORMS FOR BOOKING DAYCATIONS
Before Singapore's hotels began embracing daycations, one entrepreneur had already pioneered the concept. In 2011, David Lebee founded Dayuse in Paris, a mobile app that allows guests to book "dayscapes" on-demand. Dayuse has since expanded internationally, launching in Singapore in 2018.
"Curating the best hotels in the city, we have more than 7,000 hotel partners across 26 countries to date. In Singapore alone, we work with more than 100 hotel partners in our portfolio to provide affordable experiences at various time slots or for a few hours from 6am to 11pm, costing up to 75 per cent less than an overnight stay," Lebee said.
During the pandemic, Dayuse's bookings tripled while its portfolio of hotel partners grew by 2.5 times. "Hotel experiences were the only few options during the pandemic that provided a sense of escape. As local tourism experts, Dayuse filled a need in a time when social life and travels came to a halt," Lee shared.
For others, the rising demand for daycations also became a business opportunity. Shortly after Singapore's circuit breaker restrictions eased, Martha Waslen founded DayAway, a homegrown B2B2C online platform that specialises in curating daytime hotel experiences. Its hotel partners include the likes of Raffles Hotel Singapore, Marina Bay Sands Singapore, Fairmont Singapore and others.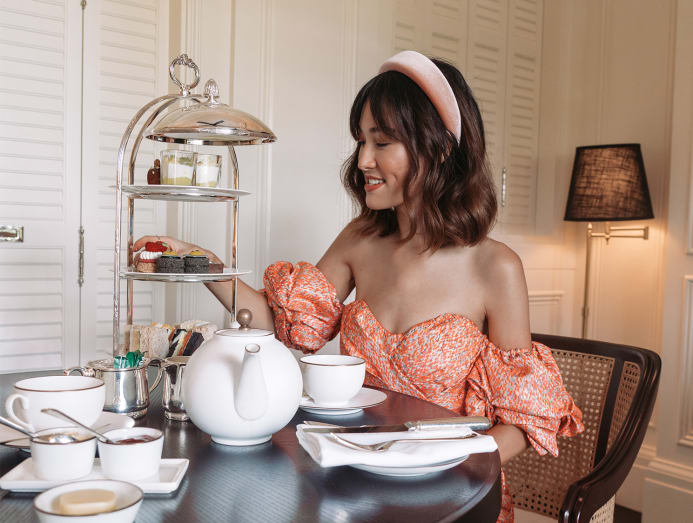 Since the platform's soft launch in May 2021, it has generated over US$3 million (S$4 million) for its hotel partners, Waslen said. It is now preparing to launch in West Asia, Europe and North America.
"As challenging as this pandemic is proving to be, it has created ideal product-market fit and timing for a platform like DayAway," commented Waslen. "DayAway has received positive feedback both from hotel partners as well as guests and I am confident that DayAway will continue to succeed long after the pandemic, but the truth is that the current state of travel has given us a once-in-a-lifetime opportunity to accelerate hotel and user adoption for a platform like ours."
THE FUTURE OF DAYCATIONS
Three years on since the pandemic first began, international travel is now slowly picking up around the world. In Singapore, the launch of Vaccinated Travel Lanes (VTLs) has allowed those starved of overseas experiences to finally scratch that travel itch.
Which begs the question – are daycations then just a passing trend, or are they here to stay?
"We have not seen any major impact [in demand of daycations], as most locals are still choosing to remain in Singapore and opting for daycations and staycations," said PPHG's Tan. Although travel restrictions are gradually easing and more VTLs are being established, the pandemic is still proving to be a roadblock in the tourism rebound, she said. 
"Until we see greater signs of recovery and a return of inbound arrivals, domestic demand will continue to be our key focus. That said, we cannot discount the potential impact that VTLs and relaxing restrictions may have on daycations. If VTLs are sustained and more locals are comfortable with travel, we will see the population opting for getaways instead of daycations," Tan added.
Dayuse's Lebee, however, is more optimistic about the future of daycations. "Based on our data, the demand for daycations has not been affected despite the opening of VTLs. We continue to register an increase in bookings week after week and believe this attests to daycations becoming mainstream."
DayAway's Waslen also echoed similar sentiments. "The demand for daytime experiences in luxury hotels is on the rise – because the demand for engaging experiences in general is on the rise. Like so many things, once people have access to that kind of access and convenience, it's unlikely they'll want to live without it," she said.
5 DAYCATION PACKAGES TO BOOK
RASA SENTOSA X VEUVE CLICQUOT IN THE SUN BEACH CLUB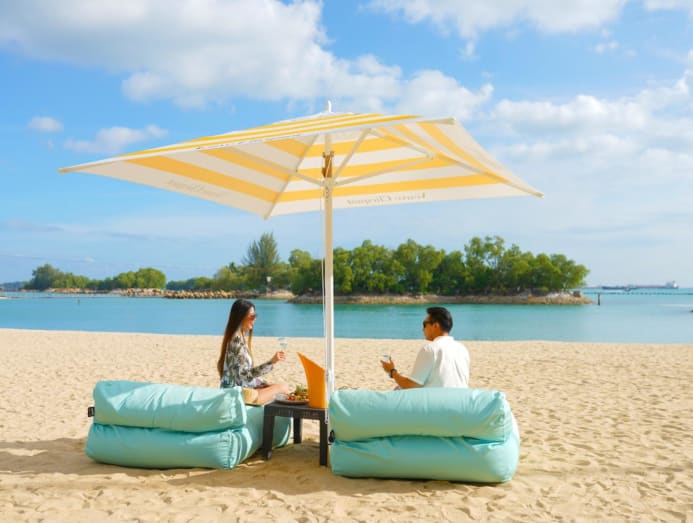 It's always a good time for a beach escape. Shangri-La Rasa Sentosa, Singapore has partnered with Veuve Clicquot to host an exclusive, adults-only, pop-up beach club experience encompassing all the perks of a relaxing vacation without an overnight stay. Priced at S$138++ per adult, the package gives guests access to the resort's private beach from 12pm to 7pm, one bottle of Veuve Clicquot Yellow Label Brut along with S$50 nett dining credits.
Partake in sea sports activities including single kayak, double kayak, triple kayak, stand up paddle board and pedal boat.
For more information, click here
GARDEN DAYCATION AT PARKROYAL COLLECTION PICKERING
Need a change in environment while working from home? The Garden Daycation package at Parkroyal Collection Pickering offers day use of a guest room from 8am to 7pm. Lunch and dinner are settled with 20 per cent savings on total dining bill at Lime Restaurant and Bar or in-room dining. And if those tired muscles are in need of serious kneading, head over to St Gregory Spa where you'll join 20 per cent savings on a la carte treatments. The package also comes with access to the Wellness Floor with usage of fitness centre and infinity pool.
For more information, click here
SUNRISE SPA & SWIM AT RAFFLES SINGAPORE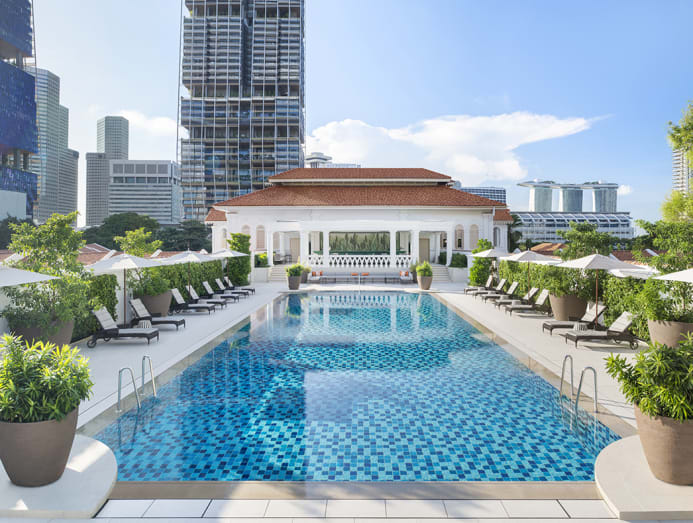 This daycation package, offered by DayAway, offers guests a spa and swim escape at Raffles Singapore without the eyewatering bill that comes with an overnight stay. Starting from S$258, it features a 60-minute Absolute Relaxing Massage at Raffles Spa, along with a complimentary hand and foot nourishing therapy. After which, you'll get a two-hour time slot at the hotel's pool.
For more information, click here
A TEA PURSUIT AT THE CAPITOL KEMPINSKI HOTEL SINGAPORE
In celebration with International Women's Day, DayAway has curated a tea-time experience at The Capitol Kempinski. You'll get six-hour access to the luxurious and colonial-style Stamford Suite, where you can tuck into a three-course afternoon tea for two pax. Priced from S$358, this package also offers guests 1.5-hour access to the Saltwater Relaxation Pool.
For more information, click here
PREMIER ROOM AND POOL ACCESS AT FULLERTON BAY HOTEL SINGAPORE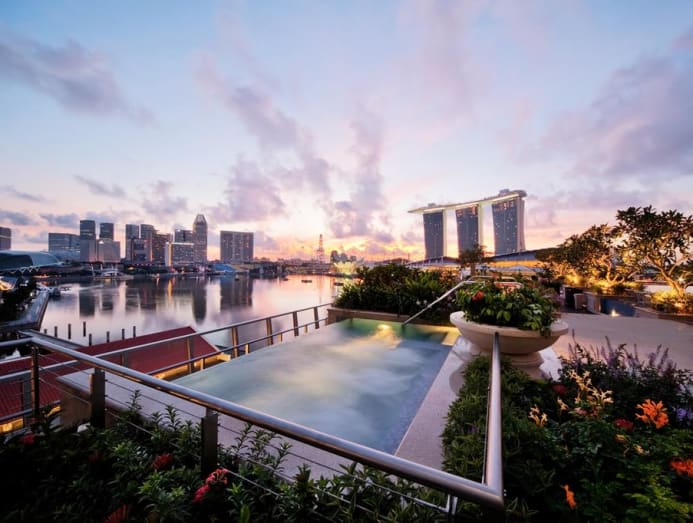 Always wanted to spend the day at The Fullerton Bay Hotel Singapore? This Dayuse package, priced from S$510, gives you 24-hour access to a Premier Room at the luxury hotel. You'll also get complimentary access to the hotel's spectacular rooftop infinity pool.
For more information, click here