The death – and rebirth – of the ski resorts in the majestic Alps
Glaciers are vanishing, snow is melting and an industry is rethinking its future writes The Financial Times' Tom Robbins.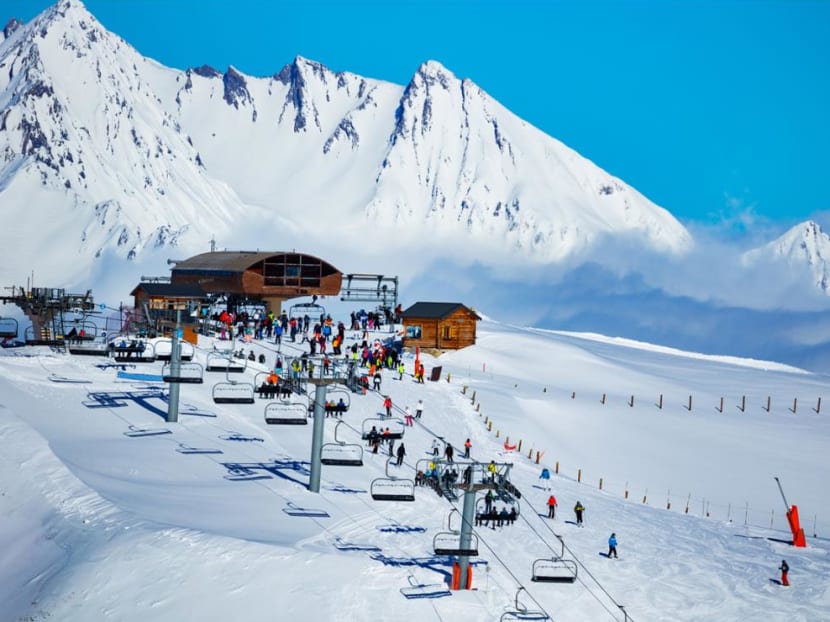 "We took with us several peasants, some to be our guides and others to carry wine and provisions. In order to prevent those among us who were the most in wind from fatiguing the rest by pushing on too fast, we made the following rules… that he who led the way should go a slow and even pace; that whoever found himself fatigued or out of breath might call for a halt; and lastly, that whenever we found a spring we should drink some of our wine, mixed with water."
So began the day trip that would help to kick-start mountain tourism as we know it today. It was the morning of Jun 22, 1741, and two young Englishmen, William Windham and Richard Pococke, set out with their retinue from Chamonix in search of glaciers. Windham's account, later published in London, would put the Alps on the map for adventure-seeking aristocrats.
The hike was tough, but at the top they discovered "objects of an extraordinary nature". Confronting them was the vast glacier that flows down from the north-east side of Mont Blanc, and Windham was at a loss how to describe what he saw. "The description which travellers give of the seas of Greenland seems to come the nearest to it. You must imagine your lake put in agitation by a strong wind, and frozen all at once, perhaps even that would not produce the same appearance."
Later visitors – who included Byron, Wordsworth, Coleridge and the Shelleys, Alexandre Dumas and Victor Hugo – would revel in the frisson engendered by coming face to face with the glacier's terrible power and otherworldly atmosphere.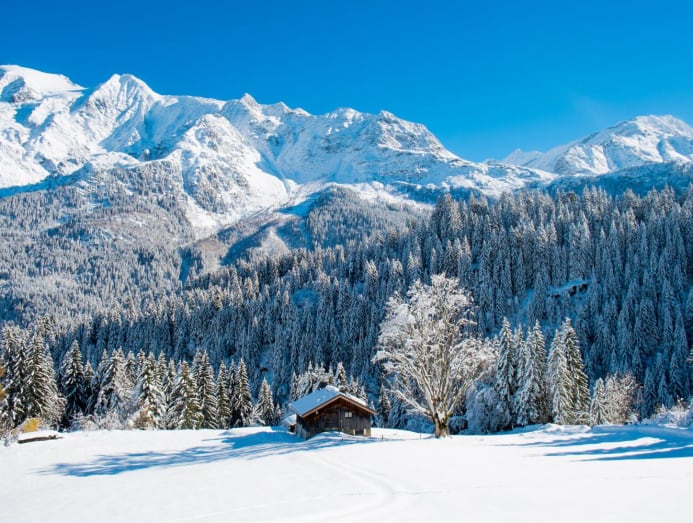 "This is the most desolate place in the world," wrote Mary Shelley in 1816, standing on the same spot, Montenvers, and looking out over what was now known, thanks to Windham's description, as the Mer de Glace (Sea of Ice). She would use it as a key location for her novel Frankenstein; her husband would write reverent verse about Mont Blanc's fearsome glaciers that "creep, like snakes that watch their prey".
In 1909 a railway was opened to cater to the flood of visitors, in 1988 a cable car to take them from the viewpoint at Montenvers down to the surface of the glacier. There are now 1 million annual visitors.
Except, go there today and it is not awe and terror the glacier evokes, but pity. It is as if a plug has been pulled and the sea of ice has all but drained away. When the cable car was installed, three metal steps led visitors on to the ice. But its level kept dropping: In 1990 they had to add another nine steps. By 2000 there were 118.
Small signs on the rock record the annual level of the glacier. At first, as you clatter down the steps, the signs come quickly, but the more you descend, the bigger the gaps, the yawning intervals underlining a message impossible to ignore: Glaciers are vanishing at a rate that is anything but glacial. Today there are 580 steps; more will be needed this summer.
In the past, you might have looked across from the bottom of the steps to see skiers completing the final part of an off-piste run, the Pas de Chevre, a classic enjoyed by generations of powderhounds. But the shrinking glacier means they would now have to descend a moraine wall that is dangerously steep, rocky and unstable. "That run is over," said Chamonix-based mountain guide Ben Tibbetts. "There's no chance I'd take a client down there. Zero. Never again."
Trace your finger on the map up the glacier from Montenvers and towards the top of Mont Blanc and you will see the Bivacco Alberico, a climbers' refuge at the Col de la Forche. Except the map is now out of date, like the steps unable to keep pace with the climate. Melting permafrost has made rockfalls more common across the Alps. Amid last summer's heatwave, the rocks beneath the building collapsed and it tumbled hundreds of metres to leave a mess of shattered wooden beams and bent steel struts on the ice far below.
The spot where Alpine tourism began seems now to offer a glimpse of how it might end.
SNOW AND THE EFFECTS OF WARMER WEATHER
Christmas was bleak for many Alpine resorts. For years, climate scientists have been warning of a twin-pronged challenge to the "white gold" of the Alps: Warmer weather means that snow on the ground will melt faster, and that precipitation is more likely to fall as rain than snow.
Here was a textbook example. Early snowfalls had been good, but on December 22, I opened the door of my rented apartment in Avoriaz – at 1,800 metres one of France's highest resorts – to find it raining hard. Much of the Alps experienced the same weather, the rain washing away the snow from many lower-altitude resorts, forcing some to shut down completely during one of their peak-season weeks. Over New Year's weekend, the Swiss town of Delemont hit a record 20.2 degrees Celsius; half of all French ski slopes were closed; numerous races were cancelled.
Study after study has predicted a future of dwindling snowfalls, melting glaciers and shortening winter seasons. Researchers last month reported in the journal Nature that studies of the rings of ancient juniper shrubs show the Alpine snowpack to be vanishing at a rate unprecedented in the past six centuries. Europe's glaciers are likely to lose half their volume by 2050, no matter what cuts to carbon emissions can be achieved. Under the worst-case scenario, 95 per cent of Alpine glaciers are predicted to vanish by 2100. Snow cover would last half as long as today.
The effects are felt most in the small, low-altitude resorts with already marginal business models. "When you invest in a new lift it's for 25 years – knowing if it will be snowing in 2100 is not a big concern currently," said Laurent Vanat, a Geneva-based consultant to the industry. "But new lifts are far more sophisticated and expensive than older ones, and small, low resorts that always had relatively short seasons cannot afford the amortisation."
Even with snow still on the ground for months, a minor shortening of the season could make such resorts no longer viable – and rising energy prices, both for lifts and snow cannons (which make artificial snow by spraying water droplets over the pistes) have heaped on additional pressure.
Already there have been victims. Just outside Grenoble, the Col de l'Arzelier resort, for example, was founded in 1967 and by the 1980s had six lifts. Faltering snow cover led to one being shut in 1998, another in 2008, and by 2019, unable to afford the upgrades to keep them running safely, the resort announced its permanent closure. Today, the chairs on the stationary lift still swing in the wind above deserted slopes.
And yet despite the grass, mud and rain at Christmas, the abandoned off-piste routes and forsaken resorts, the ski industry is not throwing in the towel. Though the closure of small resorts creates worrying headlines, the impact on the sport as a whole is limited, argued Vanat. "If you are in a country like Switzerland, you could close 50 per cent of the ski areas and still have 95 per cent of the attendance, just because we have a lot of very small resorts."
Those remaining are enthusiastically battling to save their tourism economies – and even the snow itself. And many, though it might seem hard to believe, are even finding reasons for optimism.
This year the snow finally returned around January 8 – conditions right now, at the start of the key school holiday weeks, are good in much of the Alps. In the face of increasingly capricious snowfalls, though, many resorts are going to extreme lengths to try to provide guarantees. Areas including Kitzbuhel, Kitzsteinhorn, Davos, Seefeld and even Europe's highest resort, Val Thorens, have used "snowfarming" – where, at the end of winter, remaining snow is collected in a huge pile, or "snow depot", then insulated using various combinations of woodchips, sawdust, hard insulation boards, waterproof plastic and fleece blankets. Up to 80 per cent of the snow can survive the summer, ready to be spread out on the pistes at the start of the next winter.
Sections of glaciers are also being wrapped up against the sun – Andermatt in Switzerland led the way in 2005 and numerous others have followed, including Verbier, Garmisch-Partenkirchen in Germany and Stubai in Austria.
Most important, though, are the snow cannons – some estimates suggest there are now more than 100,000 across the Alps. Italy's South Tyrol region, which includes the celebrated Dolomiti Superski area, claims 90 per cent of its slopes are now covered by cannons and boasts of abundant snow "whether or not Mother Nature chooses to co-operate". (The regional tourism authorities are trying to discourage the use of the phrase "artificial snow" in favour of "programmed snow".)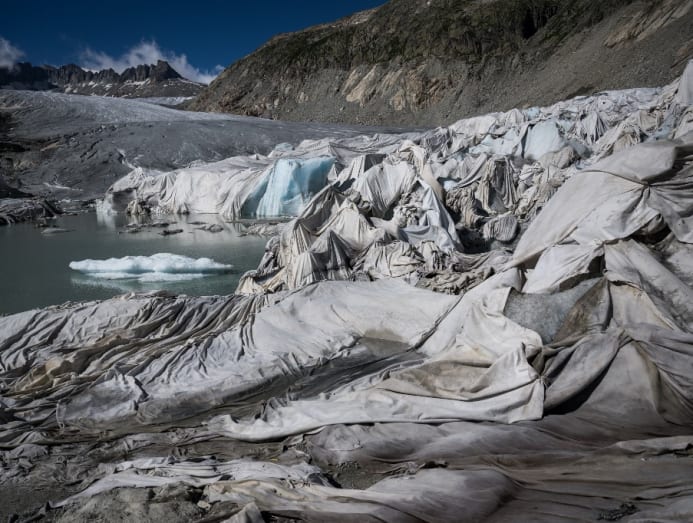 Most snow cannons can only work in temperatures around freezing or below, but Italian company TechnoAlpin now makes the "SnowFactory" with inbuilt refrigeration so that snow can be produced in temperatures up to 25 degrees Celsius. Shipping container-sized units can be delivered anywhere as a "genuine plug and play" solution.
In truth, though, none of this is a silver bullet. Artificial snow requires large amounts of power and water: according to the Eurac Research institute, each winter from 2007 to 2016, South Tyrol's snow cannons used the equivalent of 6 to 12 per cent of the entire region's drinking water and 2.9 to 5.4 per cent of its energy.
It may be that snow cannons are ultimately thwarted not by high temperatures but by the shortage of water – already some resorts have had to limit production as their reservoirs run low. Less natural snowfall will increase demand for artificial snow, while also exacerbating the growing competition for water.
And tensions are rising; Jean-Luc Boch, the president of France's National Association of Mountain Resort Mayors, has complained of a "ski bashing" backlash. In December, cannons at Les Gets were vandalised and sprayed with the message "Pas de ski sans neige!" Greenpeace has called the idea of wrapping sections of glacier "absolutely absurd" and likened them to "oversized sticking plasters".
Some efforts seem admirable – Swiss company Bachler has pioneered an artificial snow system that requires no electricity or other fuel, instead relying on gravity to deliver water at pressure from high-altitude lakes to snow cannons lower down the mountain. Others smack of desperation. Shortly after Christmas, Gstaad (which says it promotes "sustainability on the ski slopes") used a helicopter to ferry snow to a low-lying piste. In the wake of criticism it admitted the idea had been "ecologically insensitive" and that it hadn't worked anyway.
THE TOURIST SITUATION
If trying to cling on to the melting snow is likely to become increasingly problematic, a strategy of adaptation is already proving more successful. Since the boom in European skiing in the 1980s, resorts have been trying to balance their seasonal economies by encouraging visitors to come in summer as well as winter. Climate change has made the long-held hope a priority, and some resorts are finally achieving it.
At Saalfelden-Leogang, an Austrian ski area at the relatively low altitude of 840 metres, major investment in mountain-biking trails as well as luxury spa hotels means the winter/summer split in visitor numbers has reached 50/50 (though skiers spend more, meaning that winter still accounts for 60 per cent of revenue).
The main gondola, up to the Asitz mountain, now runs for more than 11 months of the year; the Senses Park at the mid-station operates from May to late October, offering folksy family activities such as playing with wooden water wheels and exploring with an expert on the local herbs. New hiking trails can be used year-round regardless of snow conditions.
"I think we need to change our mindset a little bit," said Marco Pointner, manager of the local tourist board. "We don't speak of a ski resort or a biking resort any more, we have to think of ourselves as an Alpine destination."
As a mecca for rock-climbing and mountaineering as well as skiing, Chamonix has always had a strong summer season, but after the easing of pandemic restrictions, summer has accelerated away from winter and the season seems to be extending. During the last ski season, visitors spent 3.8 million nights in the town's hotels, a 1 per cent rise on the winter of 2018/19. Last summer saw 4.3 million visitor nights, up 11 per cent on the summer of 2018; September and October visits were up 15 per cent.
The advent of e-bikes has brought mountain biking to a far wider audience; participation in trail running is booming; hiking is enjoying a surge in popularity in mountain areas around the world. Ironically, the COVID-19 lockdowns seem to have helped, prompting widely recorded increases in participation in outdoor and wilderness activities. And even climate change itself is driving more people to the hills.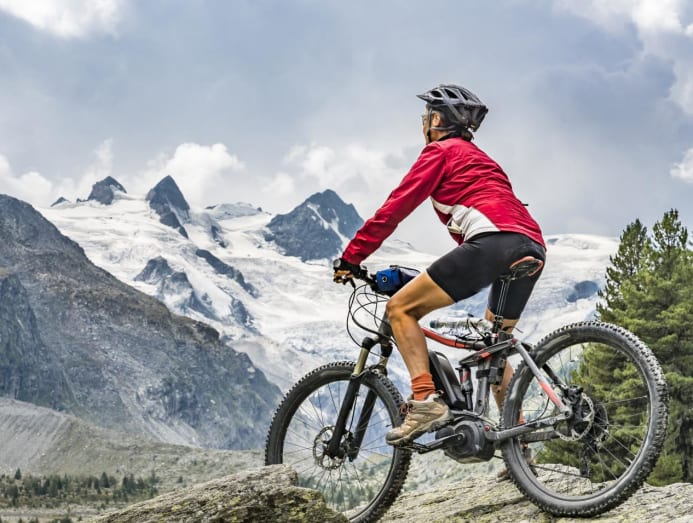 Scorching summer temperatures in Europe are making Mediterranean beaches less attractive – city breaks still less so – and making the cooler mountains appealing to a clientele who would never previously have considered them.
"In the summer of 2018 (when a heatwave hit the south of France) I was talking to hoteliers in St Moritz, who said they were 10 per cent up year on year simply because of clients deciding not to go to the Riviera," said Jeremy Rollason, head of ski for the property company Savills.
Hospitality in the Alps has long been the preserve of independent and family-run hotels, but the prospect of this new audience is drawing major operators. Six Senses opened its first Swiss resort in Crans Montana this month and its first Austria resort is under way in Kitzbuhel; Ritz-Carlton is working on a resort in Zermatt; Four Seasons has come to Megeve.
Meanwhile, the lasting shift towards homeworking created by the pandemic has encouraged many visitors to spend more than weekends in their Alpine bolt-holes, and to try to upgrade from an apartment to a chalet. Property prices are soaring as a result: between 2017 and 2022, prime real estate prices rose 69 per cent in Val d'Isère, according to Savills. Meribel was up 51 per cent, Verbier 44 per cent and Kitzbuhel 19 per cent. The big topic of discussion in Chamonix (up 44 per cent) is not the melting glaciers but the house prices: "They've gone from ridiculous to totally unfathomable," says mountain guide Tibbetts.
CONSTRUCTION AND INFRASTRUCTURE
High above Zermatt, the biggest cable-car project in the Alps in years is currently nearing completion, more than 80 years after it was conceived. The Matterhorn Alpine Crossing consists of two new cableways that travel over the Theodul glacier to the Alps' highest cable car station, 3,883 metres above sea level. Snow up there really is guaranteed, but this vast new project, which began construction in 2016, will grant access to precisely zero km of new ski runs.
Instead, it will allow those without skis to cross over the Alps from Italy to Switzerland, year-round, and getting a close-up view of the Matterhorn as they go. As visitors enjoy the journey – perhaps stopping for picnics and walks en route, and marvelling at the view of crevasses and seracs through glass-bottomed gondolas – their luggage will be transported for them and will be waiting in their hotel rooms in Zermatt or Cervinia on the Italian side.
Due to open in July, "It's already creating a lot of interest, especially with the Asian market," said Marc Lagger of Zermatt Bergbahnen, the lift company.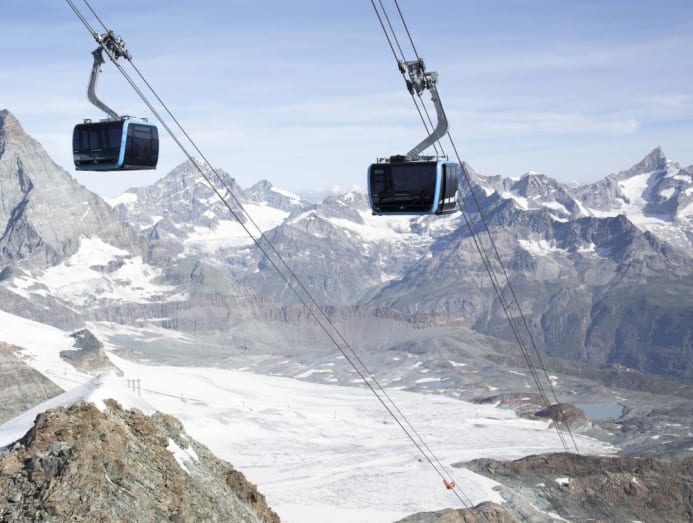 The project is one vision of the future for Alpine resorts: Using new infrastructure to open the mountains to more than skiers. Another is far more homespun, tapping into the soaring popularity of ski touring, in which participants fix skins to their skis in order to walk uphill, thus removing the need for lifts altogether. At Col de l'Arzelier, the defunct ski resort near Grenoble, they are hoping for a new lease of life based on ski-touring and snowshoeing; guests can stay in two yurts up the mountain, and a rental shop is due to offer e-bikes soon. Puigmal, a resort in the French Pyrenees that closed in 2013, was relaunched last winter as a sort of hybrid, an "eco-responsible" destination with minimal artificial snow, three lifts, ski-touring tracks, locally produced food in the restaurant and a maximum of 1,500 guests per day.
In some ways, the future for Alpine resorts is a return to the past. At grand hotels across the Alps, the summer season had thrived for decades before the first winter tourists set out from England to St Moritz in 1864. Skiing came later still – a pastime undertaken by a handful of aristocratic tourists in the early 20th century, before broadening its appeal from the 1960s onwards. Forward-thinking resorts are now again seeing skiing as one of a range of activities they will offer, available at some points in the year but not necessarily guaranteed from December to mid-April, as has only latterly become the expectation.
The less palatable reality is that the rising costs of lifts and cannons, as well as increased demand and reduced supply of snow and property, means skiing is likely to become too expensive for many of those who enjoy it today. Despite having just eight lifts, the Arizona resort of Snowbowl last month broke the US$300 (S$398) barrier for a single day's lift ticket – the result of a dynamic pricing system that hikes rates as demand rises.)
Back at the Mer de Glace, they are doubling down. Starting this year, a €53 million (S$75.5 million) scheme will see the steps and existing cable car removed, to be replaced with a new lift that will travel further up the glacier and so be able to deposit visitors right beside the ice. For some, it's an example of the folly of the tourism industry, attempting to build its way out of an environmental crisis.
"I find it macabre," Valerie Paumier, founder of the campaigning group Résilience Montagne, told the ecology website Reporterre. "We are continuing to build infrastructure to allow tourists to see the glacier in agony. When will we stop exploiting it, once it has completely disappeared?"
Supporters hope the glacier might once again capture the imagination of the wider world at a crucial moment – if emissions can be reduced so that temperature rises by the end of the century stay below 2 degrees Celsius, the Alpine snow season would only be shortened by 17 per cent. From the end of next year, visitors to the Mer de Glace will find a "Glaciorium", a glacier and climate interpretation centre that the town authorities hope to make a world reference, teaching about "the role we can all play in preserving this environment".
Windham and Pococke would have been amazed, not just by the train and cable car, but by how our relationship with the Alps has changed – and is set to change once more. When they reached the ice, they got out their wine and drank a toast to an English admiral, shot at some chamois, then headed home.
By Tom Robbins © 2023 The Financial Times
Source: Financial Times/mm