Enter the dragon: Rice dumplings and what to drink with them
Chinese tea is often paired with rice dumplings to counter the latter's richness. But for a twist on tradition, you can also match them with wines, cocktails and Champagnes. Here's what some of Singapore's top F&B joints recommend.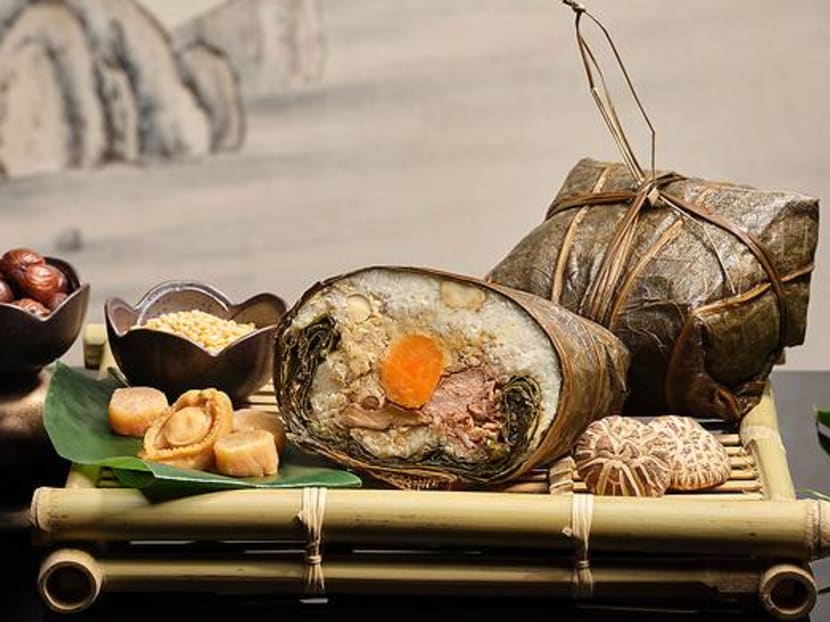 And so the world turns… and it's the Dragon Boat Festival all over again. It's that time of year when Chinese traditions dictate the wearing of incense pouches believed to ward off diseases and evil spirits, hanging wormwood and calamus on doors and windows to keep more evil at bay, and racing dragon boats to the rhythmic beating of drums.
Here in Singapore, the most dominant tradition involves food (of course). More specifically, rice dumplings known as zongzi, bak zhang or kueh zhang, depending on your dialect group. There was a time when rice dumpling offerings were as diverse as mooncake ones, with each year shoring up ever wilder and wackier flavours (spiced beef cheek, unagi, or green tea lotus paste, anyone?).
Perhaps it is the current time we live in, where staying home and safe has us looking inwards and appreciating simplicity and the merits of all that is time honoured. Because this year's rice dumplings have gone back to more traditional routes with classic offerings like stewed pork, chestnuts and mushrooms. Even the new-fangled flavours cleave close to tradition by taking inspiration from classic dishes like bak kut teh and sesame oil chicken.
Since the pandemic has us enjoying our meals at home for the time being, we've decided to throw in some drink pairing recommendations to go with the dumplings on offer this season.
SPICY SMOKED DUCK WITH DRIED SHRIMP DUMPLING – PARADISE GROUP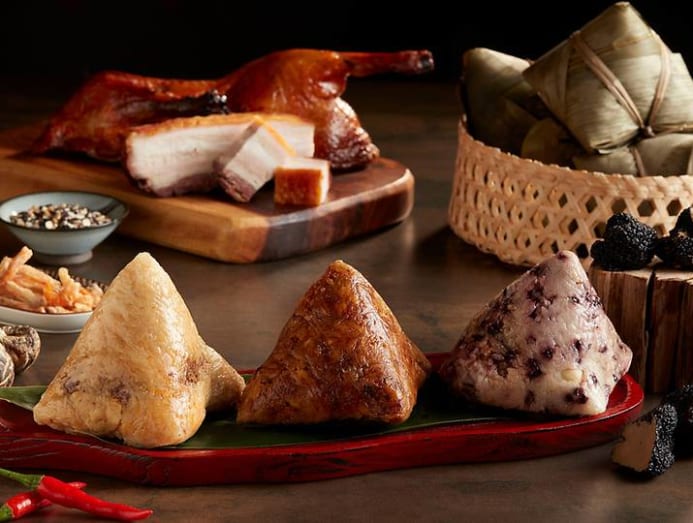 Spicy smoked duck stars in this year's dumpling line-up from Paradise Group. More is more when it comes to dumplings, so the smoked duck is joined by the likes of pork belly, salted egg yolk, dried shrimp, shiitake mushrooms and mung beans. A mala sauce made from Sichuan peppercorns, chilli bean paste and cinnamon infuses the grains of glutinous rice with delicious heat and a lovely reddish hue.
To temper the robustness of these dumplings, Vance Yeang, general manager of Paradise Group's Wine & Beverage Division, suggests more acidic drinks with floral, fruity notes.
"I recently discovered a cold brew by Teabrary called Garden Raspberry Rose Oolong. This refreshing tea has a rich oolong structure that's flavourful enough to cleanse the oiliness from the pork," he said.
"For wines, I recommend Villa Wolf Gewurztraminer from Germany. This off-dry wine is superb with sweet or savoury rice dumplings. It shows off the charms of lychee, peach, pineapple and fresh roses. Its acidity harmonises with the dumpling's richness and leaves a lingering honey aftertaste."
CLASSIC TAIWANESE DUMPLING WITH SESAME OIL CHICKEN – HAI TIEN LO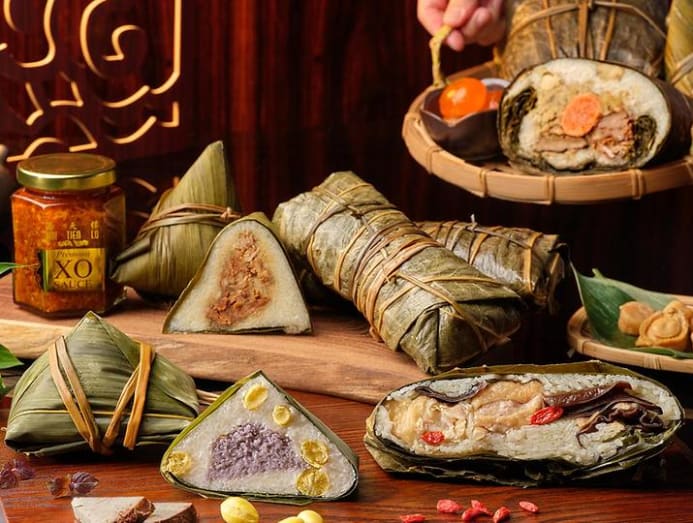 Stalwarts like jumbo rice dumplings with abalone are back at Hai Tien Lo this year, along with a couple for whose who'd rather eschew pork.
The Classic Taiwanese Dumpling with Sesame Oil Chicken is fashioned after the popular Taiwanese dish of the same name and features a filling of chicken legs stewed with Chinese wine and sesame oil. There's also a Teochew Dumpling with Yam Paste and Ginko Nuts – essentially, orh ni in dumpling form – for those who like their desserts (and carbs).
Hai Tien Lo's executive chef Ben Zeng suggests a tea pairing of Royal Red Robe to go with the sesame oil chicken dumplings as "these king of tea leaves from China's Wuyi Mountain carry the fragrance of pollen and helps to alleviate greasiness. It is also known for its strong medicinal values," he said. As for the yam paste dumplings, he suggests an osmanthus oolong.
STEAMED RICE DUMPLING WITH ABALONE – SUMMER PALACE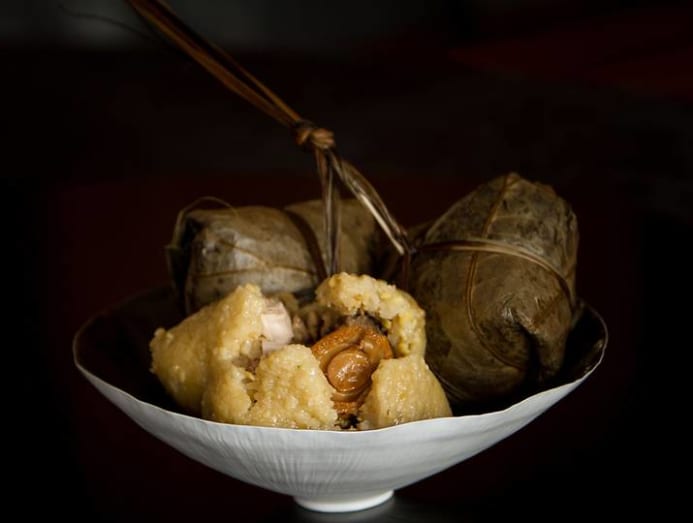 Meanwhile, tradition reigns at this Michelin-starred restaurant with a hearty steamed rice dumpling filled with a whole abalone, black mushrooms, chestnuts, green beans, dried scallops, roast duck and salted egg yolk, all tucked within a bamboo leaf. No doubt, this is a dumpling for sharing and will feed two amply.
Tradition, however, "is a guide and not a jailer", Somerset Maugham once said. And this old trope is amplified in Regent Singapore's executive Chinese chef Liu Ching Hai's response when asked to name a drink pairing for Summer Palace's dumpling.
Liu worked with the hotel's head bartender Sophia Kang from Manhattan Bar and suggested we try the Monsieur Saint-Jour bottled cocktail. "It is crafted with fino sherry so it is light and dry and offsets any heaviness from the rice and meat," he said. "It has a touch of orange bitters and a tinge of salinity from mignonette cordial and oyster leaf to refresh the palate between bites."
GRANDMA'S BRAISED PORK BELLY WITH PURPLE GLUTINOUS RICE DUMPLING – CRYSTAL JADE
Crystal Jade's Group executive chef Martin Foo takes the winning signature dish from Crystal Jade Palace featuring choice cuts of pork belly simmered in soy sauce, rock sugar and spices, and turns it into a wholesome dumpling.
He also throws some mushrooms and chestnuts into the mix for lovely textural contrast. All this is encased in healthful purple glutinous rice, which imbues the dumpling with earthy, nutty notes.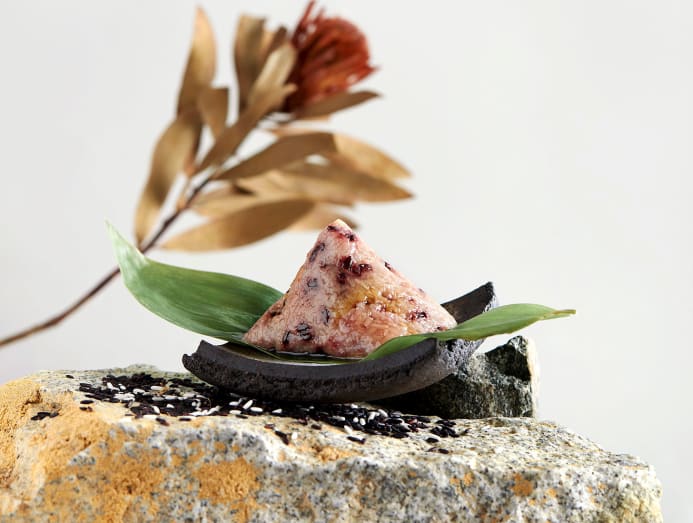 Chef Foo said he likes to enjoy a well-made rice dumpling with a quality aged pu er or da hong pao tea. "While pu er is a relatively common tea served at most restaurants, a well-aged pu er possesses a depth and richness of flavour that is sweet, woodsy and earthy all at once. This cuts through the richness of rice dumplings and refreshes the palate for yet another mouthful.
"More importantly, it counters the feeling of fullness one gets from consuming a glutinous rice dumpling. Among some of the finest Chinese teas available, da hong pao has an intense flavour which stands up well against the hearty flavours of a rice dumpling, and leaves a refreshing floral note on the palate."  
EIGHT TREASURE RICE DUMPLING – JIANG NAN CHUN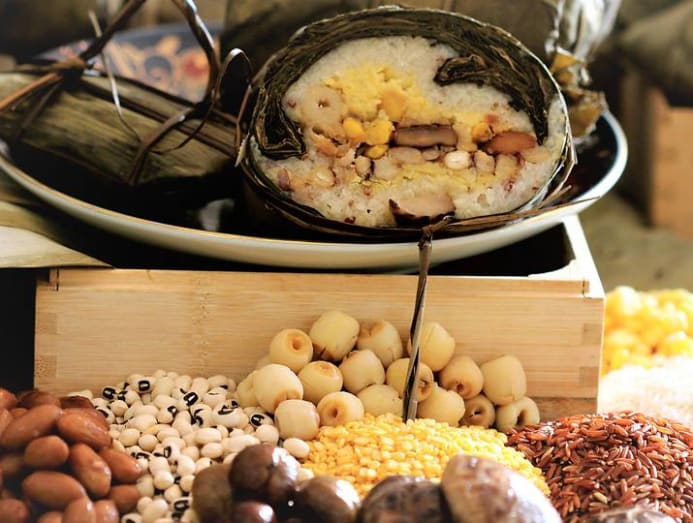 Truly a treasure for plant-based eaters, this Eight Treasure number from Four Season Singapore's Chinese restaurant is stuffed with cordyceps flowers, black mushrooms, chestnuts, peanuts, lotus seeds, black eye beans, and red and green beans.
Wash it down with LYSEROD from the Copenhagen Sparkling Tea Company, made with exclusive Silver Needle tea and harbouring crisp notes of jasmine and camomile (also available from the Four Seasons Singapore online store). It all sounds like an edifying treat already.
SIGNATURE DUMPLING FEAST – RESORTS WORLD SENTOSA
Eight is the prime number for Resorts World Sentosa too. This year, it has gathered eight chefs from its stable of restaurants to put together a set of dumplings that run the gamut of flavours from Nonya and Hakka to Thai and Japanese.
There is a pink rice dumpling suffused with Japanese hoshi ebi (dried shrimp) by RWS executive sous chef Goh Wee Meng, filled with responsibly harvested sea whelk from France, sweet preserved radish, salted egg yolk, chestnuts and Hokkaido dried scallops.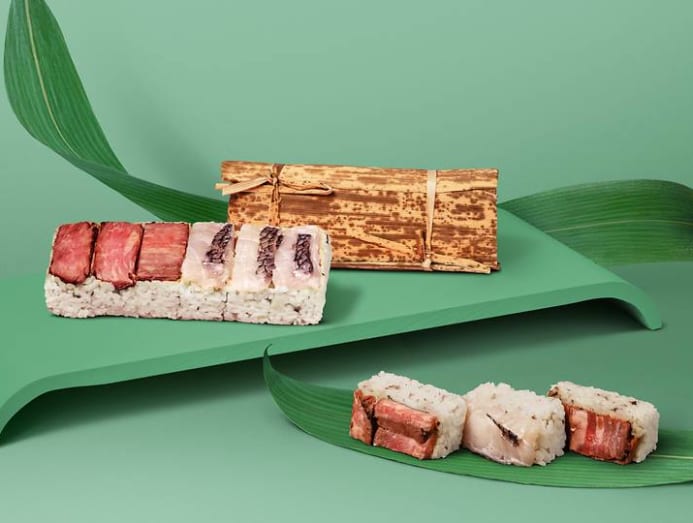 Also appealingly different is the Chest of Pearls dumpling from Syun chef Noriyoshi Teruya, fashioned after a traditional sushi box. Wrapped in bamboo leaves are Japanese rice, aburi tai (torched sea bream) and red miso Tajima wagyu.
"To make this customary occasion a little more special, we recommend pairing our savoury rice dumplings with Laurent Perrier Rose Champagne… almost 100 per cent pinot noir, it is fruity and elegant and has great purity, structure and finesse. It drinks very well, with lively bubbles and acidity to cut through the richness of abalone, seafood and meat. Its crisp finish refreshes the palate," said Purple Gao, head sommelier of Resorts World Sentosa.
ORGANIC MILLET FIVE-GRAIN OMNIMEAT GLUTINOUS RICE DUMPLINGS – JADE
This wholesome dumpling might leave you feeling virtuous after eating it. Mixed with a healthy blend of organic millet, glutinous rice, barley and brown rice, it is filled with Omnimeat (a plant-based alternative to pork) and pan-fried mushrooms.
For a heartier option, there is the bak kut teh-flavoured pork glutinous rice dumpling, which is a riff on Jade's signature bak kut teh xiao long bao.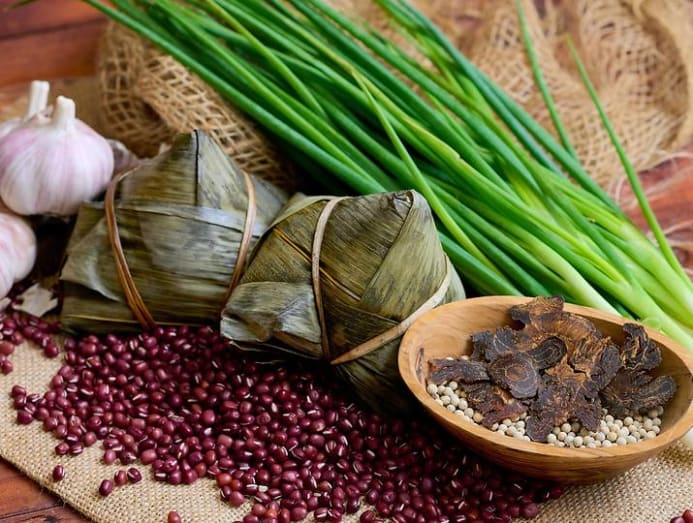 General manager of The Fullerton Hotels and Resorts Cavaliere Giovanni Viterale recommends the classic Eight Treasures Tea, a brew scented with the floral notes of jasmine, chrysanthemums and rosebuds.
Alternatively, he said an off-dry and food-friendly Schieferkopf Alsace Riesling from M. Chapoutier, France makes for a good pairing too. "The wine offers a linear and aromatic style that embraces the fragrance of the rice dumpling's pandan leaves," he added.