Once 'fast food' for farmers: How rice dumplings have evolved over the years
We look forward to new zong zi flavours every year, but do you remember the lore and history behind them?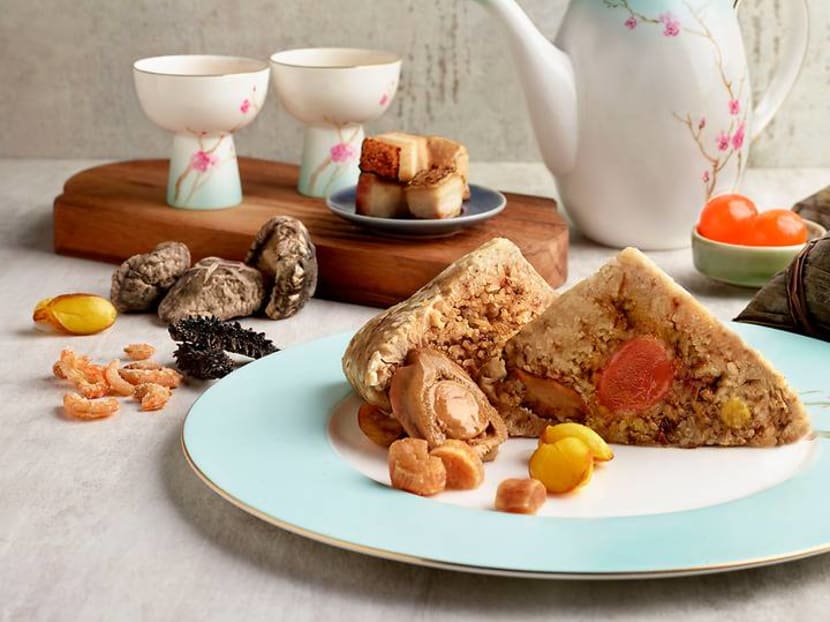 They may be synonymous with the Dragon Boat Festival, but rice dumplings predate the event and have been a staple for millennia. More than five thousand years ago, the Chinese began wrapping food in leaves and roasting them by the fire, preserving them for future, fuss-free consumption.
They were, as Echo Zhao wrote in The World of Chinese, "A customary version of fast food, especially for farmers who were too busy in the fields to head home for a meal".
Across the middle kingdom, rice dumplings varied as widely as the crops that were planted or the dialects spoken from province to province. Some were sweet; others, salty. Some were austere, while others were more lavish.
The Northern Chinese preferred their dumplings sweet. Some of these sweet treats were plain and dipped in sugar, which is perhaps the root of Southeast Asia's kueh lopes – glutinous rice dumplings coated in coconut and served with molten gula Melaka. Beijingers, meanwhile, liked to stuff their rice dumplings with candied or dried red dates.
The Southerners, ever the maximalists of the country's two halves, filled theirs with salted egg yolks, pork, chestnuts, mushrooms, mung beans, red beans and dates. In time, these variants came to be associated with festival foods. After all, as Chinese celebrations go, more is joyously more.
And so each year, Chinese restaurants around the world outdo themselves with ever more creative renditions. The dumplings – gilded with gold leaf, anointed with truffle oil, perfumed with roses – are celebrated as foods are celebrated today: With prayerful grace of a pretty photograph and a pensive caption on social media before they are consumed.
But lest we lose sight of the story behind the rice dumpling or Dragon Boat Festival (and there's always a good story behind a Chinese food tradition), here's a quick recap of its history and lore.
During the tempestuous Warring States Period (475-221 BCE), the exiled poet, patriot and imperial advisor Qu Yuan dramatically flung himself into a river upon learning that rival kingdom occupiers had taken hold of his home state of Chu. Unable to recover his body, locals dropped rice dumplings into the water in the hopes that the fish would find them more palatable than Qu Yuan's corpse.
Qu Yuan's death is now commemorated annually on the fifth day of the fifth month of the lunar calendar, with the sale and devouring of sumptuous rice dumplings. Here is a sampling of what's available this year.
CRYSTAL JADE
Even if you're going low carb, there's a dumpling out there for you. For one, Crystal Jade's (estore.crystaljade.com) new Eight Treasure Quinoa Rice Dumpling (S$6.80), studded with flavourful delights such as chai poh (preserved radish), Japanese Nameko mushrooms, black-eyed beans, dried shitake mushrooms, red beans and chestnuts.
Bonus: It happens to be vegetarian. Also new is the umami-laden Spicy Dried Shrimp or Hei Bi Hiam Dumpling (S$9.80) made with Indonesian dried red prawns and Hokkaido conpoy.
HAI TIEN LO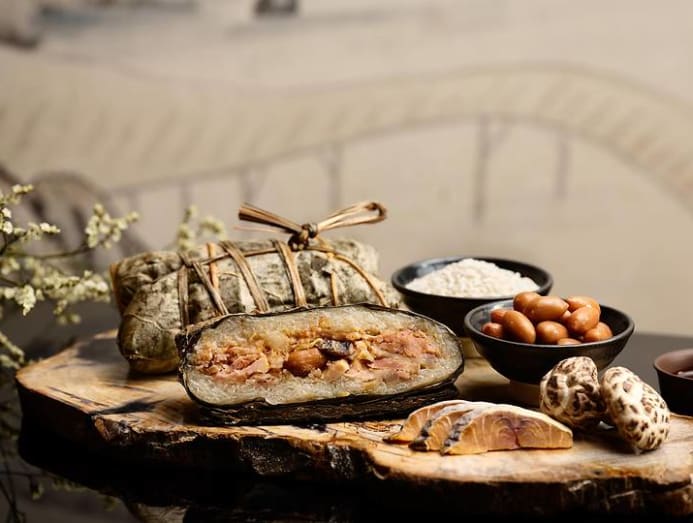 Healthier too is Pan Pacific Singapore's (shop-panpacificsingapore.panpacific.com/en_SG) new Grain Dumpling with Cordyceps Flowers (S$8.80). Filled with green beans, black sesame, barley, corn and peanuts, this glutinous rice dumpling gets a delicate hit of cordyceps flowers that are known for their immunity-boosting properties.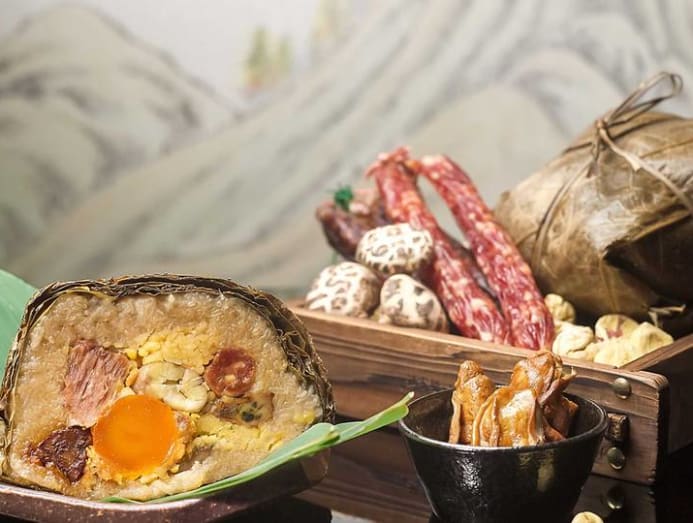 Naturally, the classics remain. As always, the Traditional Jumbo Rice Dumplings (S$33.80) are on offer, as well as the Cantonese Pork Dumplings (S$9.80) with pork belly, salted egg yolk and green beans. Use the promo code TAKEAWAY25 to enjoy a 25 per cent discount.
JADE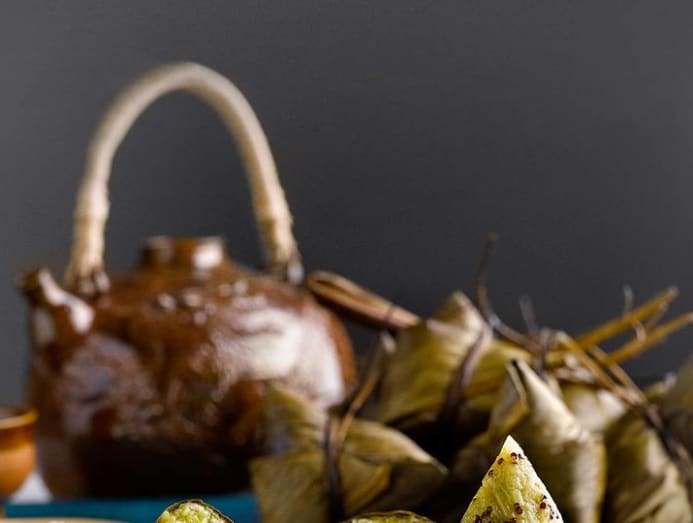 This year's dumplings from The Fullerton Singapore's (shop.fullertonhotels.com/en_SG) Chinese restaurant get a shot of colour thanks to Turmeric-spiced Pork with Black-Eyed Peas (S$9) and Fermented Red Yeast (S$9).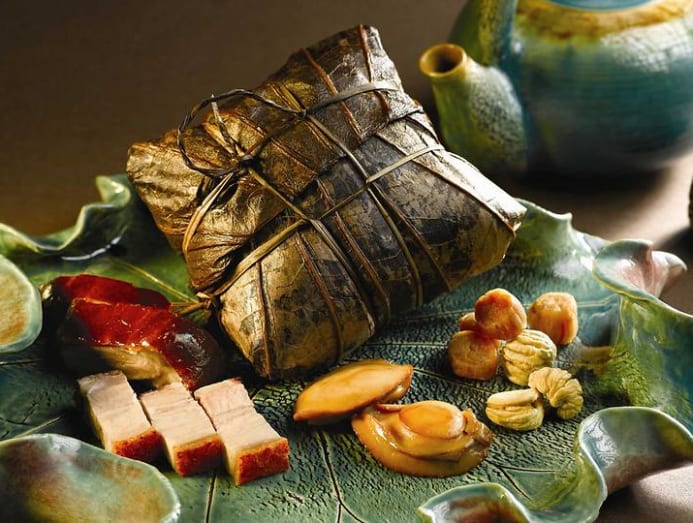 The latter is made with pork belly marinated in rice wine for 24 hours, fermented red yeast, Chinese ham and red beans that not only imbue the dumpling with a lovely crimson hue, but also give it incredible depth of flavour.
MADAME FAN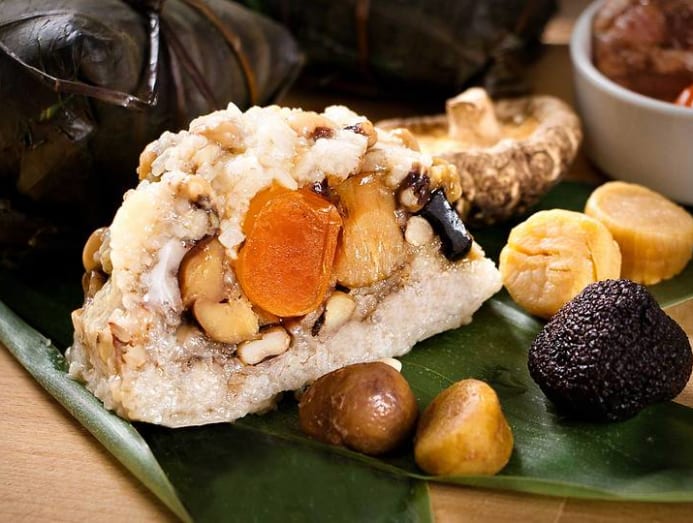 Its ingredients sound like that of any other classic Cantonese dumpling – pork belly, dried scallops, salted egg yolk, mushrooms and chestnuts. But say the magic word – yes, "truffles" – and these dumplings transform into something gloriously appealing.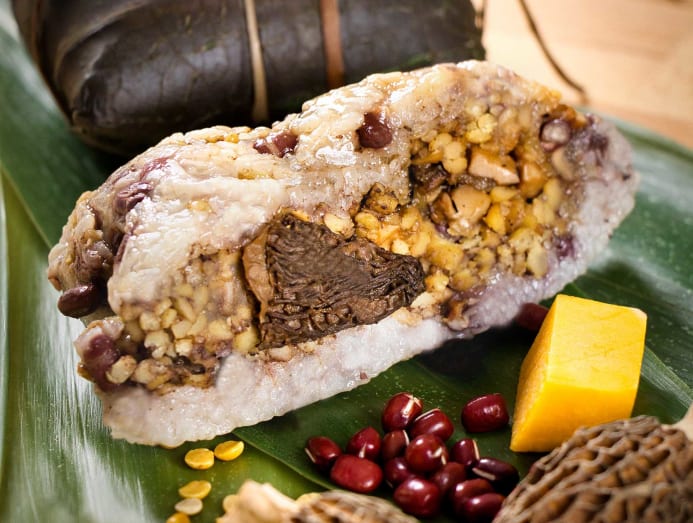 Aside from the Truffle Rice Dumplings (S$28), this modern Chinese restaurant (jwmarriottsg.oddle.me) is serving up Jasmine Smoked Pork Belly Rice Dumplings (S$16), filled with a generous mound of twice-cooked pork belly (first in a two-hour jasmine tea broth and then smoked), and Morel Mushroom Rice Dumplings (S$14). Free islandwide delivery with a S$100 spend.
RESORTS WORLD SENTOSA
Resorts World Sentosa has gathered dumplings from its stable of restaurants including Feng Shui Inn, Forest and Malaysian Food Street, presenting them as a set of five in an elegant three-tier steamer.
The Dumpling Feast (S$98) comprises Sawara (Spanish mackerel), Takenoko (bamboo shoots) and Yuzu Chimaki Dumpling; Kampong Braised Gula Melaka Dumpling with Red, Purple and White Glutinous Rice; Wild Morel and Abalone Dumpling; XO Sauce Pork Belly, Mushroom and Chestnut Bean Dumpling; and Khao Niew Nha Goong Dumpling, a riff on the traditional Thai sweet sticky rice snack topped with shrimp.
Order (rwsentosa.com/en/promotions/restaurants/dumpling-feast-2020) at least three days in advance.
SHANGRI-LA HOTEL, SINGAPORE
Black truffles also flavour the Organic French Chicken with Buddha Jumps Over The Wall Rice Dumpling (S$108, 800g) should you be in the market for some decadence.
Otherwise, there are more down-to-earth options like Sweetened Purple Glutinous Rice Dumpling with Custard (S$12.80), and the Eight Treasures Rice Dumpling with Mixed Grain Rice and Organic Quinoa (S$14.80).
If all you're after is something homespun and familiar, then perhaps the Shang Palace Signature Barbecued Pork Rice Dumpling with Yunnan Ham and Conpoy (S$24.80, 750g) will do the trick.
Order through this link (bit.ly/slsdumplings2020) and get 20 per cent off. Also available on Grabfood, Foodpanda and Deliveroo.
YAN
Head chef Ng Sen Tio has come a long way from his humble childhood when a single rice dumpling might have counted as his only meal of the day.
This year, he's celebrating the tradition at Yan (yan.com.sg/estore) in decidedly luxe style with Abalone and Fish Maw Dumplings (S$28.80) featuring a stewed filling of eight-head abalone from Australia, sea cucumber and fish maw; and Shrimp and Scallop XO Sauce Rice Dumplings (S$18.80) generously filled with whole Australian scallops, wild-caught prawns and braised pork belly fried with garlic, dried prawns and XO sauce.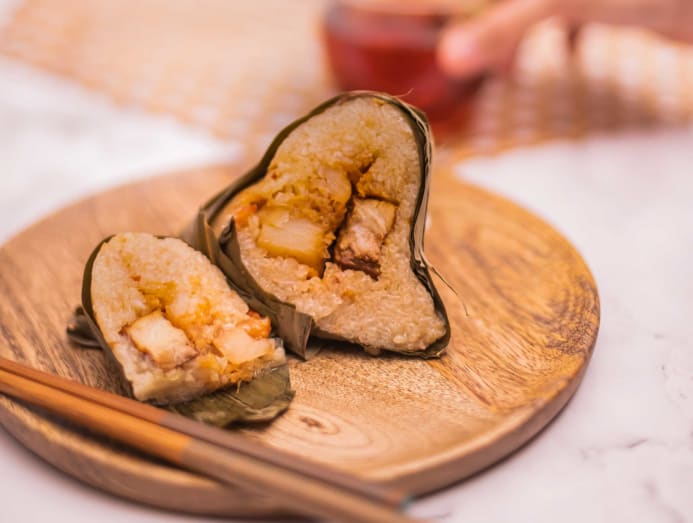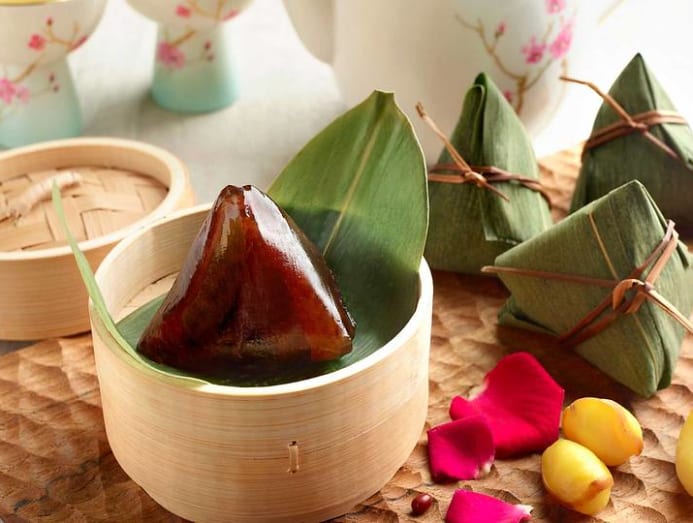 This Singaporean chef who made his name in China is extremely proud of the speciality Yunnan roses that he sources from the motherland. Incredibly fragrant, the flower's petals perfume Yi's (rafflesgrabandgo.com) Yunnan Rose Red Bean Dumpling (S$18 for three), which are filled with a silky handmade red bean paste.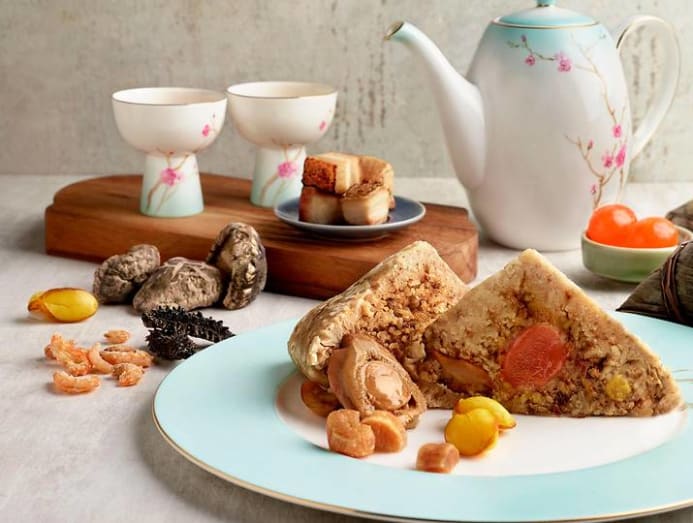 Traditionalists might prefer the Buddha Jumps Over The Wall Dumpling (S$48) with South African abalone, Japanese sea cucumber, sakura ebi and Japanese dried scallops.