For US$75, you can Zoom with elephants in Thailand and help fund their care
Support elephant welfare by making a trunk video call to these gentle giants in Northern Thailand.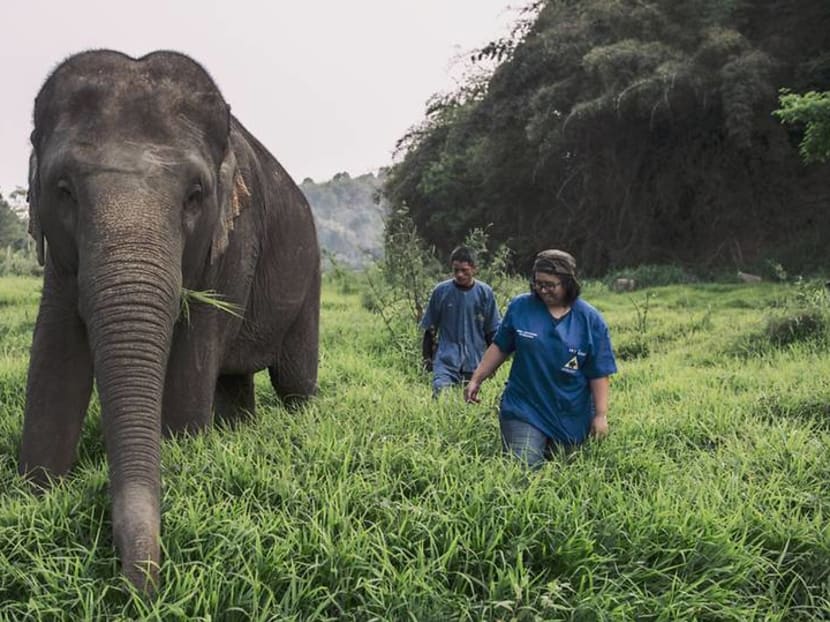 In these strange times, it seems like anything is possible. The COVID-19 pandemic has resulted in the prevalence of Zoom in our daily lives, but if you're getting tired of seeing the same faces (sorry, colleagues), what about a video call with elephants?
Pioneering elephant welfare charity, The Human Elephant Learning Programs Foundation (H-ELP), is partnering with the Golden Triangle Asian Elephant Foundation (GTAEF) to launch a global service that stars elephants in Zoom video calls live from their natural habitat in Northern Thailand's ancient jungle.
Starting from US$75 (S$103), you can get on a Zoom call with the elephants for ten minutes. For US$145, callers can also get a two-minute introduction to the gentle giants, and a three-minute Q&A session conducted by one of the GTAEF's elephant experts. 
All funds raised will be shared by H-ELP and GTAEF to care for the elephants.
The Zoom fundraising initiative follows the success of the GTAEF's twice-daily livestreams of elephants enjoying their walks in the jungle and taking a mud bath in the Mekong River. 
The livestreams garnered more than five million views since its home base, Anantara Golden Triangle Elephant Camp & Resort in Northern Thailand, temporarily closed its doors in the wake of the pandemic. 
The pandemic and the resulting decline in tourism has led to dwindling funds for elephant care. "The drying up of funds to support domesticated elephants means there is a real risk many could starve, or their parts end up elsewhere in Asia for medicinal purposes," said Marlee Horobin, Chairperson of H-ELP. "This is a chance for us to raise funds to prevent that."
John Roberts, Anantara's Group Director of Sustainability & Conservation, said that the almost total disappearance of tourism throughout Thailand continues to have a negative effect on the country's 3,800-odd captive elephants. 
"Their carers still need to find an approximate US$20 per day just to feed their elephant, let alone their own family, and meet all their other needs – elephants consume between six and 10 per cent of their bodyweight daily, and it costs approximately US$18,000 to look after a single elephant for a year."
During the Zoom video call, participants can virtually participate in unique and once-in-a-lifetime elephant experiences, including the resort's Walking With Giants signature experience that provides an optimum way of getting to know the elephants.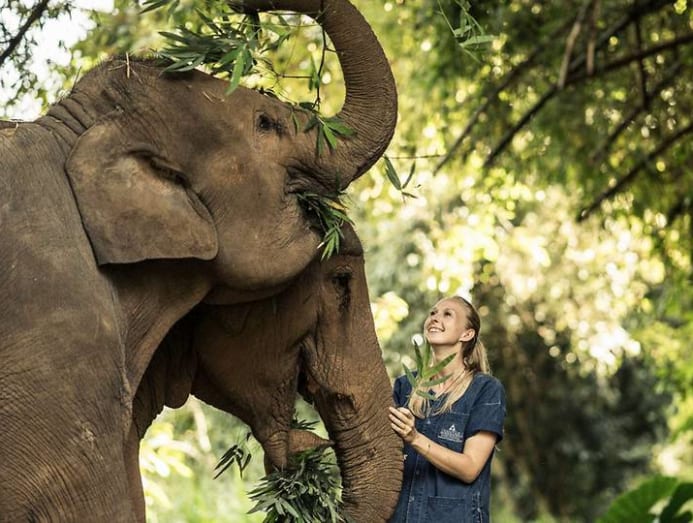 Championing the natural joy of daily free-roaming time, accompanied by the mahouts and either an elephant veterinarian or biologist, the activity offers insights from scientific experts about how these intelligent creatures think and behave as well as their social interaction in their native habitat. 
You'll also catch a glimpse of the elephants' cheeky side during either a river bath or mud playtime.
One-on-one meetings with the elephants aren't the only interactions that can be arranged. The elephants can also make special appearances during group discussions and meetings.
"You can share the excitement of a couple of gentle giants joining your meeting knowing that, in so doing, you are helping those elephants and many like them get through this crisis for a better life," said Roberts.
To arrange a Zoom call with the elephants, visit H-ELP's website here, and click "Shop to support H-ELP"