What to expect at Else, one of the hottest new hotels in Kuala Lumpur, Malaysia
Else is situated in the seven-storey Lee Rubber Building, one of Kuala Lumpur's iconic structures from the 1930s.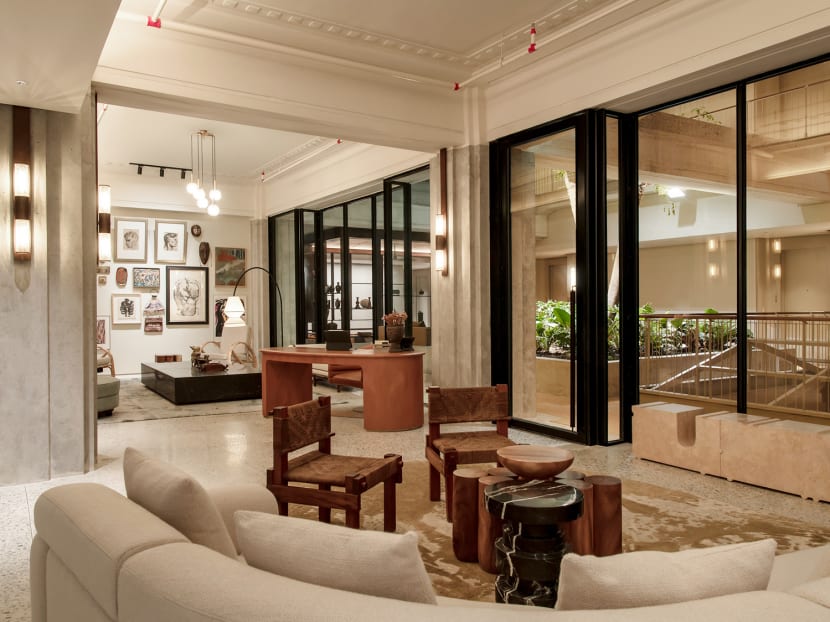 A few weeks ago, I found myself in a big white egg at Else hotel in Kuala Lumpur, Malaysia.
An egg-like Dreampod float tank, to be precise. Weightlessly suspended in its shallow pool made especially buoyant with Epsom salts, all was perfectly still around me, which was remarkable because just metres away lay Kuala Lumpur's Chinatown, arguably the city's most bustling (and chaotic) precinct.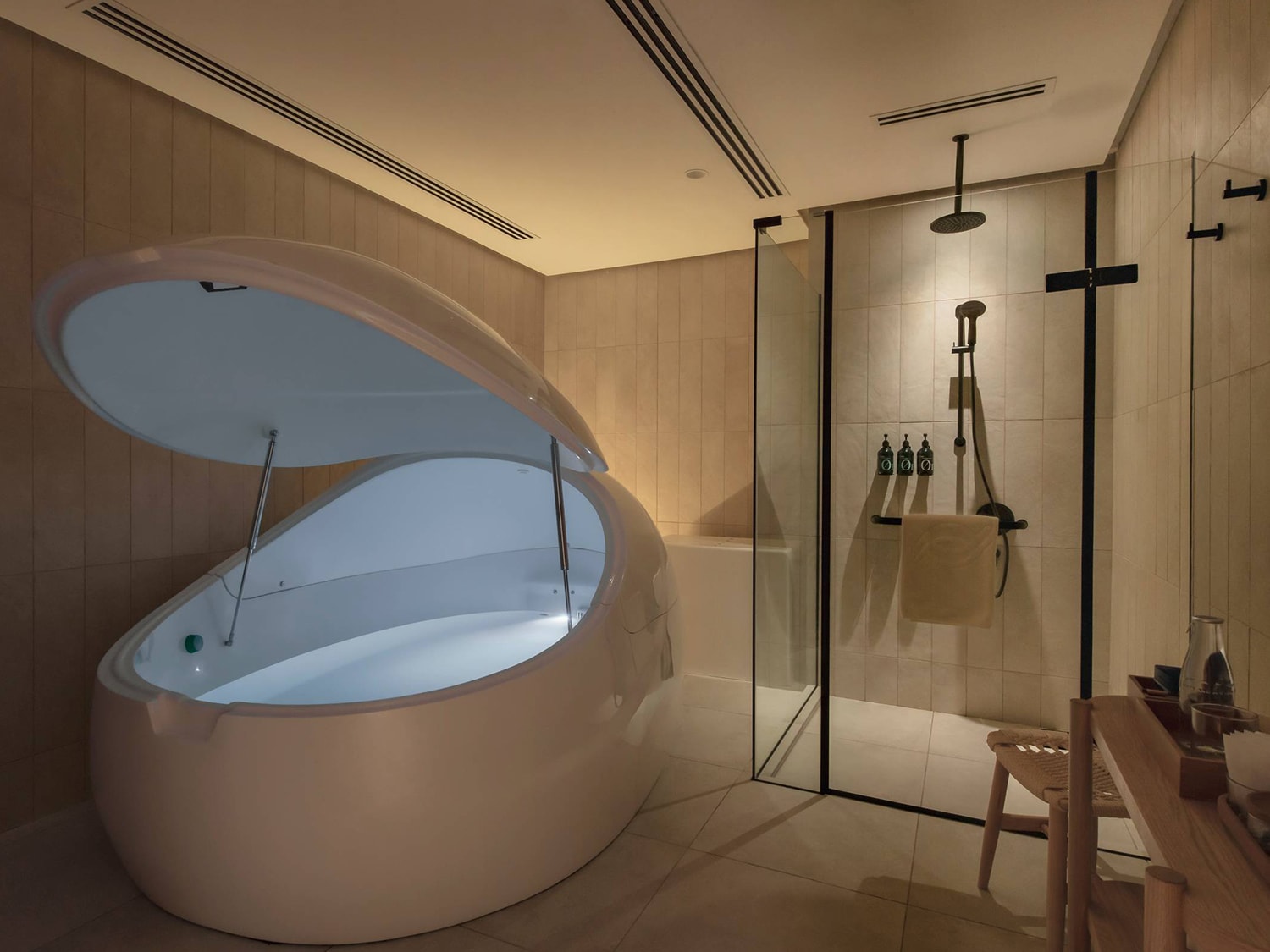 But that's just one of many delightful surprises in store at Else, a beautiful boutique hotel and the Malaysian capital's hottest opening when it launched last September. Set in a gentrifying but still gritty neighbourhood constantly abuzz with beeping motorcycles and the shouts of street vendors hawking everything from fried kway teow to designer look-alike bags, Else rubs shoulders with an eclectic mix of neighbours including Indian and Chinese temples, pasta and matcha bars and street markets.
Push past its gilded doors, though, and the vibe instantly changes.
Else is situated in the seven-storey Lee Rubber Building, one of Kuala Lumpur's iconic structures from the 1930s. It had become a somewhat dilapidated commercial building, and had a sprawling Popular bookstore on the ground floor and tuition centres above before the owners of Else took over.
Today, it draws a very different type of crowd. The entry's sense of arrival is particularly well calibrated, immediately drawing the eye with an expansive, bespoke wave-patterned foyer rug, contemporary artworks and Raw Kitchen Hall, the hotel's all-day dining restaurant. A cavernous, skylight-topped venue featuring massive, curving moss-green leather banquette seats, warm brick floors, industrial-chic concrete pillars and a sleek bar with an arresting colonnaded backdrop, the space looks equally ready for brunch or a Big Band concert.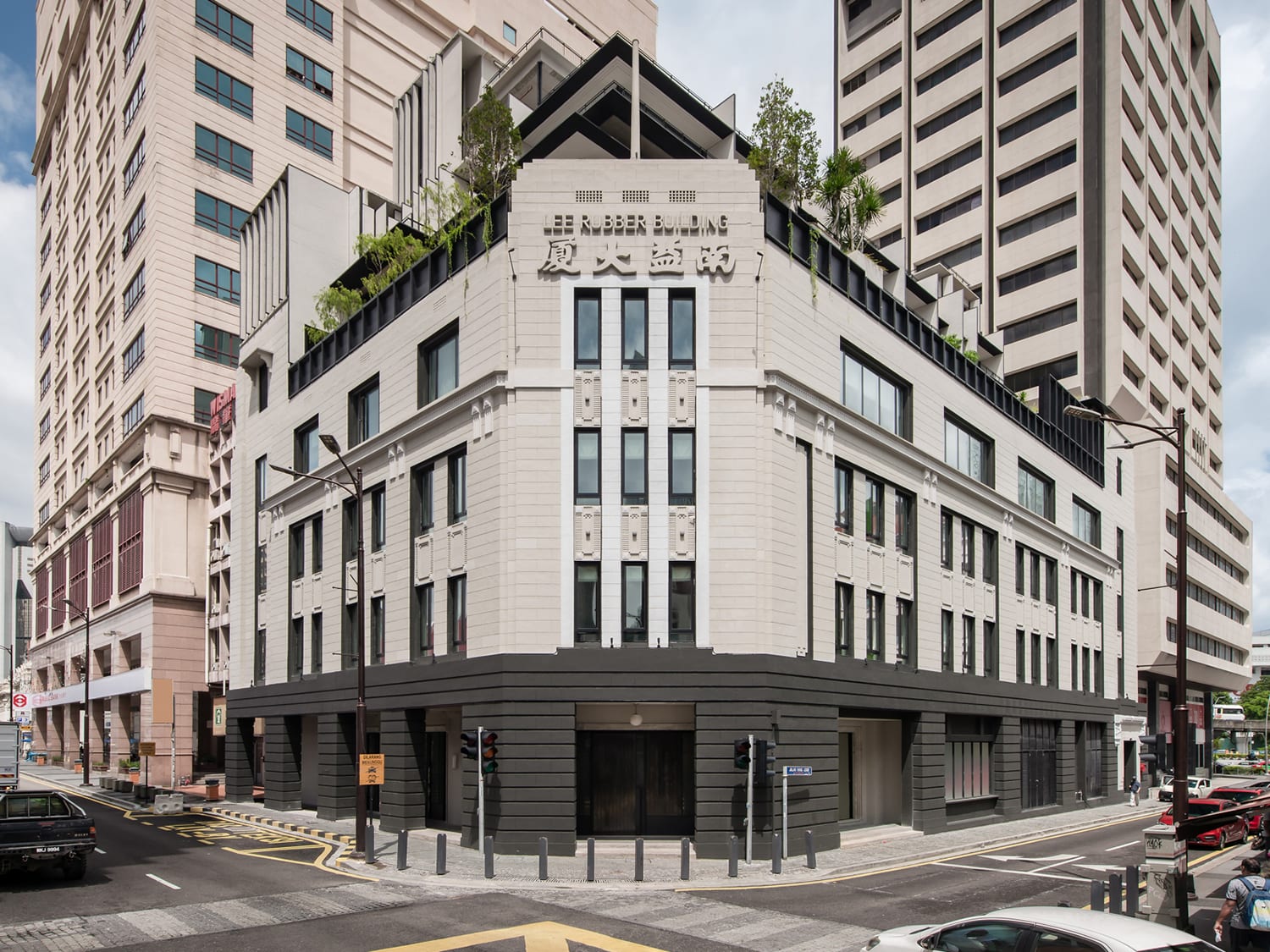 "We wanted to counter the obvious idea that the hotel should have an Oriental theme because of its location," said Justin Chen, Else's co-founder and deputy chief executive officer of investment holdings company Arcc Holdings. Else's other co-founder is Javier Perez, a Puerto Rican who has lived in Singapore for over a decade and launched F&B concepts Kilo, Grain Traders and Raw Kitchen Bar. The idea for the hotel was born when Chen, on a visit to Kuala Lumpur to explore co-working facilities, ended up discovering the city's creative community, as well as its grassroots efforts to reimagine neighbourhoods like Chinatown.
"We looked for people who could instead look at the project and think about how it could be reimagined, but still have that local aesthetic and identity," added Chen.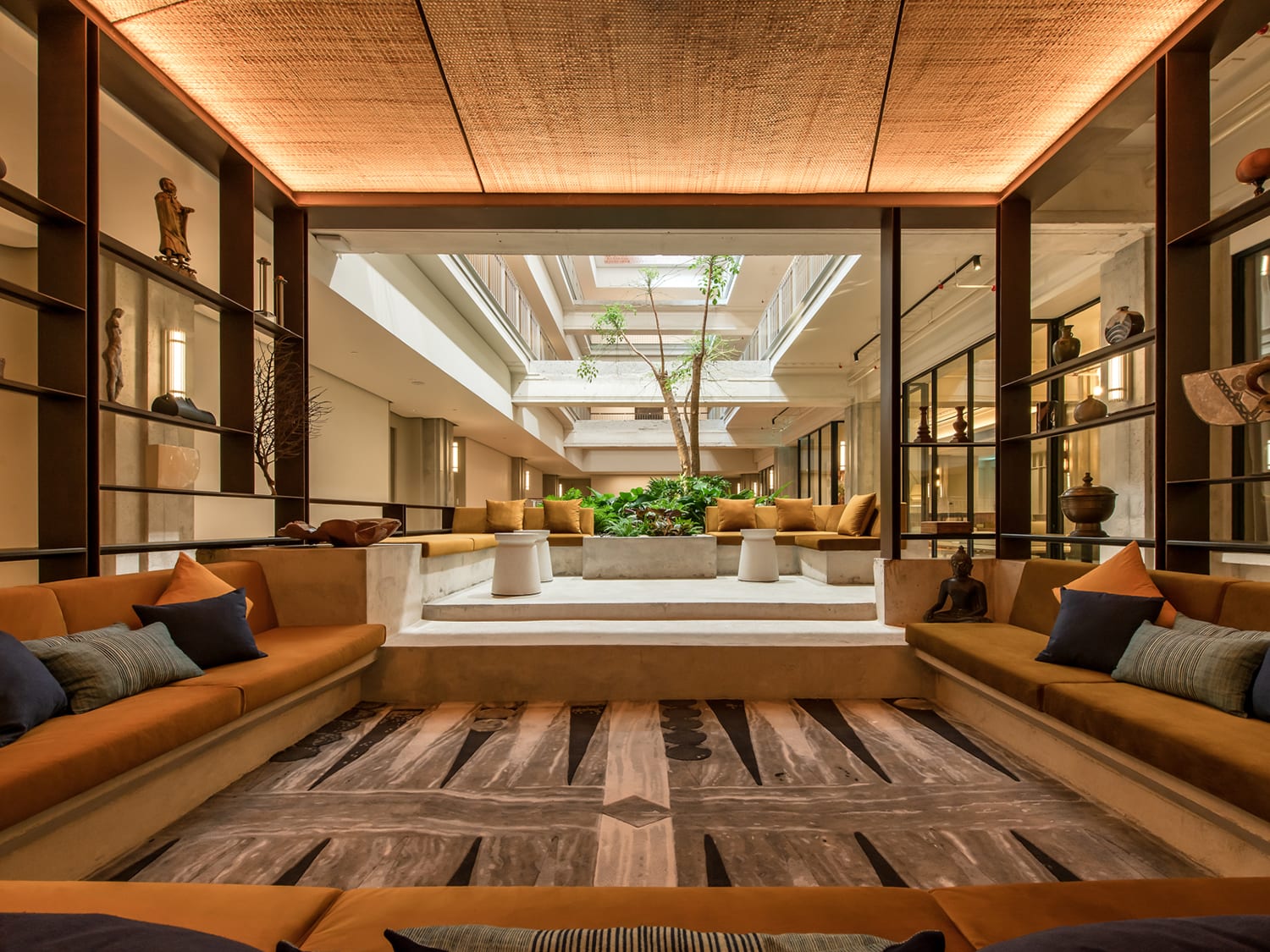 To this end, the duo assembled a dream team of local creatives including women-led interior design practice, Studio Bikin and architects Faizah Architect. A new light-filled airwell that dramatically cuts though each floor was introduced and the entire space transformed with custom furniture, plush, patterned textiles by renowned rug artisan Omar Khan and numerous works by Malaysian artists including Fauzul Yusri, Fendy Zakri, Fawwaz Sukri and Nathan Fikri. Else also just launched its Artist-in-Residence programme, with the first featuring Dubai-based artist Eduardo Enrique. His Lost Sanctuary exhibition questions consumer culture by juxtaposing found sporting objects like golf balls with museum artefacts like fertility figures, and runs till July 30.
All this speaks to Chen and Perez's mission to create a globally-connected, locally-rooted hospitality brand. It's also their philosophy of how people travel today writ large.
"Everyone today is a multi-hyphenate, doing all these different things all at once – we're multimodal", said Chen. "There's a kind of duality to travel now too," he added, sharing how we often seek very diverse objectives at the same time. Bleisure, where we combine work with leisure, is one example. "Many of us also want to be energised when we travel but at the same time, we want recovery and rest too," he added.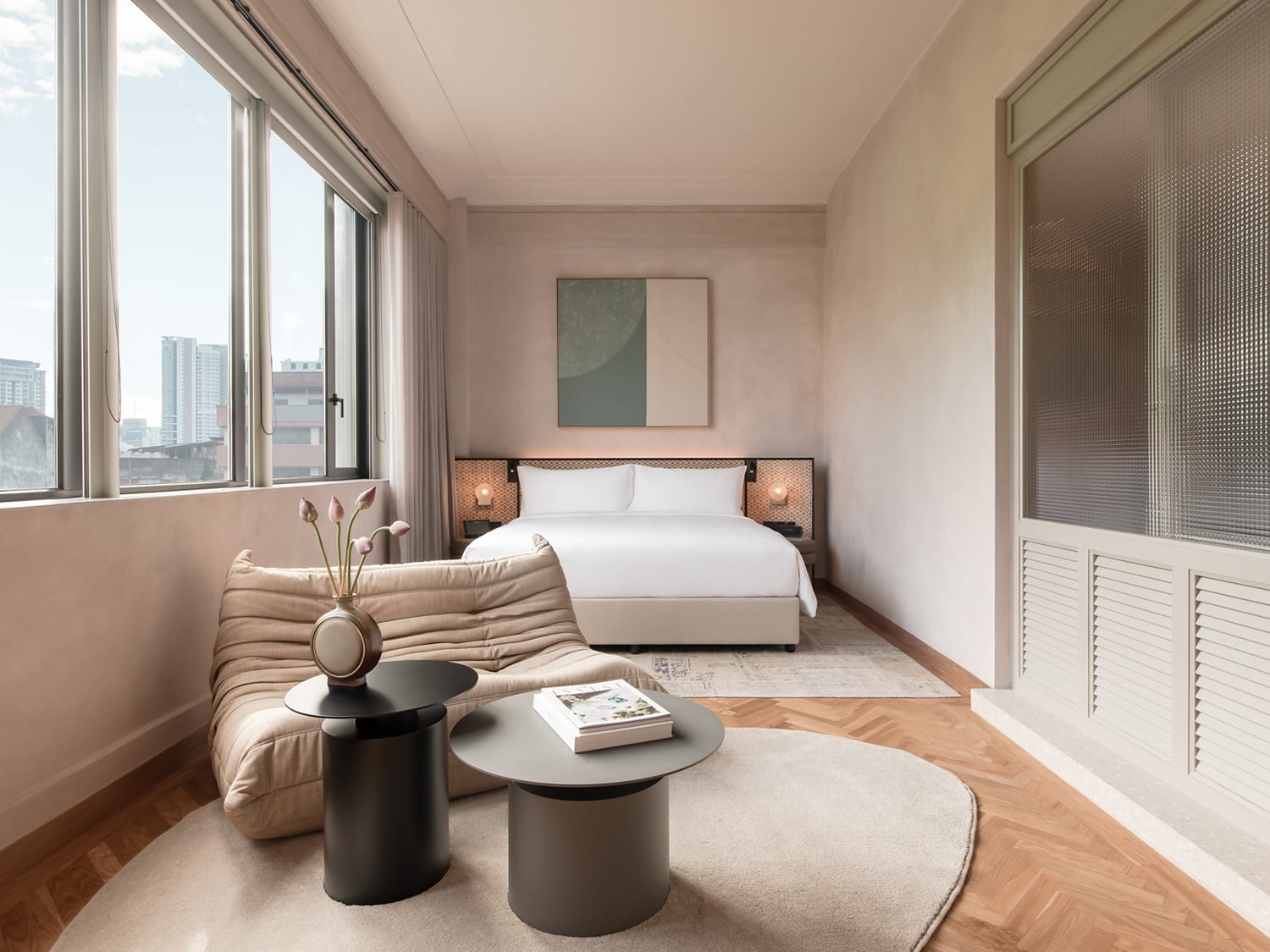 The 49-key property has four room categories, starting from the Mantra (25 sq m), to the Urban (33 sq m) and Sanctuary (41 sq m), which has a super king-sized bed and private balcony from which to look at the ever-changing streetscape below. The Sutera is a 69 sq m suite with a separate living area that can accommodate extended family, while the Else Suite is the property's largest at 84 sq m and comes with sweeping views of the city skyline and a private balcony stretching from the bedroom to the living area.
Guest rooms offer a hushed, tactile palette of beige and cream textiles, brown herringbone wood floors and raw-edge wood consoles. In addition to offering every modern convenience (bedside USB ports, Bluetooth-enabled Harman Kardon sound systems), they perfectly illustrate Else's globally-minded, hyper-local sensibility.
There are linen robes from local sleepwear brand Lulla, Dyson hairdryers and amenities from Singapore's Omno. A "welcome kit" upon arrival includes a chill-out Else Spotify playlist, lavender sleep mask from social enterprise The Asli Co, and a hand-dyed tote bag by sustainable fashion brand MUNI. Suites also offer the Morning Coffee Machine – a barista-designed coffee maker that uses specialty coffee capsules.
"Our guest rooms are more residential in character," said Chen, emphasing how he and Perez ultimately seek for Else to "be like a canvas showcasing what Kuala Lumpur has to offer."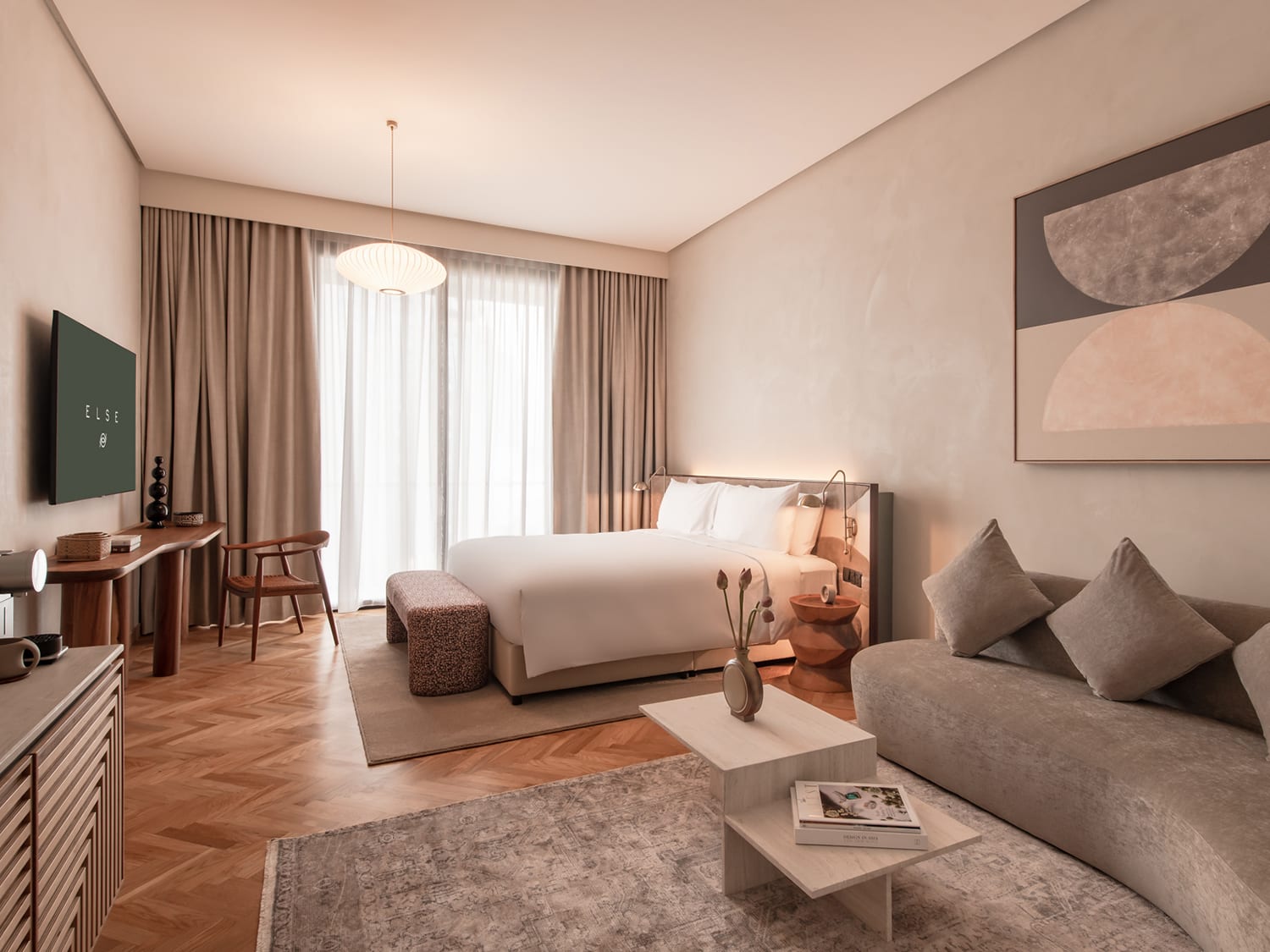 The duo's attention to detail is evident throughout my Sanctuary room, from the subtle gold chevron on the ceiling denoting kiblat (the direction of the Ka`bah which is the direction of prayer for Muslims), to the stunning headboard handwoven by Khan – an unfinished, organic carpet of lichen-green and brown shag that's more artwork than decor. My ensuite bathroom suggests "millennial chic grown up", with pink terrazzo counters, sleek black fittings and ebony wood shutters that open to views of Chinatown (though I'd recommend keeping these closed to avoid unwelcome critters).
Else also has a small gym (with two adjoining private rooms containing a flotation pod each), a sunken "living room" area and a business space for meetings. A library on the second floor is in the process of having its local book collection fortified, while a minimal Gratitude Space is ideal for quiet prayer or meditation. On the roof, you'll find plush sunbeds and a saltwater infinity pool.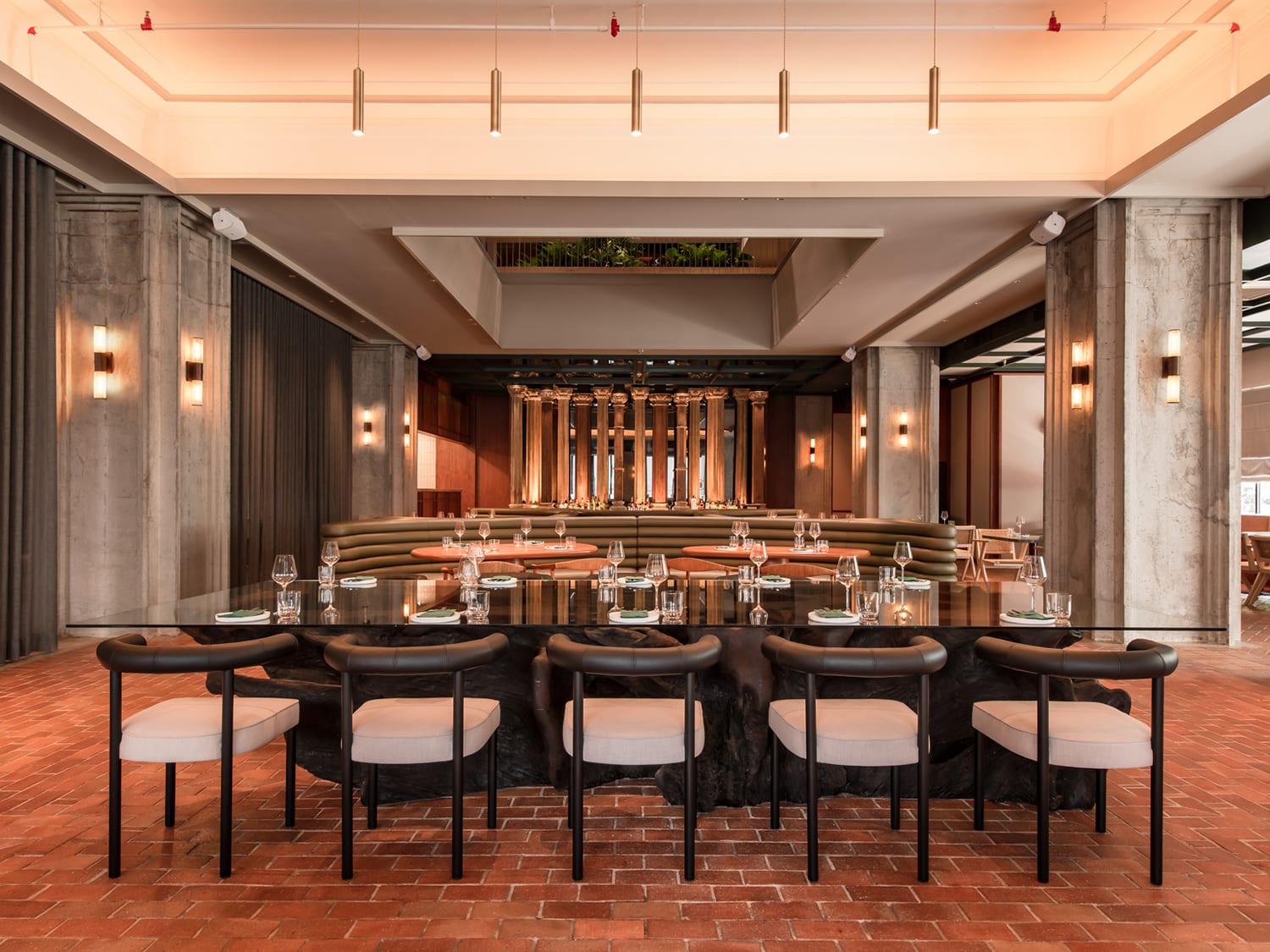 Perez's influence on Else's two F&B outlets is particularly evident in Raw Kitchen Hall, sister restaurant to his Raw Kitchen Bar in Singapore. It serves dressed-up Latin-Asian comfort food with a Thai twist, all presented in sharing plates. Think tobiko-topped crispy prawn toasties, ceviches, Miso jerk chicken and tiger prawns dressed with chilli sambals and squid ink sofrito (a Latin-inflected aromatic spice blend).
Yellow Fin Horse, which is situated on Else's top floor and named for a whimsical drawing Perez created as a child, leans into its elemental, open-fire ethos. It uses smoke and flame to flavour its menu, along with timeless techniques like pickling, ageing and salting to tease out bold, confident flavours from its seasonal, locally sourced ingredients. Kuala Lumpur native Jun Wong helms the pass, combining her fine-dining background with a stripped-back approach that gels perfectly with the restaurant's contemporary vibe. Dishes like a deconstructed Caesar salad, a beautifully charcoal-grilled whole baby snapper with kelp vinaigrette and plump scallops nestled in beds of pumpkin brulee will surely draw Kuala Lumpur's cool crowd. So will the extremely Instagrammable veined maroon marble tabletops, crystal point cutlery rests, vibey soundtrack and marigold yellow banquette seats. A must-try is the excellent Proof and Co-curated drinks list, which showcases Else's "glocal" DNA via drinks like the excellent Rempah cocktail. It combines vodka, sakura vermouth, fresh grapefruit, house-made tepache and rempah empat beradik syrup, made from the spice quartet of clove, star anise, cinnamon and cardamom often used in Malay cuisine.
Yellow Fin Horse, like Else's other public spaces, offers an elegant comfort that encourages lingering, a fact which delights its founders.
"We think of Else more like a guest house, rather than a hotel," said Chen. "We don't want it to be just a transitional space."
Perez chimed in that he's not after gloss, but patina. "Some of the world's top hotels look exactly the same today as they did years ago, and that's not what we want," he said. "I want this place to feel lived in, to evolve and change over the years. We're playing the long game."
WHERE TO EXPERIENCE THE NEW CREATIVE KUALA LUMPUR
Zhongshan Building
This row of 1950s-era interconnected shophouses in the centre of Kuala Lumpur is now home to a community of designers, artists, musicians and retailers. Our picks include notebook atelier ana tomy, Remedy, an apothecary that sells gorgeous-smelling sustainable health and beauty products, gourmet sandwich shop Tommy Le Baker and tiny, Japanese "standing bar"-inspired cafe bar Piu Piu Piu Cafe.
REXKL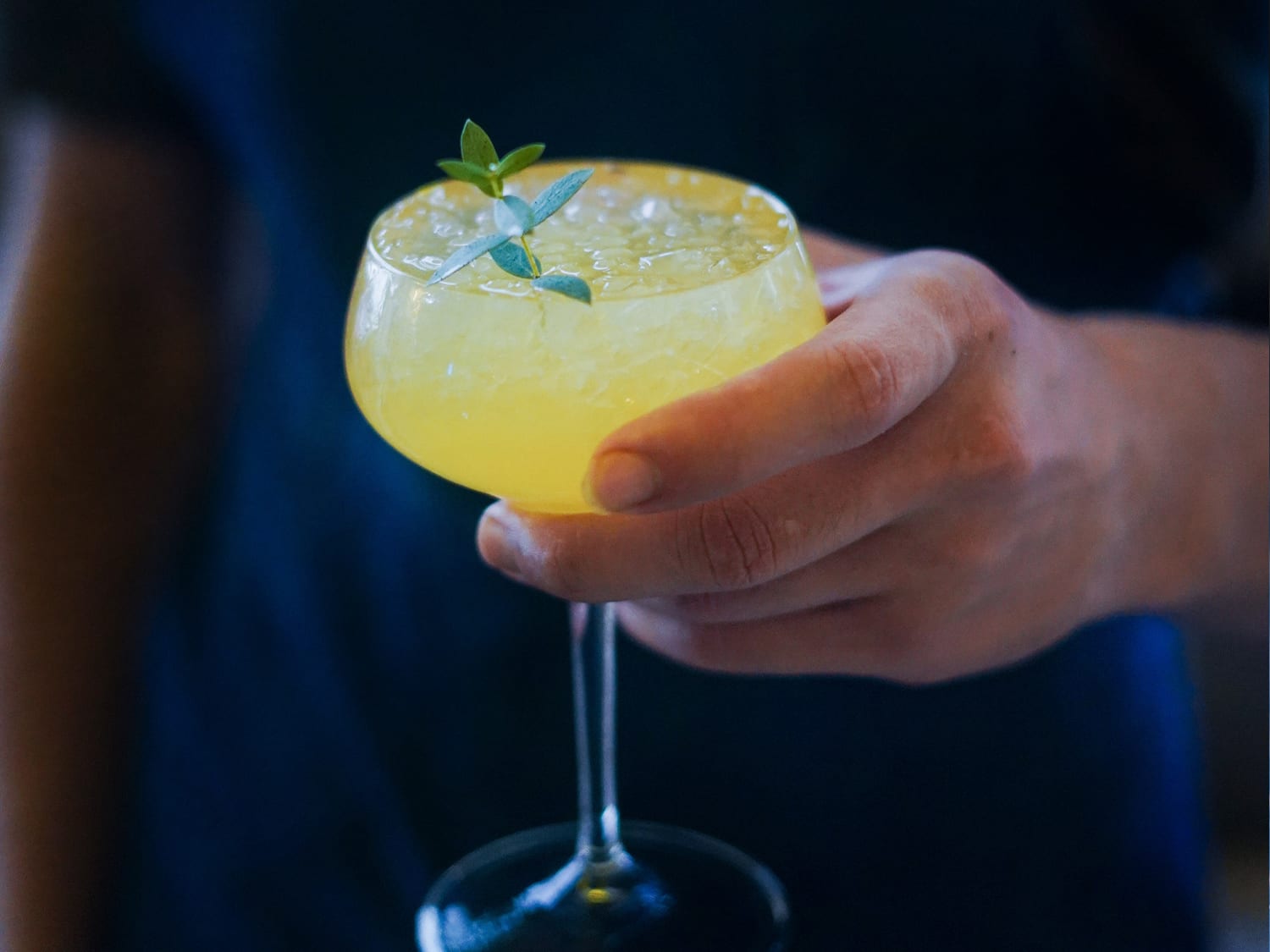 Located in the heart of downtown Kuala Lumpur, REXKL occupies the site of one of Malaysia's first cinemas before separate fires ended its fortunes. Today, it's a multi-purpose creative hub, with a stripped back, high-ceilinged performance space that welcomes diverse acts from sitar to synthpop, together with creative outlets like Book Xcess (with instagrammable, architectural shelving) and restobar SHHHBUUULEEE on its top floor. Its lively basement food court contains gems like Stellar Cake Room and Hijau, a halal vegan joint serving fusion Malay and Western cuisine. Chen and Perez see REXKL's founders as Chinatown's "biggest stakeholders, and themselves as second".
Small Shifting Space
One of Perez's fave neighbourhood restaurants, SSS is a cosy restaurant and winebar that wouldn't be out of place in Barcelona or Tokyo. It serves stylish small plates inspired by global cuisines – think fettuccine bagna cauda, moroccan spiced prawn and fried chicken sandwiches.
Chocha Foodstore
A real Kuala Lumpur gem, this restored shophouse restaurant offers elevated Asian menu showcasing hyper-local ingredients. Can't-go-wrong dishes include the umai, the Sarawak dish of sliced raw fish dressed in lime juice, onions, chilli and vinegar, as well as the salted Sinsilog noodle, which pays tribute to the street favourite ban mian. The deceptively simple "grilled beans" – sliced wing beans, okra, petai and asparagus accented with kulim oil and a bitter pucuk manis hummus – is a standout. On-site bar, BotakLiquor, serves great cocktails featuring local flavours like calamansi, papaya and jasmine.
Penrose
Opened in August 2022, Penrose is an elevated cocktail bar founded by Jon Lee, who's worked with Tippling Club Singapore and is also behind adjoining Wildflower. Hidden behind a hefty, sculpted metal door, Penrose is named for the English mathematician Roger Penrose and follows a five-pronged balance of alcohol, taste, flavour, body and dilution. Its drinks – like the Rum de Violette containing rum, violette liquor, umeshu and sakura salt – illustrate this philosophy.
A Place Where – by APW
A former printing factory, this sprawling lifestyle hub has a well-curated mix of cafes, restaurants (like Flat Earth Tacos and Breakfast Thieves), beauty (such as local clean beauty label Handmade Heroes), inventive clothing stores (like modern occasion wear label Khoon Hoi) and wine bars (Unwined KL). And of course there's a hip barbershop (52barbers) too.
A Little Farm on the Hill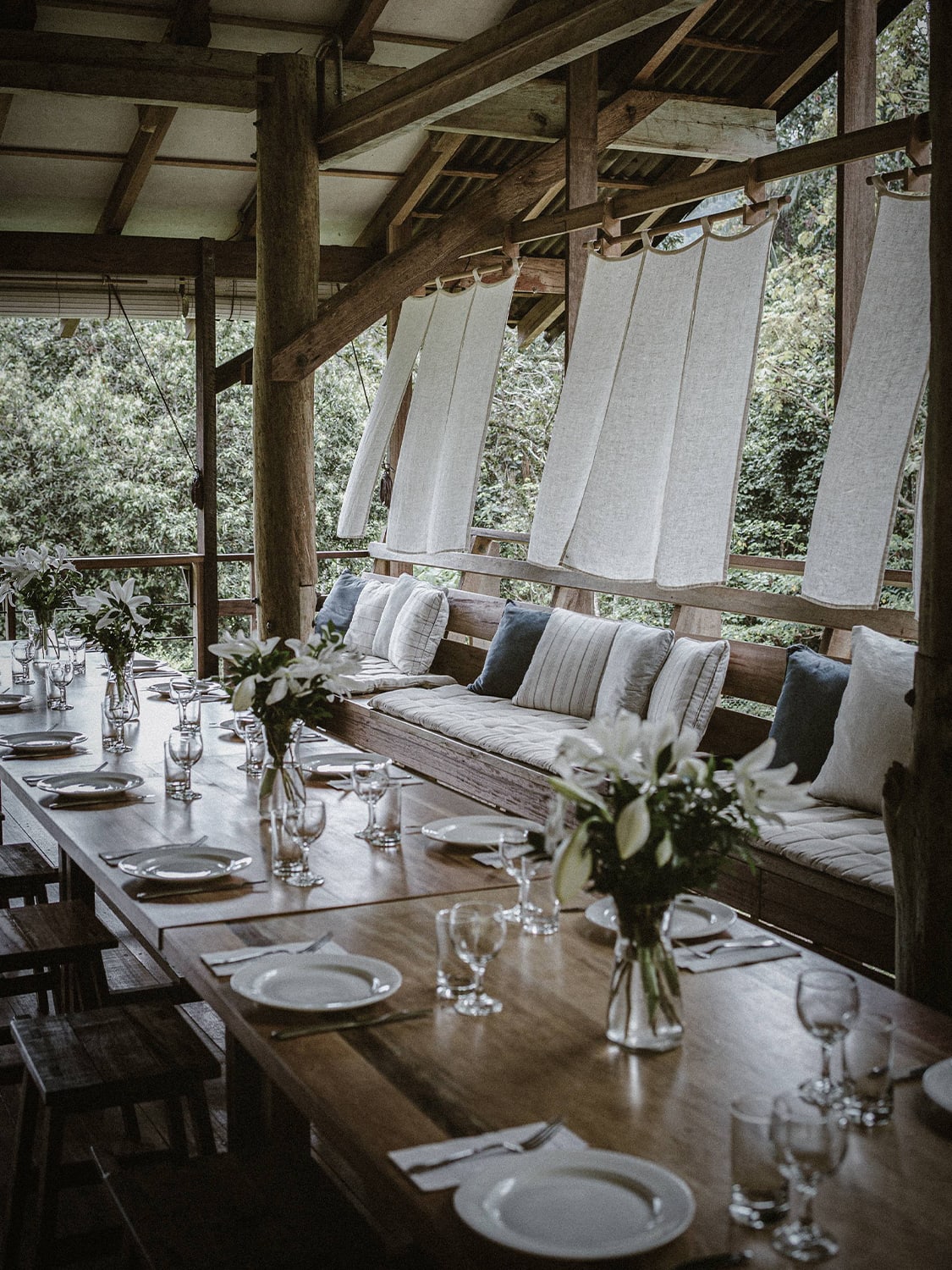 It's actually an hour's drive from Kuala Lumpur, but this farm is worth visiting during your next trip to the Malaysian capital. Music producer and filmmaker Pete Teo and his architect wife Lisa Ngan have created their own little slice of paradise in Bentong's hills, harnessing organic farming methods to grow dozens of organic herbs, fruit and vegetables for restaurants in the city. On weekends, they host a Farmer's Club Lunch showcasing their produce that's pure rustic-chic.