Enjoy Spain's party island Ibiza without attending a single rave
Discover the natural and cultural side of Ibiza through kayak trips, artisanal liquor workshops and explorations of its UNESCO World Heritage-certified old town.
I was paddling furiously in my single kayak trying to keep up with the group. Officially, I'd say I was euphoric to be out in the crystal clear waters and was admiring the large basalt rocks and clay cliffs hugging the Ibizan coastline. Truth is, I probably need to level up my stamina.
Starting from Es Figural beach, the three-hour excursion with Kayak Ibiza took us along Ibiza's north-eastern coast, including a stop at a secluded cove where we snorkelled and swam in the refreshingly cool waters. Kudos to our guides Christian and Carlos, who managed to steer a motley crew of 14 people, who could only understand English, Italian or French, away from strong currents and through narrow channels without losing a single one.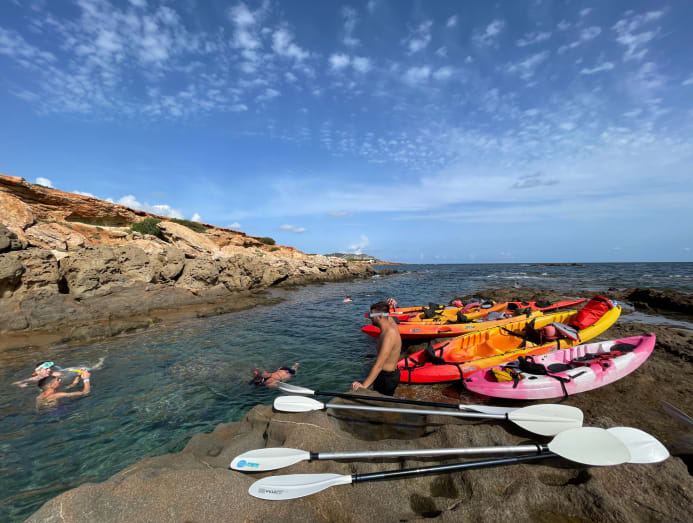 Among the four largest islands – Mallorca, Menorca, Ibiza, and Formentera — in the Balearic archipelago located off the eastern coast of the Spanish mainland, Ibiza ("ai-bee thuh" as the Spanish pronounces it) is the third largest. It is easily accessible by direct flights from major cities like Barcelona, Madrid and London but you would want to avoid the peak summer season from July to September where the streets are chock-a-block with vehicles and European holidaymakers, and you pay everything from beach beds to burgers through the nose. I was there early October, when the crowds had dissipated but the lingering Mediterranean summer made it delightful to be outdoors. From mid-October onwards, most beach clubs and restaurants are closed until March the following year.
I stayed two nights at La Torre Del Canonigo, a Small Luxury Hotels of the World member located in the UNESCO World Heritage-designated old town known as Dalt Vila. The hotel is spread across three medieval buildings, of which my third-storey suite belongs to a watchtower. From my suite's terrace and the hotel's only restaurant and breakfast room, Corsario Restaurant and Terrace, the harbour views are gorgeous. Less mobile guests, however, would find it challenging as there are no lifts in the buildings and getting to Corsario on a rainy morning means a gingerly stroll down a steep cobblestone slope best accomplished with solid sneakers.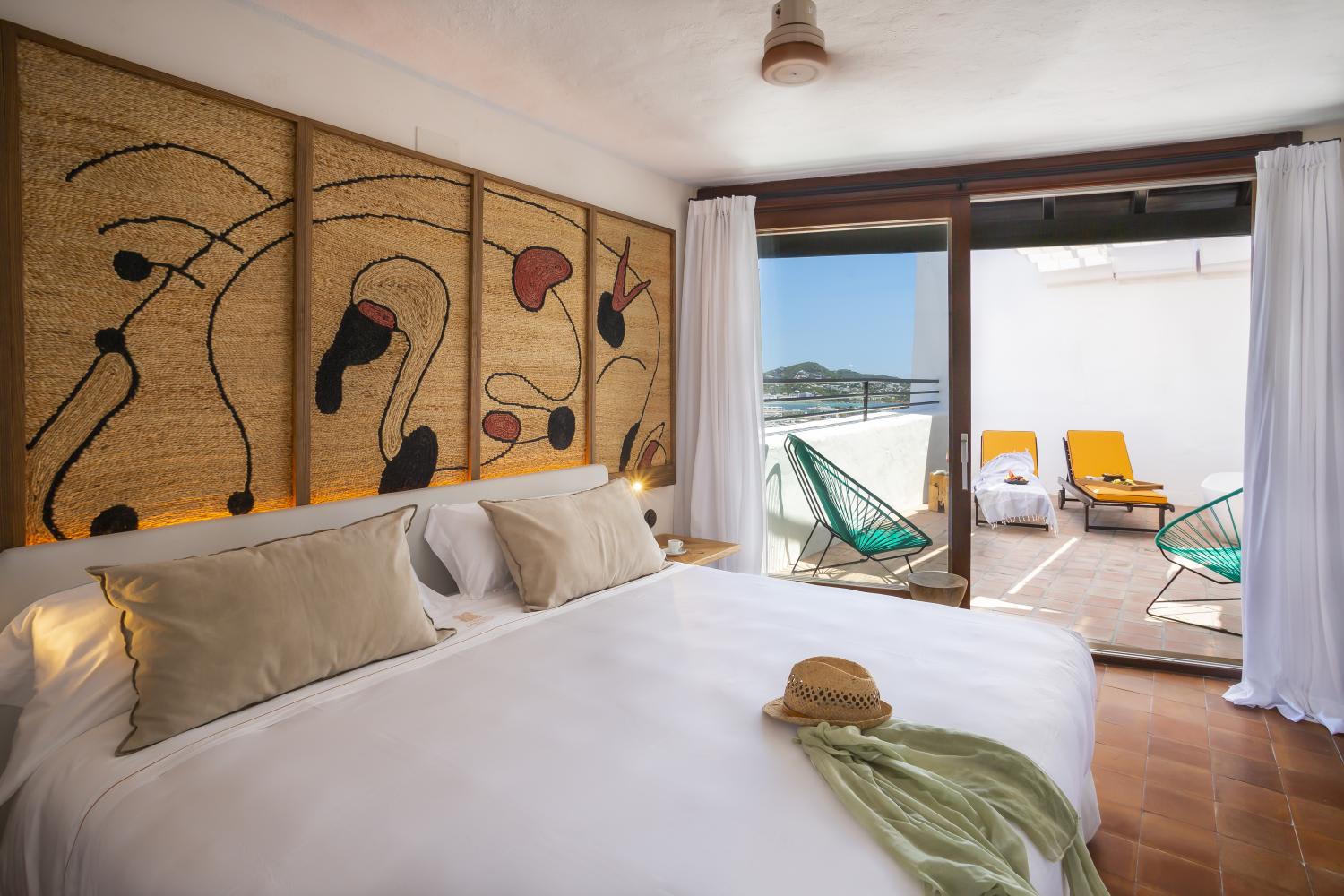 La Torre's other trump card is its proximity to the top of the hill where the island's main Ibiza Cathedral stands. Nearby is the Madina Yabisa Interpretation Centre, where remnants of the city's original walls can still be seen and there is an engaging audio-visual explanation of the city's evolution from a Muslim medieval town to what it is today. As I stood outside the cathedral marvelling at the panoramic views, I was awestruck. This mecca for the top electronic dance music acts around the world had withstood 27 centuries of demolition and rebuilding under the hands of myriad invaders such as the Carthaginians, Romans, Arabs and Catalans. How's that for tenacity.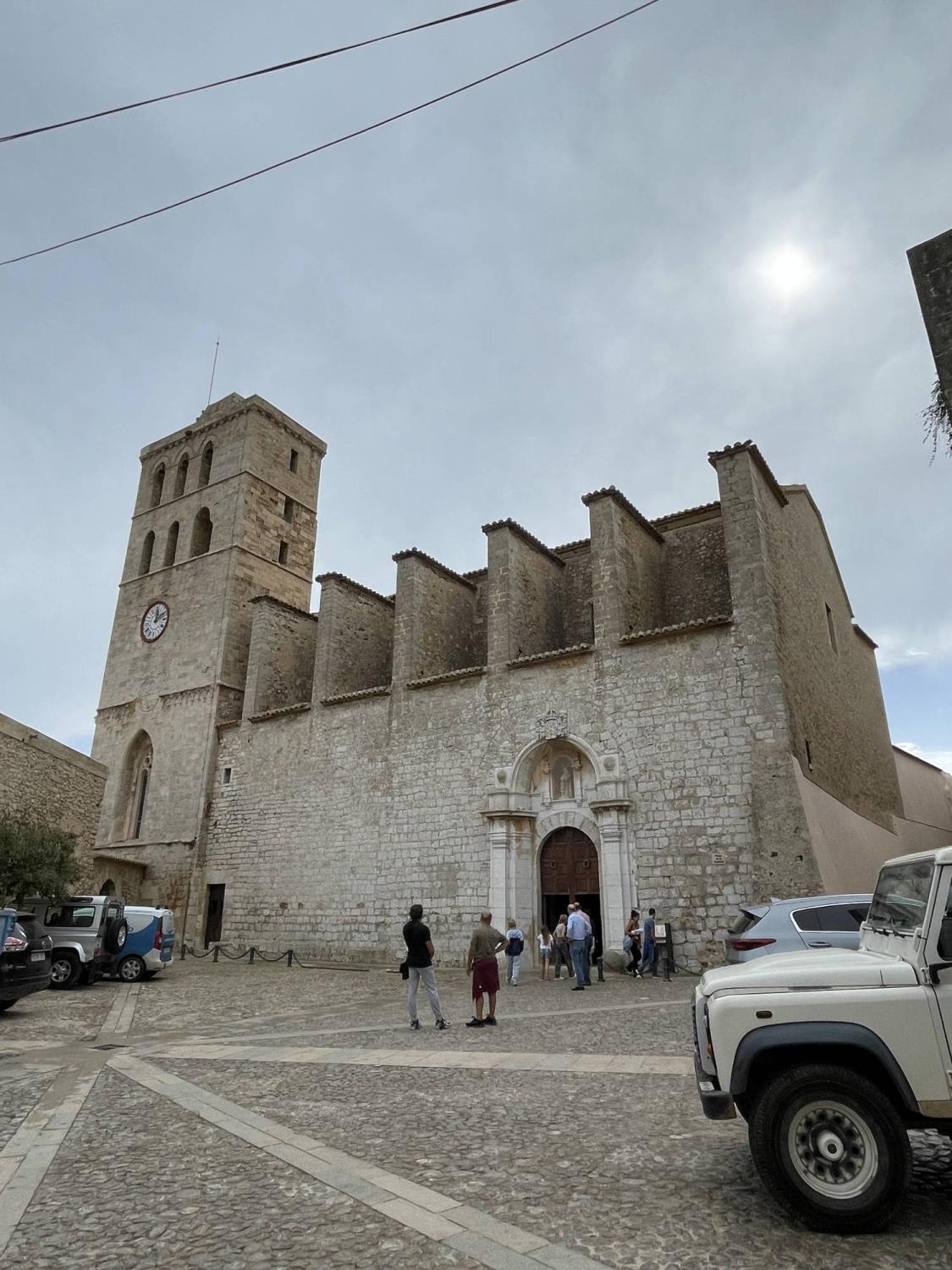 My tour guide Shana was a font of knowledge throughout my three-day jaunt, having lived on the island for over 40 years. On a tour of Dalt Vila, we wove through a labyrinth of sloping streets and flights of steps. Racing heart rates aside, it was charming to discover hidden alleyways, quaint shops and cosy restaurants in white buildings, and to walk along impressive Renaissance ramparts and past colourful doors marking residential entrances.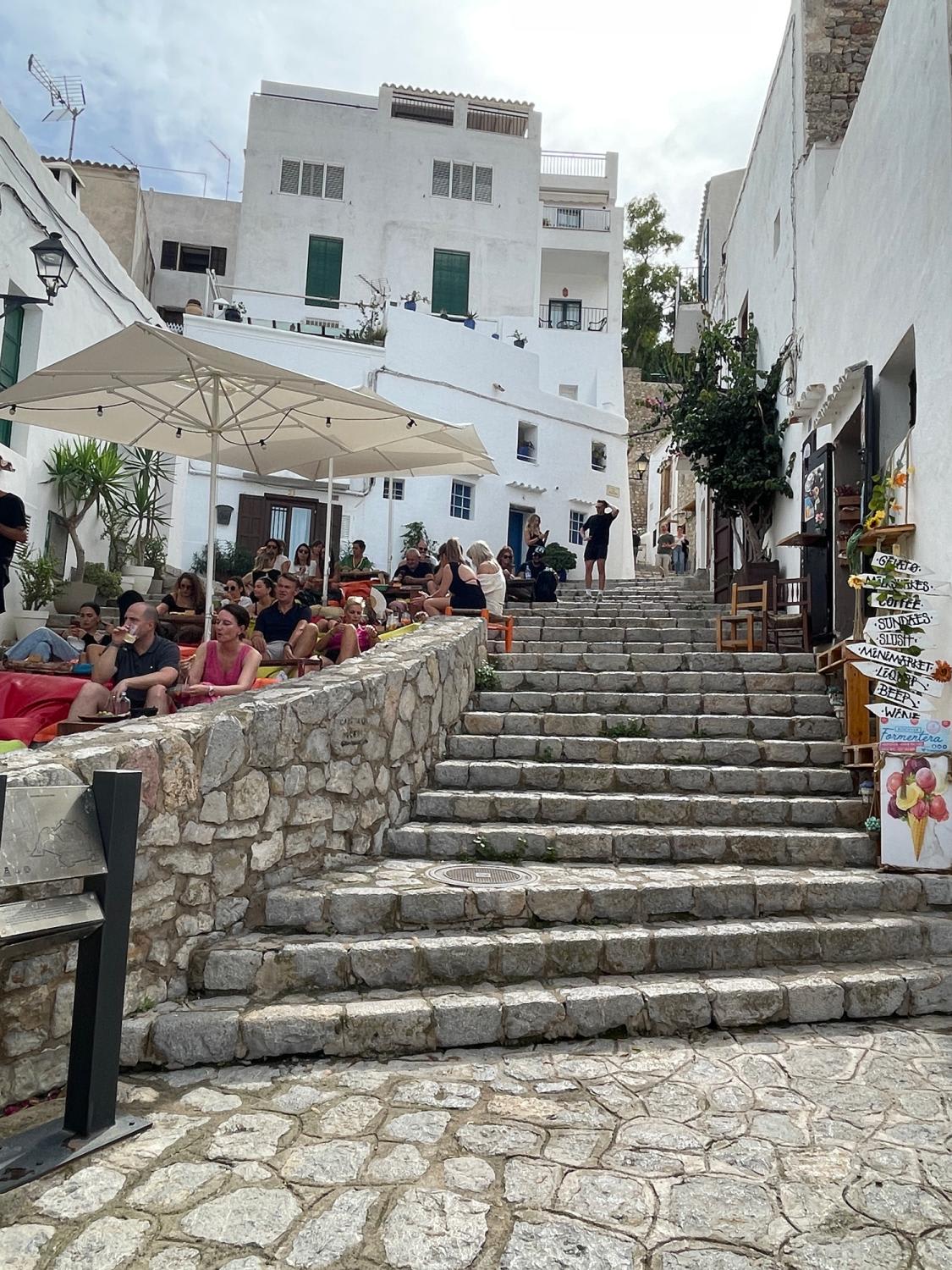 The best way to explore the island is by renting a car as Ibiza is only 45km long from north to south and 35km from west to east. There are quaint villages with small white houses and the drive is invariably scenic. As we go up north, the vibes get more chilled and the scenery is greener. In the centre of the island is Santa Gertrudis de Fruitera, a town that has adopted a bohemian mien from the many artists, sculptors and musicians who have settled there over the years. The town square is characterised by interesting boutiques and small galleries and a whitewashed fortress church. Drop by Bar Costa to see the paintings on the walls that were exchanged by poor artists for food in the 70s.
But nothing quite matches the colourful kitschy energy of nearby Sluiz Ibiza, a 64,000-square-foot wonderland of prints and patterns in spades, home wares and a cafe decorated with mismatched chairs and framed pictures all over the place. From here, a 20-minute drive east lands you at the Las Dalias Hippy Market, with stalls hawking all sorts of craft items from homemade liquors and bags to soaps and clothes. It usually opens only on weekends, but timings do change during festive seasons. It was midweek when we visited and there were throngs of people including a merry set in the food tent dancing to live music with drinks in hand.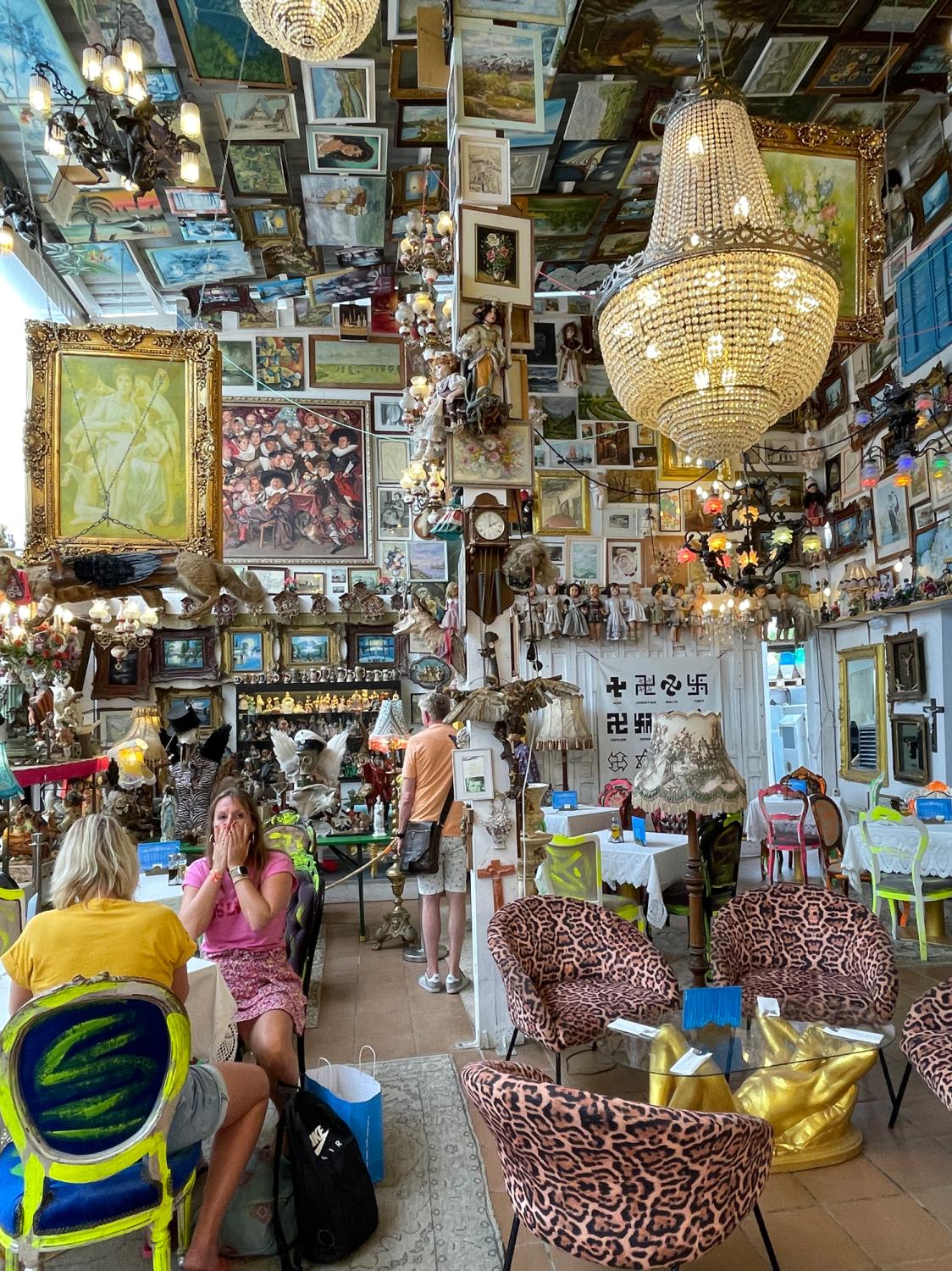 Finding picturesque beaches in Ibiza is not hard: Playa de Ses Salines, Sa Caleta, Cala D'hort and Cala Comte along the south-western coast and Cala Xarraca and Cala Sant Vincent in the north offer clear waters, loungers and restaurants. Beach bed booking policies vary from place to place, with some operating on a first-come-first-served basis, such as the casual-chic El Chiringuito. Not a "beach hut" as its Spanish name implies, the well-known beach club on Playa Es Cavallet in the south charges around €10 (S$15) for a daybed to €30 for a Balinese lounger with compulsory food order. Atzaro Beach Cala Nova in the northeast has stylish boho vibes and a healthy Mediterranean menu of sharing plates such as juicy watermelon salad with feta cheese and figs as well as a seafood fideuá with an irresistibly crispy socarrat that hit all the right savoury notes.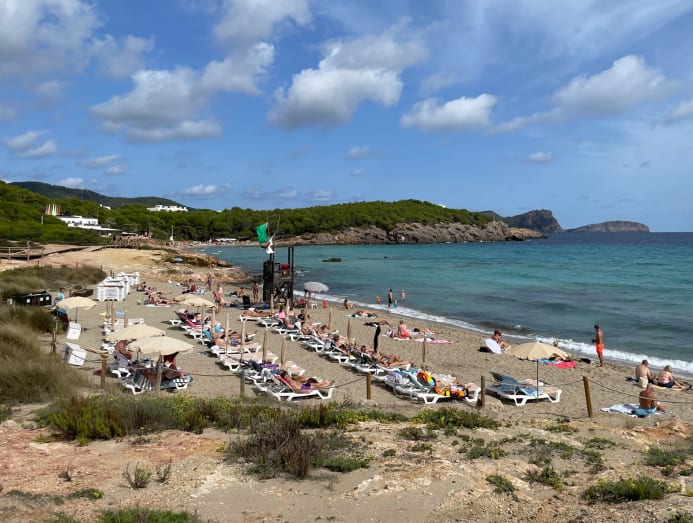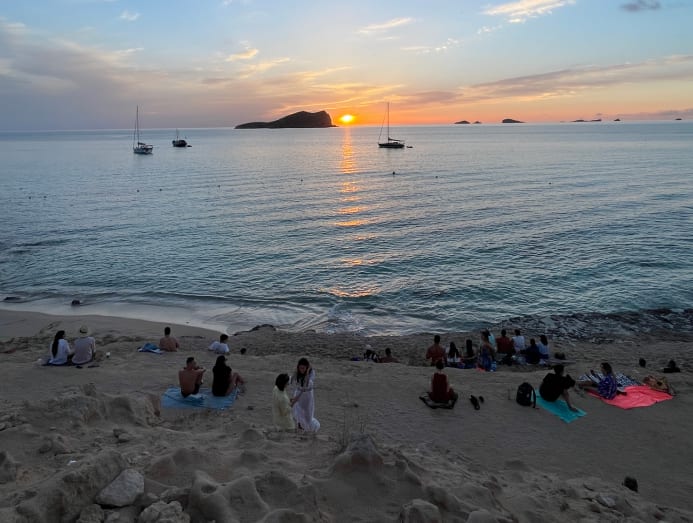 S'illa des Bosc is the place to go for sunset watching and dining. People would gaze, transfixed in reverential silence, as the orange ball of fire slowly dipped into the horizon. When it finally disappeared, everyone broke into an appreciative applause. Dinner at the open-air restaurant was mussels that were so fresh it felt like they were just whisked off the ocean into our plates. The catch of the day, a red scorpion fish, was baked to crackling crispiness. We washed it all down with a light, crisp white, a very reasonable €24 bottle of José Pariente 2021 made from the local Verdejo grapes that grow predominantly in Rueda, Spain.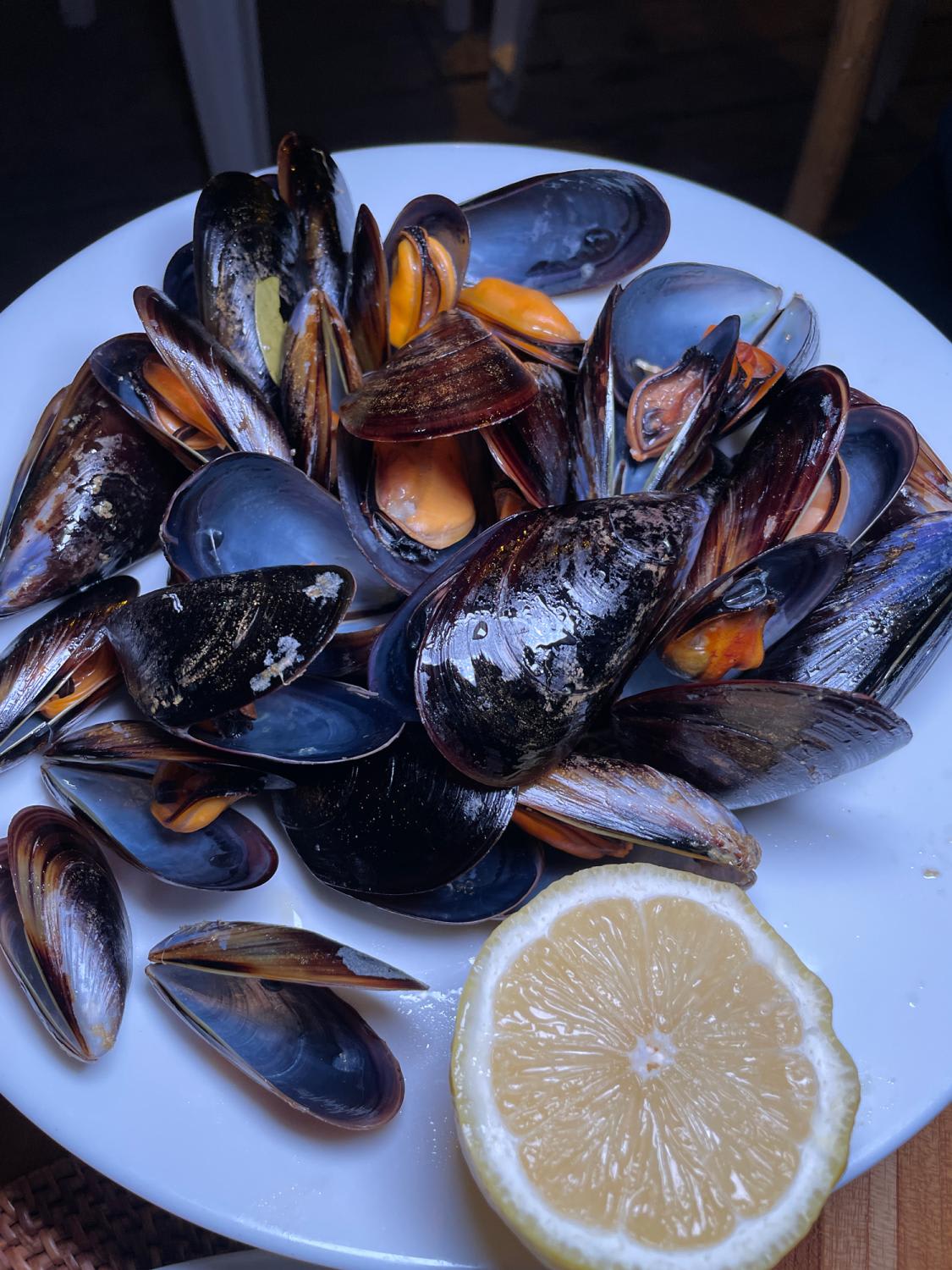 Food in Ibiza informs the island's history, countryside culture and its proximity to the ocean. It's not the most elegant, but definitely homey and robust. Bread, brined olives and a very addictive 'all i oli' sauce (an aioli made of garlic, oil and salt) are served at the beginning of every meal. Family-run restaurants like Ca n'Alfredo, which is located in the new town and has been around since the 1930s, and Can d'en Parra, nestled in the heart of the old town, are the places to go for traditional dishes such as bullit de peix (fish casserole and rice), guisat de peix (Ibizan stew made with several types of rockfish) and of course paella. Among the dishes I enjoyed were moreish pimientos del padron (small green peppers sautéed in olive oil then sprinkled with fine sea salt) at Can d'en Parra, and crispy raon fish (a typical Ibizan fish that is in season in September) as well as a traditional Ibizan flaó tart with cheese and peppermint at Ca n'Alfredo.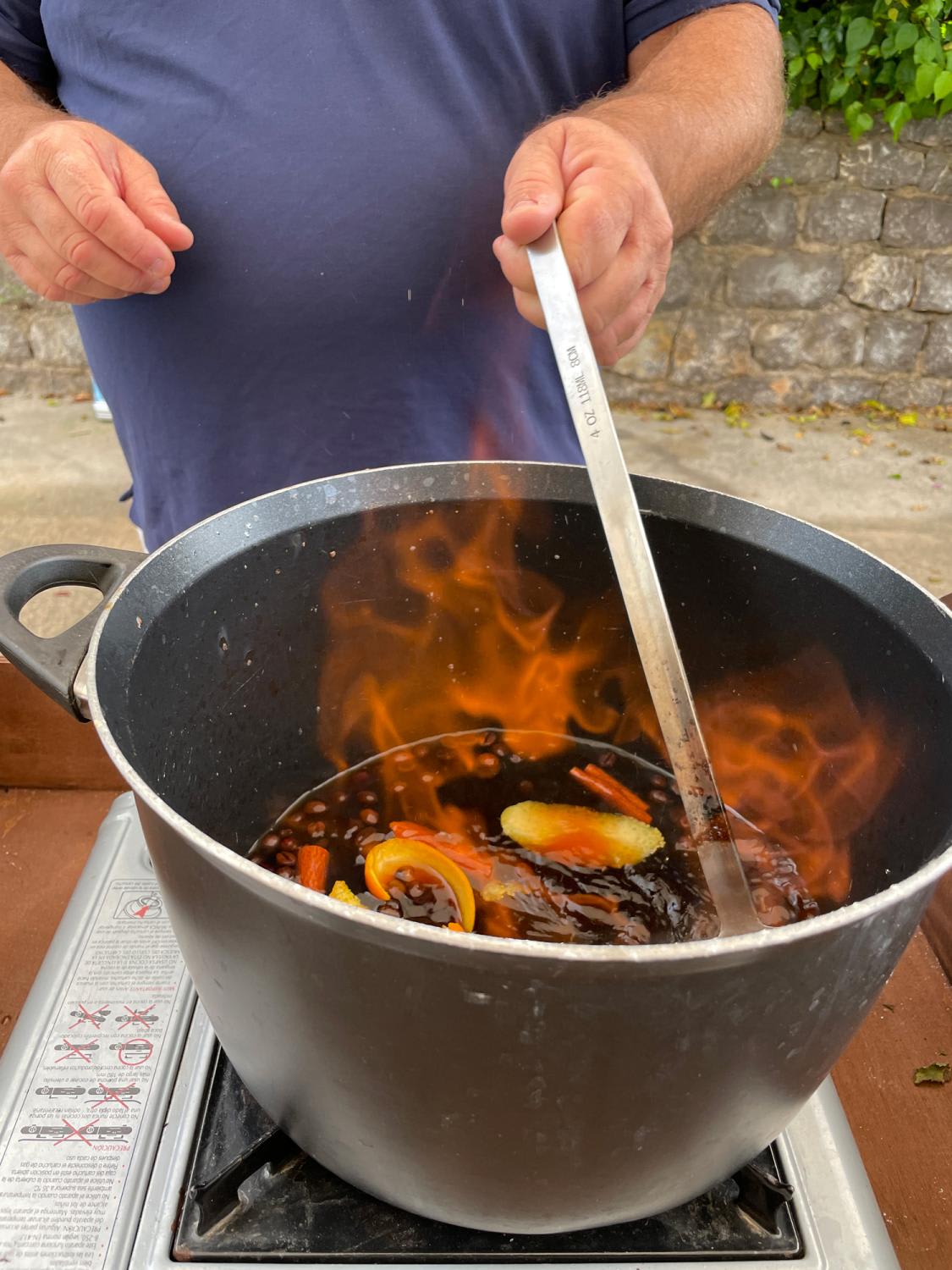 The other fun thing I did: Picking herbs to make hierbas payesas at Finca Fluxa, where founder Juan Fluxa uses a unique formula passed down from his mother to make the traditional herbal liquor. In his modest home cum "factory", Juan also makes salts and chilli jams with ingredients grown in his own backyard. We walked around the garden, snipping off a spearmint leaf here, a few sprigs of chamomile and lavender there, until we've collected 18 botanicals to be infused into a bottle of anise seed liquor for three months.
Juan also introduced the Ibizan fisherman's take on coffee, the heady cafe Caleta made by boiling brandy, sugar, dark rum, coffee beans, cinnamon, and lemon and orange peels together. Taken with doughnut-like fritters, the bitter-citrusy-sweet concoction was delicious and a fitting finish to an enjoyable getaway.
The writer's trip was hosted by Spain Tourism Board and Small Luxury Hotels of the World