A glass train, the Matterhorn, and a Singaporean speeding down a mountain
The new Excellence Class of the world-famous Glacier Express train is the most luxurious way to traverse the Swiss Alps – and a gateway to winter shenanigans.
There is a moment while one is hurtling down the snowy side of a mountain in the Swiss Alps alone, when one starts to consider all the life choices one has made in order to end up in this very situation: Certain death in the most picturesque of wintry settings.
In my case, while catching glimpses of the gorgeous vista just beyond the edge of a cliff I was speeding toward between sprays of snow to my face, I thought about that first job interview I went to as an aspiring writer, and how perhaps I should have considered a career in botany instead.
As I fumbled with using my feet as brakes on the luxuriously soft snow serving as a delivery system to my demise, causing me to fly right off my trusty red sledge, giving me a bird's eye view of all of Switzerland, I thought about my cats, and how I hadn't cleared their litter box before leaving for the airport.
I also remembered a hilarious joke about yellow snow.
"There are worse ways to go," I thought to myself as I experienced the wonder that is gravity, "than the cinematic end of a Bond villain's bumbling henchman."
AN EXCELLENT ADVENTURE
One of those life choices that led to my date with destiny was saying yes to excellence. More specifically, the brand new Excellence Class of the world-famous Glacier Express.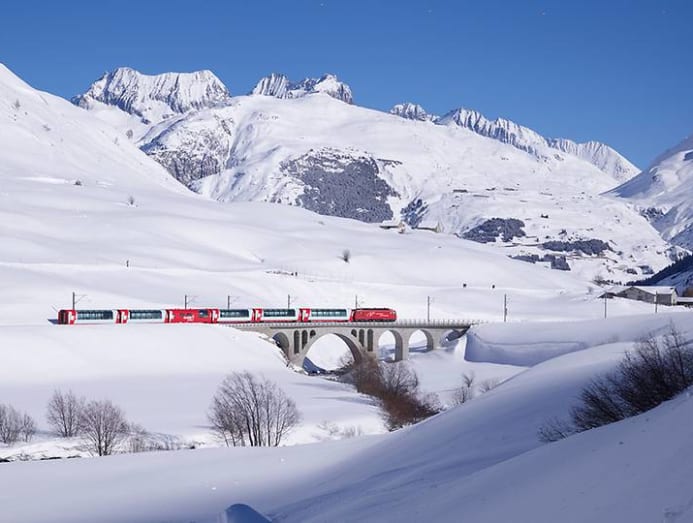 Now in its 89th year in operation, the Glacier Express remains one of the most popular scenic railway experiences in the world. Not least because of the remarkable views on display during the eight-hour journey between the Alpine resorts of St Moritz and Zermatt.
Excellence Class is its new premium product – as in beyond First Class. Barring a private helicopter ride with Beyonce, there is no more luxurious way to traverse the Swiss Alps.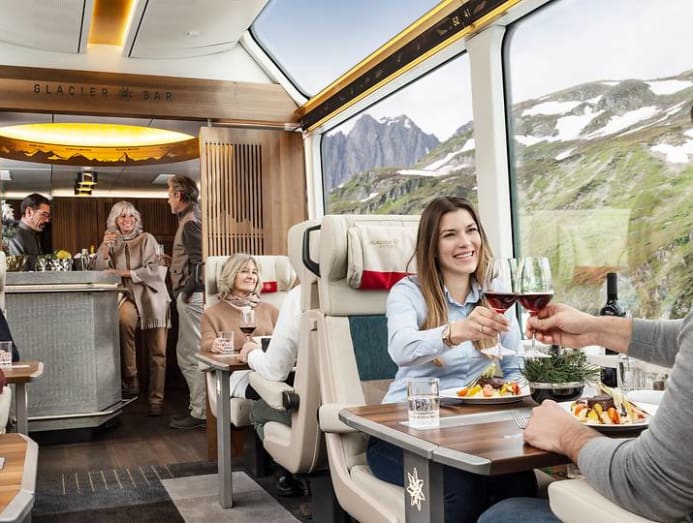 There is no hurling your own luggage up and down the steps of the train like a Norwegian strongman when travelling Excellence Class. Full concierge service is provided, with smartly-dressed staff popping champagne and serving a mighty seven courses – cooked fresh on board and tastier than train food should logically be – throughout the experience.

The train features roof-high panoramic windows, offering magnificent views of fairy-tale landscapes. We went over 291 bridges and through 91 tunnels. We passed majestic mountains, frozen lakes, fields of ice and frost, quaint chapels, adorable cottages and lots of tiny wooden sheds that, I'm thinking, are either for storage or very, very small cows to spend the night.
All of it breathtakingly beautiful.
So much so that I spotted more than a few locals standing very still out in the open, seemingly awe-struck by their own surroundings. They must not have Netflix here.
Excellence Class is extremely comfortable. There are only 20 seats per cabin, and is complete with what I consider to be a holiday essential: A full bar at the front. It makes First Class on the Glacier Express look and feel a little… pedestrian.
Yes, First Class has the panoramic windows too, but not every passenger has a window seat. Only three courses are served to your seat. The seats themselves are not plush and leather and adjustable. The seats most certainly do not have electrical outlets. And First Class does not have a fancy private toilet.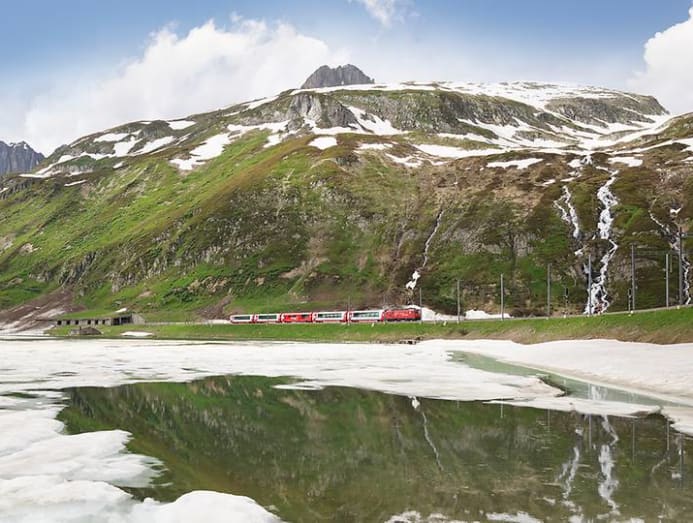 I'm told you can also charter the entire Excellence Class carriage for you and your party, if you so desire.
"A disco train. Hmm…" I considered as I continued flying through the air in slow motion on my magnificent mountain. "Perhaps that would have been a better life choice than jumping on a sledge when the only 'sledge' you're familiar with has the word 'sister' in front of it."
I made a mental note to do just that in my next life as a child genius. And also to download We Are Family.
Such a great song.
A TALE OF TWO CITIES
You know your neighbourhood is fancy when there's a Prada boutique parked across the driveway of your hotel – just casually situated next to a pharmacy. So you can pick up some anti-dandruff shampoo and another Saffiano Lux bag at the same time.
You can also purchase a Maserati just a three-minute stroll down the same street.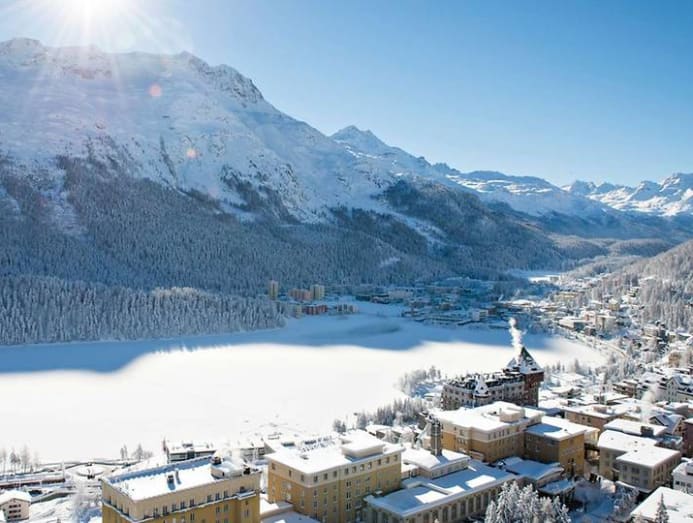 This is St Moritz, where I would start my most excellent adventure. Strolling through the main village, you start to wonder just who lives here. Because based on the retail mix lining these narrow 19th century roads, these are people who appear to exist on a diet of diamonds, timepieces, designer clothes, mink everything (PETA would run out of red paint in this town) and pharmaceuticals.
You know, the essentials.
St Moritz has always been different from its neighbours. It had rich tourists first. Their kids learnt to speak German first (to deal with said rich tourists). It even had electricity first. It's always been special. And everyone seems happy with the status quo.
Guests at the Kulm Hotel, where I spent two nights, still request for the same rooms they had 50 years ago – not because of some mass outbreak of OCD (presumably), but because the room, the hotel, the town speak to how life for them has always been.

St Moritz is a time capsule of old-school luxury. But maybe that's what the charm of the place is – it's of another time. But, still, it's enjoyably comfortable – for better or worse – even when you know the world has moved on. Just like the lounge singer mangling the words to Sade's Smooth Operator to polite applause. (Which I started, admittedly.)
On the other end of the luxury spectrum is the resort town of Zermatt, my destination after travelling 290km on the Glacier Express from St Moritz – and the setting for my impending sledge-tastrophy.
It's not that there are no luxuries to be experienced in Zermatt. Quite the opposite. In fact, the meals I had in Zermatt were superior to the overpriced ordinariness plated in St Moritz. It's just that Zermatt is more... shall we say, "democratic" in its philosophy than St Moritz.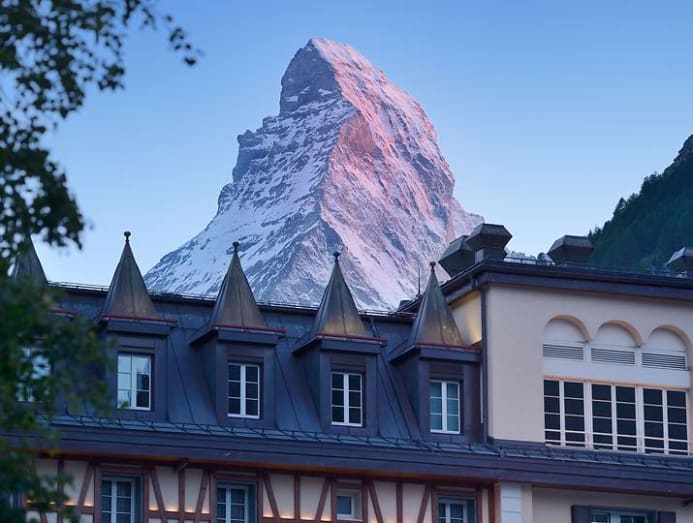 For one thing, there are no cars in Zermatt. Sustainability is key here, so everything from the postal service to pizza delivery to taxi companies operate little electric vehicles powered without a combustion engine and do not produce any emissions.
Which means when your hotel sends out the welcome wagon to get you from the train station, that's exactly what they're sending: A wagon.
And it's not a matter of paying extra for a Bentley. Doesn't matter if you think you're someone or if you're a real somebody. Even Diana Ross travelled by battery when she came to town.
That said, if electric vehicles just aren't your style, some hotels do have horse carriages on hand. Of course, horse emissions are, well, a tad more palpable. The Mont Cervin Palace is one of a handful of hotels that offer carriage rides – and where I enjoyed the best meals during my time in Zermatt. Its Italian restaurant Capri is one of four Michelin-starred establishments in town.
Besides, Zermatt isn't really a town for luxuriating in opulence – it's a town for skiing. And people do a lot of that here.
"Well, except me," I thought to my flailing self as I felt the ground come back toward me. "Because I had to go sledging. Ooh, is that Italy over there?"
OH, SO THIS IS HOW IT ENDS
Zermatt is most known for its giant resident, the Matterhorn. Thanks to its distinctive triangular peak, the Matterhorn is the most photographed mountain in the world. It is also known, most commonly, as "that Toblerone mountain" because having your image on the side of a chocolate bar – one sold in giant proportions at airports, no less – is pretty much the best PR a mountain can get.
Coming in at 4,478m, the Matterhorn is one of the highest summits in the Alps and Europe. Its fellow Swiss, Italian and French Alpine mountain buddies have nothing to be embarrassed about either.
"I'm gonna stare at your boots," said an American writer who was not good with heights, as we made our way up ever closer to the sun via multiple cable car rides. I misheard the word "boots" and clutched my jacket tighter around my chest.
Matterhorn Glacier Paradise is the highest railway station in Europe at 3,883m. The view at the top of its incredible panoramic viewing platform is, quite simply, sublime.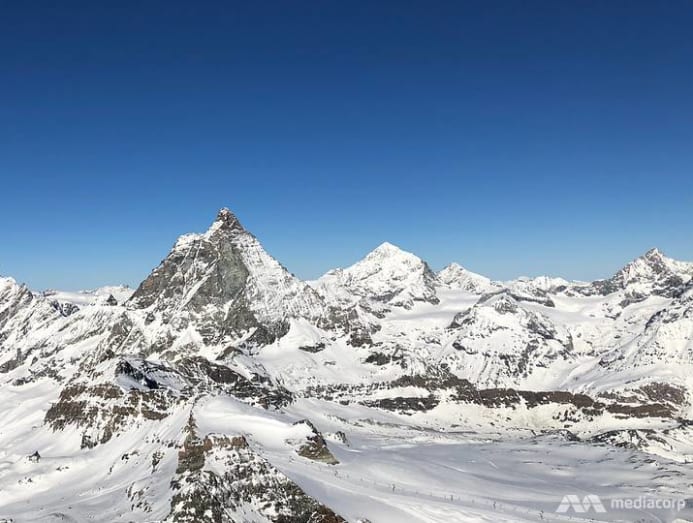 It is the sort of experience that widens your eyes and makes you feel exactly how small and insignificant you are in this world. It is profound. It is when ideas to go sliding down what you're looking at pop into your head.
The Gornergrat sledge run is the highest in Switzerland. A sledge – or sled or sleigh – is like what Santa sits on when pulled elegantly by magic reindeers named after strippers. Except in this case, much, much smaller, pointed downhill, and controlled by physics.
To steer, you put your left foot in the snow to turn left, your right foot to turn right, and both feet to both admire your choice of footwear and to stop.
Those were the instructions given to my group of journalists, being the paradigm of athleticism we are known to be. "It's easy!" said some Swiss person. "Children do it!" said another.
I now know never to pick a fight with a Swiss child.
Life choices aren't something we are usually aware of when we're making them. They are usually much clearer on hindsight – or at least after every minute spent thinking: "Oh… So this is how it ends."
Apparently, you get great views of the Matterhorn from up here. I never noticed. As my little red sledge (I call him Rosebud 2) picked up speed, I realised this might not be the best situation for a city boy from the tropics to be in.
My brain shouted out commands like a drunk Irish dance drill sergeant: RIGHT FOOT! I MEAN… LEFT FOOT! RIGHT FOOT! RIGHT FOOT!!!
My feet responded: AAAAAAIIIIIIIYYYYYYEEEEEEEE!
At the final turn, my left foot decided enough was enough and dug deep to stop the madness. That's when I went airborne.
As I floated gently back down to earth like that hippopotamus in Fantasia, I remembered the joke about yellow snow. I remembered my mother not being pleased about me telling it to my relatives during Chinese New Year. I remembered not asking for her cheesecake recipe before it was now, clearly, too late.
I landed in a snowbank, perfectly safe, with my glasses slanted at an angle usually reserved for when Velma gets knocked over by Scooby-Doo. I was alive – and my hair was still Instagram-ready. All was right in the world. Nothing to see here. I love Zermatt!
Except Rosebud 2 was still going.
And he was speeding – my body no longer holding it down – towards the Dutch journalist ahead of me.
Life choices also teach us life lessons. For me, I learned how effective three glasses of Lagavulin 16 whisky, two Negronis and a delicious glass of Swiss wine are in coping with the guilt of hitting someone in the back with the pointed edge of a sledge.
And Dutch people all over the world learned never to go sledging ahead of Singaporeans.
The Glacier Express is part of the Grand Train Tour of Switzerland, which can be experienced with one single ticket, the Swiss Travel Pass. Excellence Class requires a First Class ticket and a supplement of CHF420 (S$569). CNA Luxury was in Switzerland at the invitation of Switzerland Tourism and Swiss Travel System.