What it's like staying in a S$30,000 hotel suite, decorated by Gucci
One writer experiences a night in the Savoy's Royal Suite, one of London's grandest and most expensive suites, famed for its sweeping views of the Thames, and recently given a makeover by Italian fashion house Gucci.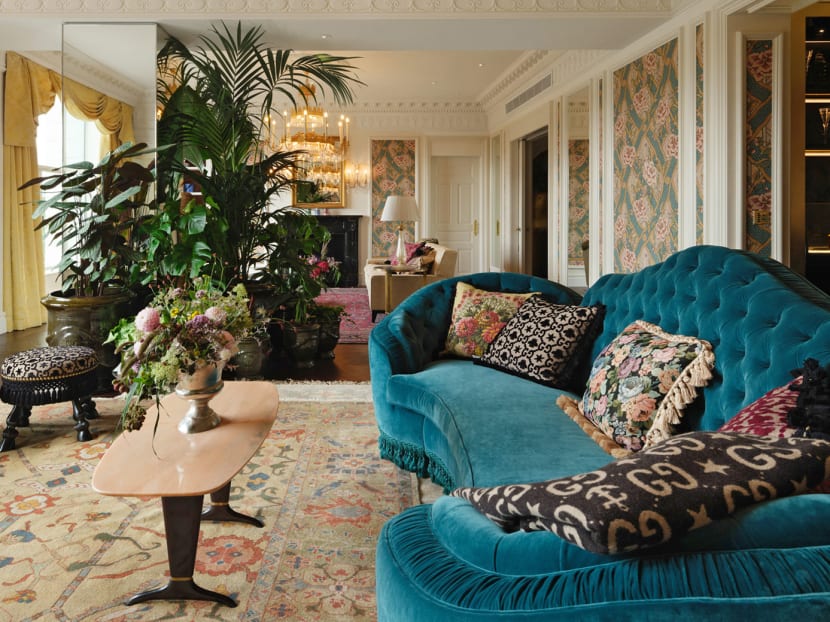 The Savoy's best suite is so large that it takes me 26 seconds to walk from one end to the other – past adjoining sitting rooms with a built-in bar, a six-person dining room and kitchen, a bathroom suite of green marble and a wood-panelled dressing room, culminating in a comfortable bedroom with a stately four-poster bed.
This is one of London's grandest and most expensive suites, famed for its sweeping views of the Thames, which I'm told are usually only seen by the top tier of visiting rock stars and oligarchs (the room, the Royal Suite, comes with butler service and costs £15,875; S$29,490 a night).
I have been invited to stay for the evening because the venerable British hotel has recently handed the suite over for redecoration to the flamboyant Italian brand Gucci, as part of the latter's 100th anniversary celebrations. Collaborations are very much in favour in the fashion world right now – Gucci's recent hits have included a range of outdoor wear with The North Face, and a Disney tie-up that saw shoes, bags and clothes feature Donald Duck. But the Savoy project was not dreamt up out of the aether at a marketing lunch, rather the two brands have genuine shared history.
As a young man in the late 1890s, the fashion house's founder Guccio Gucci worked at the Savoy as a luggage porter and lift boy. Seeing the elegant international guests, their suitcases and trunks, apparently inspired him to set up his own leather goods company in Florence.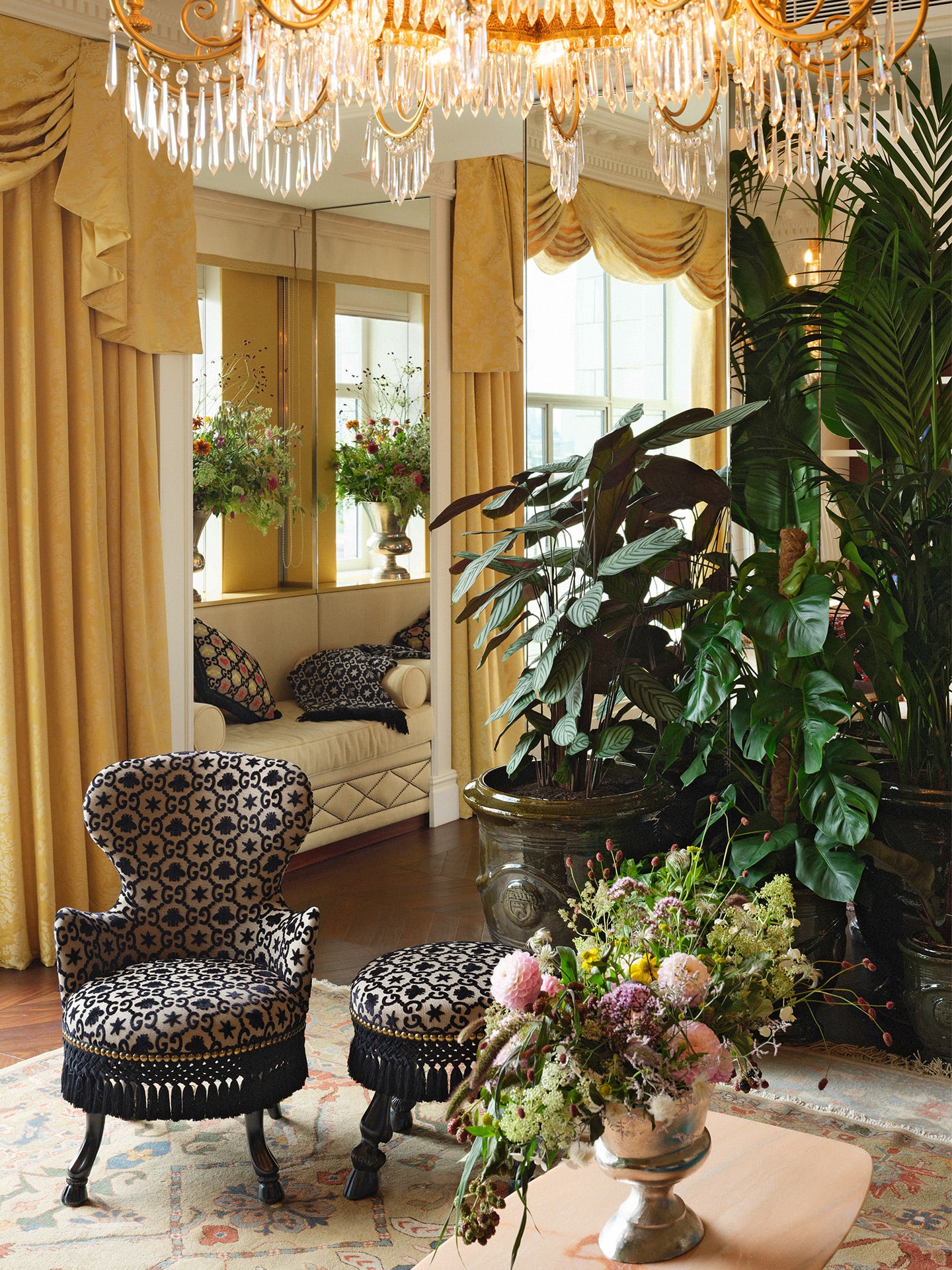 There is nothing new in fashion houses becoming involved in hospitality: There are now six Bulgari-branded hotels, for example, plus Armani hotels in Dubai and Milan. But is a Gucci-branded suite in such an august grand dame – billed on its opening in 1889 as the capital's first luxury hotel – a bit too, well, much?
For the suite is heavily Gucci-branded. There are tasselled tub chairs and footstools upholstered in the house's monograms, and deep sofas festooned with Gucci-branded throws and Gucci-branded fringed pillows. A table is set for six with the brand's botanical-print plates (a collaboration with Ginori) and silver-plated cloches engraved with "Guccy" [sic].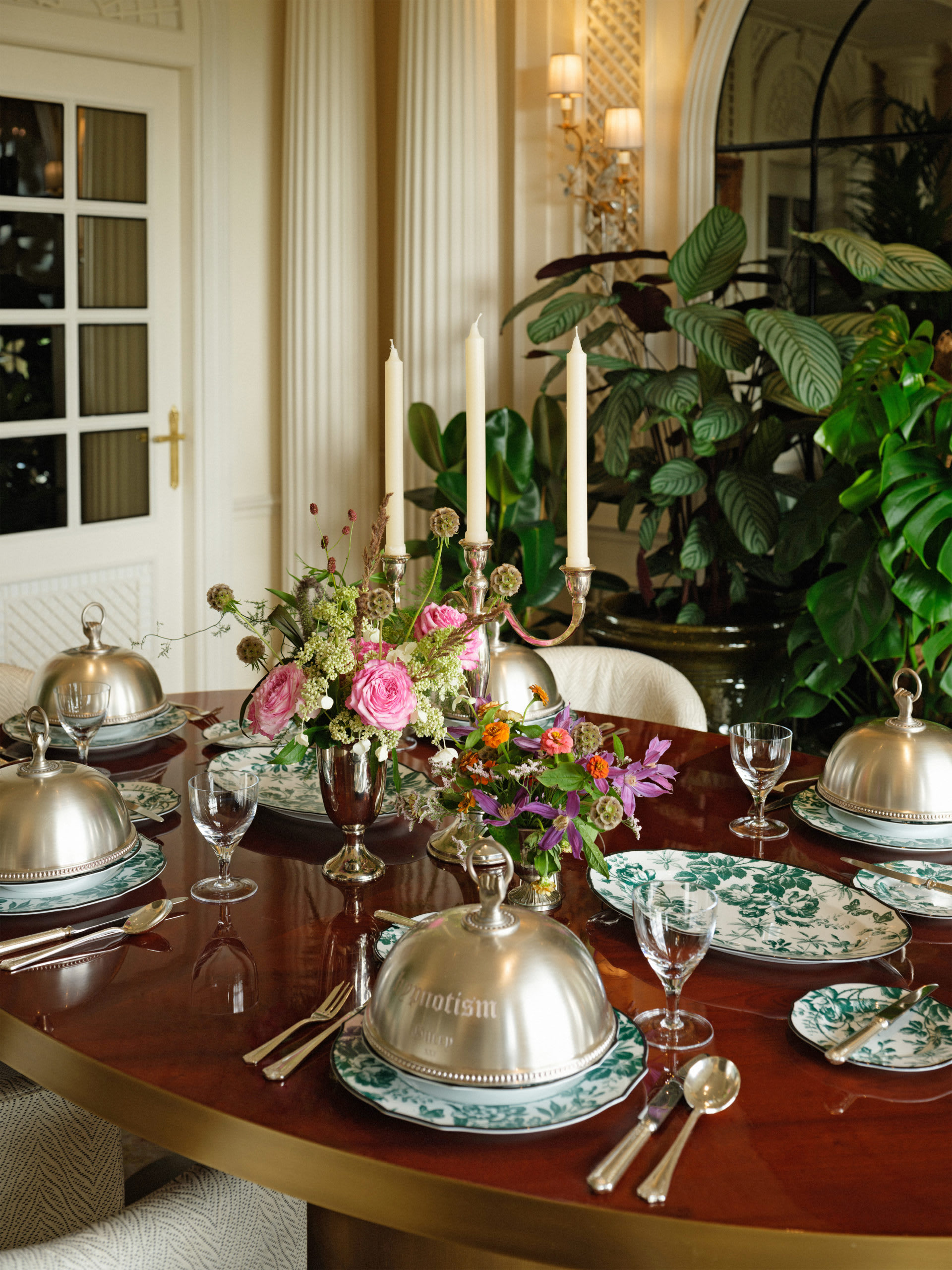 Gucci candles and dishes are arranged on bedside tables and shelves, Gucci fragrances sit on a silver filigree tray in the bathroom, and a pink crepe Gucci robe hangs in one of four cedar-lined wardrobes. (I had hoped for Gucci-monogrammed slippers and a Gucci-monogrammed bathrobe, but these were not to be had.) Artwork from Christie's, including a drawing by Lucian Freud, adorns the walls.
All of it, including the artwork, is for sale. Guests are also invited for a personal shopping appointment at Gucci's Sloane Street store during their stay, ferried via the hotel's own Rolls-Royce.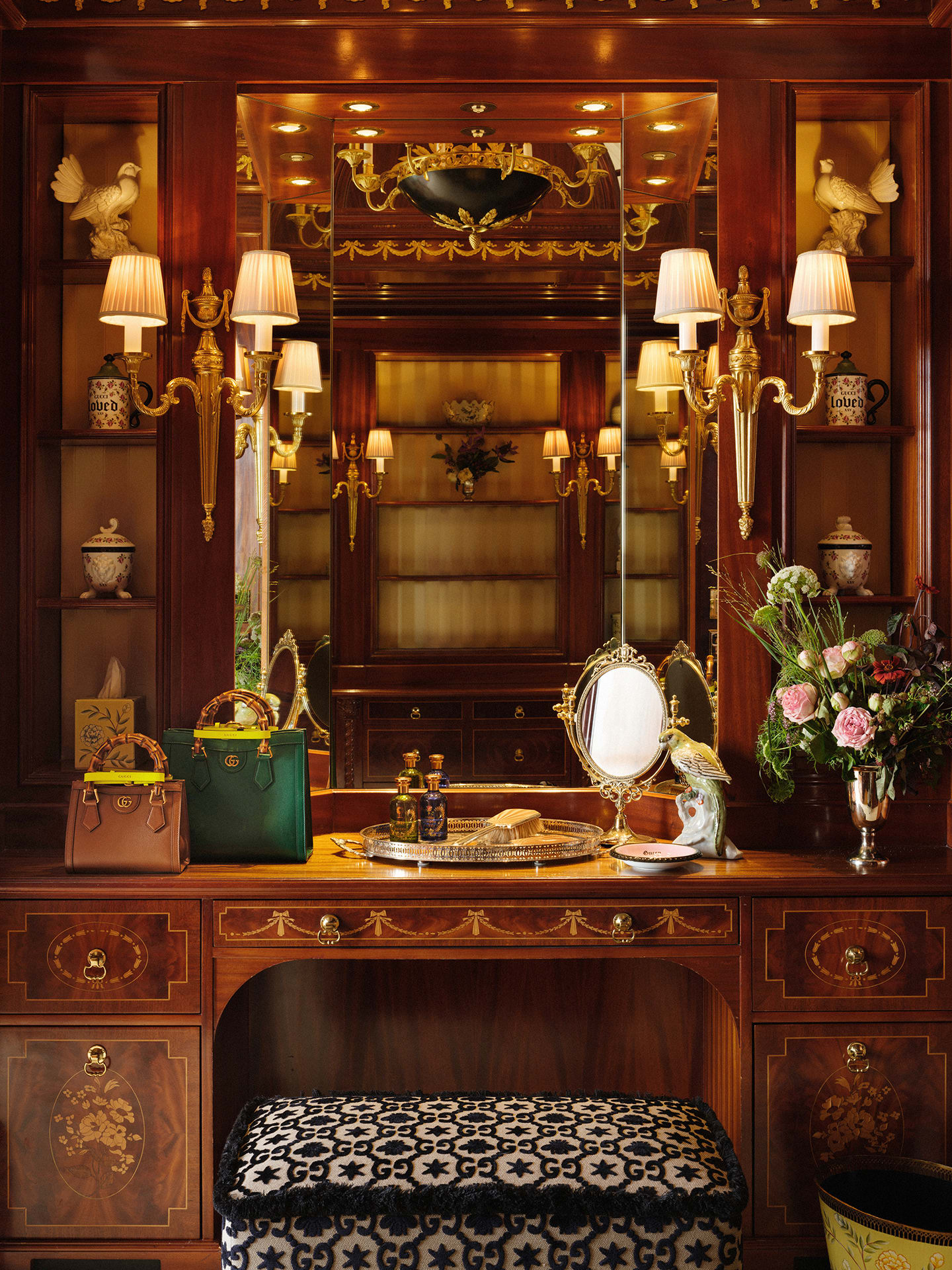 If you like the colourful, joyous, eclectic aesthetic Alessandro Michele has developed at Gucci since he became its creative director in 2015 – and I do – then this is all very good fun. Michele launched Gucci Decor in 2017 with a selection of porcelain, wallpapers and Chiavari dining chairs, among other items, and stepping in the suite is to see it come fully to life.

Where the brand perhaps takes it a step too far is through the interactive screens embedded throughout. In the entrance hall, a large TV plays looping footage of Gucci fashion shows. On the coffee table, a VR headset lies next to the bottle of Louis Roederer Cristal that greets guests on arrival; put it on, and you're transported to a showroom to gaze at models and racks hung with Gucci merchandise.

The bedroom TV invites guests to take part in a meditation session, accompanied by Gucci graphics, while a cupboard door in the dressing room opens to reveal a screen showing digital renderings of Gucci jewellery. When it comes to luxury and retail environments, I have long subscribed to former Apple executive Angela Ahrendts' view that technology should operate in the background. These screens don't feel so much like enhancements as marketing material.

Last year, when the hotel was closed due to lockdown, Gucci approached the Savoy about a partnership timed to its anniversary. "We were thrilled," said Franck Arnold, the hotel's managing director. "We were still under lockdown, the hotel was not open and, like everyone else, we were wondering what to do and when."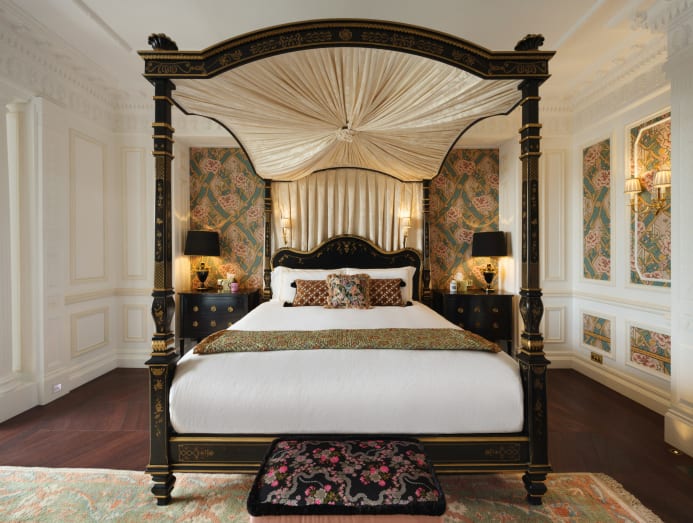 What began with a pop-up fashion show in the Savoy Court in the spring evolved into a year-long partnership, culminating in the Gucci-fication of the hotel's fifth-floor suite (riffs on the Savoy's bellhop uniforms also appeared in the brand's most recent catwalk collection).

Gucci plans to use the suite to entertain its clients and VIP guests, and for this the room is abundantly fit for purpose. (That will also be a good revenue stream for the Savoy at a time when business travel is low.) But for guests who merely want good furniture, a great view and a butler constantly on hand? That's all to be had here, just turn off the screens.

Lauren Indvik was a guest of the Savoy (thesavoylondon.com). The Royal Suite costs £15,875 a night; as well as the main double bedroom, the rate includes a second connecting double bedroom, though this hasn't been redecorated by Gucci. A standard double room at the hotel costs from £580 a night
By Lauren Indvik © 2021 The Financial Times
Source: Financial Times/ds