Surprise! Edible gifts for your friends and family to show how much you care
We may not be able to share a meal with our wider circle of friends and family for the time being, but a delicious gift is only a mouse-click away.
These are difficult times made especially difficult when we can't meet with more than one friend to share a meal together. Which makes this a great time to send happy surprises to those we care about. The surprise and delight of receiving an edible gift, grand or otherwise, can never be understated, so we've put together a list of packages that are easily ordered and dispatched.
BACHA COFFEE
For coffee lovers, there can never be too much good coffee in the house. And times like these call for luxury java, especially if you have young children bouncing off the ceilings on their holiday break at home. Add some razzle-dazzle to someone's day with a Bacha Coffee hamper replete with coffee mug and candy sticks or a gold Parisian press coffee pot.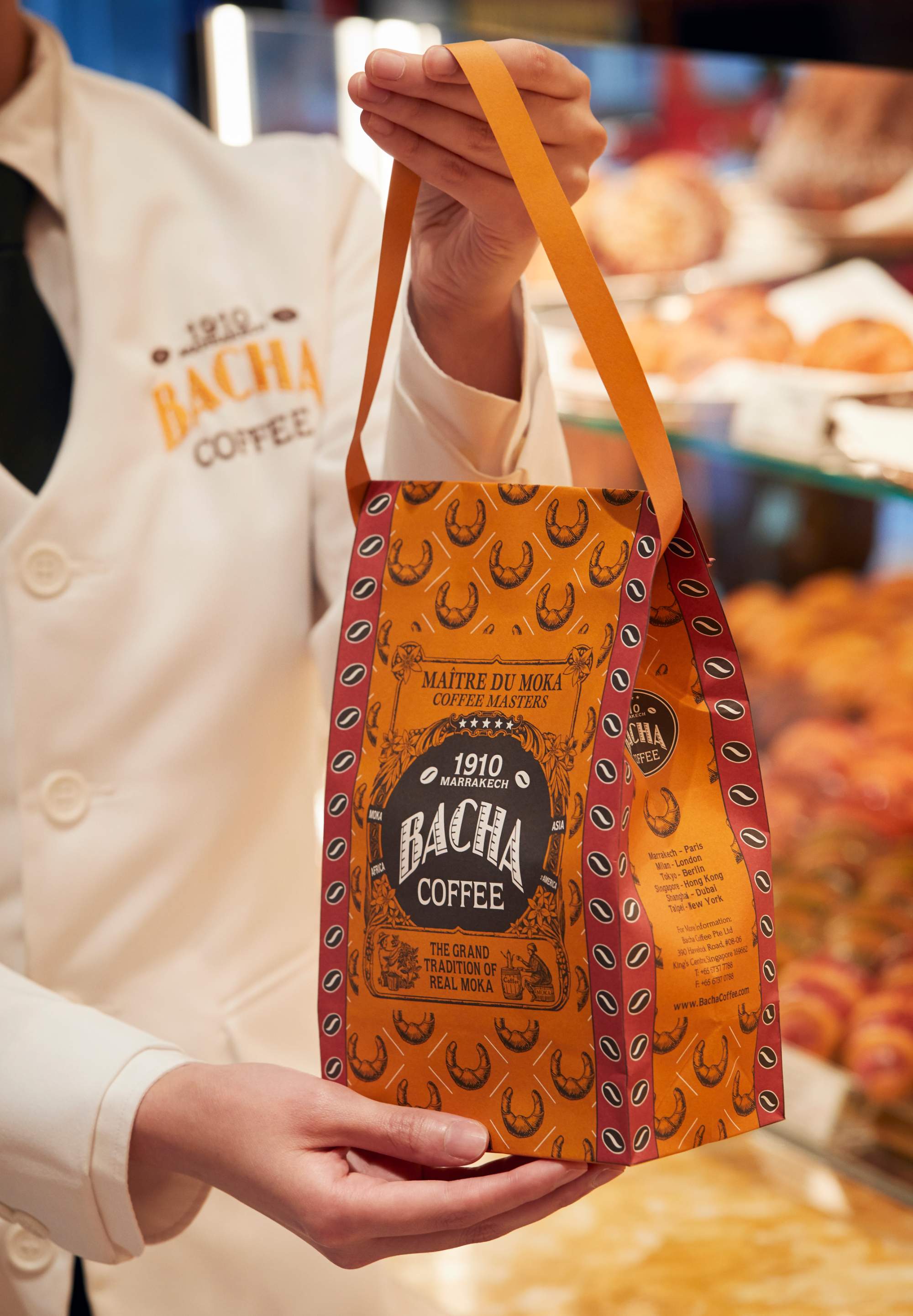 There are over 200 coffees on offer, categorised by continent, type and even the time of day. The best part: The company delivers internationally, so you can send your gift to friends and family located beyond our borders too.
CHOICE WINES FROM CLINK CLINK
No need to labour over whether your drinkable gifts might be good enough for the oenophiles in your life. Online bottle service Clink Clink serves up bottles for under S$150, which are available in bundles of three or six, curated by well-regarded sommeliers. 
They include the likes of Pascaline Lepeltier, sommelier of Racines in New York, and Isa Bal, master sommelier and former head sommelier of The Fat Duck in London. This month, as part of its Global Sommelier Series, there are sake bundles by sake scholar Joshua Kalinan (S$395). Generous gift-givers can check out the personalised wine order option that comes with a minimum order of six bundles.
ODETTE AT HOME
One glimpse of Odette's signature oyster-and-pink motif is enough to illicit delight from any giftee. When said box opens to reveal coral tongues of uni laid artfully on squares of brown butter toast (from S$68), there is no doubt that one's day is irrefutably made.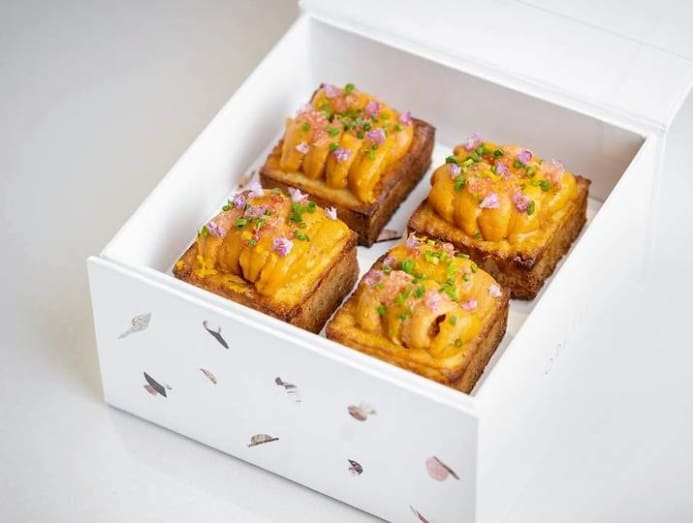 Besides gorgeous savoury dishes like a Riviera Tart (S$78) and the restaurant's signature Kampot-Pepper Crusted Chicken (S$98), there are also simple treats that will make your loved ones feel special. These include a bottle of Choconuts (S$48, a chocolate praline spread) or Wild Blueberry Jam (S$38) that come with a loaf of freshly baked brioche. We would certainly be more than chuffed if we received a flaky truffle brioche (S$8 each) or three.

PONY X BY JIGGER & PONY
Bar hopping? The term seems foreign in this new age of drinking early and slinking home after 10.30pm. And it is fair to say that we all need a stiff drink now more than ever before, so why not send a virtual bar hop someone's way in the form of Pony X.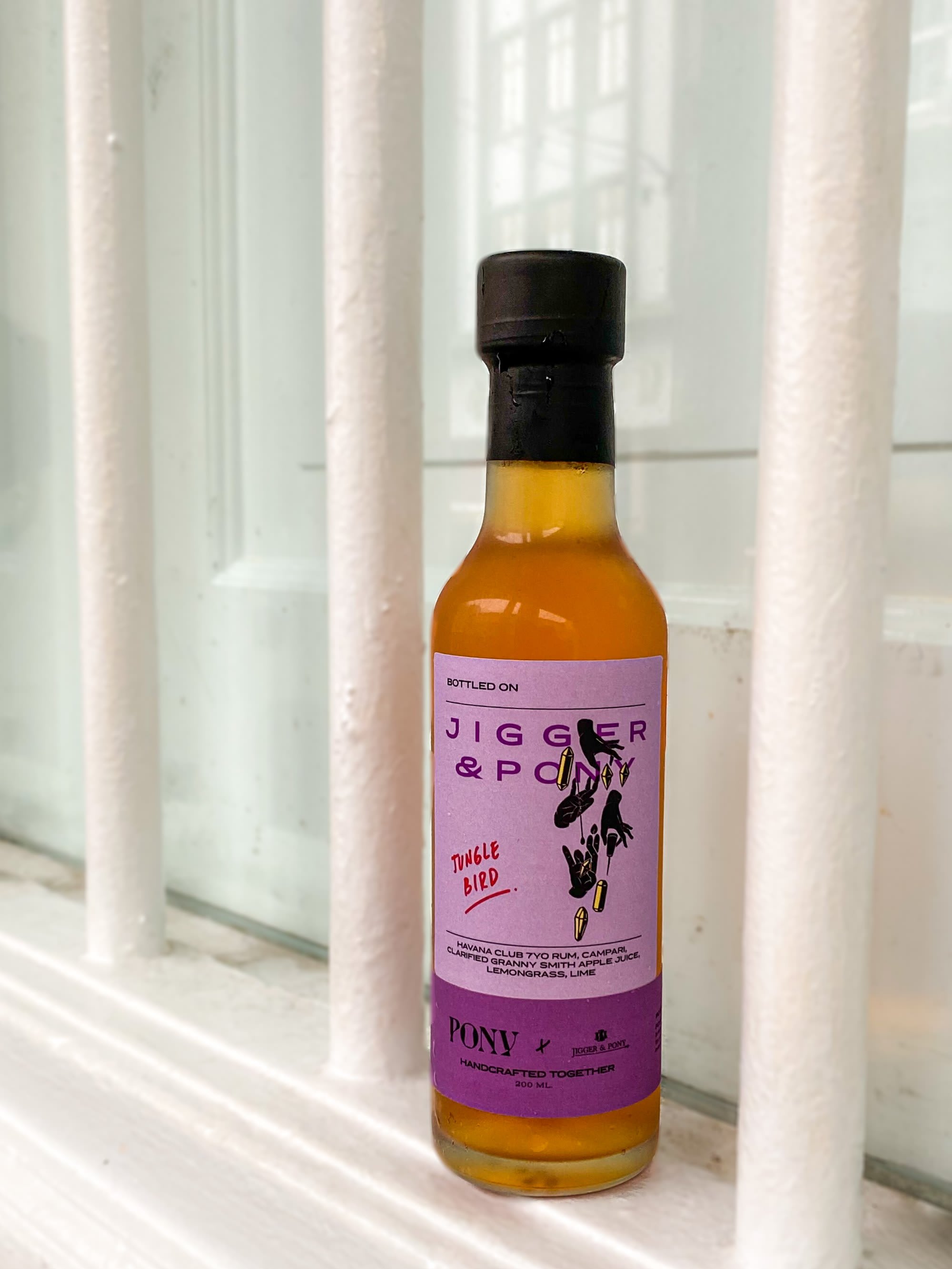 This limited series features all the best drinks from bars under the Jigger & Pony Group. So you get 200ml bottles of libations like Jungle Bird (S$35; Havana Club seven-year-old rum, Campari, clarified granny smith apple juice) from Jigger & Pony, Sugarcane Daiquiri (S$36; Mount Gay Black Barrel Rum, sugarcane nectar and lime) from Gibson, and Sicilian Spritz (S$30; Aperol, Italicus, olive, white wine) from Caffee Fernet. Since they are all sold on one platform, you could throw in a couple of sandos and snacks (burrata with uni, anyone?) from these bars too.
LAMB TAJINES MAKFOUL AND CAKE FROM RIVIERA 
It's not often we get to nosh on authentic Moroccan-style lamb tajines, slow-cooked till fall-apart tenderness and served on a fluffy bed of couscous. It is exactly the kind of food to enjoy at home with family and eaten with your hands. Riviera's flavour-packed version (from S$48) is made by executive chef Remy Carmignani, who spent time in the kitchen of the award-winning five-star La Mamounia in Marrakesh. 
To complete the experience, check out limited edition cakes by executive pastry chef Nicolas Vergnole that might include the Forever Summer Strawberry Gateau or Chocolate Decadence Cake (S$88). Your friends will eat (and thank you for them) with gusto.
ROOM SERVICE BY SAINT PIERRE
Say you have loved ones celebrating a special occasion and you want to buy them an unforgettable dining experience. Enter Room Service By Saint Pierre, which can tailor a meal for four to five people (S$800) to be enjoyed at home. No need to re-heat or plate your own food. The meals are carefully plated on Saint Pierre crockery and delivered. When they arrive at your home, Saint Pierre's staff remove the cling film covering each plate and dinner is served.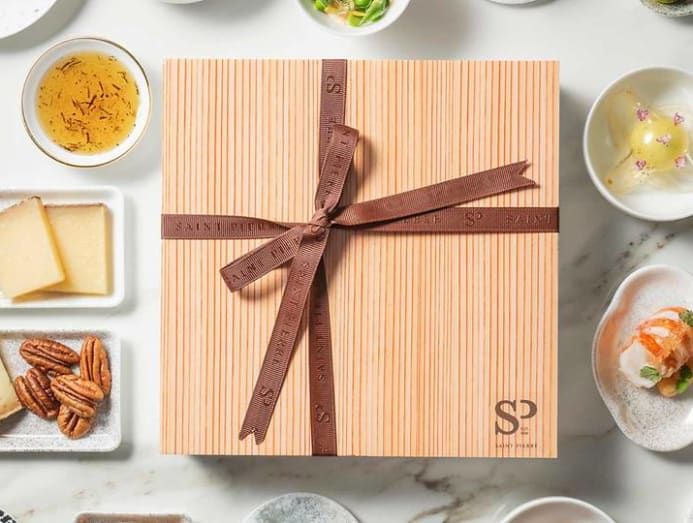 And it's not just any run-of-the-mill repast – all the trappings of a fine dining meal are in place: Think warm breads paired with salted Brittany butter, starters like amela tomato with hairy crab and avocado, and a main course of wagyu with spring vegetables and wasabi jus. These are followed by a selection of cheeses with nuts, breads and truffle honey, desserts and petits four. 
Crockery will be collected the morning after, and you don't have to wash them if you don't want to (though you really should). The service is limited to a dozen deliveries a day, only on Thursday, Friday and Saturday. Book two days in advance by emailing info [at] saintpierre.com.sg or calling 6438 0887. Virtual Saint Pierre, which the restaurant introduced during last year's Circuit Breaker, is also available. 
AFTERNOON TEA SET FROM ST REGIS SINGAPORE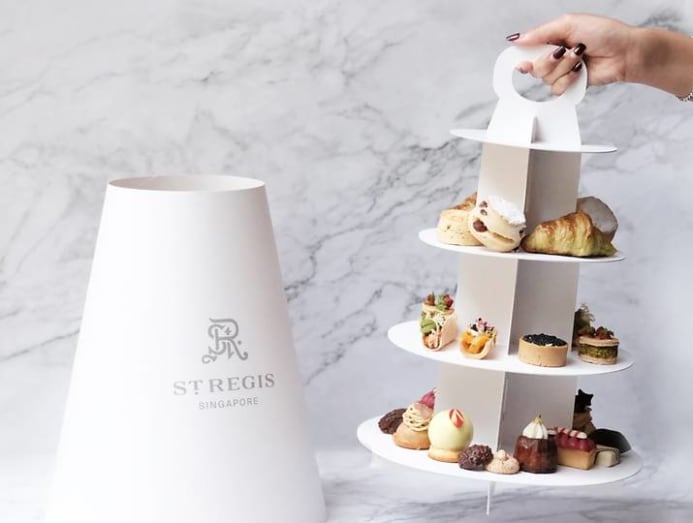 Something to send someone you haven't seen enough of but think of with great affection: A three-tier afternoon tea set (S$59) that's perfect for two. This charming gift comes with a St Regis Scone Basket, four sweet treats, four savoury canapes and two signature hot and cold dishes, depending on what the hotel's chefs have cooked up that day. If the household allows, sitting down to enjoy the gift with your friend is a lovely bonus.

TRUFFLE WAGYU SIRLOIN SUKIYAKI BENTO FROM THE GYU BAR
Lunch upgrades are easy when you can send an elegant box filled with tender, tasty slivers of wagyu and a flurry of truffle shavings. The Gyu Bar's Sukiyaki Bento (S$54.20) comes complete with an onsen egg to ooze over the truffle-scented rice. If uni is more your jam, there's a Wagyu Uni Chirashi Bento (S$54.20) with aburi wagyu, Hokkaido uni, tamago yaki and sesame seeds.