How much does it cost to party like a VIP at the F1 Singapore Grand Prix 2022?
Ready to splash out on a night of partying as the Singapore Formula 1 Grand Prix returns to the city? We take a look at where the most extravagant parties will take place.
After a two-year hiatus, no thanks to the COVID-19 pandemic, the Singapore Formula 1 Grand Prix is back on track this 2022, taking place from Sep 30 to Oct 2. Besides fast cars and heart-thumping races, what is a Formula 1 weekend without all the partying?
Here's a round-up of where the hottest – and most extravagant  – parties are happening. Expect exhilarating live music, thrilling performances, and lots and lots of champagne.
AMBER LOUNGE
Dubbed "the world's most exclusive after-party", the famed Amber Lounge is back in Singapore this year, happening on Oct 1 and Oct 2. This time, it will be held at The Fullerton Bay Hotel's Clifford Pier.
There will be flowing champagne and cocktails by award-winning bartenders, international music artists as well as appearances by the F1 Grand Prix racing fraternity. Guests will also be treated to theatrical cabaret and cirque-themed performances.
Kicking off the festivities on Oct 1 is Dutch DJ and electronic music producer Oliver Heldens. The following night will see Swedish singer-songwriter John Martin, known for his collaborations with Swedish House Mafia, performing alongside music partner Michel Zitron. American rapper Fatman scoop will also take the stage.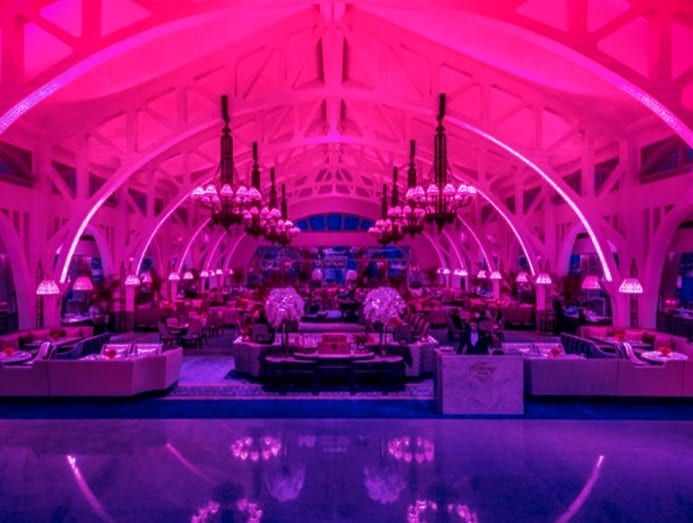 For those willing to splash out for an indulgent night, Amber Lounge is offering ultra-exclusive suite concepts, each comprising semi-private architectural alcoves within the venue with prime views of performances. Guests will also be treated to unlimited table service with flowing Perrier Jouet champagne and Belvedere vodka, along with special presentations of Royal Salute Whisky 21, Codigo 1530's newly launched Sherry Cask Anejo tequila, The Orientalist's Gunpowder Gin and exquisite Nomad Caviar.
The most expensive Noir Suite, which can accommodate 15 to 20 guests, is going for an eye-watering price tag of S$100,000. The Amber Suite, suitable for 10 guests, starts from S$45,000. A Platinum Table, also for 10 guests, starts from S$38,500.
For more information, visit https://amber-lounge.com/singapore/
MANDALA WEEKENDER
Private members club Mandala is debuting its inaugural Mandala Weekender over the Grand Prix weekend (Sep 30 to Oct 2). Touted as a three-night musical extravaganza, it will be happening at Hall C, Sands Expo & Convention Centre. The line-up includes performances by international artists Rae Sremmurd, Kelis, Armand van Helden, Louie Vega, Anane, Basement Jaxx, Rudimental, Yung Raja and Kungs.
Although general admission starts from S$118, prices can go up to S$25,000 for a Platinum VIP package. This gives you admission for 30 guests, six bottles of champagne, two bottles of Belvedere Vodka, a bottle of Johnnie Walker Blue Label and more.
A Diamond package starts from S$15,000, a Sapphire package from S$10,000 and Gold Package from S$5,000.
For the ultimate VIP experience, the Mandala Genesis 250 Pass, the club's first NFT that launched earlier this September, will offer perks such as a rooftop view of the race itself.
For more information, visit https://www.mandalaweekender.com/
CE LA VI CYBER RALLY RACE WEEK
Up for a themed party? Iconic rooftop destination Ce La Vi is kicking off race week with a neon punk, futuristic race-themed celebration that starts on Sep 28.
Expect performances by a number of guest DJs, headlined by internationally acclaimed Danny Tenaglia. Admission tickets start from S$38, but the most expensive VIP table is going for S$20,000 for 20 guests. 
For more information, visit https://www.celavi.com/
THE PENTHOUSE BY TOM BARKER GROUP
For a party that's a bit more exclusive, check out The Penthouse by Tom Barker Group, a private event slated for Oct 2 at Smoke & Mirrors, National Gallery Singapore.
The Penthouse by Tom Barker Group was first launched during the 2019 Australian Formula 1 Grand Prix as a first-class hospitality offering. In Singapore, the event promises flowing champagne, cocktails and fine wines all night, with dedicated hosts and waitresses. Perched at the top of National Gallery Singapore, guests will enjoy uninterrupted views of the race. There will also be guest appearances by F1 legends and once the race ends, the party begins right at the same venue with an international DJ helming the deck. Tickets are limited, priced at S$1,880.
For more information, visit https://tombarkergroup.com/