The silky deliciousness of fresh pasta – and where to get your fix in Singapore
Making fresh pasta daily is a laborious undertaking even in a commercial kitchen, but more restaurants here are rising to the challenge.
Step into Pasta Bar on Keong Saik Road and the first thing that will capture your attention is the dramatic open kitchen and the 18-seater U-shaped bar counter that hugs it. It is after all, almost like a theatrical stage where chef Alessandro Guistetti puts on a nightly performance, demonstrating the art of making pasta.
On the kitchen counter, Guistetti throws flour, kneads dough, shapes pasta and plates his dishes with precision and much flourish. Perched upon the high stools, one will notice dowels sticking out from the hanging shelves, each draped with strands of freshly-made pasta out to dry.
Fresh pasta, when made and cooked well, yields a delicately silky yet springy texture. The key to this texture is a right combination of protein and gluten in the pasta dough, which in turn requires a long enough time of kneading before it develops a strong-enough gluten network. And even though you can make pasta from nothing more than just flour and water, the humidity in which the pasta dough is made will also effect the exact proportion of ingredients.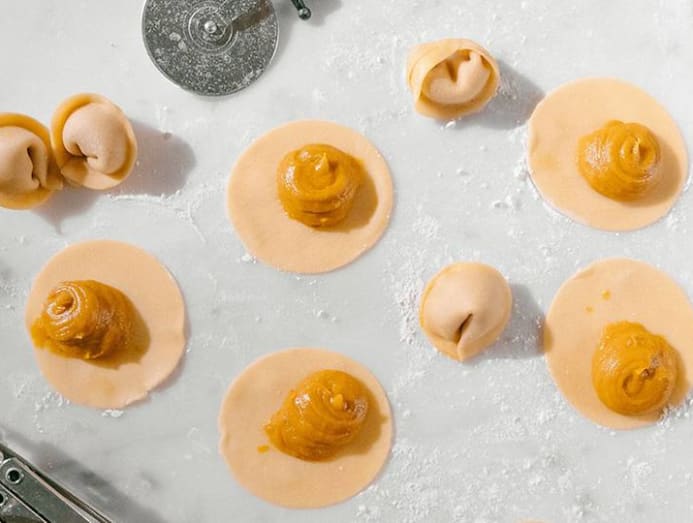 "More kneading produces more gluten and different pasta doughs for various pastas require different amount of kneading time. For example, long pastas need a lot of hard kneading to get their texture right," notes chef Lim Yew Aun of Bar Cicheti.
The self-taught chef says that although it was a cinch to get the basics of pasta dough making, he needed to spend more time to work out the specificity of the doughs for the different pastas, such as the various thickness of the dough for folded pastas as opposed to extruded pastas.
"Fresh pasta, when made and cooked well, yields a delicately silky yet springy texture. The key to this texture is a right combination of protein and gluten in the pasta dough."
Indeed, making pasta fresh daily can be laborious, and if one is to make a big batch of fresh pasta, storage can also prove a problem – leaving them in the chiller will dry out the pasta too much.
But what restaurants like Bar Cicheti and Pasta Bar have going for them is the intimate size of their establishments. This means the kitchen can not only focus on making smaller batches of pasta each day, but to also use quality ingredients in creating the pasta dough.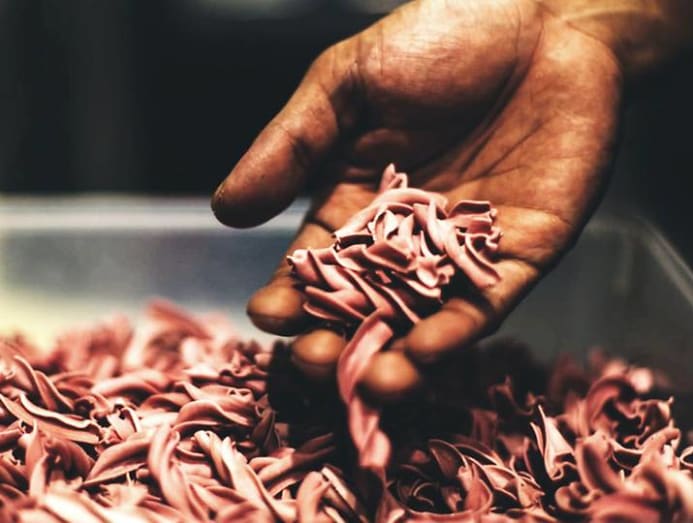 Finely milled 00 flour and semolina flour are par for the course, while Lim shares that he sources for fresh squid to extract their ink to colour and flavour his squid ink pasta. And the effort shines through in his dishes: the pastas retain a delightful chewiness. The squid ink pasta, in particular, gives off a briny umami not found in most others.
For Guistetti, it is the continuation of Italian cooking traditions that propel him to make his pastas fresh daily. On his menu at Pasta Bar are uncommon dishes like the pappardelle – made with two different flours – and served with rabbit ragu, olives and pine nuts; as well as the lagane, a rustic eggless pasta from Southern Italy, here cooked with chick peas, chilli and spicy garlic to recreate one of the oldest known pasta recipes.
"Making pasta fresh daily can be laborious, and if one is to make a big batch of fresh pasta, storage can also prove a problem."
If you are looking to (carbo) load up on fresh pastas, here are five restaurants to check out.
BAR CICHETI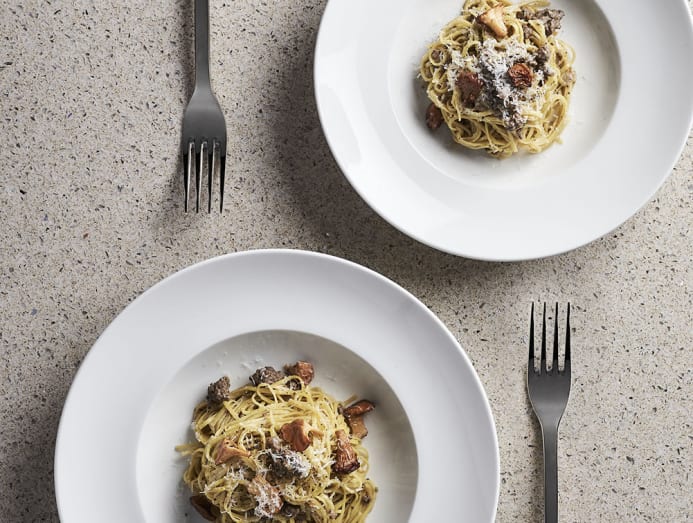 A dream for pasta lovers, Bar Cicheti's pastas come in tasting portions for those who want to try a wider range of dishes. You'll be spoilt for choice as the menu mainstays feature items like the spaghetti cacio e pepe, which uses Sarawak pepper; fusilli nero, an umami-laden squid ink pasta mixed with uni, crab and anchovy.
From their newly-launched Spring menu, the spaghetti with homemade jalapeno pesto, grated ricotta salata, chopped pistachio, toasted pine nuts hits all the right spots.
10 Jiak Chuan Road, Singapore 089264; +65 6789 9801; www.barcicheti.com
LINO
From the Les Amis group of restaurants comes this contemporary, Italian-inspired restaurant located in Binjai Park that specialises in fresh, handmade pizza, pasta and small plates, all prepared with a focus on seasonal and locally-sourced ingredients.
For pasta lovers, go for the seafood-rich garganelli with lobster and bisque or order up the fresh tortellini enveloping pork and veal filling, served with a rich parmigiano reggiano sauce for a hearty and meaty dish.
7 Binjai Park, Singapore 589821; +65 6463 7800; www.linorestaurant.com
PASTA BAR
The best seats in the house at this 34-seater restaurant that opened in February 2019, are the counter seats that hug the open kitchen. Watch as chef Alessandro Guistetti and his team create beautiful plates of pasta starting from just flour, eggs, and water.
The menu features 11 different pastas, including a hearty tagliatelle with 24-hour beef ragu and parmigiano; and a melt in-the-mouth tortelli with pumpkin and sage. Gluten-free and whole wheat pasta options are available.
55 Keong Saik, #01-05, Singapore 089158; www.pastabar.sg
PUBLICO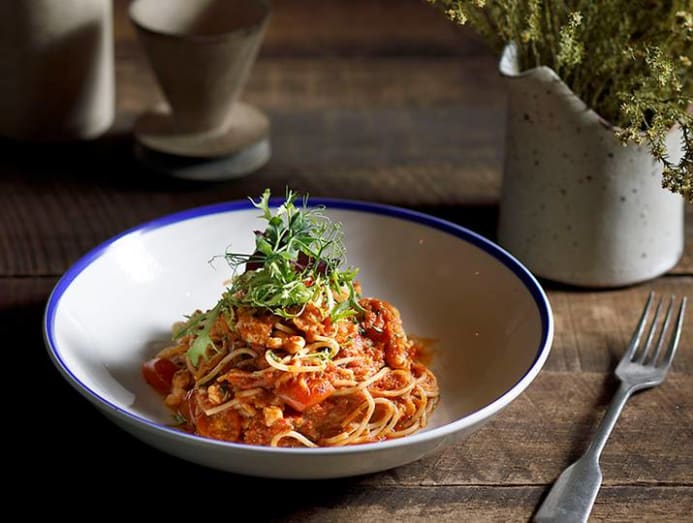 At Publico at InterContinental Robertson Quay, all their pastas are made in house with flour that is produced in Italy (Pivetti), and eggs that come from cage-free hens. Try the lobster spaghetti with cherry tomatoes, garlic, white wine, and chilli; or the ravioli, homemade pasta filled with ricotta and spinach, sauteed in butter, sage and almond, then dressed with almond oil and parmesan cheese. Gluten-free spaghetti and penne options are available.
1 Nanson Rd, Singapore 238909; +65 6826 5040; www.publico.sg
TIPO
It's hard not to notice the kaleidoscopic array of pastas that adorn the drying racks by Tipo's window. This halal pasta bar along North Bridge Road uses natural ingredients like beetroot, paprika, saffron, lemon and dill to colour and flavour their handmade pastas.
Diners get to build their own pasta dish by choosing a flavoured pasta, fresh sauces like summer-filled pomodoro or hearty beef ragu, and further toppings like shaved gouda, pickle-brined chicken breast, or vinegar mussels.
778 North Bridge Road, Singapore 198746; +65 8768 0785; www.tipo.sg