Flying long-haul with your kids? Here's how to make the best of your trip
A recent survey of Singaporean families revealed that parents need quite a bit of convincing to travel long-distance with their brood. Here, Dubai's national airline, Emirates, addresses these concerns.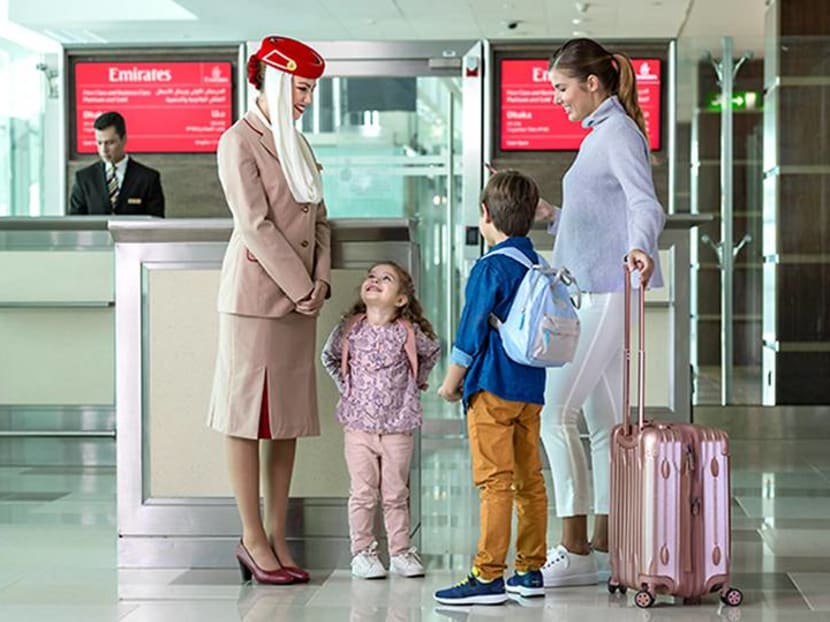 What could be more daunting than flying long-haul? Travelling for hours on end with whiny tweens, bratty toddlers and screaming infants. Dubai-based carrier Emirates even has the stats to prove that parents need a lot of convincing to travel more than six hours at a stretch with children in tow.
In August, the airline engaged research company YouGov to conduct fieldwork exercise on 408 Singaporeans with children between the ages of 0 – 16 years. According to the in-market survey, around half of Singaporean families (56 per cent) have taken long-haul flights with their children, and among families who have, most say they travel an average of once per year on long-haul flights with their children.
The popularity of travel destinations tends to differ across segments, with Japan being most popular among Chinese families. Malay families, meanwhile, are most interested in visiting Australia. A desire to visit Western countries, such as the UK or the US, is more apparent among families of higher household incomes (S$8,000 and above) and education levels (university degree and above).
More importantly, the research found that children under 16 become bored 90 minutes after take-off, and an hour or less for those under six. To placate them, 63 per cent of parents have turned to inflight entertainment while 60 per cent ply their kids with snacks.
Besides the usual techniques, 58 per cent of parents with children below six rely on activity kits to beat the boredom, while 48 per cent of parents with children between seven and 12 offer a favourite toy or book. Interestingly, some 28 per cent of parents prefer to simply take the younger ones on walks around the plane.
The three top concerns of parents when onboard were ensuring their children were comfortable (67 per cent), fully entertained (62 per cent) and slept well during the flight (49 per cent). To increase willingness to travel with children, parents made a wishlist that included air ticket discounts for children, priority boarding, and the availability of children's meals. Having supportive cabin crew and special seats for families were also other considerations.
Here's how Emirates is tackling parents' most nagging issues.
IT HELPS TO HAVE A CHECKLIST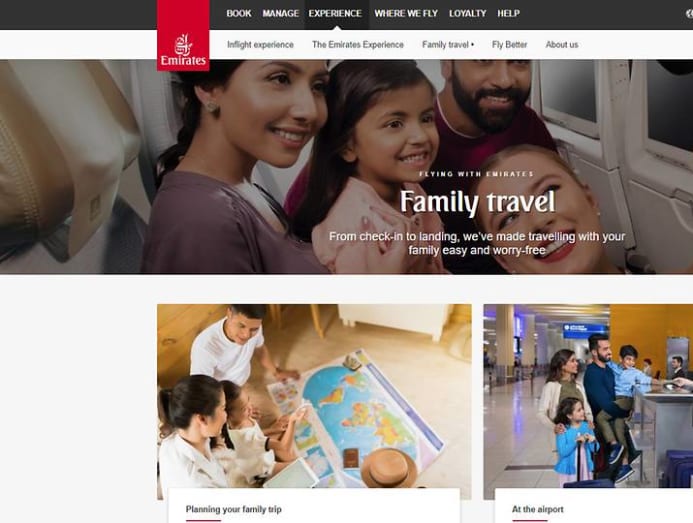 To soothe your frazzled nerves, the airlines has a dedicated microsite packed with tips and information on how to fly better. For first-time parents, there's a checklist detailing pre-flight travel logistics to onboard carry-on essentials. Emirates has also prepared its own checklist of emergency items from baby formula to spare bottles and bibs.
EXTRA BAGGAGE? YOU'RE WELCOME
Yes, packing for an infant is like packing for a sting operation, and that's why families with infants are allowed up to 10kg of extra checked baggage and hand luggage, at no additional cost. Even if you forget something as crucial as diapers, you can request for special amenity kits containing essential items such as diapers, bibs, lotion and wipes. Aside from on-demand bassinets, there's also changing tables in the bathrooms onboard.
STAYING CONNECTED

There's wifi onboard. If you're an Emirates Skywards member, you can enjoy unlimited access, either at a discounted rate or free, depending on your membership tier.
Young fliers can also beat boredom with a selection of 150 special kids' channels in 40 languages, with stylishly comfy headphones to boot. They can watch popular channels like CBeebies, Cartoon Network, Nickelodeon, or enjoy 50 Disney classics along with numerous family blockbusters. If that's not enough, there's also 100 games to choose from. And, while their minds melt into the screens, they are free to indulge in a movie snack menu of fruits, chocolate bars, pizza and popcorn.
TOO MUCH SCREEN TIME? THERE ARE ALTERNATIVES
Parents looking for alternative sources of entertainment will appreciate Emirates' exclusive line of plush toys and activity kits. Tiny tots can cuddle with Fly With Me Animals vibrating plushies and matching blankets. Pre-schoolers can look forward to hours of fun with a Fly With Me Animals backpack filled with activity sheets and stickers. Older kids can keep busy with a variety of travel-themed activity kits by Lonely Planet containing interactive books packed with activities, puzzles and crafts.
DEALING WITH FUSSY EATERS

To deal with hangry tantrums and finnicky diners, there's a special kids' menu with a wide selection of healthy meals. Babies get special treatment too, with a range of soft foods from Ella's Kitchen, plus baby formula and feeding bottles, available on request. Those travelling with infants can also request for cabin crew to help with food and bottle warming.
IF LONG-HAUL IS JUST TOO LONG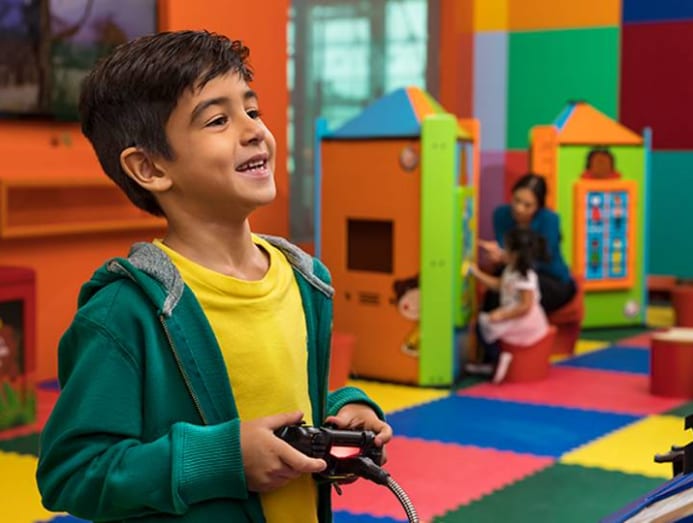 Then break your flight with a stopover or mini-layover in Dubai and enjoy the airport's amenities like the Kids Zone, equipped with a mini indoor playground, interactive screens and movie area. Families can also make use of complimentary Emirates strollers to navigate the airport easily.