These modern 'tingkat' services will deliver meals right to your doorstep
Food subscription services take the guesswork out of meal planning, and these days, you can get curated restaurant-style bento boxes, halal options and even diet-specific ones.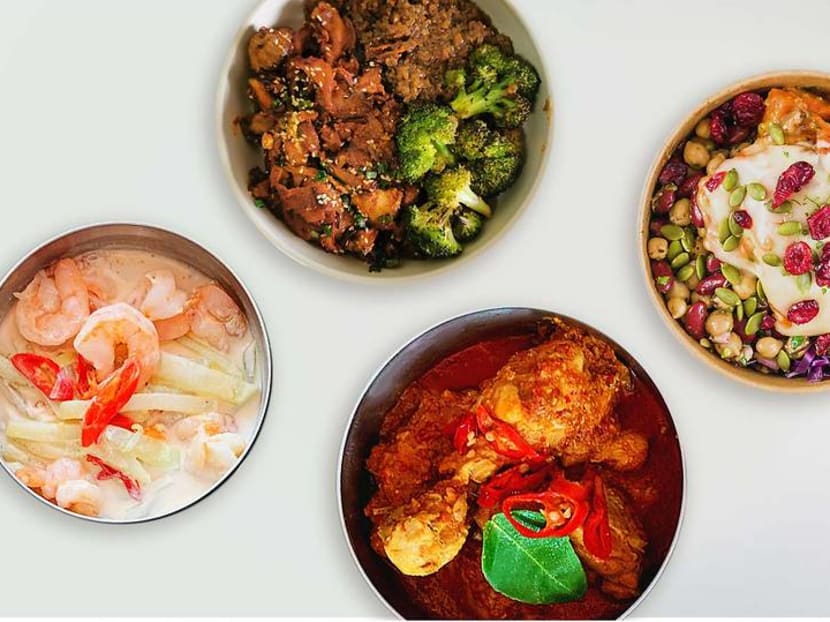 Is COVID-19 ennui wearing you out and – gasp – even sapping the joy out of your meals? At this point in Singaporeans' collective efforts to stay home, even the most avid home chefs are probably feeling exhausted from cooking so frequently.
And while there is now a plethora of F&B outlets offering delivery and takeaway service, the overwhelming range of choices are likely to cause decision fatigue even if you are a diehard gourmand.
As we await the day that restaurants, cafes and bars can safely reopen for dining-in, there is one hassle-free option to consider – food subscription services.
Consider them the modern day version of old-school "tingkat" deliveries that would drop off home-cooked meals in a metal container. These days, you can get curated restaurant-style bento boxes, halal options and even diet-specific ones such as ketogenic-friendly meals, sent right to your doorstep.
Most providers also offer different plans, so you can decide on the frequency of your provided meals, in case you prefer to fit in some spontaneous meals when the mood strikes. Here are six food subscription services to check out.
FOR A DIFFERENT RESTAURANT MEAL EVERY DAY: THE FOODIST
This homegrown bento box platform started out by curating premium, restaurant-made sets for swanky corporate events. Now, the company is bringing quality meals to customers through its meal subscription service, which includes options from popular restaurants like New Ubin Seafood, Plentyfull, Sawadee Thai Cuisine and Peach Garden.
Best of all, The Foodist makes it a point to offer meals from different F&B outlets every day of the week, making this as close to eating from different establishments on a daily basis as it can get for now. Besides single or duo options, there are also family-style sharing platters for those who need to keep multiple mouths fed.
FOR FITNESS JUNKIES: KETOMEI
If you are finding it hard to stick to your #fitspo goals at home with all the junk food beckoning from your fridge, Ketomei might be the solution. It focuses on low-carbohydrate and high-fat ketogenic-compliant meals, a popular diet for the health and fitness-obsessed.
The meals are planned in consultation with a nutrition and health coach and prepared by chef Andrew Ng, who has previously helmed the kitchens of The University Club and Wildfire Burgers.
For variety, the menu includes a mix of European and Asian fusion meals, with unique offerings such as chicken "rice" made with cauliflower, Korean Bulgogi and Masala barramundi. Carefully prepared with premium ingredients, the meals are delicious and varied enough that you will barely notice the missing carbs.
FOR ASIAN AND EUROPEAN CUISINE: TABLE AT 7
Traditionalists who enjoy having hearty "three dishes one soup"-style family meals should check out restaurant Table at 7's Tingkat Meal Plans. Helmed by executive chefs Karl Dobler and Eugenia Ong, who have a combined 60 years experience in the F&B industry, their meals offer the best of both worlds with authentic European and Asian-Indonesian meals.
The tingkat menus, which are inspired by the chefs' supply of fresh produce, are refreshed weekly with each evening's food drop comprising a soup and three dishes. Expect a good mix of comforting fare such as double-boiled chicken soup, Hainanese pork chop and grilled dory fillet.
FOR FINE CHINESE CUISINE: PARADISE TEOCHEW
Popular Chinese restaurant chain Paradise Group is offering fancy family meals for those who miss the pomp of dining out in a fine restaurant. Paradise Teochew has a premium five-meal package featuring five-course delivery sets.
Indulgent dishes on the menu include braised 5-Head abalone with mushrooms, superior Sea Treasures pot comprising fish maw and sea cucumber, and chilled superior bird's nest with rock sugar.
FOR WHOLESOME HALAL MEALS: LIMAA
For clean halal food, order the meal plans by Haji Lane cafe Limaa. In the BC (before COVID-19) days, cousins Aidah and Zakiah launched the cafe to provide clean food and fresh-pressed juices to the community in the Arab Street area.
These days, customers can feast on their brand of low-carb or plant-based food via Limaa's newly-launched meal plans. The meals are a mix of Asian, Western and sometimes fusion cuisine, but what looks most interesting are their interpretations of signature Malay/Indonesian food such as nasi lemak made with cauliflower rice or Avo-gado gado.
FOR CALORIE COUNTERS: AMGD
Those with very precise nutritional needs or who are counting their calories for health reasons will appreciate the detail that goes into each item on the AMGD menu.
The food subscription site has an extensive list of bento boxes that cater to various permutations of dietary preferences, such as low-carb high-protein or high-carb low-fat meals.
Each meal also includes a calorie count and a breakdown of the macronutrients. For hardcore, physically active individuals, check out the meals from Joan's Fitness Series, which were created together with Joan Liew, a professional bodybuilder and certified sports nutritionist. The meals in this series are carefully calibrated to meet specific fitness goals from weight management to muscle building.