The food festival that is putting Malaysian and regional gastronomy on the map
Kita Food Festival's line-up of Michelin-starred restaurants and Selected honourees showcased their skills with unforgettable dining experiences and more.
The Michelin Guide arrived in Malaysia in 2022 with Kuala Lumpur (KL) and Penang seeing two restaurants in each city awarded one star each. At the mid-December announcement ceremony recently, Dewakan was the first restaurant called up to the podium. This came as no surprise as its founder and head chef, Darren Teoh has long been one of the country's most influential innovators and pioneers of modern Malaysian Cuisine.
Beyond Dewakan, Teoh and Leisa Tyler (a food and travel journalist formerly of Asia's 50 Best as well as co-owner of Weeds n More, Cameron Highlands-based farm collective supplying ethically-grown premium European produce to top Malaysian and Singaporean restaurants and hotels) have been busy with the Kita Food Festival. This chef-led food festival debuted last year and was a welcome return to the joy of eating out and drinking for foodies with a series of chef collaborations and masterclasses spanning Penang and Kuala Lumpur with some of the country's most talented chefs.
After a successful first outing and the relaxing of travel restrictions this year, the second edition of Kita was held throughout September, October and November in Langkawi, Penang and Kuala Lumpur respectively. On top of the dining events and masterclasses, the 2022 edition featured leading chefs, producers and tastemakers from Southeast Asia and culminated in Conversations, a day of TED-style talks.
The ethos for the festival remained the same, offering a range of exceptional experiences from some of the finest local and regional chefs. But beyond that, Kita wanted to spotlight Malaysia's emerging place in the regional restaurant scene while offering inspiration and skills for the younger generation of food producers as well as a platform for discussing food consumption and the restaurant industry.
At the very centre of Kita is the desire to grow a community and a philosophy of inclusivity. After all, Kita means "us" or "we" in Malay and what more universal act than the act of eating? "The key to Kita this year was to make more events accessible, so we kept some fine dining dinners and included casual dinners at price points more people could afford. It is far cheaper to experience some chefs at Kita in KL than in their own countries or own restaurants," said Tyler. "We realise in this post COVID rapid inflation world that only a segment of the market could afford fine dining. Plus, we want to stay true to our namesake, Kita ─ we, not them. So the whole festival is structured with a couple of fine dining events, then a slew of other price points, starting at RM170 (S$52) [which gives people access to chefs from Michelin-starred restaurants]."
Nevertheless, the line-up of regional chefs was star-studded, including Michelin-starred chefs from Singapore such as Ivan Brehm from Nouri, Rishi Naleendra from Cloudstreet and Asia's 50 Best Restaurants alumnus like Philippine's Jordy Navarra of Toyo Eatery and Panaderya Toyo as well as Bali's Ray Adriansyah and Eelke Plasmeijer of Locavore. Local chefs were no slouch, with Teoh himself, Su Kim Hock (chef-proprietor of Au Jardin, the Penang restaurant that was also awarded a Michelin Star), Johnson Wong of Gen (honouree of Asia's 50 Best Restaurants and Michelin Selected list) and Aidan Low at AKAR Dining (a Michelin Selected restaurant), to name but a few.
The festival also saw the juxtaposition of different cooking styles and genres. Tyler admitted the curation was not happenstance: "We looked at personality, food types and kitchen setups to see which chefs and venues would fit together the best. It's vital to have synergy in both cooking and the relationship that forms."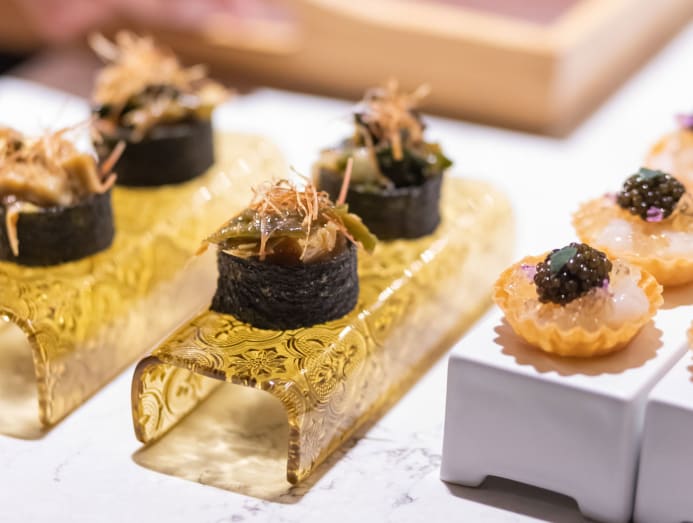 One such intriguing pairing was Naleendra, who was touted to "bring a complex but logical cuisine to Hide's table; a compelling match for protagonist Shaun Ng's bold flavours juxtaposed against finely nuanced surprises."  For two nights, the Michelin Selected Hide's 13-seater counter saw Naleendra showcasing local produce like duck from Penang and a "guest appearance" by Cloudstreet's Maira Yeo, who was recently crowned Asia's Best Pastry Chef 2022 with an imaginative dessert pairing celeriac, pickled guava and fried capers. "
Both Rishi and I wanted to bring together what Hide and Cloudstreet had to offer individually and then combine it in a menu to bring some contrast into the dishes in terms of ingredients, flavour and cuisine," recalled Ng. "It was very inspiring to work with chef Rishi and chef Maira. Collaborating with passionate people who are truly talented at their craft is always eye-opening through their commitment to perfection and excellence in the F&B business. It definitely inspires me to push myself further."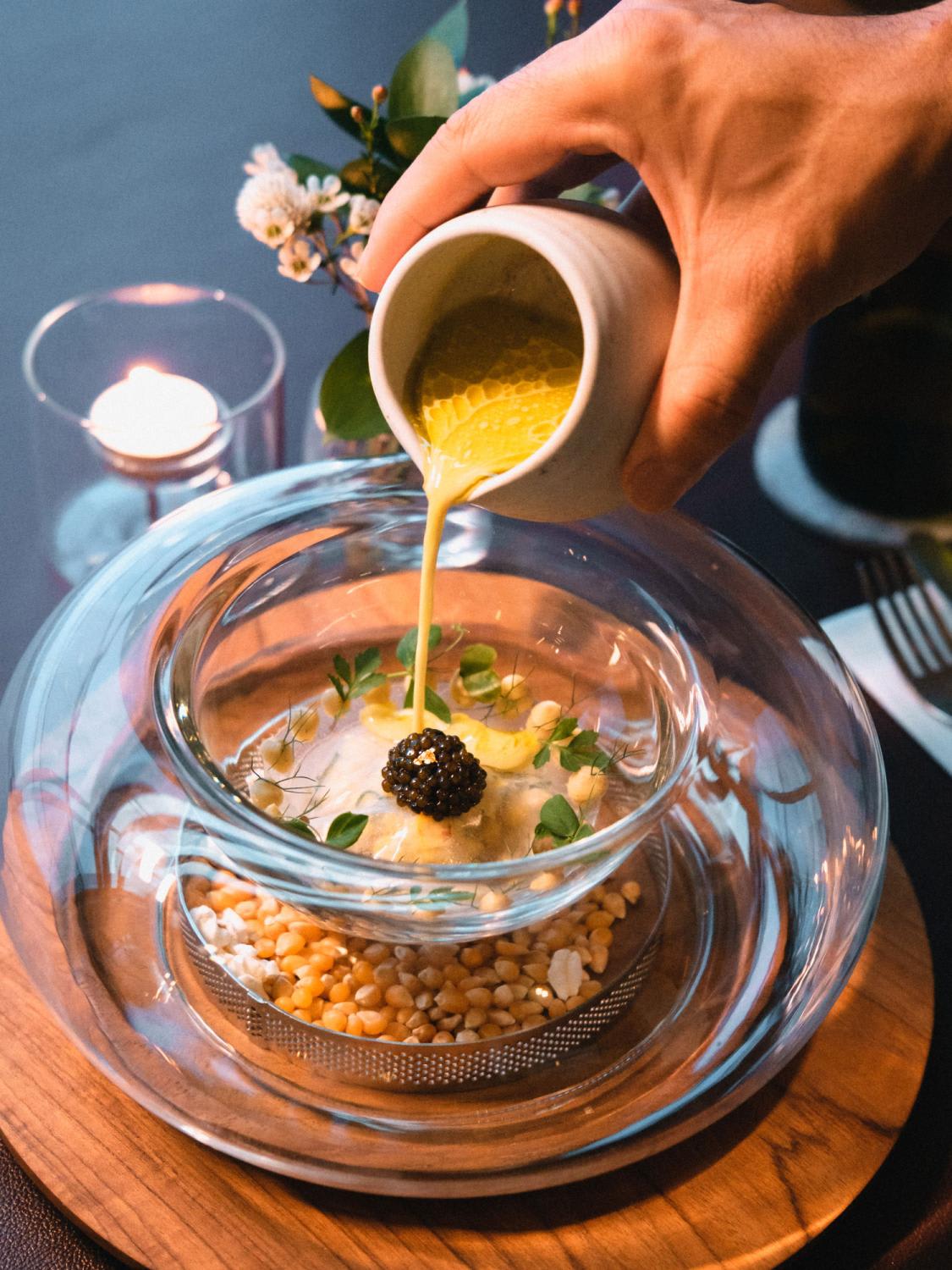 More magic was evident at one of KL's finest French restaurants, Entier, helmed by chef Masashi Horiuchi who found a worthy partner with Gillon, whose refined French style has earned Restaurant JAG a Michelin star in Singapore. The pair, who first met in 2019, became firm friends during a cooking competition in Tokyo and were a natural paring serving up a magnificent menu that included collaborative dishes like smoked scallops and chestnut veloute and chocolate and black pepper dessert with porcini mushroom tulle.
"We planned the whole thing via videocalls. It was an interesting process that involved us sharing what ingredients we had that were in season and how we could create something together," said Horiuchi. "It was a lot of fun. Yes, this is our first time cooking together, and it was great to share ideas and exchange knowledge in the kitchen. Our chemistry was great, which made the whole brainstorming process very productive and dynamic, and which also translated into a memorable menu that was a good representation of both JAG and Entier."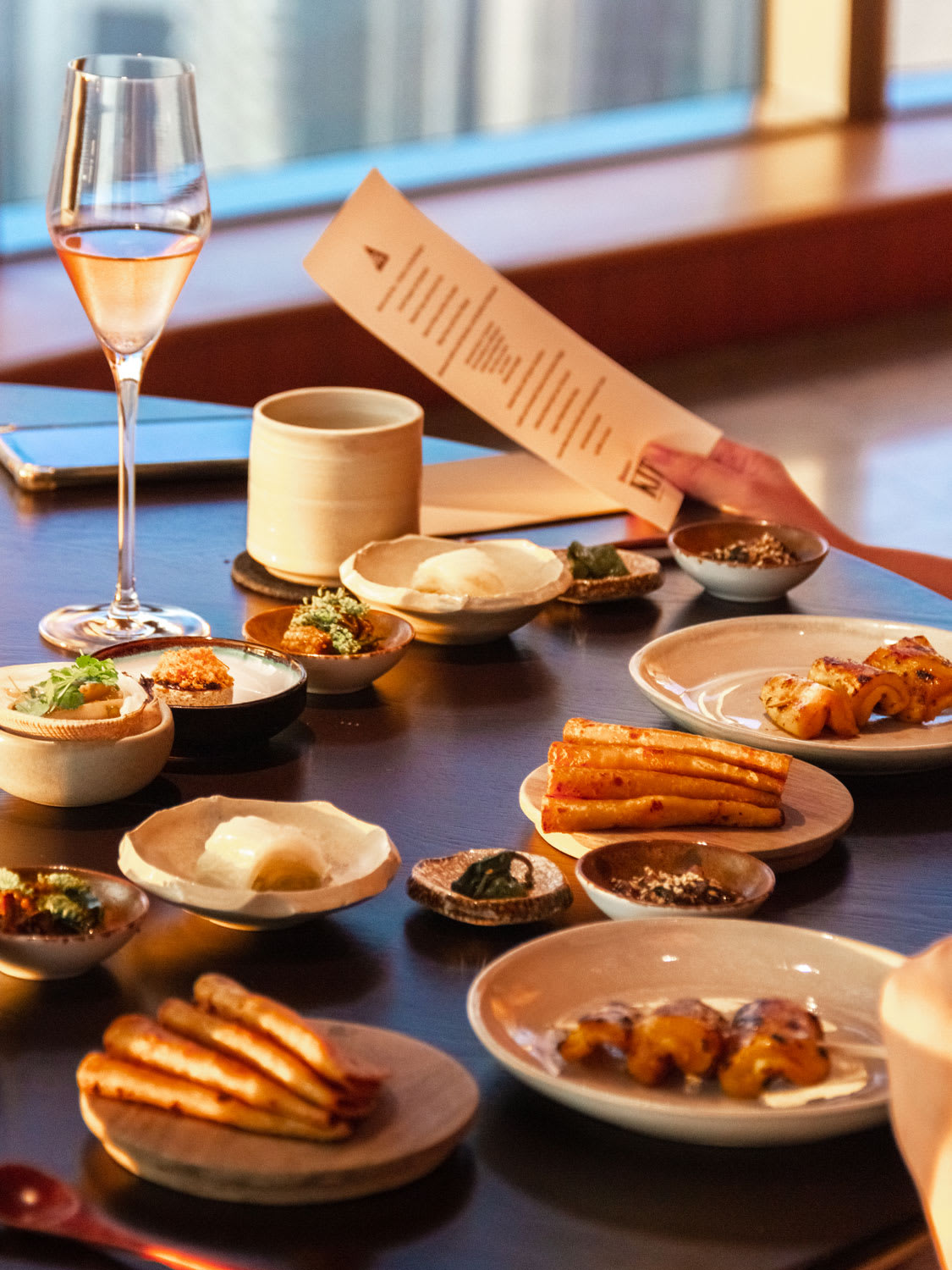 One of the programme's highlights was the Big Sunday BBQ, which saw a coterie of international and local chefs grilling over open flames at the gourmet "food court" and event space Tiffin at the Yard. Here, a more casual atmosphere was evident, although the chefs' thoughtfulness in the food they presented was deadly serious. Modern Italian favourite Gooddam's Daniel Yap was paired with Locavore's Plasmeijer and Li Sheng. Together they created cross-cultural dishes combining Italian and Balinese cuisines, like Balinese flavour in the smoked grouper tartare paired with focaccia and salsa Picante. "It was a joy planning the dishes with the partner chefs (Eelke and Li Sheng) and exciting to cook together on Sunday," said Yap. Plasmeijer added: "Next to the Conversations, the BBQ was the highlight of Kita for me (although the cooking with Aidan in Akar Dining was great as well). Super cool venue and lots of tasty food. All finished off with a beautiful tropical downpour." The Conversations Plasmeijer mentioned was a day-long symposium where trends, ideas and the significant issues shaping the food world in Asia today were discussed and divulged. Industry greats like Loh Lik Peng, CEO of Unlisted Collection, talked about how he picked so many winners, and Navarra outlining The Art of Hospitality and how he is building the connection between the kitchen and the Front of House (hint: some dancing to 90s R'n'B happens).
In turns, enriching, insightful and funny, the day was a fitting end to an epic three-month journey for all involved in the festival. Brehm's quote during his talk summed this up best: "If we could talk about the shared and not the differences, perhaps food could be used to open up a discussion about who we are as a people and how we might move forward."
With this in mind, plans are already afoot for the third festival which Tyler revealed will only feature Penang and Kuala Lumpur: "We'll be including chefs and speakers from more far-flung places like Japan, Europe and Australia. We will emphasise the symposium more, making it a centre for food thought and innovation in Asia.  We have also been approached by neighbouring countries to hold Kita weekends there ─ so this might also be on the cards."