A foodie tour of Bologna, Italy, where Spaghetti Bolognese doesn't exist
From a session with a home cook to scouring local markets for fresh produce and street food, one writer delves into the rich culinary offerings of Bologna, and discovers that locals will only use ragu alla bolognese in lasagne, never spaghetti.
Sitting in the heart of Emilia-Romagna, the beautiful and historic Italian city of Bologna has no fewer than three nicknames. La Dotta or The Learned One reflects its proud claim as the oldest university town in Europe; La Rossa or The Red One reflects the countless red rooftops of the old town. But I was here largely to celebrate its third nickname: La Grassa or The Fat One – thanks to its legendary cuisine.
Bologna lies in a rich agricultural region that is famed for the quality and variety of its local produce. That's a badge of honour anywhere, but in Italy, it's really saying something. Balsamic vinegar, Parmesan cheese and mortadella are all carefully crafted locally and obviously feature in many of Bologna's most famous dishes.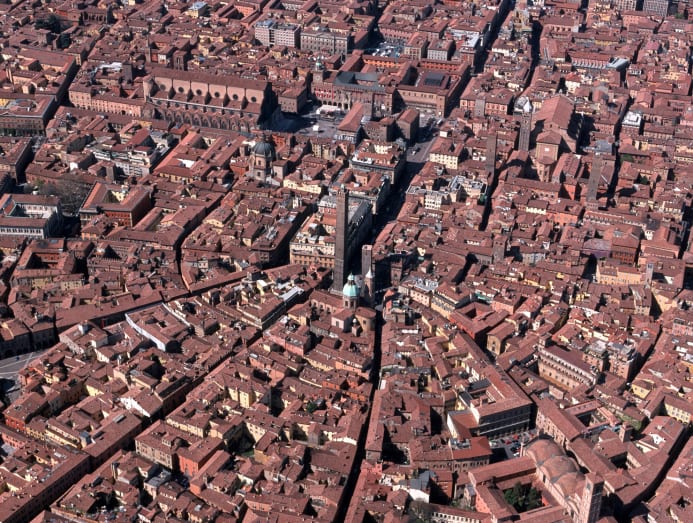 Let's start with the most famous of them all, the culinary elephant in the room. Two words which should never go together – and if ever mentioned or heard in Bologna, would probably get you marched and dumped outside the city's elegant gates: Spaghetti bolognese.
Ragu alla bolognese is a rich, silky and slow-simmered meat sauce that is proudly used in lasagne alla bolognese – but never, ever served with spaghetti. Why would it be when the super-thin strands have no surface for it to cling to?! The only way to eat it is with tagliatelle, the ribbons of handmade egg pasta which act as the perfect vehicle for its meaty, deep flavours.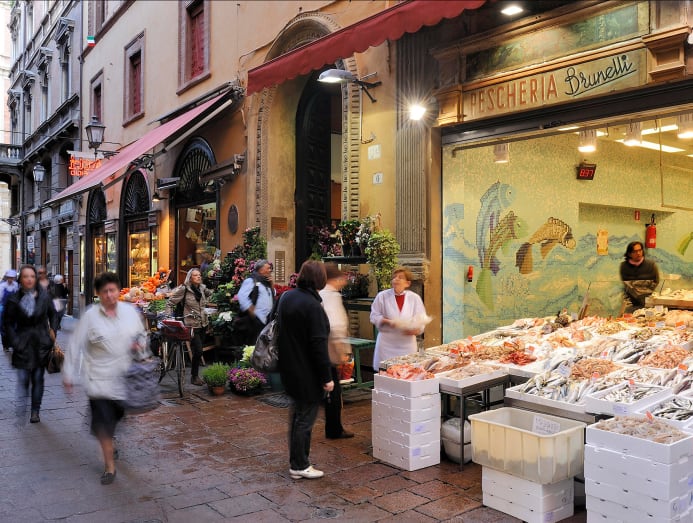 My immersion into Bologna's most well-known dish – although not the city's most beloved, as that honour clearly belongs to tortellini al brodo – came in a lesson with a fabulous local lady called Alessandra. She is a proud cesarina, one of a national network of Italian home cooks who seek to safeguard authentic recipes and share them with curious visitors.
It's a brilliant initiative, allowing travellers to forge genuine connections with a city's locals through a winning combination of food and friendship. The network has recently become a prestigious Slow Food Community and Bologna Welcome, the city's visitor's bureau, are an easy way for guests to sign up and learn the truth behind iconic dishes – before taking recipes home to recreate them.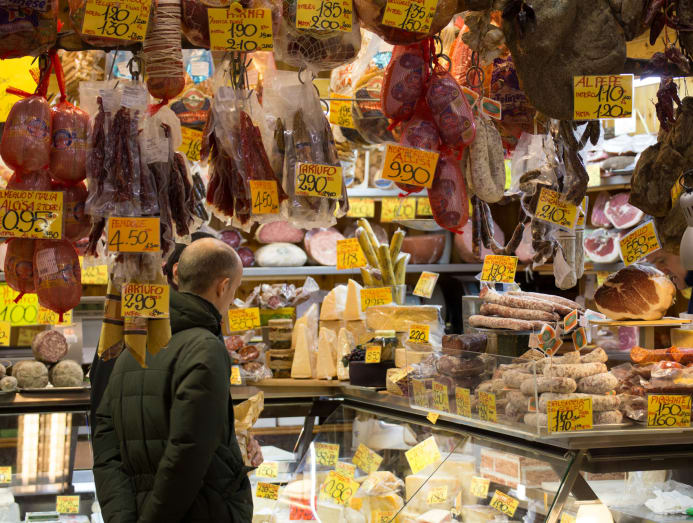 My immersion into Bologna's food and some of its most famous dishes started by meeting Alessandra underneath Bologna's two most extraordinary medieval towers, each almost 100 metres high and 900 years old – so not exactly difficult to spot.
They look out over the narrow and atmospheric medieval streets of the old town where we started in Via Pescherie Vecchie, "the street of old fishmongers". Today it sits in the heart of the Quadrilatero area, home to the city's finest food shops and some of the world's oldest food markets which date back to the Middle Ages.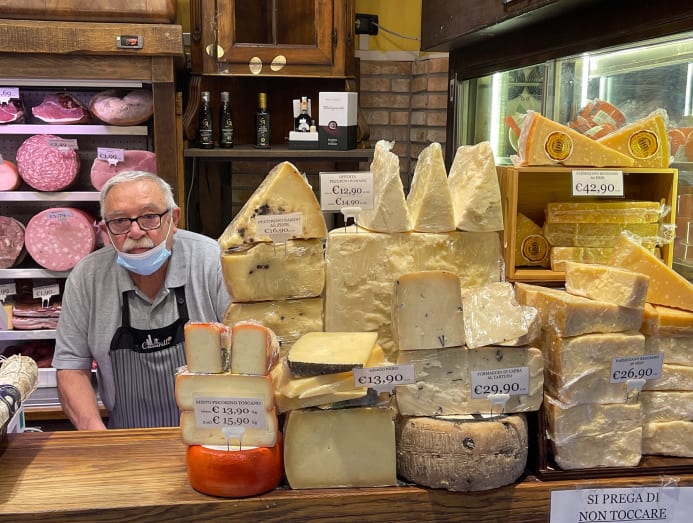 Alessandra's mix of pride and excitement was infectious as she wandered between purveyors of produce to make those of us living in vast Asian cities go weak at the knees. Stalls decked in more kinds of tomato than you can count, huge shiny eggplants, peppers and chilis, radishes and cabbages, multiple types of endives and zucchini, leeks and green beans, all calling out to be smelt, touched and turned into something delicious. We haven't even mentioned the fruit.
At a deli called Ceccarelli, a moustachioed shopkeeper was almost hidden behind vast mounds of cheese, from Pecorino Romano to Asiego Nero, Formaggio di Capra al Tartufo – or truffled goat's cheese – to Parmigiano Reggiano aged from 12 to 60 months. Above him there were also countless legs of prosciutto, a dizzying selection of cured salumi from wild boar salami and bresaola to speck or spicy spianata, even before the olives, oils, vinegars and fresh pastas came into the picture.
Golden-hued eggs, local mortadella and ricotta cheese all went into Alessandra's basket, while at Atti Panificio, a nearby baker and pasta maker in business since 1868, the popular local flatbreads called piadina joined them.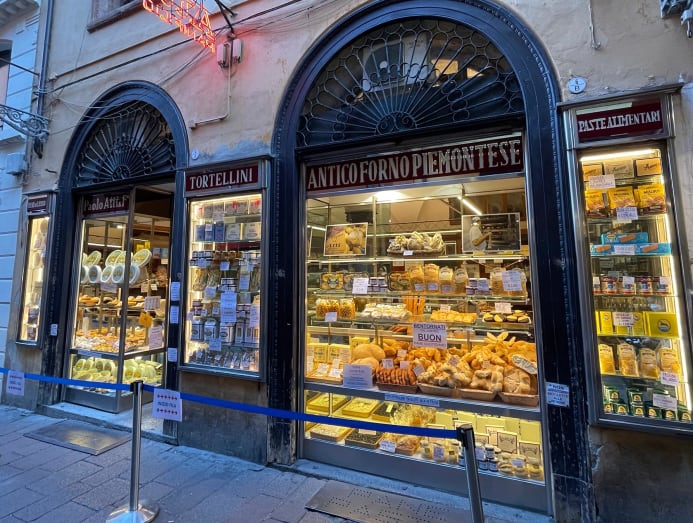 It turned out that the flat where our cooking class was to take place actually belonged to Alessandra's 80-something-year-old mother, an elegant, charming and plain-speaking nonna called Rafaelle who quietly surveyed proceedings and occasionally engaged in quality control through a gently raised eyebrow.
Once Prosecco had been poured – at around 11.15am – Alessandra taught us how to make pasta from scratch, gently working a thin layer called Sfoglia that is used in Bologna to make tortellini and tagliatelle alike. Her top tip was to make a "volcano" ring of flour with the eggs placed in the middle, before gently tipping flour little by little into the centre and slowly mixing it.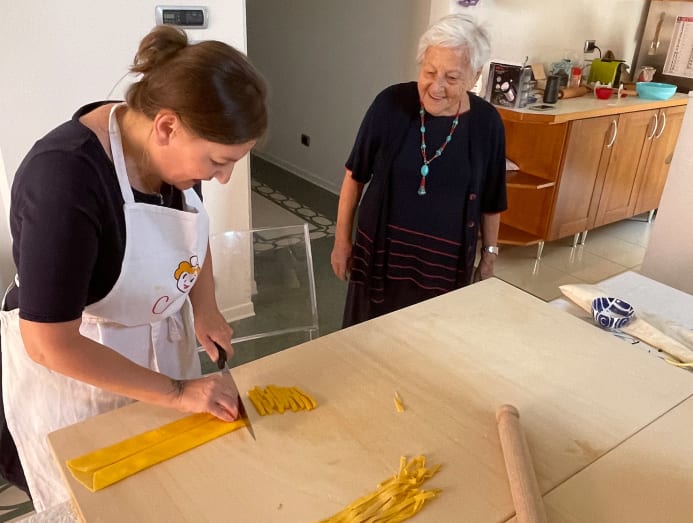 This all took place on a vast wooden board, easily larger than the surface area of my kitchen floor in Hong Kong, that I found pretty heavy and cumbersome – until Raffaella, standing at 1.5m and in her ninth decade, picked it up and carried it under one arm once we'd finished making our mess cutting the pasta into tagliatelle ribbons and curling them into little nests.
As for that fabulous sauce, every ragu recipe in Bologna is a family secret, but one common top tip is that some like to add a good glug of milk towards the end of the cooking, in order to soften the acidity of the tomato sauce.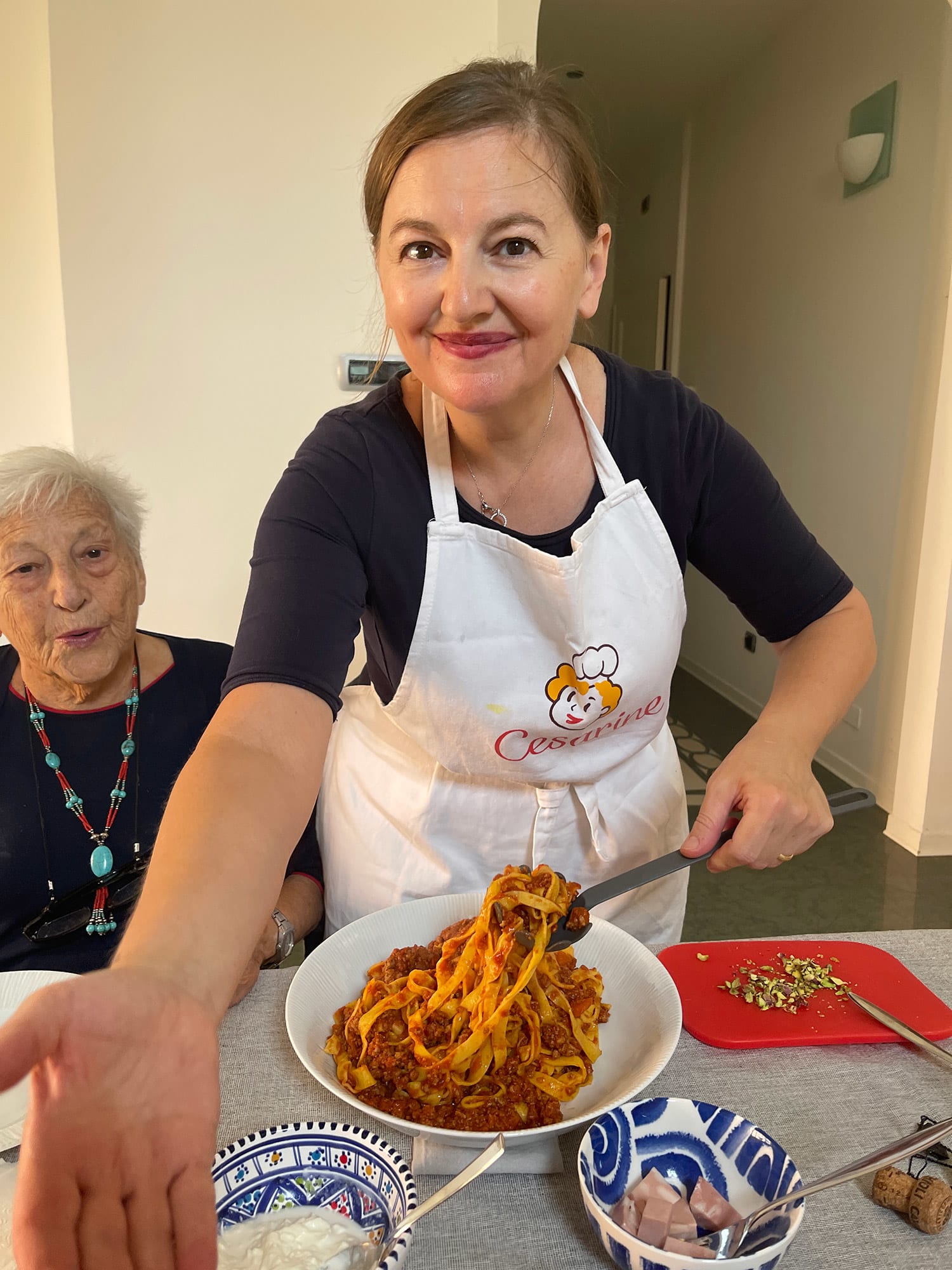 We also learnt a simple, delicious but not very waistline-friendly mix of mortadella, fresh cream and ricotta to accompany warmed piadina bread, toasted bruschetta with super-vibrant basil and tomato and even a very passable tiramisu to wrap things in even more decadent style. At around 80 euros per person (S$125), including a self-crafted lunch and wines, it represented a brilliant half-day way to get to know Bologna's culinary traditions and its people.
Naturally dining out is another and Bologna is truly the promised land. The city's street food and snacks are legendary, starting with breakfast and a treat called Gnocco Fritto, essentially large fried sheets of dough which can be filled with cured meats, cheese and sometimes fruit relish. The whole thing is often then dunked in your cappuccino. Oh yes indeed.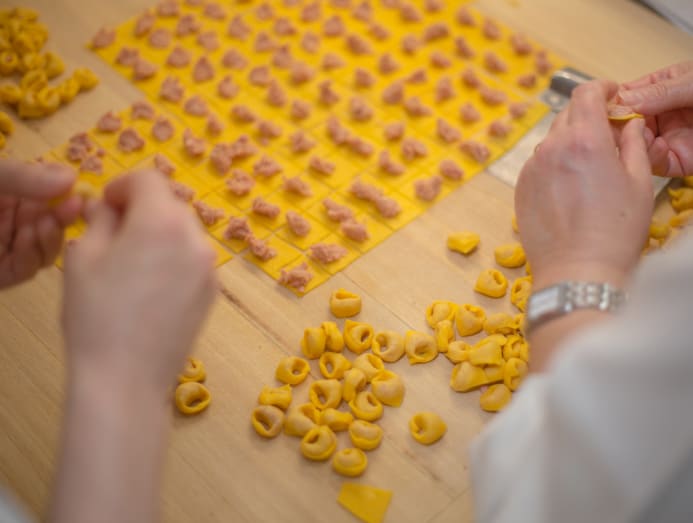 Warm and soft rosetta bread filled with slices of artisanal mortadella is ubiquitous but delicious, then there are always lots of those stuffed piadina breads, notably with rocket, cured prosciutto and the tricky-to-pronounce Squacquerone cheese. As for sweets, apart from legendary gelati all over town, there's also crema fritta, a sort of fried custard with lemon. Unsurprisingly, Bologna isn't big on calorie-counting.
On the wine front, Emilia-Romagna may not boast the famed labels of Tuscany, but wineries like Umberto Cesari more than hold their own both domestically and around the world – including in Singapore. Set in idyllic gently rolling hills, the terroir of Castel San Pietro Terme focuses on local native grapes but also increasingly international varieties. Despite being around more than half a century, they are driven by a combination of sustainability and innovation.
All that translates into wines you'll want to buy at their Cellar Door such as the 100 per cent Sangiovese Resultum, an elegant number that is perfect with red meats, or the silky smooth Solo which combines the best of Merlot and Sangiovese. If the name is unfamiliar, it's because they developed the new variety through research with the University of Bologna Department of Agrarian Sciences.
As for restaurants, Michelin stars and 50 Best rankings seem irrelevant when you're faced with sensational bowls of freshly made tortellini al brodo in countless local trattorias for around eight to 10 euros (S$11 to S$15) per person. These true labours of love – the tortellini are usually tiny and have to be handmade – feature a filling made from pork, mortadella and prosciutto, while the chicken broth, the brodo that they are simmered in, is as much the hero. Just don't confuse them with tortelloni, which are their much bigger brother.
Generally there's a noticeable simplicity and symmetry to meals in Bologna, as elsewhere in Italy. Dishes are uncluttered and speak for themselves. A cut of pork or lamb is just that, maybe with some herbs. Food should always be savoured, never rushed. And arguably the most important ingredient is conversation – often about what the next meal will hold in store. That's my kinda town.