No destination weddings, so Singapore couples get creative amid the pandemic
For now, with destination nuptials still out of the question, many couples are eschewing standard ballroom weddings in favour of creative ideas to make their special day in Singapore extra memorable.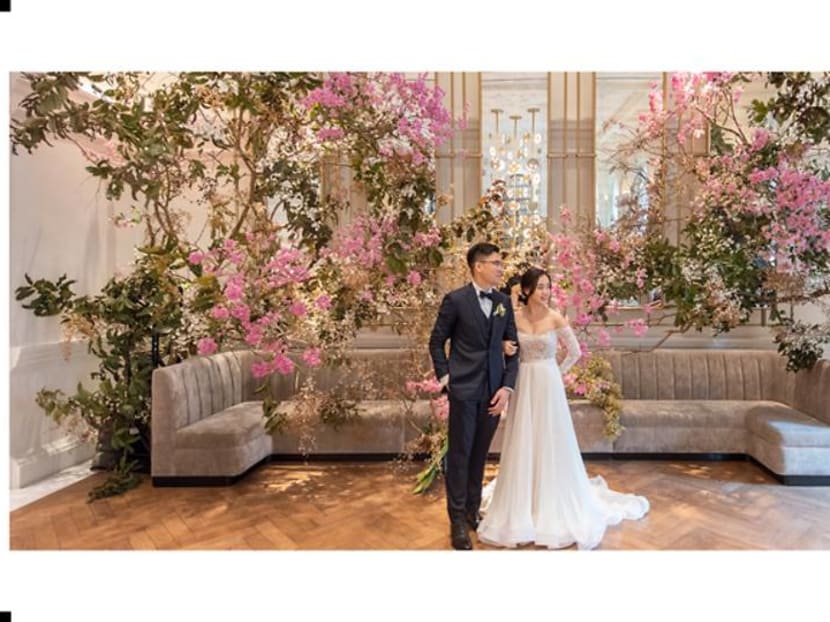 For many couples living in Singapore, getting hitched is the perfect opportunity to hold a once-in-a-lifetime wedding at an exotic far-flung destination with their nearest and dearest. But as we all know, the past year's pandemic has thrown many of the best laid plans into disarray.
Still, life must go on and for the most intrepid couples, being grounded on our little red dot has instead inspired them to greater creative heights. Not willing to settle for a standard ballroom banquet, an increasing number of couples are choosing to have a "destination" affair in Singapore by throwing themed weddings inspired by their favourite places around the world.
Wenxin Zhang, senior principal planner at The Wedding Stylist, says the company recently transformed a venue into an all-white mountainous landscape for a Singaporean groom and Korean bride who had dreamt of a winter wedding by using LED walls and specially selected floral arrangements.
To evoke the mood of a Korean feast, the wedding planners worked with the chef to create a starter platter similar to the Gujeolpan, a royal court dish from the Joseon Dynasty, and mixed a traditional cinnamon punch called Sujeonggwa.
Restrictions on the number of attendees – currently weddings may be held with a maximum of 100 guests (or up to 250, with pre-event testing) – has not dampened spirits either. Zhang said, "Small does not necessarily mean less and we have seen our clients hold beautiful, intimate weddings with more customised details."
For an ultra-intimate wedding of just 18 guests for a Japan-loving couple, they booked out a small Japanese restaurant and customised a menu based on their personal favourite dishes as well as the best seasonal ingredients available. The chef even conducted a sake pouring ceremony to celebrate the couple's union, said Zhang.
RECREATING MOVIE MAGIC
Pre-wedding or wedding day shoots are another way to conjure up those wanderlust vibes without having to leave Singapore's borders.
For instance, photographer Rueven Tan has been staging moody, noir-style shoots for couples that look like they have been transported to the sets of iconic films like In The Mood For Love.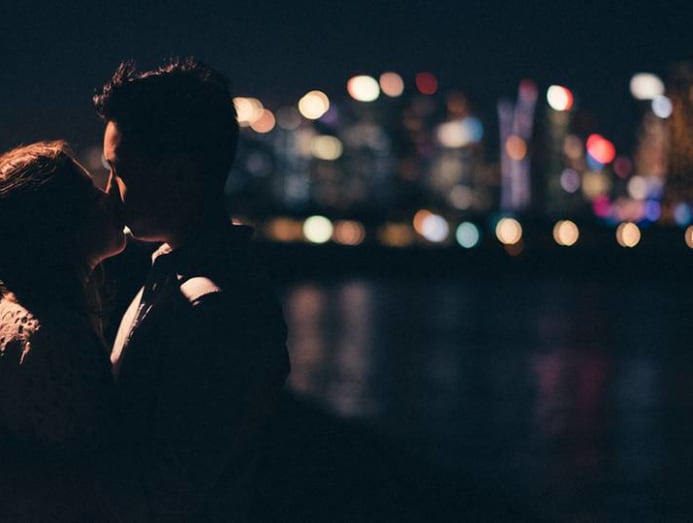 In one shot, a couple embraces against a blurred-out backdrop of skyscrapers – which could pass for the skylines of Shanghai or Hong Kong. In another cinematic photograph, a dancing duo decked out in wedding finery are captured mid-twirl in a gritty garage space – it could almost be a still from a movie.
The secret, said Tan, is the careful placement of multiple lights and other accessories to capture the right mood. Tan said, "It's a lot of work as there are a lot of adjustments and visualising of how the lights should be positioned to create the desired effect. But the adrenaline in accomplishing one's vision is very satisfying."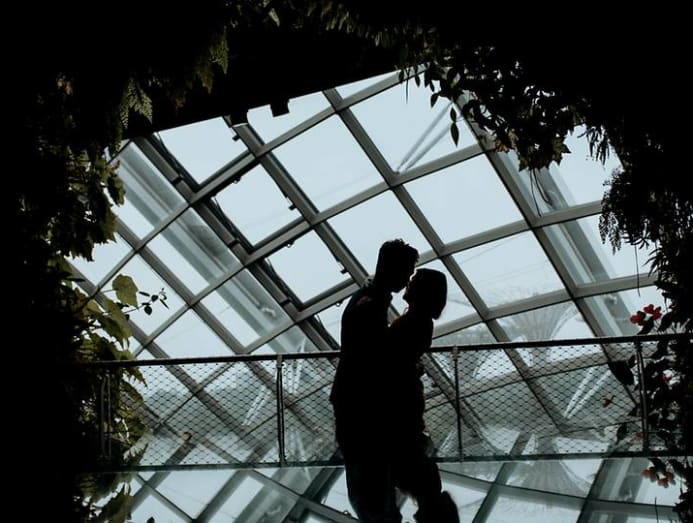 Those who are looking to replicate this sense of escapism in their wedding photos can also take cues from photographer Douglas Fun, who shared a tip on his Instagram account (@fundouglas). The old HDB flats in Chinatown, he noted, are a great location for those who would like to capture the dense urban vibes of Hong Kong.
Those who prefer the barefoot luxury of beach weddings need not despair either – Singapore is a tropical island, after all. For a couple who could not travel to the Maldives for their pre-wedding shoot, Zhang of The Wedding Stylist planned for them an extra-memorable yacht trip complete with a champagne brunch and even a few outfit changes. "We ended the shoot with a fun twist where the couple leapt off the yacht together in a coordinated jump at sunset."
FARAWAY FANTASIES BROUGHT HOME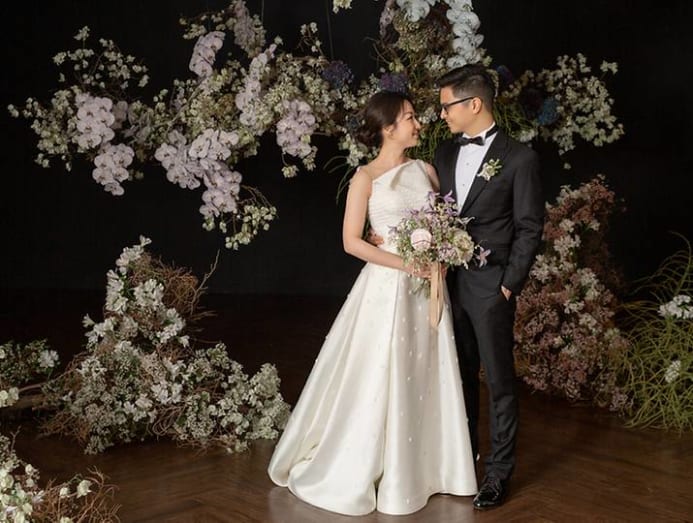 Others are leaning into something more abstract by transforming their wedding venues into avant-garde and otherworldly settings. Over the last year, Ashley Lee and Shermaine Yeo, founders and principal planners for The Wildest Dreams, have planned weddings at private museums, fine dining restaurants and even the couple's own homes, instead of conventional ballrooms.
"With the help of vendors, stylists and floral designers, we transformed these unique venues into something completely different from their original states," wrote the duo in an email.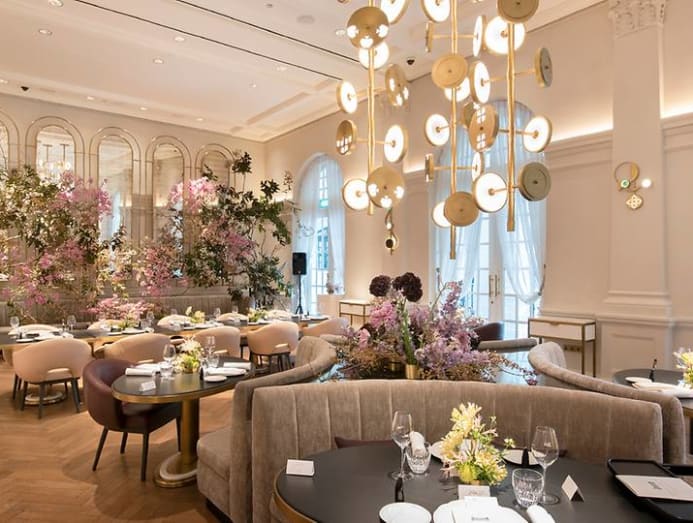 For a wedding held at Maison Miaja Gallery, Lee and Yeo worked with botanical design studio This Humid House to create an indoor wonderland with cascading floral arrangements throughout the venue. And at chic French restaurant La Dame De Pic, spring blooms were used to transform the space into an indoor hothouse.
Of course, the little red dot has plenty of iconic destinations to set the stage for romantic weddings too. Places like Jewel Changi Airport, Gardens by the Bay and the National Museum are among the most popular locales for that Uniquely Singapore snap.
"We had couples who chose to do a photoshoot in Singapore's National Gallery as it reflects Singapore's unique heritage and geographical location," wrote Lee and Yeo. "And one of our couples did their pre-wedding photoshoot in the heritage neighbourhood of Tiong Bahru, specifically the famous hawker centre as well as the wet market."
And if you are among the group of soon-to-be newlyweds who are still holding out for that dream destination wedding abroad, you are not alone. Lelian Chew, founder of The Atelier & Co, which is the parent company of brands including The Floral Atelier and The Wedding Atelier, said most of her clients have decided to stay the course and postpone their overseas wedding till travel is allowed.
"As Asians, weddings have always been a rowdy, all-inclusive affair – it is quite against our nature and tradition to host a small celebration for such an important occasion. So I do think that is a big reason why many families are holding back on wedding celebrations now and are just awaiting a more appropriate time to celebrate. It's hard to have one settle for anything less than ideal when it comes to their big day," she observed.
And while there are ongoing travel restrictions, the rollout of vaccinations may mean that an end is in sight.
"I think that there is still that sense of optimism and hope from couples that things will get better and some sense of normality will return sooner than later," Chew added. "Clients are all really looking forward to being up in the skies again and a destination wedding seems to be the perfect way to commemorate the return of travel."