This new Napa Valley resort has everything for a wine-dine-spa holiday in one spot
Locavore dining, pampering spas and a location within a working winery make the Four Seasons Resort and Residences Napa Valley a worthy pitstop for wine-loving bon vivants.
Our car drove past a row of charcoal grey and white townhouses on the right and neat rows of grape vines to our left. "I think this is it," I couldn't help but murmer.
We made a turn into the driveway of 400 Silverado Trail, and soon found ourselves fussed over and our bags efficiently loaded up to a buggy. With a glass of sparkling rose in hand, my husband and I toasted to the start of our Valentine's getaway at the Four Seasons Resort and Residences Napa Valley.
With just 85 rooms and suites, no signage declaring its presence, and a partnership with a boutique winery, this resort is an unusual hyperlocal gem in the international chain's stable. Calistoga, the town in which it is located, has only 5,155 inhabitants. It is in the northernmost part of Napa Valley – a 90-minute drive from San Francisco – and more well known for its geothermal hot springs. Napa wine pilgrims rarely prioritise this spot, but this property might just change that.
Opened last November, the resort was developed in collaboration with Thomas Rivers Brown, a Calistoga native who has received 25 perfect 100-point scores from wine critic Robert Parker Jr on his Cabernet Sauvignon wines. He is also a consulting winemaker to over 40 wineries in the region, including the 1.9 ha organic vineyard Elusa Winery, within which nestles the resort.
You'd be hard pressed to find a faster way from grape to glass. The generously sized 480 to 530 sq ft Palisades and Vineyard rooms overlook mountain and vineyard views respectively, with Cabernet Sauvignon vines planted between the three-and four-bedroom villas and residences. There is no need to drive out to a vineyard; it is literally a few steps away, and depending on the season of visit, you can watch the vines bud, get trimmed and harvested.
In the rooms, it is farmhouse chic with modern conveniences resonating in white panelled walls, warm tones and a gas fireplace easily lighted at the flick of a switch. Design elements such as a live-edge wood headboard and locally sourced art add to a sense of place, while plush bedding and a black and gold bathroom with a deep soaking tub guarantee the indulgent luxury feels.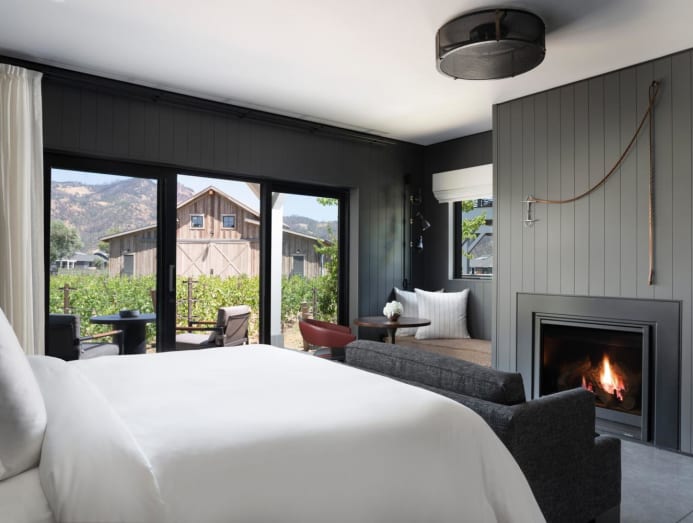 That weekend saw the hottest days in February for Calistoga, with daytime temperatures of up to 26 degrees in what was supposed to be a winter month. Lucky us, as it meant outdoor suntanning at the resort's Spa Talisa, with our bodies slathered in the town's famous volcanic mud. After being baked like crusty pies, we rinsed off the mud mask under an outdoor shower with smooth silky skin to show for the next couple of days.
Whichever treatment you choose (we found the Terra Firma Recovery treatment exceptionally soothing after our three-hour drive to the resort), hang around to enjoy its facilities such as the steam room, relaxing lounges and outdoor misting decks.
Being on the first overseas holiday in two years, the sense of freedom was indescribable, especially while tucking into meals bursting with goodness under glorious sunshine. If you've never tried a bruleed grapefruit for breakfast nor an ordinary-looking coffee cake that tasted like what crack might be like, the resort's Truss Restaurant + Bar is where you should start.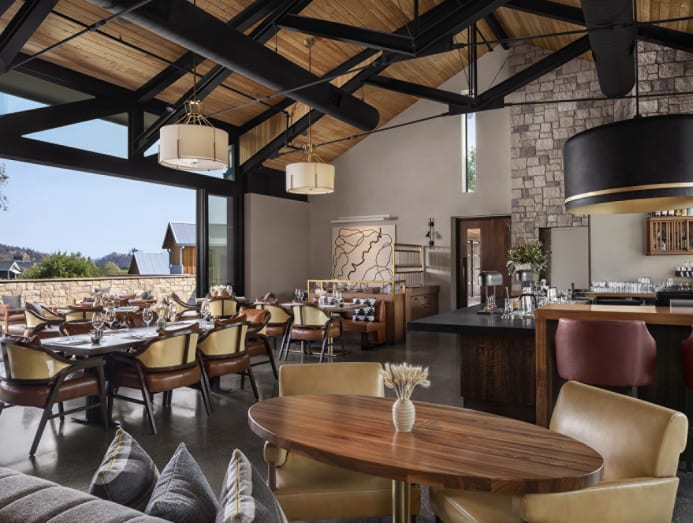 The huevos rancheros, a typical Mexican breakfast dish served at farms, also fuels up in all the right ways with its spicy heartiness of black beans, local eggs and Cotija cheese topped with chicharron. For lunch, Campo Poolside's Cal-Mexican fare shines with its flavour-packed and super fresh ingredients in classics such as tacos and salads. Get the churros but also leave space for the tres leches cake that is worth the extra calories with its vanilla cream topping and hints of rum and cinnamon.
Even the room service exceeded our expectations. The US Snake River striploin for two arrived the way medium-rare steaks should – smoky dark brown sides and tender with a pink middle that's warm – while the sprout salad tasted as if the greens were freshly plucked off a field. Pork ribs and trout in the restaurant on the second night were unfussy and tasty. The stellar dishes were matched with thoughtful service from staff well acquainted enough with the menu to recommend good pairings from a list brimming with options from the valley, and of course, Elusa.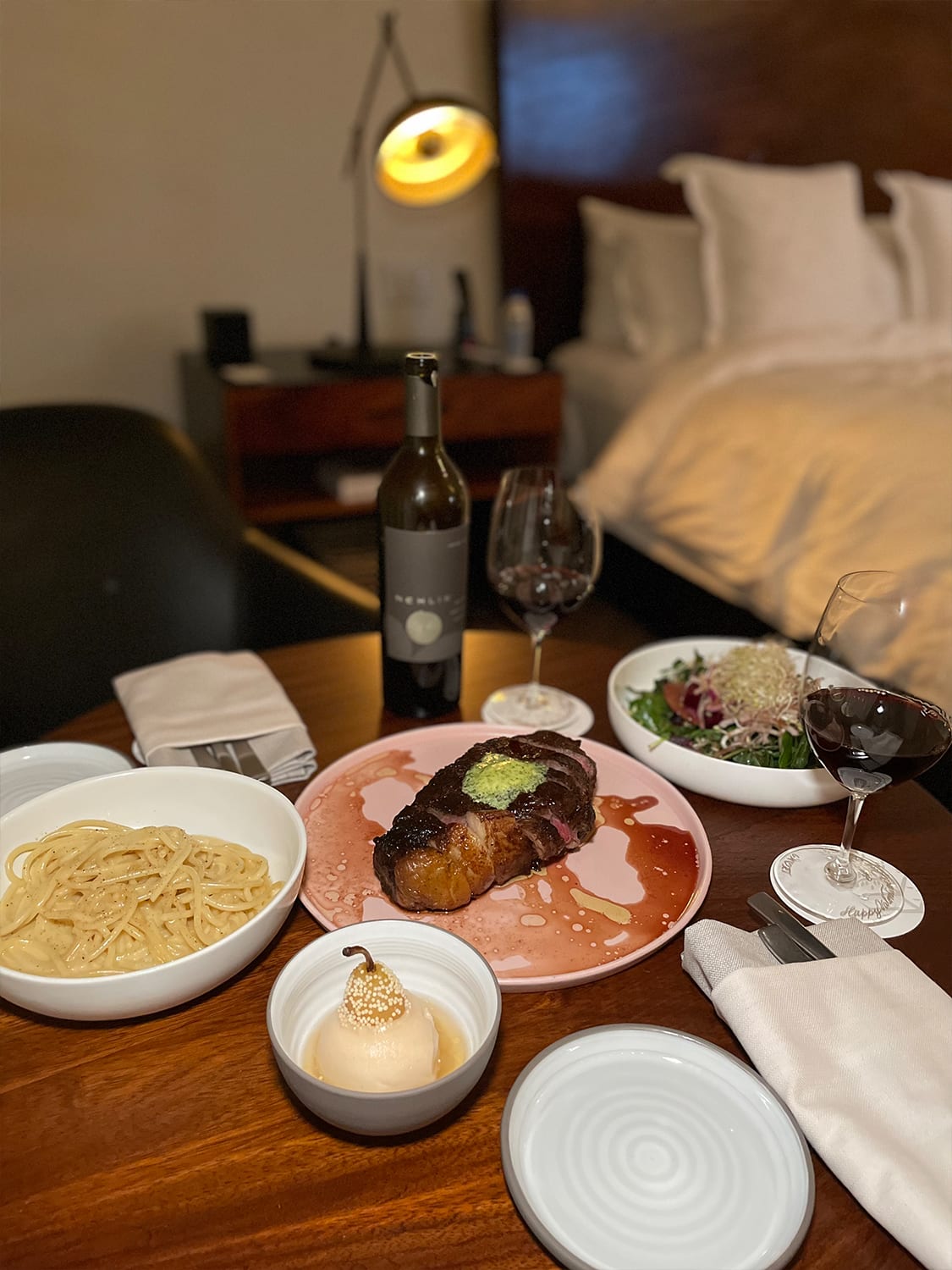 The winery only officially opened last September, but it has been producing wine with fruit that was on its property since 2010 and bottled its first vintage on-site in 2021. Its wines are exclusively retailed to its members and through private tastings. At the point of publication, Truss is probably the only other place in Calistoga to taste their wines.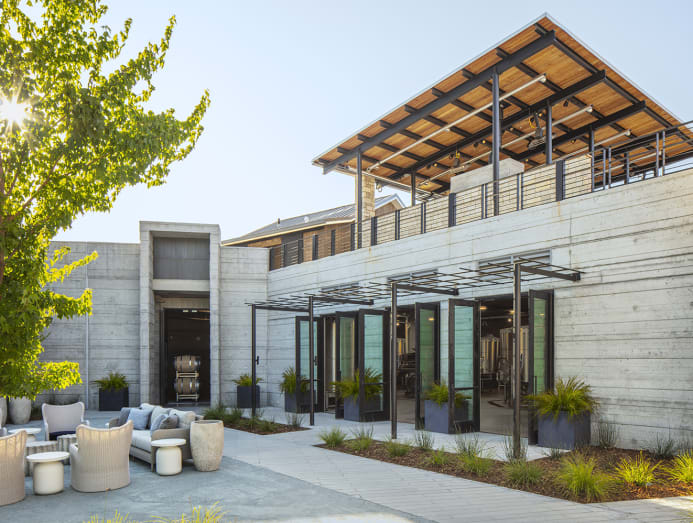 The "Evolution of Elusa" tour offered an in-depth insight of Elusa's history, and its community and terroir-driven approach to wine making. Hospitality and membership manager Marcos Coronado explained how the vines are cultivated to take advantage of Calistoga's vast temperature shifts of hot days and cool nights as we walk through the vineyard, toured the wine-making facility of steel tanks and French oak barrels, and enjoyed five wines (including library vintages never offered to the public) with a cheese platter.
Significantly, the word "Elusa" in Wappo, a native American language, means "holding of something precious". The winery focuses on varietals so there are rare gems like a 100 per cent Petite Sirah from 2014 with ripe red fruit accompanied by intense and lingering tannins. Besides its own Cabernet Sauvignon wines, Elusa's close relationship with local vineyards and commitment to spotlighting Calistoga are reflected in vintages such as the 2018 Elusa Cabernet Sauvignon and the 2018 Sauvignon Blanc, which used grapes from its neighbours.
Coronado shared: "We are trying to bring light to Calistoga and represent it at its best potential. Our name represents our philosophy of keeping the spirit of Calistoga."
Sounds like all the right reasons to book the next wine holiday in this part of Napa Valley.