Glenfiddich's new limited edition collection has 3 ultra-rare whiskies to add to your sipping stash
Glenfiddich has released three expressions for its Time Re:Imagined Collection – aged 30, 40 and 50 years respectively.
In partnership with Glenfiddich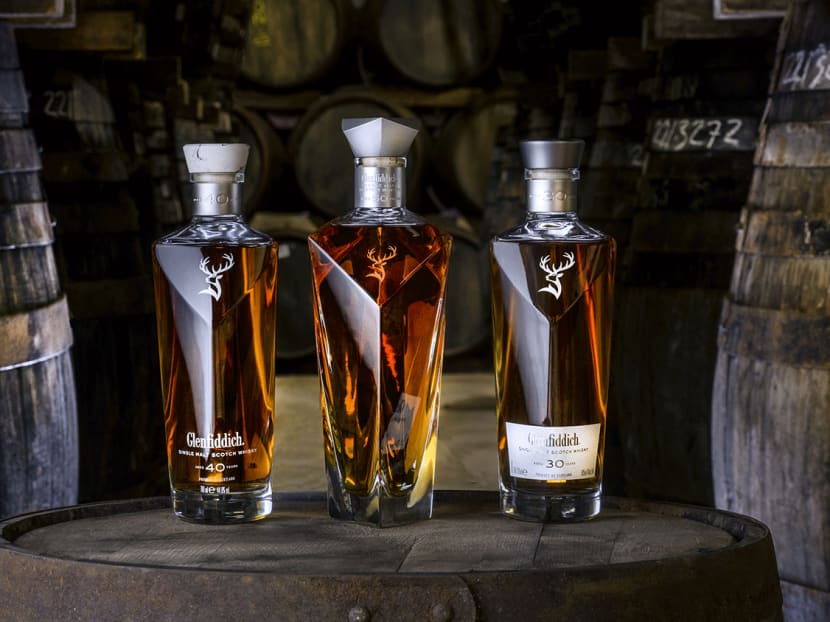 Whisky's rapidly rising popularity over the past 15 years or so has been a boon and a bane to its producers. While soaring demand translates to greater revenue, distilleries have also had to find ways to manage the decreasing stock of older spirits. (This explains why we are seeing more younger expressions hit the market, as well as a greater acceptance of whiskies without any age statements at all.)
Which means when the really old stuff shows up, like the Glenfiddich Time Re:Imagined Collection, everyone pays attention.
"In whisky production, we often talk about the role of Malt Masters, but we don't acknowledge how each cask, each bottle, is absolutely unique because of the time it has spent maturing," said Glenfiddich Malt Master Brian Kinsman.
So to honour both the work of the master distiller and the role nature plays in whisky making, the Glenfiddich has released three expressions for its Time Re:Imagined Collection – aged 30, 40 and 50 years respectively – with each one encased in "bespoke artwork that visually deconstructs and redefines different moments of time within the whisky making process".
The 30-year-old whisky, dubbed "Suspended Time", focuses on the moment when the Malt Master decides that a whisky's development should be halted in order to attain perfect balance. Suspended Time celebrates the contributions of former Malt Master Hamish Robertson, whose 14-year legacy at Glenfiddich included being part of the team that introduced the concept of single malt Scotch to the world.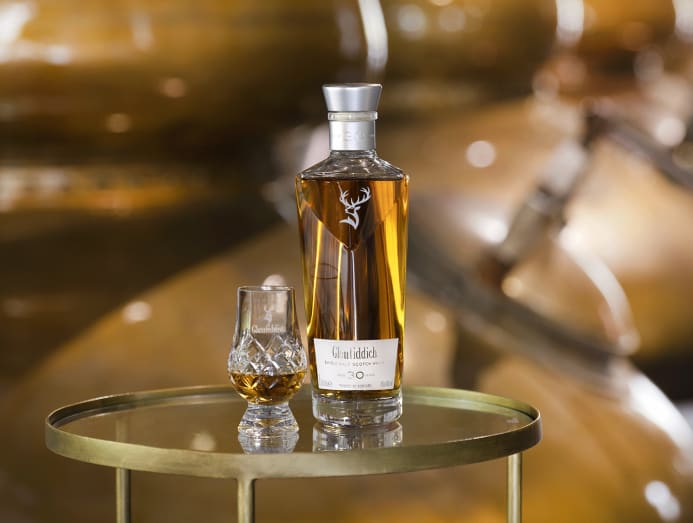 Rich bronze in colour, the Suspended Time has oak and sweet sherry on the nose, and a complex palate that marries notes of wood and floral accents. The finish is warm, honeyed and long. The 43 per cent ABV spirit is housed in an outer packaging designed to imitate moving ribbons that have been frozen in time. Through the cut-out windows they form, these lines give the illusion that the bottle is held in suspension within.
Next we have the 40-year-old "Cumulative Time", which gets its name from Glenfiddich's remnant vatting process of maturation. This process, pioneered by Malt Master David Stewart in the 1980s, involves carrying over remnants of whisky from a previous batch to be married with whiskies in subsequent cask. It's not unlike sherry's solera system, but the practice was virtually unheard of in the whisky world at the time.
This accumulation of flavours is what gives the liquids their complexity. And there is certainly a lot to explore in the Cumulative Time, as its dark mahogany hue holds layered aromas of dried fruits, dark chocolate, roasted coffee, and black cherries before concluding with gentle wood smoke, polished leather and cloves. This judicious maturation process lends a silky smooth body ripe with fruitcake flavours that follow with hints of dry oak, bitter chocolate and peat. At 44.6 per cent ABV, expect a long and memorable finish.
Only 1,600 decanters of the 40 Year Old have been produced, and each one comes with a sculptural container made from Jesmonite, a composite material popular among artists due to its ability to replicate a diverse range of textures and details. For this expression it resembles stone, with the intertwining veins recalling layers of strata.
The rarest expression in the trio is "Simultaneous Time", with only 220 decanters available worldwide. This is also the expression that represents Kinsman's work with Glenfiddich. "When we decide the 50-year-old whisky casks are ready, it is more about letting the distillery shine through, so I am looking for the casks that have more of the fruitiness that you would expect [from Glenfiddich]," said Kinsman.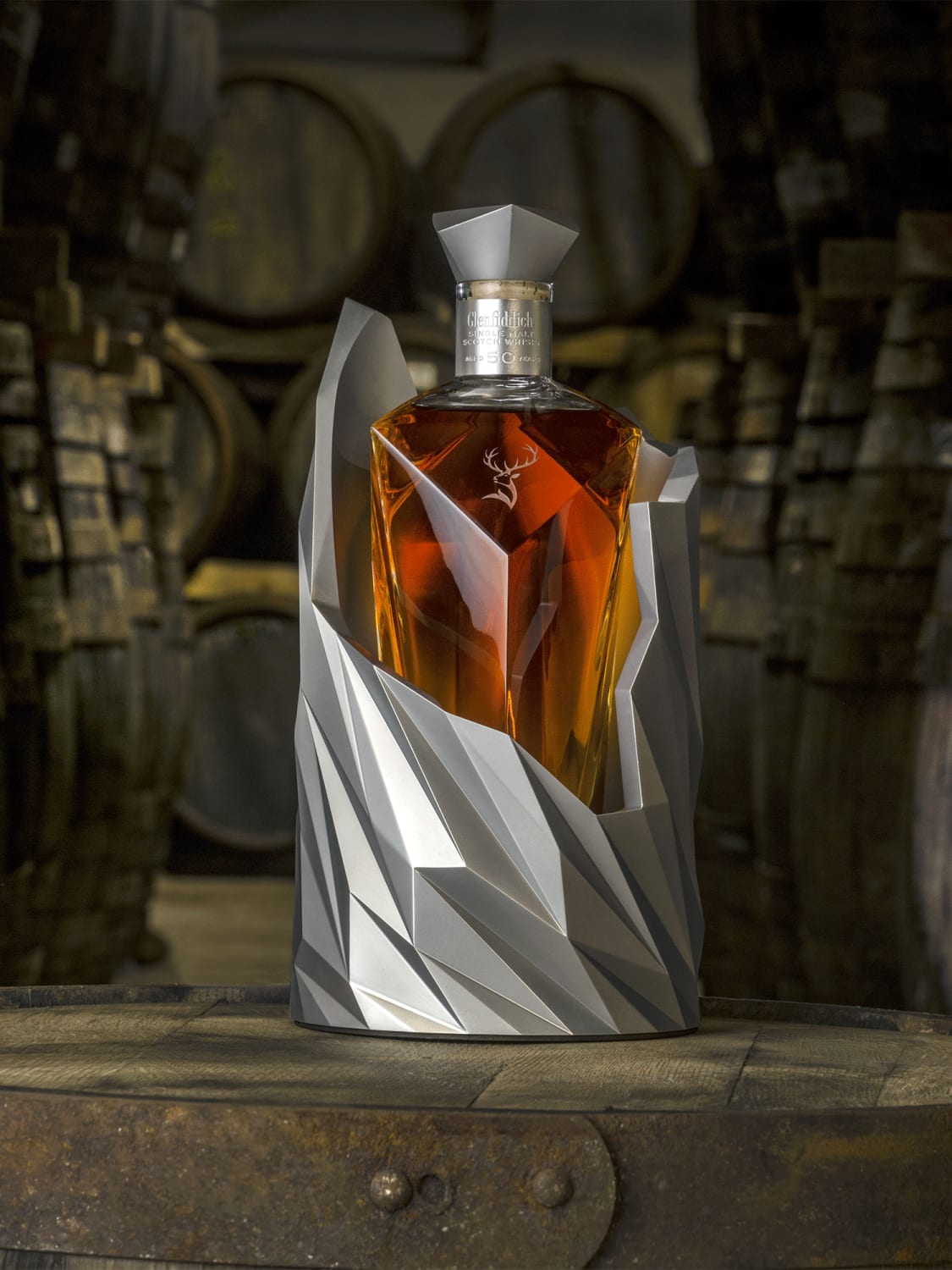 The spirit, which has a colour described as "antique gold" is indeed surprisingly fresh for a whisky that has sat in oak for half a century. Orange peel, clementine and Muscovado sugar dominate the nose, with an additional whiff of geranium and dew. Luxuriously smooth with gentle oak tannins and sun-dried vanilla, the 43 per cent ABV spirit has a sweet and lingering finish. "There will not be any other whisky in the world that will taste like this because it has not had its history, its experience in the oak cask, or even the weather while it was in the cask. It is a unique piece of history."
The packaging articulates this uniqueness. By decrypting 50 years' worth of climatic data from the area around the distillery in Dufftown and turning them into digital maps, computational architect Manuel Jimenez used them to create a 3D structure made completely out of aluminium. It's not just the boxes that have been designed specifically for each expression. The bottles themselves have been redesigned by subtly tweaking Glenfiddich's signature three-sided form, which pays homage to the three pillars of whisky production: Water, yeast and malted barley.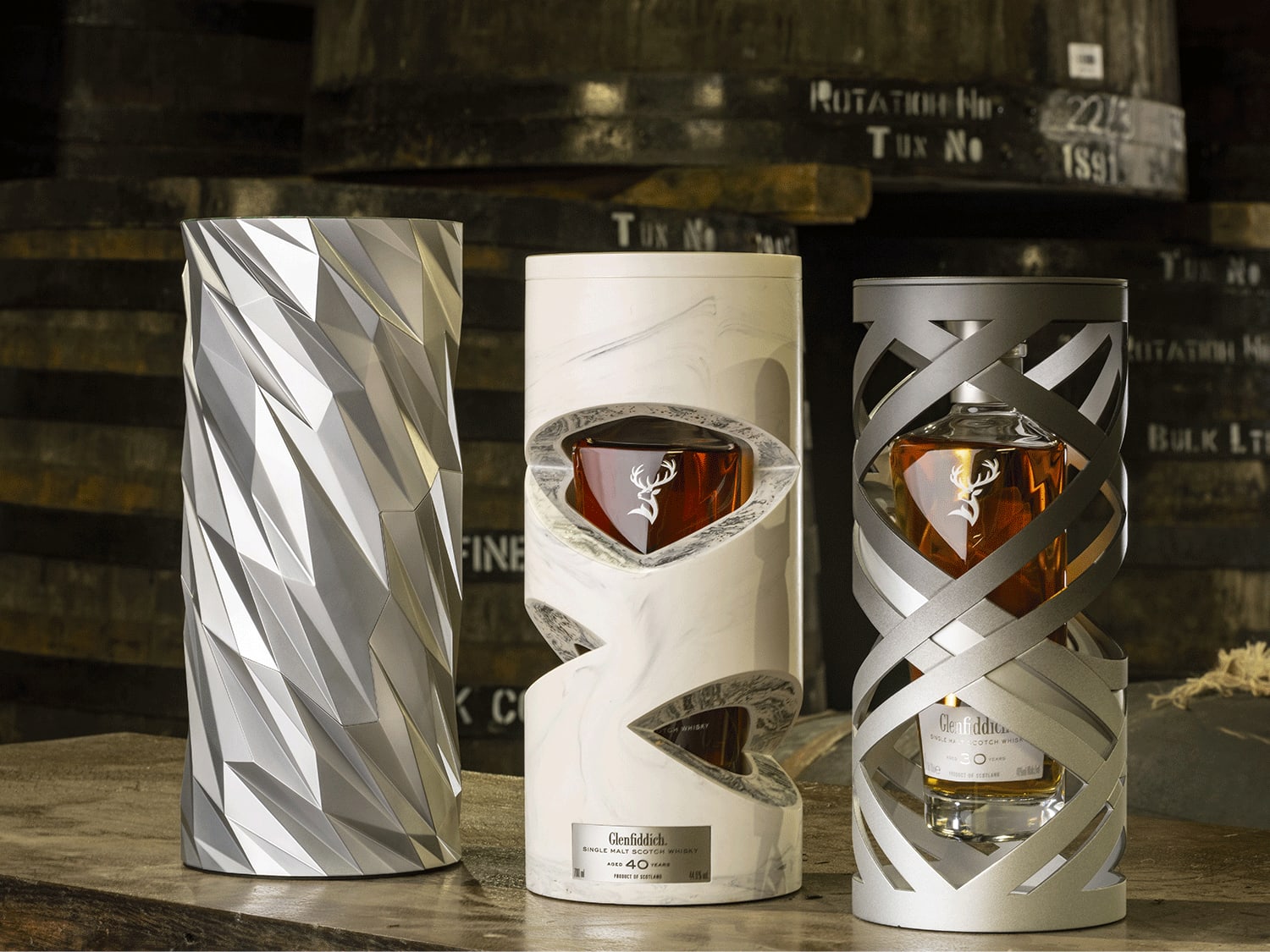 "Sometimes, we within the industry have to take a step back and remember the events that have helped shape the taste of each cask," Kinsman continued. "We all want people to enjoy their whisky but also to think about the craftsmanship and history that it has gone through."
For more information, go to since1887.sg