This Hari Raya Haji, enjoy an al fresco buffet with outdoor carving station
Permata Singapore, housed in the historic Gedung Kuning mansion in Kampung Glam, is holding its first Eid Al-Adha buffet, complete with an outdoor carving station.
Now that dining regulations have eased, it's time to get together with your nearest and dearest this Hari Raya Haji. If you're looking for interesting venues in which to dine, consider Permata Singapore – from Jul 19 to Jul 25, the restaurant is holding its very first Eid Al-Adha buffet, complete with an outdoor carving station.
The restaurant, which serves Nusantara cuisine (cuisine spanning the Indonesian archipelago), is housed in the historic Gedung Kuning mansion, located at Sultan Gate in the Kampung Glam area.
Priced at S$58++ for lunch and S$68++ for dinner, the Eid 2021 menu features additional items on top of the existing a la carte buffet menu. Dishes include Nasi Koma Koma, a luxurious spin on basmati rice cooked with saffron, pistachios, almonds, dates, dried peaches, raisins and spices.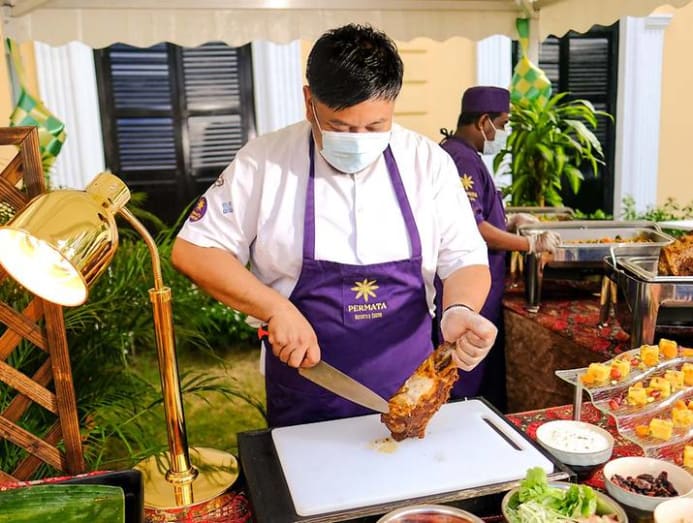 Also featured on the menu is Kambing Bakar, a roasted leg of lamb marinated with special spices served with a starfruit gulai sauce and dalcha consisting of potatoes, eggplants, tomatoes, and long beans. In addition, Singapore chef Firdauz Nasir has created a special Kerabu Jambu Mawar with butterhead lettuce, julienne rose apples, sliced cucumbers tossed in calamansi, yogurt, almond flakes, and raisins.
Desserts include Suji Keseri, baked semolina with cashew nuts, raisins, dried orange peel, served with cardamom syrup.
If you're celebrating at home but don't feel like cooking up a feast, Permata Singapore has also created two types of mixed grill platters available for takeaways and delivery. 
Each platter consists of Nasi Koma Koma, Kambing Bakar, Ayam Panggang (marinated boneless chicken thigh grilled and served with "chilli api" sauce), as well as Daging Panggang (marinated roast beef with rendang sauce, dalcha made with potatoes, eggplants, tomatoes, and long beans served with Acar Buah, a mixed fruit chutney).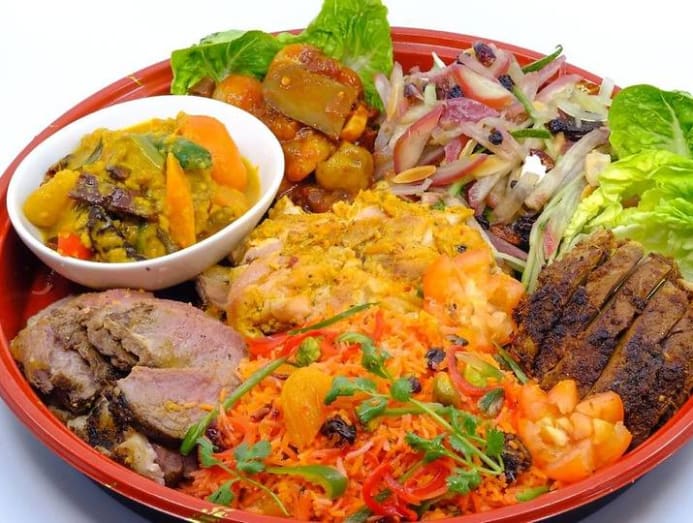 The S$198++ Mixed Grilled Platter feeds up to four people, while the S$358++ mixed grill platter feeds up to eight people.
Permata Singapore opened its doors in May this year. The historic Gedung Kuning mansion where it is located was built in the late 1850s. Its exterior was inspired by Palladian architecture, a European architectural style that was trendy back in the day. The interior of Gedung Kuning, like the former Istana Kampong Glam next to it, follows the design of a traditional Malay house.
In 1864, Tengku Mahmud, the youngest son of the Sultan of Johor, named his mansion Gedung Kuning, which means Yellow Mansion. Yellow is a royal colour commonly associated with Malay Sultans.
Today, Gedung Kuning is Singapore's "first Nusantara lifestyle destination". Aside from Permata Singapore, the building also houses a book cafe and Amazing Chambers Singapore, an escape room with games based on Singapore's history. In the future, it will host weddings and community events.
Reservations can be made online here or by calling +65 9082 994. Takeaway and delivery orders can be made here.