Henry's Townhouse: An eclectic boutique hotel in London with a piece of Jane Austen's history
The former home of Jane Austen's brother Henry Austen, this Georgian townhouse turned hotel in London is packed with character and charm.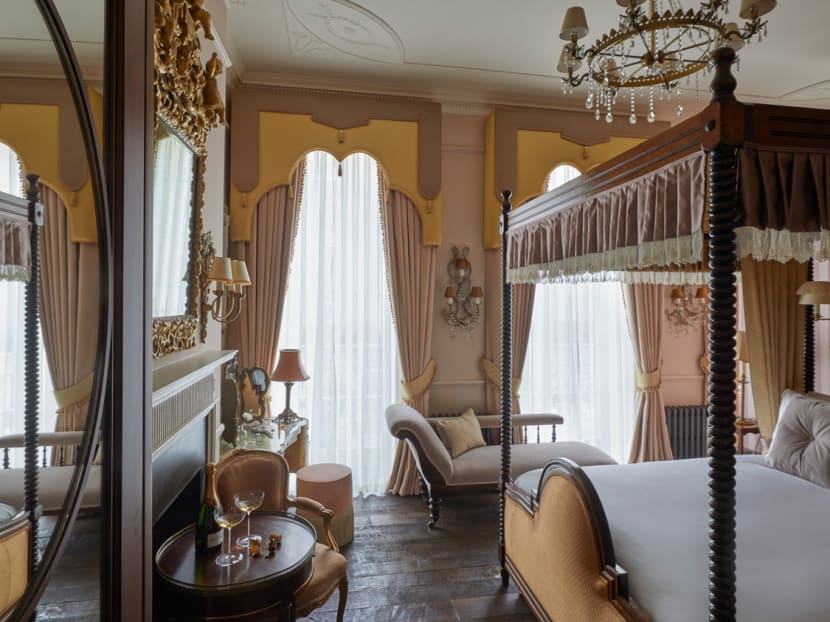 I think I'm in the worst place to have writer's block — the house where literary darling Jane Austen was said to have written Sense and Sensibility, a novel that has been continuously in publication since it first came out in 1811. Being confronted by a blank page and a blinking cursor is pressure enough but knowing I'm in the same place where a legendary novel was written magnifies the pressure tenfold. Like the previous times when my creative juices weren't flowing, I retire for the night hoping that inspiration will strike tomorrow.
That's a sensible decision for I'm staying at Henry's Townhouse, a Grade II listed building converted into a boutique hotel where every nook and cranny is designed to spark creativity. Part of a row of Georgian houses in Marylebone's thriving Berkeley street, it was the former residence of Jane Austen's brother Henry, who lived there in the 18th century and whom the hotel was named after. While steeped in history, the townhouse fell into disrepair and was fairly rundown when it was acquired by the privately-owned Collins Collection in 2018. It took three years of extensive renovations before it opened in late 2021 as a six-bedroom hotel that feels like a stylish home of an eccentric maximalist.
An unassuming black door with a small bronze plaque is the only sign to say that you've arrived at Henry's Townhouse. The simplicity of the entrance doesn't prepare you for the kaleidoscope of colours, textures and materials that await inside. From the elegant, classically proportioned reception room called Jane's Reading Room to the cosy, jewel-toned Carriage snug up the flight of stairs, each space has a distinct character but instinctively feels written by the same author.
A sense of decadence and boldness ties the entire townhouse together — a direction set by its owners Steven and Jane Collins, who were deeply involved in every facet of the hotel's design and reconstruction. With Steven's background in property development and Jane's work as a fashion designer with a flair for fabrics, the couple already had a solid foundation on which to create this wonderfully eclectic bolthole. They took it a step further and collaborated with Russell Sage Studio, a firm known for crafting sumptuous interiors and was behind the design of the nearby Zetter Townhouse and The Fife Arms in Scotland to name a few.
Henry's Townhouse is a masterclass in layering featuring over a dozen different paint colours, close to 500 luxe fabrics as well as a trove of hand-picked art and antiques from the Collins' personal collection. All six bedrooms take inspiration from the glamour of the Regency period and are named after people in Jane and Henry Austen's life. I stayed at Phylly, a suite at the top of the townhouse styled with peach-hued walls, a tufted sofa, a gilded 7-foot bed, a hardwood writing desk, and a smattering of 20 different fabrics. Rooms that look like this can sometimes feel restrictive, like you shouldn't dare touch anything. This felt quite the opposite: It was extremely cosy and comfortable and my 9-month-old was fascinated by the array of colours and the golden tassel curtains in particular.
The other bedrooms are equally impressive. A standout would be Eliza, named after Jane's sister-in-law, and decorated with a frilled four poster king bed, a velvet chaise longue, a lovely dresser, and a tented bathtub in the boudoir. It's no surprise this room is popular with brides-to-be as well as with lifestyle brands that host exclusive events in the hotel. I imagine many Janeites would also be smitten by this room — the interiors look like it was plucked out of the pages of Pride and Prejudice and it's a space perfect for fantasising about your own Mr Darcy.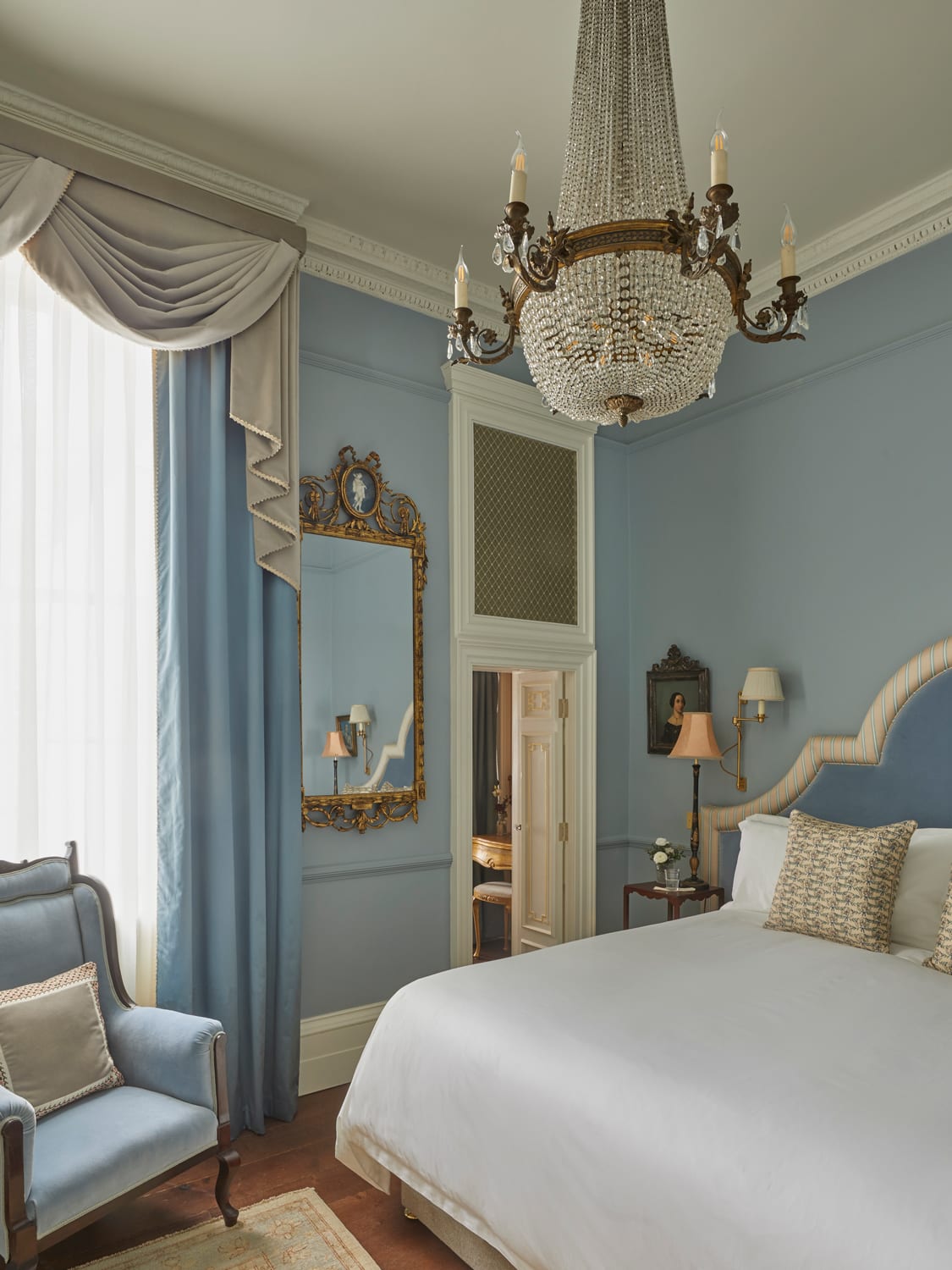 Every boutique hotel hopes to be a "home away from home" but few are able to deliver on that promise. Henry's Townhouse succeeds more than others thanks to its intimate scale, cocooning design and its relaxed and personal service. The homely ambience shines most in Monsieur Halavant's Pantry, a dining room and kitchen space anchored by a long wooden table. It is here where breakfast was lovingly served by affable house manager Ann Grimes. She knew that our baby was in the middle of his weaning journey, so she made sure to prepare a cute dining set just for him and greet him with lots of cuddles and peek-a-boos everyday. It's amazing how well she was able to juggle warmly welcoming everyone while also preparing gorgeous granola and avocado on sourdough. The space is open for guests to use throughout the day and we took advantage during one of the rainy evenings to enjoy our Asian take-away. Eating in this beautiful open kitchen sold me on the idea of living here full time… if only that option were possible.
They do, however, offer the closest thing: A private hire of the entire townhouse. From multigenerational families to small companies, more and more guests book the whole hotel, which offers the freedom of a self-catering accommodation but with the perks of a high-end property.
Jane Austen wrote in Emma: "Ah! There is nothing like staying at home, for real comfort." This is the exact sentiment that Henry's Townhouse wants to impart to every guest that comes through their doors. I may have only called it my London home for a weekend but I left feeling refreshed from two good night's sleep, with a trove of ideas for decorating my own home, and, thankfully, a finished article.