How Hong Kongers are taking to the skies with aviation-themed staycations
With cabin fever having taken on a whole new resonance in 2020, citizens in densely-populated, compact Hong Kong are paying top dollar to fly high.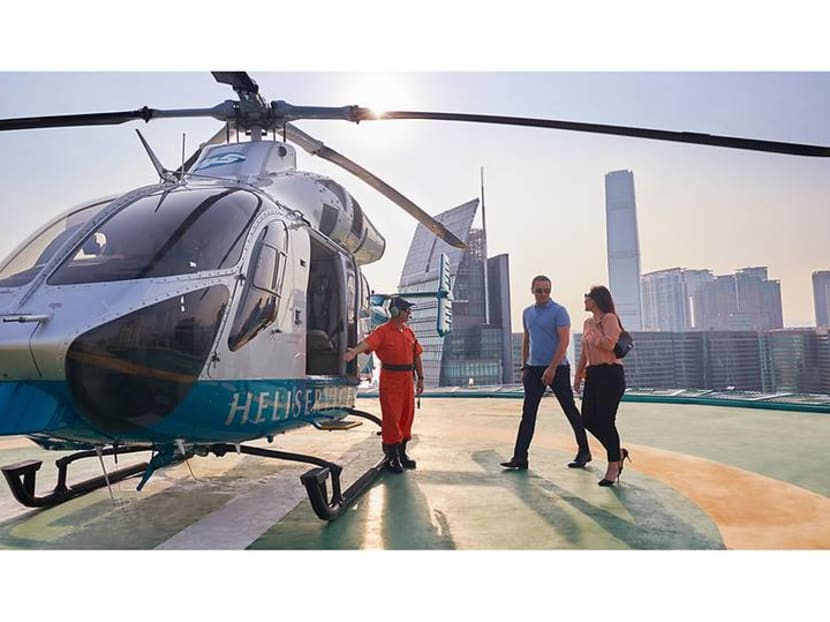 It's a city where, for many, getting on a plane is barely a bigger deal than getting on a bus elsewhere. So after ten months of strictly enforced travel quarantine – still one of the most draconian anywhere, entailing two weeks of home or hotel room confinement, complete with a tracker wristband – it's understandable why many Hong Kongers are desperate to take flight.
There are dozens of islands and bays reachable by private yacht or junk, countless mountains and trails to hike or beaches to laze on. But the reality is that after a while, Hong Kong begins to feel very, very small. At a total of 1,106 sq. km., it's barely 25 per cent larger than Singapore – but with a 25 per cent larger population.
To counteract cabin fever in serious style, two of the city's most storied and historic hotels, The Peninsula Hong Kong and The Mandarin Oriental, Hong Kong, have both offered staycation packages that allow guests to get up, up and away – at least temporarily.
At The Peninsula, your reminder of the joys of aviation – surely a privilege that we'll never take for granted again – comes courtesy of a helicopter flight around the city.
The hotel known as the Grande Dame of The Far East has cleverly turned your choice of a one to three-night break into a Journey the world extravaganza, giving guests tastes of global cuisines, cultures and voyages along the way.
Our journey began in one of their famous emerald green Rolls-Royce Phantoms, a vehicle so vast and comfortable that it feels like a hotel suite on wheels. After deftly navigating our building's tiny parking lot (one unaccustomed to long wheelbases), we glided effortlessly to Tsim Sha Tsui and the property which dates back to 1928.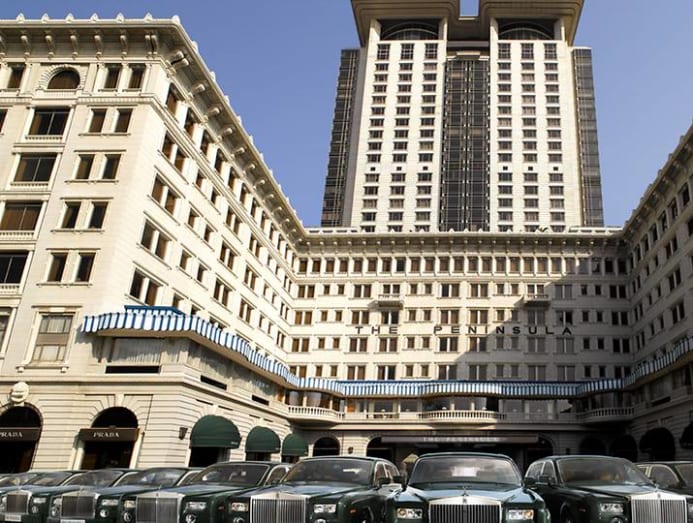 After walking through the famed high-ceilinged lobby – past those taking their Instagram-worthy afternoon tea – and a quick check-in, you're whisked straight up to the China Clipper Lounge at the top of the building's new wing.
The elegant space overlooking Hong Kong's Victoria Harbour is named after the first Pan Am "flying boats" which took passengers from San Francisco to Hong Kong in no fewer than seven nights – including stopovers – for a cool equivalent of US$32,500 (S$44,320) in today's money.
The exclusive lounge is only open to those taking helicopter flights, be it to or from Hong Kong airport, or on sightseeing trips of one's choice around the SAR. It's filled with fascinating memorabilia from the early days of aviation, from envy-inducing 1930s leather travel holdalls to full Pratt and Whitney engines.
Screens let you watch a live feed of your chopper landing on the helipad above you, while there are also departure screens for Hong Kong airport – on our visit, with flights understandably depressingly few and far between.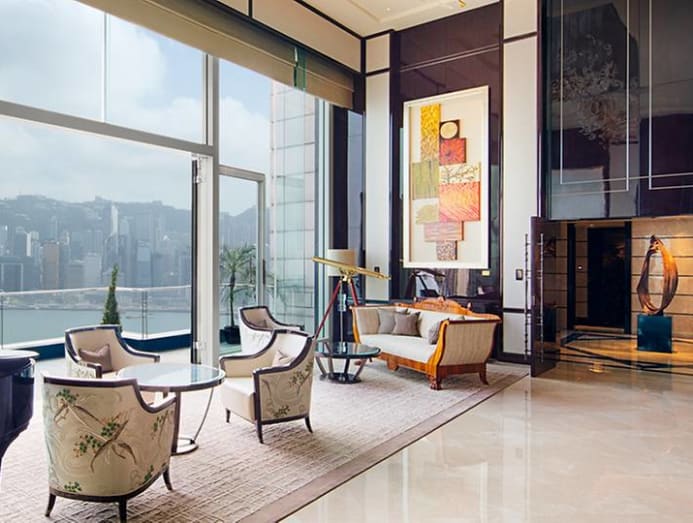 After watching the safety briefing, you don a compact lifejacket and are led up to the helipad where your chopper from Heliservices await. Once inside, the two friendly pilots – ours were a Hong Konger called Ben and a Venezuelan called Micky – introduced themselves via headset, before you gently start to soar.
After almost eight months not having been in any aircraft, it's a pretty emotional moment as you appreciate the joy of flying all over again. The countless skyscrapers below you give way to the waters of Victoria Harbour, the tiny Star Ferries navigating them, as you take in the skyline and energy of the city.
On our eighteen-minute flight we chose to circumnavigate Hong Kong Island and, thanks to a blissfully clear day with blue skies, the experience was truly astonishing. Obviously cruising at a far lower altitude than any plane, there were unique angles and viewpoints at every turn, the island's remarkable geographical diversity revealing itself in wholly new ways.
The hidden waterfall at Pok Fu Lam crashing into the South China Sea. Repulse Bay looking like it could rival the French Riviera. Sweeping over the jungle-clad mountains of Tai Tam Country Park, which reminded us of a chopper trip in Hawaii. Then back to the extraordinary urban sprawl, dizzying numbers of buildings and back to the energy of the harbour below.
The flight was not just an intoxicating adventure, it also showed us the island in a whole new light, rekindling our love of the city we call home and reminding us why its diversity is so compelling and unique. Thereafter, coming down to earth physically and metaphorically, The Peninsula was an oasis of cool elegance amidst the maelstrom of city life.
As part of the package you choose additional journeys, be they in their 1934 Rolls-Royce, visiting the hotel's fascinating archive room or maybe taking a Visual Journey where a Leica expert leads you on a photography masterclass.
Other options include visiting Kadoorie Farm & Botanic Garden, at the top of Kwun Yum Shan in the New Territories, some 550m above sea level, or maybe taking to the water aboard The Peninsula's yacht with a one-day charter.
Spa sessions let you escape to a world of bliss, while the famed dining destinations do likewise. Chef Albin Gobil at one Michelin-starred Gaddi's whisks you to Paris with sublime contemporary French cuisine, while a fondue dinner at Chesa lets you channel Switzerland. Or, for more of a local taste, Spring Moon offers exemplary Cantonese creations.
JET-SET LIFE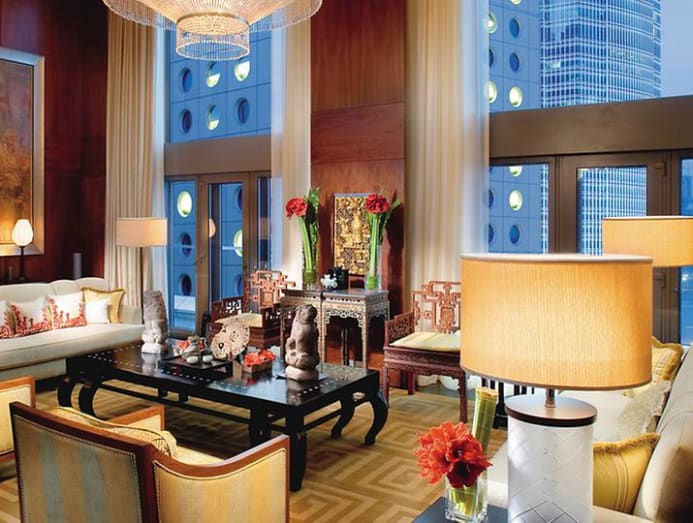 Hong Kong's second aviation experience for those seeking to soar in style comes with the Mandarin Oriental, in partnership with the global private aviation company, VistaJet.
Another hotel well-deserving of the often-over-used sobriquet "iconic", Mandarin Oriental, Hong Kong have provided a calm refuge from the city's energy for 57 years.
Spacious suites overlook Victoria Harbour and the famed skyline, while eight restaurants and bars make it a real draw for gourmands. Impeccable service, elegance at every step and a combination of contemporary comfort and heritage style make it one of Asia's most famed properties.
Combining the Mandarin Oriental's famed hospitality and cuisine with a private VistaJet trip makes for what must rank as the ultimate in-flight dining experience. The partnership also includes a staycation package and a credit towards future jet hire.
That's handy because VistaJet own a fleet of more than 70 large-cabin, super-to-midsize long-range Global and Challenger jets, ready to take you to more than 180 countries in serious A-List style.
Behind the elegant silver and red liveries sits a world of luxury that us mere mortals can only dream of. Italian leather, the finest woods, queen-size beds and private staterooms are just some of the touches to make you feel at home, even before dining and entertaining has come into the equation.
The recent Mid-Autumn Festival offering, Once In The Blue Moon, let guests enjoy the ultimate in lunar festival dining with a bespoke Hong Kong flight experience.
That was thanks to a curated in-flight menu by Executive Chinese Chef Wing-Keung Wong of the hotel's one Michelin-starred Man Wah. His signature dishes, including wagyu puffs with black pepper sauce, braised fresh crab claw with glass vermicelli and double-boiled matsutake mushroom with fish maw and chicken broth, were doubtless stratospherically tasty at 40,000 feet.
Happily, a bespoke dining and flying experience is still available until Dec 29 for up to eight guests, featuring a menu of your choice from Man Wah served up in the clouds. It also includes a cooking class for two, a one-night stay for two in a City View Suite, breakfast, gifts and other goodies.
The Hong Kong flight experience involves you – along with your very lucky friends and family – getting whisked by limousine to the city's Chek Lap Kok airport and the Hong Kong Business Aviation Centre. No mingling with the masses at security, immigration or waiting to board. No mingling at all, in fact, other than those you're travelling with.
It's private treatment all the way from taking off, soaring up, cruising for two hours and returning – but crucially without having landed, meaning that quarantine isn't even a consideration when you return.
Within a two-hour round-trip radius from Hong Kong, you can guarantee a remarkable range of scenery, sights and experiences, be they tropical beaches, rugged coastlines, or maybe just the blissfully empty expanse of ocean.
Arguably the greatest luxury of these exclusive flight experiences is taking in the sights of Hong Kong and well beyond in utter exclusivity, in your own aviation bubble – all while well and truly fulfilling that urge to get up, up and away.
The Peninsula Hong Kong's Around the World three-night package costs HK$46,800 (S$8,200) in a Grand Deluxe Harbour View Suite and includes the Rolls-Royce transfers, helicopter tour, spa treatment and choice of dining experiences and journeys. Book at www.peninsula.com or call The Peninsula Global Customer Service +852 2926 2888 to create your bespoke staycation journey.
A bespoke Mandarin Oriental, Hong Kong dining and Vistajet flight package starts from approximately US$31,500, (S$42,700) depending on choice of jet, flight duration, menu and more. Book via contacting vistajet.com/privateoffice or mohkg-restaurants [at] mohg.com (mohkg–)