Hong Kong's best private kitchens, frequented by tycoons and pop stars
Many private kitchens are now go-to destinations for the city's rich and famous, with the pandemic only adding to these venues' draw by ensuring more intimate spaces and smaller crowds. Here are four of the best.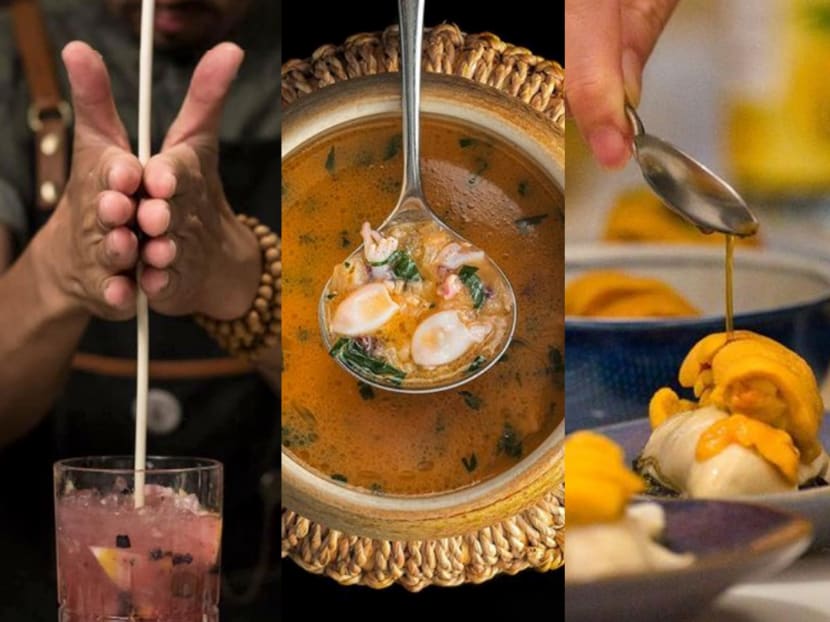 Hong Kong has long branded itself to tourists as Asia's "food paradise" – even though dishes at its best restaurants can carry an abusively high price tag, and never mind queues that can stretch out the door and down the sidewalk for the better part of a block.

For those willing to pay and sometimes wait, the dense grid of this urban financial centre offers countless options ranging from dim sum to omakase sushi, all within walking distance. Better still, the city's frenetic container ports and (before the pandemic) relentlessly busy airport ensure that chefs have ready access to fresh ingredients from around the globe.

"Any import food store in Hong Kong can offer you a selection of almost a hundred kinds of eggs from various countries," one chef friend recently told me, which means he and other chefs can experiment with a wide variety of ingredients in pursuit of the perfect dish.

However, the sky-high rents have forced many restaurants in the city to charge diners equally stratospheric prices or buy lower-cost ingredients, sacrificing quality. Some have decided to move into cramped crannies near the tops of the city's towers, or into industrial buildings to cut down on rent so they can focus on unleashing their full culinary potential and promote the use of local ingredients. Many of these venues have become private kitchens for food enthusiasts and are now go-to destinations for the city's rich and famous.
The pandemic has only added to these venues' draw by raising fears about dining out in crowded hotspots, ensuring the usually smaller and more intimate venues are fully occupied every night – so be sure to plan ahead and make reservations well in advance.
HO LA HO SIK
Good for: People who enjoy fusion food
Not so good for: A sudden dinner date
FYI: Chef Christopher has a day job, so you'll need to book him at least a couple of months ahead

A charming young man with a bright smile and a talent for whipping up fa cai hao shi (a dish made of oyster, uni and fat choy), Christopher Ho was always being asked to wash dishes at dinner parties because people thought he couldn't otherwise help out in the kitchen.

But Ho learned to cook, first by watching online tutorials from star chefs such as Jamie Oliver and Gordon Ramsay. Now he runs his own private kitchen, as well as a few pop-up dining experiences. After only a few years, his skills have advanced by leaps and bounds, thanks to having tasted innovative dishes prepared by top chefs that have sharpened his taste buds.
Ho's recent menu featuring yun nan mo gu (a mushroom and ham consomme) and cong you bing (a new form of Shanghai scallion pancake paired with Korean-style beef tartare) is the perfect combination of Chinese and French elements, with a hint of Japanese flavour. He has recreated a number of traditional Chinese dishes using new cooking techniques, local produce and imported ingredients, including Japanese uni and caviar.

My favourite dish is his version of luo bo gao, a turnip cake my family often has during the Lunar New Year – only the usual ingredients are given a new twist in his preparation to bring out the sweetness of the root vegetable that is normally far more muted in the traditional dish.

Ho says he had been spurred to craft his eclectic, China-trotting menu by the pandemic, which has kept most people stranded in the same city for well over a year. "I've had the opportunity to host everywhere," he said, "From homes to private kitchens to even hotels and private yachts."

To book a dinner, try contacting him on Instagram. But do get your request in early: Balancing a day job and private dining in the evenings means lately he's needed to be scheduled several months in advance.
TEST KITCHEN
Good for: Innovative dishes
Not so good for: Do not expect fine-dining service
FYI: Follow their Facebook and Instagram for the latest pop-ups

I almost thought that I was at the wrong place the first time I arrived at Test Kitchen, a venue that hosts different chefs for bimonthly pop-up dinners. Its industrial metal doors look the same as any other warehouse – but a small shop sign told me I had come to the right place. When I knocked, the doors slowly slid open to allow the waiting staff to usher me in.

My attention was immediately grabbed by the open kitchen, where two artists-turned-chefs lavished intense care on a host of colourful dishes.

The chefs, Cam Wong and Jenga Lee, had created a menu in concert with a local gin brand, with Wong using gin botanicals in her dishes – including many Chinese flavours such as aged tangerine peel and long-jing green tea.
The apple-wood cold-smoked Iwate oysters were brought out covered by an aluminium tray that was quickly removed, allowing a fruity smoke to waft around us that gave everyone sharp elbows as we jostled for a bite. The accompanying side dish of apple shiso sorbet made a perfectly refreshing pairing for the creamy oysters.

The venue is also great for people like me who enjoy sophisticated dishes but often feel suffocated by the suppressed atmosphere of fine dining. Thankfully, dinner at the Test Kitchen is more like having a meal at your friend's place – no one will complain if you laugh a little too loudly.

The odds of anyone enjoying a meal exactly like mine at Test Kitchen are slim, because the menus are typically one-off offerings, with a different chef and menu each time. Check out its website and social media pages for a peek at what's coming up next.

Shop 3, Kwan Yick Building Phase 3, 158A Connaught Road West, Sai Ying Pun, Hong Kong
NO 9 SBI CANTEEN
Good for: Group dinners with friends
Not so good for: Candlelit dates
FYI: The portions are quite big

I'm not entirely sure I'll be able to go to the No 9 SBI Canteen again. The restaurant is one of the most sought-after Chinese private kitchens in town and even I don't quite know how to make a proper booking. I managed to talk my way in with a friend.

It is owned by Lawrence Yu, a prominent Hong Kong businessman, and if you have a connection to someone in the know, you'll be able to make a reservation. It is booked entirely by word of mouth.
Chef Tak Chow, who runs the canteen's kitchen, served as the apprentice of Li "Broken Teeth" Cheng, one of whose ancestors was the household chef for the prominent Qing dynasty official Gong Taai Si. Cheng was renowned for his role as one of the most important figures in the development of Cantonese cuisine as we know it today.

Being Cantonese myself, I must say that chef Tak's dishes, such as fried pork stomach, steamed rice in lotus leaf and stuffed crab shell, were the most delicate I'd ever tasted – apart, of course, from the ones my grandmother cooked.
Cantonese cuisine is a truly demanding endeavour that can go wrong very badly, very quickly. It requires sophisticated techniques cultivated over years of training and the preparation of a single dish can take weeks.
If you manage to score a reservation here, my recommendation is the translucent winter-melon soup, served in a hollowed-out winter melon. It will bowl you over with a surfeit of flavours thanks to the exquisite crabmeat, dried seafood and (my own favourite addition) a night-blooming flower – giving it a special scent.

No 9 SBI Canteen is one of the top dining spots for many of Hong Kong's tycoons and pop stars. I am sure at least a few readers will be able to snag a table – but only if they do so well in advance.

4/F & 5/F, 7-11 Mercer Street, Sheung Wan, Hong Kong
ANDO
Good for: A high-end fine-dining experience
Not so good for: Vegetarians and people with seafood or dairy allergies
FYI: Online booking is available

The evening dining ban during the pandemic forced Ando out of its own premises and into private dining – sort of like a band of exiled cooks who soon found themselves turning diners' homes into makeshift restaurants.

"It is not the same because at the restaurant, every centimetre is customised [in service of] the dishes," said Agustin Balbi, Ando's Argentine-born, Japanese-trained chef. "When we go to someone's house, we need to adapt."

He is, of course, being modest – Balbi is exceptionally adaptive. But where others bemoan Hong Kong's shortcomings – the cramped quarters, the high rents – he sees it as a special place for chefs.
"In Hong Kong, eating out is almost like the national sport," said Balbi, who has prepared meals at loyal customers' homes on Hong Kong's most exclusive estates. He points out that the city is full to bursting with affluent bankers and other professionals who eat out – or now, in – almost every day.

Most importantly, they are willing to fork over more than most just to tuck into a great meal. So Balbi's team took everything from high-quality tableware to the restaurant's playlist of ambient music into people's homes to recreate the full Ando experience.

Balbi elegantly fuses Spanish and Japanese elements into an inviting, almost comforting blend in dishes such as Que Raro Este Flan (a chawanmushi, or Japanese savoury egg custard) and Viene Antonia (a Japanese flan with sea-salt ice cream). His signature dish – a caldoso rice named Sin Lola ("Without Lola") in remembrance of his late grandmother – warmed me to my heart.

Now that many restaurants in Hong Kong have reopened, you can either try Agustin's caldoso rice at his bustling restaurant or, on the days that it is closed, book him for one of your private parties – provided he can squeeze you in. In Hong Kong, long lines are starting to reappear outside top restaurants such as Ando. It's just part of the price you pay here for amazing food.
1/F, Somptueux Central, 52 Wellington Street, Central, Hong Kong
By Nicolle Liu © 2021 The Financial Times
Source: Financial Times/ds