Hong Kong's finest: 5 unmissable Cantonese culinary restaurants
A number of Asia's top chefs gathered in Hong Kong for a Cantonese culinary immersion and tasting tour.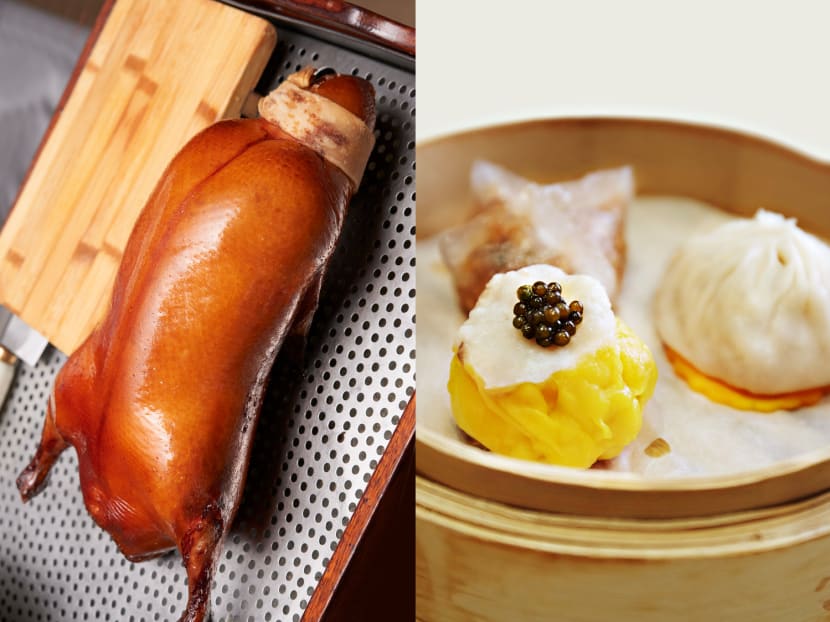 After living in Hong Kong for almost two decades, I felt I had a pretty decent handle on the wide and wonderful world of Cantonese cuisine.
A recent return to my former home, however, reminded not only of the SAR's culinary magnetism but also that the world of Cantonese food continues to head in thrilling new directions, all while channelling a respect for tradition.
That was certainly the view of some of Asia's top chefs who accompanied me, including Asia's top two chefs according to Asia's 50 Best Restaurants, chef Thitid 'Ton' Tassanakajohn of Le Du in Bangkok and chef Daniel Calvert of Sezanne in Tokyo.
Together we set out on a Cantonese culinary immersion where iconic restaurants, beloved local food producers and some of the world's finest Chinese dining experiences assaulted our senses in the best possible ways.
CHAR SIU AT THE CHAIRMAN
No restaurant is as emblematic of the finest contemporary Cantonese cuisine as The Chairman. Although the former winner of Asia's 50 Best Restaurants recently moved into a larger space, getting through the door is harder than ever.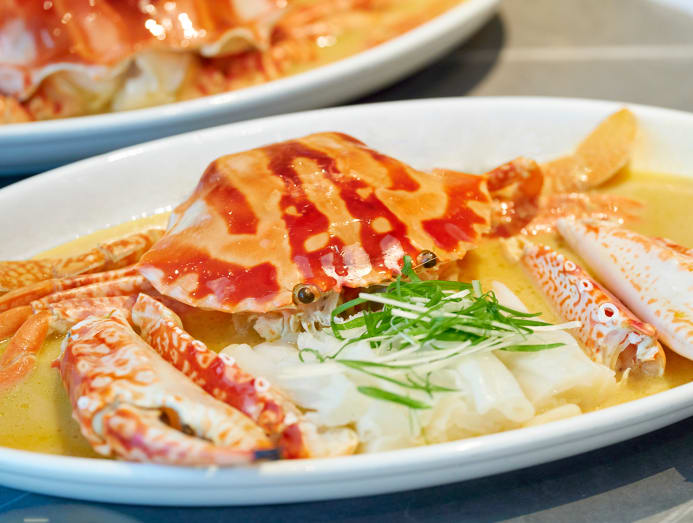 Rumours abound of reservations ‒ not even including any food or drinks ‒ being sold in China for HK$10,000 (S$1,732) per table, while tables are fully booked up to six months ahead.
If you are lucky enough to get in, then what awaits is a frankly brilliant take on classics, all underpinned with the finest ingredients and a single-minded devotion to deliciousness. Their signature dish of a huge flower crab is steamed with aged Shaoxing wine and fragrant chicken oil for a greater umami hit, all atop flat rice noodles.
Black foot goose is smoked over camphor wood, while incredible gelatinous fish jaws are steamed with 20-year aged lemon and fried garlic to dazzling effect. Their other iconic dish and an absolute must-order is their Thick-cut Chairman Style Char Siu. The beloved Cantonese pork classic is taken to new levels and even diehard lifelong fans of the dish admit that somehow, theirs is at another level.
Among them, another chef who joined the Cantonese culinary immersion, Dan Hong who has worked in some of Australia's most renowned spots including Tetsuya's and Bentley before opening hugely popular restaurants including the Cantonese powerhouse Mr Wong in Sydney. Hong's restaurants have served a huge amount of char siu so he is better placed than most to comment on what makes theirs so special.
"The Chairman's char siu was the perfect balance of sweetness, flavour and texture. It's cut at the right thickness so you can appreciate the slight bounce of fat and lean. The marinade wasn't too sweet at all which accentuated the natural sweetness of the local pork."
The blissful silence descending in the dining room as it was devoured was testimony to how it is so special.
SEA CUCUMBER ON DRIED SEAFOOD STREET
Chef Vicky Cheng of Wing and VEA is one of Hong Kong's most progressive and creative figures in Cantonese fine dining, having been awarded public and critical acclaim including Michelin stars and Asia's 50 Best rankings for his dishes that wow as he combines French technique and Chinese tradition.
Cheng led a tour of Dried Seafood Street in Hong Kong's Sheung Wan district. Even though the pungent produce doesn't offer the most aromatic experience, it provides a brilliant insight into key ingredients for Cantonese cuisine. The trade in dried seafood and hundreds of other ingredients dates back more than a century across a warren of streets where produce would originally have been air-dried on rooftops, although it's a far less common sight today.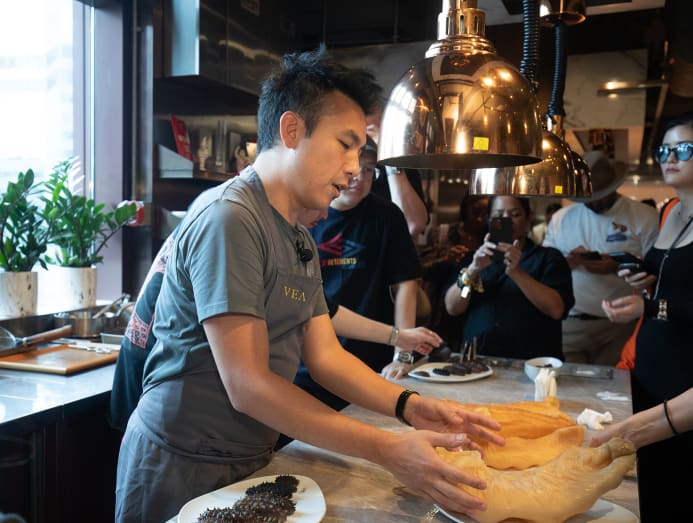 There are dried mussels, oysters, shrimp and scallops, while dried cuttlefish had been flattened and placed on bamboo racks before being used in soups. Fish maw, the swim bladder which helps fish to float, can command almost unbelievable prices, namely upwards of S$9,000 each. Flavourless, it is soaked in water but thereafter becomes a beloved texture and a collagen source like few others.
The one thing that Cheng cherishes most, however, is dried sea cucumber from Australia, an ingredient he turns into a signature dish that changes constantly, stuffing it with crab, lobster, squid, mushrooms or local tiger prawn:
"They are zero calories and full of nutrients and collagen, I buy 200 at a time and it's insane preparation to turn them into our dish. It's always been the case in Chinese cuisine that sea cucumber is braised in brown sauce, but when we opened Wing I had to tackle dried seafood differently. We learnt to cook it the traditional way and then changed it with our own DNA."
That means for diners at Wing that the top of the sea cucumber is crispy, not slimy. They cook it in stock from between one and six hours depending on the size, then spoon boiling oil over it. Sauces to accompany it also vary but may feature prawn heads and 20-year-old Shaoxing wine from a fifth-generation shop just adjacent to Dried Seafood Street.
PEKING DUCK WORKSHOP AT XIN RONG JI
In any city, there will be a handful of restaurants that professional chefs will list as must-visits, whether you're a local or from out of town. One name repeated time and again in Hong Kong, by chefs in both Asian and western cuisine, is Xin Rong Ji.
Holding a Michelin star and based in Wan Chai, the import from Beijing, China ‒ where they also hold a star ‒ celebrates Taizhou cuisine from Zhejiang. While signatures include yellow croaker from the East China Sea and rarely-seen lamb offal, the vast majority of diners order one dish: Peking duck.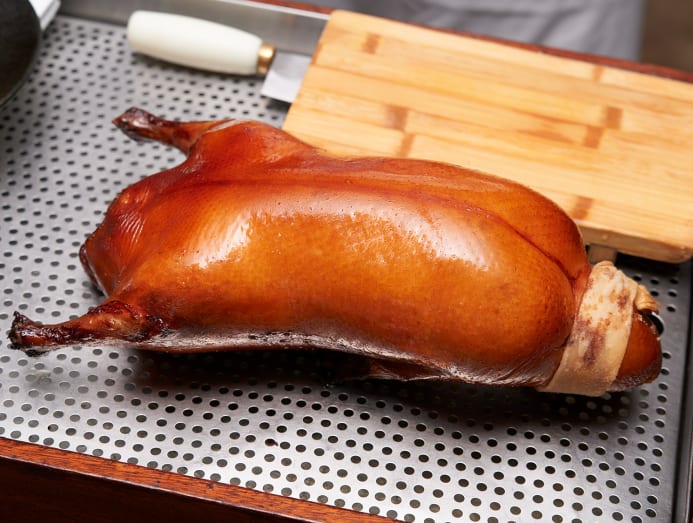 As part of the Hong Kong culinary immersion, Xin Rong Ji's Peking duck sifu generously revealed to the chefs some of the approach behind their famed dish which has to be pre-ordered.
Their ducks are sourced from the Beijing Golden Star Duck company and are fed mainly on corn grits, soy grain and peanut residue, with the breeding period lasting 40 days ‒ the last 10 of which are for fattening.
Firstly, the skin has to be at least 8mm thick, for the mouthfeel and the crispiness, while the ducks must weigh between 2kg and 3kg. Then air is pumped between the skin and the meat, traditionally by blowing by mouth, but today thankfully hand pumps are used. Finally, a special incision is made under the wing to allow them to remove all the innards, before sewing it up.
They are basted in hot water from bottom to top, then glazed in a mix of maltose sugar and water. Chef explains that some places use vinegar to make the skin more crispy, airy and smooth.
When it comes to cooking, Peking style duck traditionally uses Chinese date wood, while Cantonese style uses lychee wood. In Hong Kong, however, wood can't be burned in restaurants so they cook on gas, roasting a maximum of six ducks at once.
And what if the duck sifu happens to be on vacation?There's no duck on the menu.
FERMENTATION MASTERCLASS AND MORA'S SOY-BASED MENU
From sublimely crispy duck to a deep-dive into the vast history of fermentation in Chinese cuisine.
There's evidence of production of a fermented beverage of rice, fruits and honey in Henan province, Northern China, dating back to an astonishing 7,000 BC. While the origins of fish sauce are passionately debated, it's indisputable that sauces made from soybeans, salt and fish were crafted in the Yangtze River basin during the Zhou Dynasty some 3,000 years ago.
A session brought together two Hong Kong culinary stars in the form of chef Vicky Lau from two Michelin-starred Tate Dining Room and Mora alongside chef Liu Zhen from Yong Fu, a one-starred specialist in Ningbo cuisine where they ferment tofu, winter melon and much more besides.
The masterclass delved into four key types of fermentation, namely lactic, acetic, alkali and alcoholic. Lau talked primarily about soy, given that Mora celebrates it in all its forms, while she has also overseen the launch of a production centre in Hong Kong of multiple soy-based ingredients such as yuba, tofu and soy milk.
Daniel Calvert is a huge fan of Lau's work. "It's amazing to see Vicky Lau and other chefs continuing to raise the profile and standard of Cantonese cuisine. Vicky's soy factory is remarkable, what an investment into the city. I hope that she can continue to provide high-quality ingredients to others within Hong Kong and that everybody can enjoy her incredible work."
With dishes on the menu at Mora including soya steamed egg with caviar and seaweed glaze, or an incredible warm scallop with soy whey fermented tofu sauce, it's clear that fermentation is just as effective in Cantonese fine dining as it is in humble street food. 
ABALONE AND DIM SUM AT THE FORUM
Finally, to a true Cantonese fine dining institution which celebrates abalone like nowhere else. The popularity of The Forum in Causeway Bay reflects the fact that Hong Kong remains the world's largest importer of the pricy marine gastropod.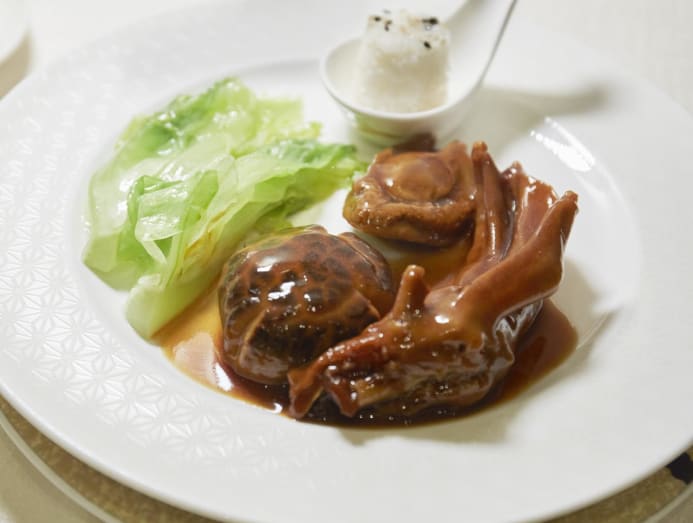 The three Michelin-starred spot was founded by the King of Abalone Yeung Koon-yat, who sadly passed away in late July at the age of 90.
It was therefore an interesting reflection of the diverse nature of the culinary team at The Forum that chef Adam Wong led a session on secrets behind crafting dim sum.
From steamed pork dumplings with crab roe to steamed premium shrimp dumplings and crystal custard buns, the session highlighted the remarkable technique, finesse and patience requires to craft Michelin-starred dim sum. But a bonus lesson on cooking abalone thrilled the international teams of chefs present, as they explained how South African dried abalone is soaked in water until it softens, then simmered in a clay pot with deep fried pork ribs and chicken.
Thirty hours later, the perfectly cooked abalone is tested for softness using a toothpick, then served in a special sauce featuring dark soy sauce, liquid from roast pork and potato starch. One taste underlines why it remains legendary amongst connoisseurs ‒ and another reflection of Hong Kong's remarkable Cantonese fine dining landscape.