Take flight with the new cocktail bar inspired by the golden age of air travel
Idlewild stirs up cocktails to take you on a jazzy trip around the world – and serves the Cuban ambassador's Cubano sandwiches.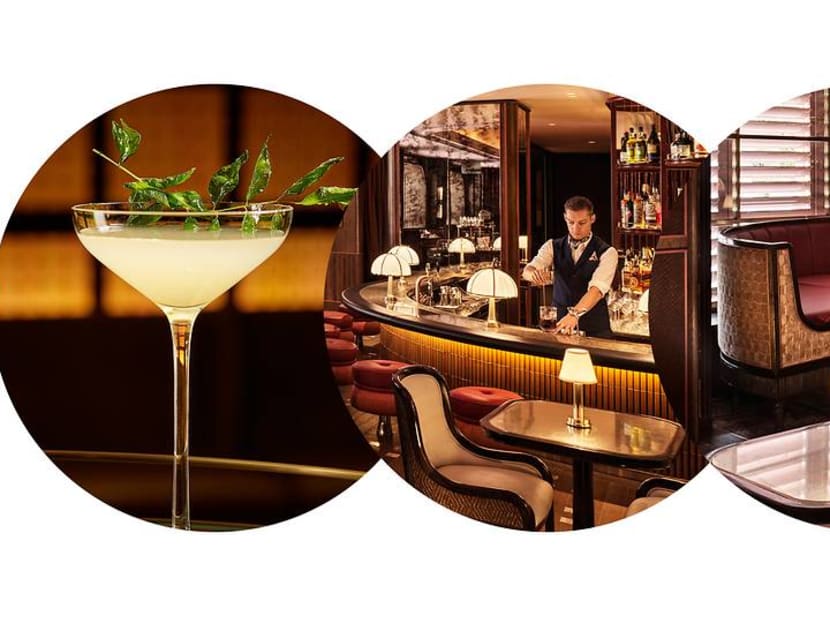 In a dynamic and competitive cocktail scene such as Singapore's, new bars are pulling out all the stops to develop solid concepts and offerings to capture a fickle and impressionable crowd.
Enter InterContinental Singapore's newest concept bar Idlewild, which takes flight in more ways than one.
Named after John F Kennedy International Airport's original moniker, the swanky Idlewild takes guests back to the glamorous golden age of air travel, when travellers flew first class and had an insatiable wanderlust.
In the Parlour – the first section of Idlewild – whet your appetite by perusing the treasures on display in the Cabinet Of Curiosities. Alongside vintage trinkets and drink paraphernalia curated from travels across the globe are 50 rare and exotic spirits like a double-head bottle of Benedictine D.O.M. that is almost half a century old.
Dim lighting, plush furnishing, and large booth seats inform the old-world stylings of the Main Room, where a back section of thick velvet curtains hide a discreet VIP entrance. To enhance the decadent mood of the bar, a live band plays postmodern jazz tunes from Wednesday to Saturday.
Andy Griffiths heads the cocktail programme and the bar stocked with over 250 craft spirits and liqueurs. The New Zealand-born, culinary-trained bartender boasts over 20 years of experience behind some of the best bars in Australia, including Eau de Vie and Boilermaker House.
At Idlewild, Griffiths has created a suitcase of cocktails inspired by global drinking cultures. Fashioned like a passport, the menu lists 20 signature cocktails inspired by 10 cities along the popular Transatlantic Route: Dublin, Rome, Lima, Lisbon, New York, Casablanca, London, Paris, Mexico City and Havana. Each location is also represented with a tapas-style bar snack, including scallop ceviche for Lisbon, Waldorf salad for New York, and Cubano sandwiches for Havana – the recipe of which is courtesy of the Cuban ambassador.
Griffiths' well thought-out drinks have a transportive effect. Go back in time to bohemian Paris with The French Cook, an intoxicating tipple of Citadelle Gin, bouquet garni cordial, fresh lemon, sparkling Chardonnay, Chartreuse Genepi (carbonated for a playful fizz), and a dash of absinthe, all garnished with a wormwood jelly atop an absinthe spoon.
The Last Crusade sweeps one to the sun-drenched city of Lisbon, with a heavy juniper-forward Never Never Triple Juniper Gin exotically pimped up with a Portuguese spice-in-fused lime cordial and black pepper tincture, and topped with a sprig of salted fried curry leaves.
Cross the Atlantic to Mexico City, where Idlewild's sustainability measures are demonstrated through the concoction of Sugarloaf, a heady blend of Plantation pineapple rum and 1840 cognac, shaken with house-fermented pineapple skin tepache, tamarind, lime and sugar, and served with a mini pineapple leather taco topped with pickled watermelon rind.
The pineapple skin tepache, pineapple leather taco, and watermelon rinds are all made using leftover fruit parts from the hotel's breakfast.
Griffiths' mastery of layering flavours is most evident in the cocktail Passage to Havana. He creates a house blend rum using brown spirits from Cuba, Panama and Jamaica, then adds Amontillado and Pedro Ximenez sherries and Foro Amaro for a herbal hint, tobacco tincture for a tickle of heat, and coffee Angostura bitters to balance the strong flavours.
The strong drink is served with a dark chocolate "cigar", which we recommend dunking into the last third of your drink for the chocolate slowly melts, giving a tinge of mocha richness to the tipple.