Looking for an unconventional travel experience? Put these new off the beaten path hotels in Asia on your radar in 2023
Black lava sand beaches, snow-capped mountains, tree root-enveloped train carriages—get a room with a different view on the world at these new openings in Thailand, Nepal and Indonesia.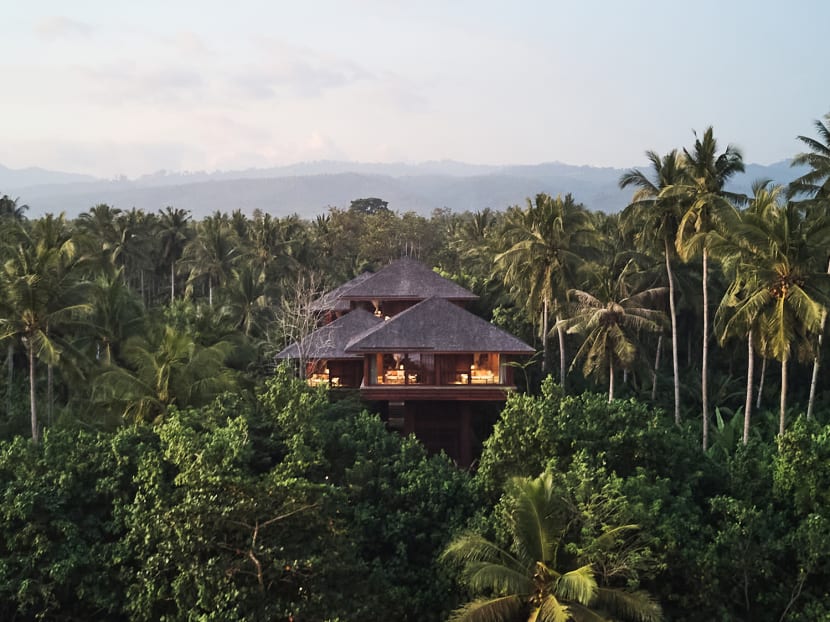 Located a two-and-a-half hour drive from Bali's Ngurah Rai International Airport — a lifetime for those who want to hit the road running — Lost Lindenberg wouldn't be the first choice for the typical tourist.
Not unless you relish meatless meals, daily surfs and convos with strangers over a bonfire and the dining table. This eight-key treehouse-style boutique is the latest addition of the Frankfurt-based Lindenberg Collective and a member of the Small Luxury Hotels of the World collection. A stay in this leafy paradise, located in the quiet town of Pekutatan along the west coast of Bali, is characterised by misty walks on soft black lava sand, surf lessons and hyperlocal excursions such as a jungle hike to a hidden river and rapids, whose guide lives just down the road.
Being lost takes a new meaning here. There's the unexpected (step through a colourful neon entrance into a lush garden); the embrace of foliage (the variety of plants range from low flowering bromeliads to soaring coconut trees) and the sense of place (bespoke furniture and antiques made by local artisans decorate the common spaces and interiors with modern plug and USB sockets discreetly blending in). Jackie the puppy wandered in during construction and is now the hotel's most enthusiastic porter, trotting along as the staff carry my bags up two flights of spiral stairs. If someone had told me that I could go without meat for a few days in the land of crackling babi guling (suckling pig), I'd have laughed in skepticism. Lost's organic, plant-based meals proved me wrong. Well-balanced cocktails are made with local rum and gin and house-made syrups. The culinary team has over 100 vegan recipes: Think tasty breakfasts of banana bread, fried noodles and broken rice porridge sprinkled with Balinese vanilla and palm sugar; dadar gulung (grated coconut pancake) and chocolate-filled pandan mochi for high tea; and sharing plates of grilled mushrooms with pickled onions, aromatic nasi suna cekuh (garlic and ginger fried rice) and zucchini blossoms tempura at dinner, which is taken over a long communal table with other guests. The latter sounds intimidating, but the food is great fodder for conversations, and we made new friends around the table.
In the bustle of life, having nature as the OST is truly soothing. The perpetual roar of the waves reminds that the sea is always close by. A cicada symphony starts promptly at 6.30pm every day. Even the tropical storms that beat thick loud rain drops against the room's panoramic windows and wooden bathroom blinds lulls me into an afternoon nap on the sofa. In the space between reality and dreams, Lost Lindenberg is the Eden to find solace.
Inspired to take an unconventional break? Here are a few other off-the-beaten path hotels to check out in 2023.
This stylish hideaway, located in the unexplored Kodi region of West Sumba, Indonesia, is a 50-minute flight from Bali. Slated for a February 2023 opening, the property's 47 suites and 20 beachfront villas are a labour of love for first-time hoteliers Fabrice and Evguenia Ivara, who pay respect to local Marapu culture while imbuing the place with a French flair. Family-style cuisine and international collaborations mark the resort's two restaurants, which are anchored in local produce including Cap Karoso's own backyard farm, and a zero-waste philosophy. Indonesian design touches echo throughout, from hand-carved wooden headboards in the guestrooms to ikat wall hangings and art pieces in the public spaces. At least 50 per cent of the resort's energy is drawn from an on-site solar panel while thoughtful landscaping minimises the need for air-conditioning. Expect blissful days swimming, snorkelling and fishing, coloured by creative moments from artists and DJs in residence.
INTERCONTINENTAL KHAO YAI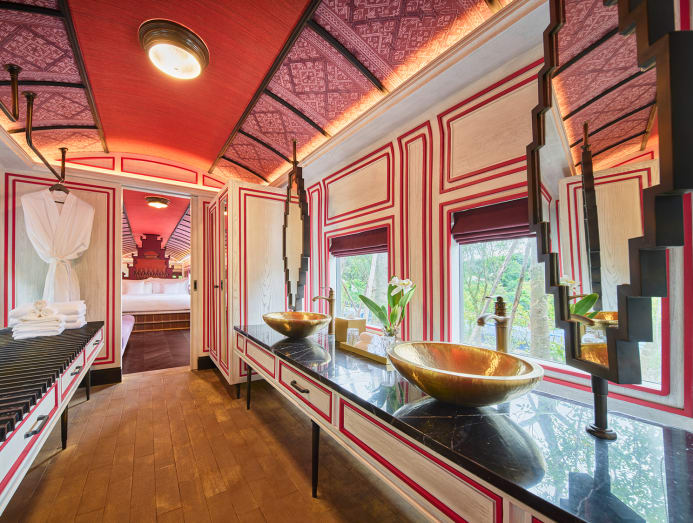 Take a dose of history, add a bit of American architect Bill Bensley's crazy, and you get a hotel that dazzles in design and positive community impact. In this case, it's 45 guest rooms in the main building and 19 suites and villas — each with a balcony, terrace or private plunge pool — in upcycled train carriages that were sourced from across the country, tree roots included. But it is not just a superficial tribute of railway memorabilia and bespoke Jim Thompson Thai silks in the interiors. The resort presents farm-to-table and refined French dining, uses organic products and endemic ingredients such as plai root in the spa, and invites guests to explore the surrounding Pak Chong district and UNESCO-listed Khao Yai National Park. With 19 hectares and five lakes, there is much nature to explore. Intercontinental Khao Yai is a two-and-a-half hour drive northeast from Bangkok.
SHINTA MANI MUSTANG – A BENSLEY COLLECTION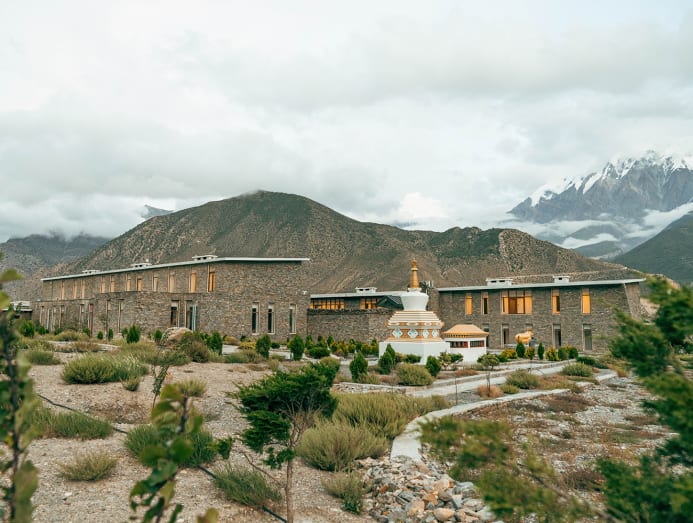 Opening in March 2023, this latest addition in the Himalayas is part of renowned architect Bill Bensley's Shinta Mani Hotels collection. Its location in Jomsom, Nepal, surrounded by monasteries and majestic snow-capped mountains, makes it a trekking haven at 8,900 feet above sea level that gives a rich insight into the region's Buddhist culture. With a minimum five-night stay that includes all food and beverages, private guided activities and excursions, transfers between Kathmandu and Jomsom and unlimited spa treatments, you can truly soak up the destination's magic. Each of the 29 open-plan suites is designed in the style of a traditional Tibetan home with floor-to-ceiling views of Mount Nilgiri. Expect modern Nepalese cuisine and cocktails based on the traditional Tibetan ara liquor, and a Tibetan wellness centre boasting stunning mountain views. The lodge will also work with the Pasang Lhamu Foundation in the areas of education, vocational training and health.