How a Danish winery gave new life to a sour cherry by turning it into a wine
With zeal and gumption, Frederiksdal winery is showing the world how to make delicious wines out of the Danish Stevnsbaer cherry.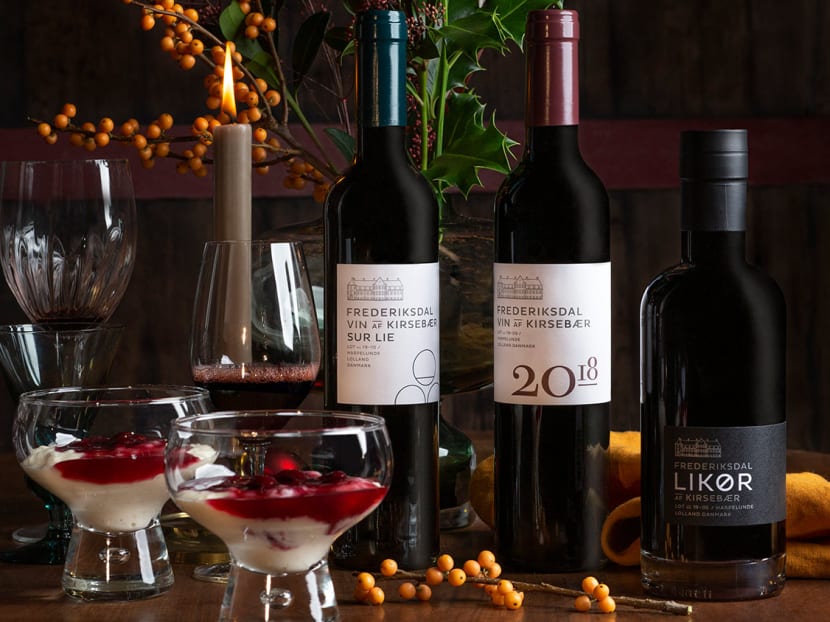 Unlike sweet cherries, sour cherries, such as Morello and Montmorency, aren't usually eaten raw —their mouth-puckering high acidity can be off-putting to some. It's the reason why they are turned into jams and sauces, baked with pies, and dropped into cocktails.
Wine can also be made from sour cherries, as demonstrated by Frederiksdal, a winery in western Lolland, Denmark. The sour cherry in question is the Danish Stevnsbaer, a small and dark-skinned cherry that is known in the country as the Grape of the North.
The Stevnsbaer has high acidity and concentrated flavours — traits that winemakers desire in grapes — making it ideal for turning into what Frederiksdal calls a cherry wine, a label that may not be technically correct if one were to nitpick, since wine is defined as a beverage made from grapes.
Semantics aside, the team at Frederiksdal have good reason to describe their product as a vinous sip. Its production methods mirror those of winemaking: The harvested cherries are fermented in steel tanks before they undergo maturation in barrels. There are also trademarks of natural winemaking: Fermentation is done with natural or ambient yeast, and no additives or fining agents are used.
"The normal sweet cherries that we buy from the supermarkets do not work for cherry wine," said Jonas Tofterup, 37, Frederiksdal's Danish winemaker who is also a Master of Wine, a title given only to those who have passed a rigorous wine programme. "They lack the acidity and concentration of flavours. We experimented with those just to see where we would end up but the wine was bland and flabby; it oxidised easily and needed to be consumed quickly before its flavours faded." Frederiksdal produces several iterations of a cherry wine, such as a classic vintage; a Sur Lie, a wine that has been left to age on lees or dead yeast cells; and a Rancio, a wine that has been deliberately exposed to heat and cold outdoors to bring out a richer, caramelised profile.
CNA Luxury got a chance to taste them at Frederiksdal's booth at ProWein Singapore, a wine trade fair held at Singapore Expo in September. If we weren't informed beforehand, we wouldn't have thought that the viscous, inky liquid in our glass was made from cherries. For example, the Sur Lie wine is full-bodied and complex, reminiscent of an Amarone della Valpolicella, a rich, intense Italian red wine made from partially dried grapes.
"My approach [to the cherry wine] has been very much as a grape winemaker, making the best possible wine with the fruit, in the most natural way possible," said Tofterup.
MAKING A SERIOUS CHERRY WINE
Frederiksdal's cherry wine started out of a challenge to save the Danish Stevnsbaer.
In 2000, Harald Krabbe, a farmer, inherited a cherry farm from his father, becoming the third-generation owner of the estate — the Krabbe family has owned it since 1955. The 40 hectares of cherry orchards, planted by Harald's father before 1996, make up 10 per cent of the estate.
It wasn't the best of times to take over a cherry-farming business, though. "Historically, cherry tree-growing was a large business in Denmark and there were established cherry wine companies exporting the famed Danish cherry liqueur throughout the world," said Krabbe, 52, now Frederiksdal's founder and chief executive officer. "There was also cherry juice production on an industrial scale, which was the intention of my father when he planted those cherry trees. However, in 2006, there was a crash in the prices of cherries and the market never quite recovered from that fall."
In 2006, by chance, Krabbe met Morten Brink Iwerson, a journalist who loved the Danish sour cherry and had some ideas about how to preserve it. "He suggested we make cherry wine," said Krabbe. "He meant only to save the orchards while I saw a novel, almost rebellious opportunity to overcome the moment." They also roped in a chef, Jan Friis Mikkelsen, to help them.   
Krabbe converted what was once the estate's cow shed into a winery. The trio knew they had to show they were serious about making a quality cherry wine and not come across as hobbyists. After all, cheap homemade liqueur and wine made from cherries — a simple pouring of alcohol over freshly picked cherries — was popular among the Danes during the festive season. 
Things did not get off on the right foot. Krabbe said the first batches of wine they made were "undrinkable". "We had no idea what we were doing; we added sulphites, which is normal today in the winemaking world, [although] we don't do that now," he recalled. "We didn't know the optimal time to pick the cherries, so the misjudging of their acidity was catastrophic to the flavour.
"Nonetheless, it was a suitable baptism of fire, and we began to understand that we were dealing with a very powerful product." For winemaking inspiration, the team looked to southern French wines, then settled on French dessert wines as well as the Portuguese fortified wines of Port and Madeira (the latter style eventually translated into Frederiksdal's Rancio wine). Krabbe said they also managed to nail the right time to pick their cherries.
According to Tofterup, who joined the company in 2017, selecting the cherry harvest date is akin to how a winemaker would do so with his grapes: The cherry's Brix (sugar level) is measured, and the fruit is tasted. Staff also chew the stem to see how easily the cherry would break loose from it and observe whether the fruit seals itself immediately after being removed from the stem. The latter would indicate that there is no more nutrient flow from the tree to the cherry, meaning the fruit is completely ripe. Harvest occurs during the second half of August. The trees are shaken by a machine and the cherries fall onto a conveyor belt, where they are carefully sorted to remove dirt and other debris.
Today, Krabbe reckons no other cherry wine maker in the country has the kind of cherry orchard acreage like they do. "Other producers rely on cherries grown elsewhere and not grown specifically for the purpose of producing cherry wine," he said. "We are one of the largest and last Danish Stevnsbaer growers in the world."        
Frederiksdal's wines and organic juices can also be found in some of Copenhagen's top restaurants, such as Noma, Alchemist, and Hotel D'Angleterre's Marchal.
TWEAKING AND REFINING
Both Iwerson and Mikkelsen have since left to pursue their own interests but still visit the winery from time to time. Tofterup brought along with him winemaking experience he had picked up at Bodegas Trenza, a winery in Spain that he co-owns with his brother, David. (The brothers migrated to Spain when they were young. Today, Tofterup splits his time between Spain and Denmark.) He introduced the Rancio to a solera system, which he feels has increased the wine's complexity and consistency. He also created an award-winning sparkling wine, which is made from Stevnsbaer cherries and the local Lolland pears.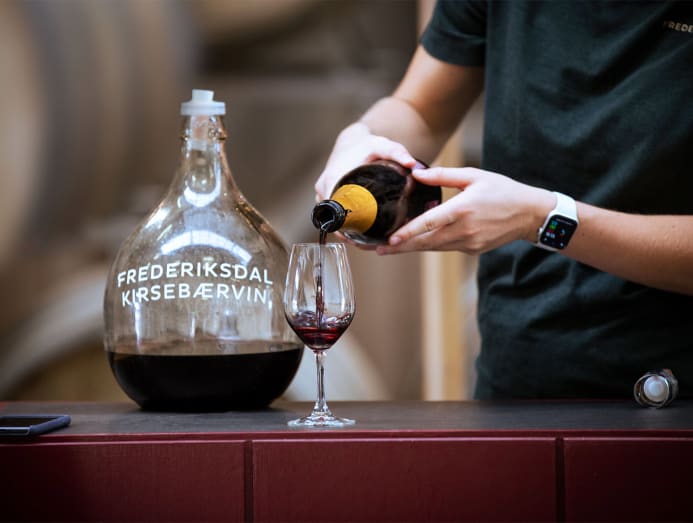 For the winery's Frederiksdal Likor, a cherry liqueur, he introduced a brandy from Spain to fortify the cherry must — the cherries are macerated with the spirit for an extended period. The resulting taste, he said, has an intense cherry sweetness.
The Frederiksdal Likor also found its way into a Singapore Sling cocktail at Dusk Restaurant & Bar on Mount Faber: Tofterup hosted a dinner there when he was in town for ProWein Singapore. He said the reception to the cocktail was "wholly encouraging". "Anything is possible with this incredibly complex, concentrated and magical cherry," he added. Frederiksdal's wines are currently imported by local food and beverage distributor Heap Seng.
Krabbe noted that Singapore, China, the U.S., and Japan are significant markets. "We started our overseas exports at around the same time, and while market sizes are different, the net demands are pretty equal. We remain positive about the prospects of Frederiksdal's development in Southeast Asia via Singapore," he said.