Love is (still) in the air: How Hong Kong celebs and others are spending Valentine's Day
Despite travel being all but impossible, the +852 is doing what it can to let love bloom with staycations and helicopter tours, yacht escapes and dining. Here are a few of the options on the cards, while local stars and influencers reveal some of their own amorous exploits.
Back before you-know-what, romantic Hong Kong residents would think nothing of whisking away their paramour for a weekend escape in a luxurious, sun-kissed resort in Thailand, Bali or The Philippines.
Fast forward two-and-a-bit years, however, for a completely different St Valentine's Day. While for some the thought of two weeks holed up in a hotel room with your lover is the idea of bliss, when it's an enforced quarantine stay, then the romance factor understandably plummets.
That grim reality has faced all travellers returning to Hong Kong for more than a year now, meaning that exotic escapes are off the cards. Instead, it's all about making the most of the city with rose-filled staycation suites, private yacht charters and plenty of aphrodisiacs in decadent dining.
Here are some of the ways that love is still in the air in Hong Kong – even if dinners out past 6pm are still currently banned – as well as insights from local stars as to how they're spending the day dedicated to love.
Hong Kong-based Bernice Liu is a Canadian actress, singer, and model. Liu also owns WineMaven, an online community for wine enthusiasts.
"Due to COVID-19, this is the year for staycation-hopping! Since most of us have had to stay in town for the past two to three years, it's been kind of neat to explore Hong Kong in itself. This year for Valentine's, as there's a weekend just before it, I plan to enjoy and relax at the Mandarin Oriental as they always spoil you, regardless if you're with a partner or even your pets! And given that 'long lunch is the new dinner' these days, I'll take my time and enjoy the view from Italian restaurant Radical Chic up on the 101st floor of the ICC – with a great selection of wines to go with the set menu, of course."
"Call me Love" lunch at Tosca di Angelo, The Ritz-Carlton, Hong Kong
Love is definitely in the air when lunch is hundreds of feet above Hong Kong's Victoria Harbour. Sicilian culinary maestro Angelo Agliano has orchestrated an eight-course menu at Tosca di Angelo to pair with premium champagnes and seriously fine wines – that explains the cool HK$18,888 (S$3,260) price tag per couple. But you also get 49 red roses, a balloon and a Black Orchid candle to keep the flame of love burning – and heart racing.
A San Lorenzo SL78 Yacht charter
This sleek 80-ft Italian beauty may have three cabins and sleeps up to 12 guests, but this is the one time of the year when you definitely don't want any other company. A brand-new addition to the charter fleet (HK$138,000 (S$24,000) for eight hours), she is based down in Aberdeen on the south of Hong Kong Island, so all you need to do is pack a bag, let them know what culinary treats to serve up and choose the champagne to put on ice.
As you cruise the waters of the South China Sea, sailing into the sunset, raise a toast to the fact that you've secured one of the most private escapes in all of the +852.
Ellie Furuya is a Japanese travel, food and lifestyle influencer, born and raised in Hong Kong. She has also founded eco-luxe swimwear brand, Rii Swim.
"This year we're a bit tired of doing staycations and prefer to stay home with the dogs, so we're keeping celebrations food-oriented! It's also our four-year anniversary, so I've booked us an "early dinner" at Amber on the Sunday before Valentine's Day to celebrate. We're huge fans of their dairy-free menu, which always feels light and ends with amazing desserts. If we do fine dining, we don't want to feel stuffed – especially with the amount we're eating during lockdown! My fiance Jon is also obsessed with Chef Richard Ekkebus' signature caviar dish, which he orders without fail each time!"
Gordon & MacPhail's Glen Grant 72 Year Old whisky
Fifty thousand sterling pounds (S$91,000) for a bottle of whisky is one hell of a Valentine's tipple, but then again the chances are you won't be cracking open the 72-year-old masterpiece that comes in a hand-cut crystal decanter. The historic Scotch, named the World's Finest Single Cask, is understandably more for serious connoisseurs and investors than star-crossed lovers. But as far as bragging rights go – or declarations of intent for someone who has stolen your heart – bottles don't come much more baller.
"Love is in the Air" experience at The Rosewood, Hong Kong
Imagine the pressure of delighting your beloved every year on Feb 14 – only to remember that it's also the anniversary of your engagement. Mind you, that's a price worth paying if you've already popped the question in conjunction with The Rosewood, Hong Kong.
For seriously brave paramours, a once in a lifetime – hopefully! – proposal starts with a helicopter circling Hong Kong's Victoria Harbour for two hours, trailed by a 20m banner saying "Will you marry me?" – or indeed your own customised secret message of love. The chopper then takes you to an outlying island for dinner on the beach from a Rosewood chef and butler, before you return and spend the night in a Harbour corner suite. Let's just really hope that he/she says "yes", because the experience starts from a cool HK$680,000 (S$118,000).
Alfred Hui is a Hong Kong singer who has released more than ten albums since reaching the final of The Voice in 2010 where he won the Most Popular award.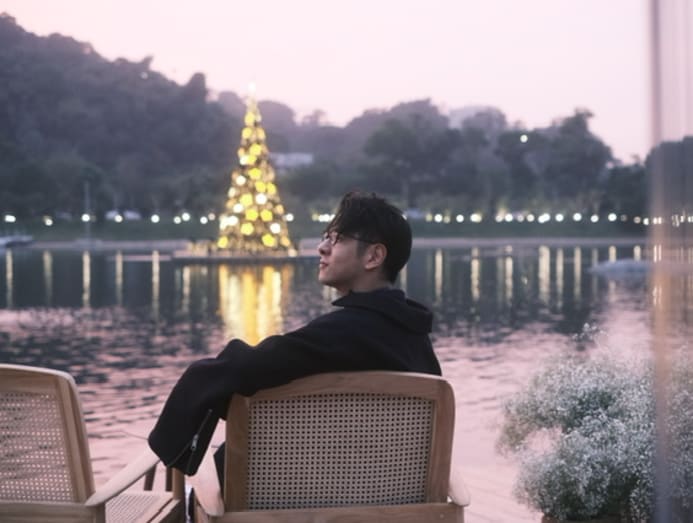 "I'm revisiting a place that I love on Valentine's Day. Ever since the pandemic started, I've been searching for remote places that are still enjoyable with the social distancing guidelines implemented. Fresh air, greenery, and good vibes are my personal essentials when it comes to having me-time.
This place called Lake House has been recently revamped with new decorations specially curated for festive seasons. Last Christmas I was there and I'm planning to revisit with my family on Valentine's Day – with hope of the pandemic situation under control, allowing us to have an enjoyable visit."
Fly and Dine Package at The Peninsula Hong Kong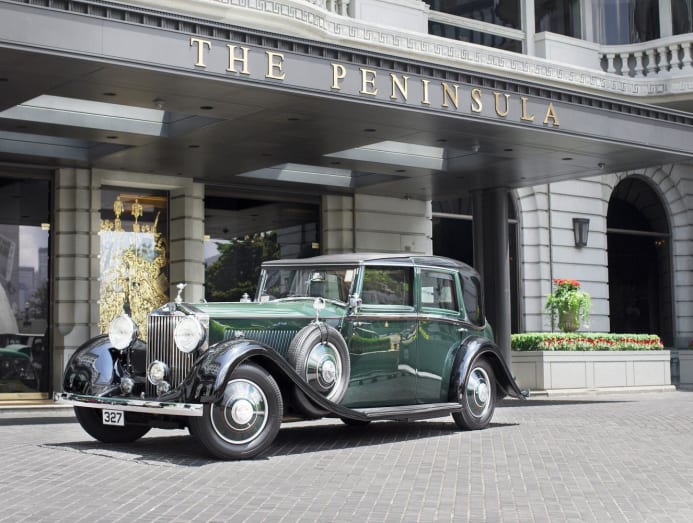 There's no better way to leave the city behind in the current climate than getting up, up and away in a helicopter, taking off and landing from the roof of The Peninsula Hong Kong, no less.
For S$17,774, (S$3,000) you'll get an unforgettable 18-minute tour of Hong Kong, before dining in your choice of the hotel's stellar restaurants. Alternatively, their Love Prevails staycation package features a night in a Harbour View Suite, a bottle of Champagne, dining credit but most of all a 20-minute ride in a vintage 1934 Rolls-Royce Phantom II Sedanca de Ville. Insert swoon emoji here!
A celebration staycation at the Mandarin Oriental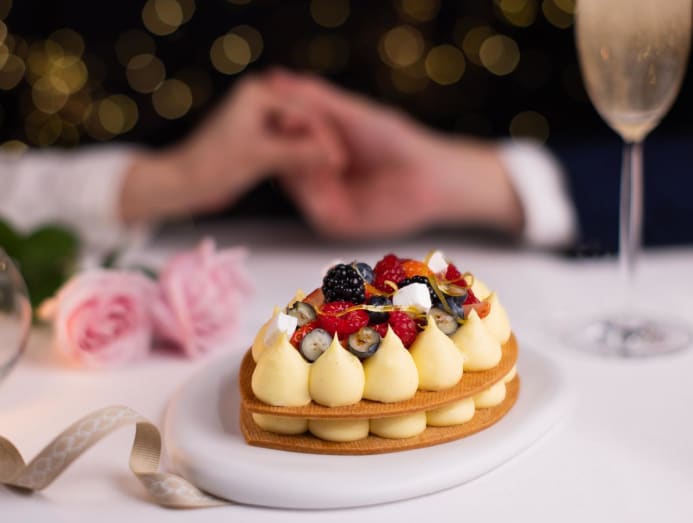 On the one day of the year dedicated to a 3rd-century Roman saint, it doesn't get much more decadent than a one-night celebration staycation at the Mandarin Oriental, Hong Kong.
First, you get picked up by a hotel limousine, then you're whisked up to your Harbour View Suite to kick back. Lunch is a private dining experience in The Krug Room, no less, where a sensational seven-course extravaganza is naturally paired with Krug Champagnes. After a night of – let's say fun and frolics – breakfast is served in-room, with two more glasses of Krug, but of course. Yours for HK$32,888 (S$5,680) per couple, for one night.