Luxury hotels come clean on their battle strategies to keep COVID-19 at bay
From Banyan Tree and Capella to Four Seasons and Mandarin Oriental, both homegrown and global luxury hospitality brands unveil their plans to keep employees and guests safe and healthy.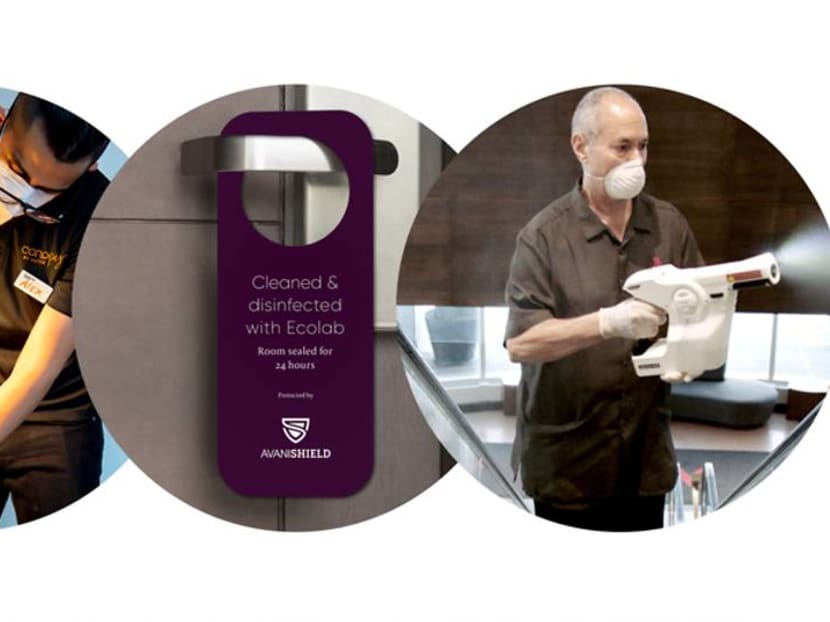 As countries start opening their borders for international visitors, luxury hospitality brands are gearing up to meet the health and safety standards mandated by the World Health Organization (WHO) and their local governments. There is only one serious mission on top of every operator's mind: To plug every possible gap in hygiene to avoid a transmission.
The frequency of cleaning will be ramped up and there will be a proliferation of hygiene amenities from sanitisation stations in common areas to individual kits of face masks, hand sanitisers and disinfecting wipes in the rooms.
Gone are the ubiquitous in-room directories, restaurant menus, newspapers and pens; these will be replaced with their digital counterparts. Buffets may take a while to make a comeback, as many establishments switch to a la carte dining and zip your freshly prepared meals from stove to seat. Expect to self-manage every aspect of your stay from check-in to check-out via a hotel app as any physical staff involvement will be fleeting.
Some brands are going a step further to reassure travellers, roping in established medical institutions and global hygiene specialists to formulate their cleanliness protocols and even subject them to third-party audits. It may take a while to get used to the new sterile norm out there when travel restrictions are lifted, but at least we know that the chances of catching a virus will be as low as it can ever be, with all these precautions in place.
ACCOR
Accor is partnering Bureau Veritas to have its ALLSAFE global cleanliness and prevention standards developed and audited for all its 5,000 hotels worldwide, including those under the luxury division such as Raffles, SO/ Sofitel, Fairmont and Swissotel.
Accor is also working with insurance and asset management conglomerate AXA to provide medical support to guests, including offering free access to medical tele-consultations and to thousands of certified professionals on AXA's medical network.
ANANTARA HOTELS, RESORTS & SPAS
Travellers can "Stay With Peace of Mind" under Anantara's new set of enhanced health and hygiene measures that will apply from guest areas to back-of-house operations such as supply chain deliveries, culinary preparation areas and housekeeping procedures.
Other initiatives include personal shopping sessions for guests at selected boutiques near the properties and working with Siam Ocean Technology for clean air circulation using the latest Heating, Ventilation and Air Conditioning (HVAC) system technology that has increased efficiency and high performance air filtration.
ASCOTT
From its serviced residences to co-living properties, The Ascott Limited is applying its Ascott Cares commitment in nine areas to ensure peace of mind for guests and a safe working environment for its staff. This includes an emphasis on contactless and paperless solutions such as the deployment of service delivery robots and applying anti-microbial coatings in lifts.
In Singapore, lyf Funan is the first co-living property to be given the National Environment Agency's SG Clean quality mark. Ascott Raffles Place and Citadines Rochor have also received the certification, with Ascott Orchard expected to do so this month (June 2020).
AVANI HOTELS
All 32 properties under Avani Hotels will adhere to new safety and hygiene measures under AvaniSHIELD, which emphasises contactless service, new safety and hygiene technology, and going the extra mile for guests and staff, such as sealing a room for 24 hours after cleaning until the next guest checks in.
Other initiatives include covering high-touch surfaces with anti-microbial copper protection film, disinfecting key cards and stationery with UVC sterilisation boxes, and the UVC light as an extra layer of protection after room cleaning. Select properties will also use HEPA-grade air purifiers in cleaning guest rooms and gyms.
BANYAN TREE
Banyan Tree's SafeSanctuary programme will apply to its 47 properties worldwide as it works with Bureau Veritas to co-develop a proprietary label and a set of protocols covering more than 40 areas that will "protect, provide and prevent".
This includes delivering amenities, linens and bedding thoroughly steamed and fully protected to the rooms; encouraging guests to enjoy experiences like family fun packs and well-being classes in their rooms as much as possible; and implementing an Organisational Well-being Index to assess and respond to employees' well-being while providing a regional tele-therapy service to support their emotional and mental health.
BELMOND
As the creator of some of the world's most iconic train journeys and river cruises with equally captivating hotels and safari lodges along the way, the LVMH-backed Belmond is giving its in-house associates even more comprehensive training on health and safety standards which are subjected to regular external audits.
Each property will undergo a deep clean prior to opening, and any guest with symptoms consistent with COVID-19 would be politely asked to stay in a designated room until suitable care can be arranged.
Contactless and safe distancing measures include having restaurant and bar menus written on chalkboards or printed on single-use and recyclable material, while housekeeping staff will not enter rooms when guests are present.
CAPELLA
In addition to frequent disinfection of public spaces and high-touch areas, the Capella Hotel Group is engaging the expertise of international hygiene specialists Ecolab and Diversey in providing hospital-grade chemicals designed to kill pathogens. All products delivered to the properties, room keys and luggage will be sanitised, and non-touch control panels and thermal scanners may well be fixtures at future properties.
FOUR SEASONS HOTELS AND RESORTS
John Hopkins Medicine International is the expert partner of choice for Four Seasons in providing real-time guidance for the hotel group's enhanced global health and safety programme Lead with Care. This will be bolstered by support from Ecolab and International SOS, which were instrumental in the transformation of Four Seasons hotels in New York, Riyadh and Mumbai into safe housing for medical personnel.
Guests can also use the Four Seasons App and Chat – anchored by actual employees, not chatbots, at the respective properties – to manage services such as request for luggage pickup, airport transfers and seamless check-in and check-out procedures.
FULLERTON HOTELS AND RESORTS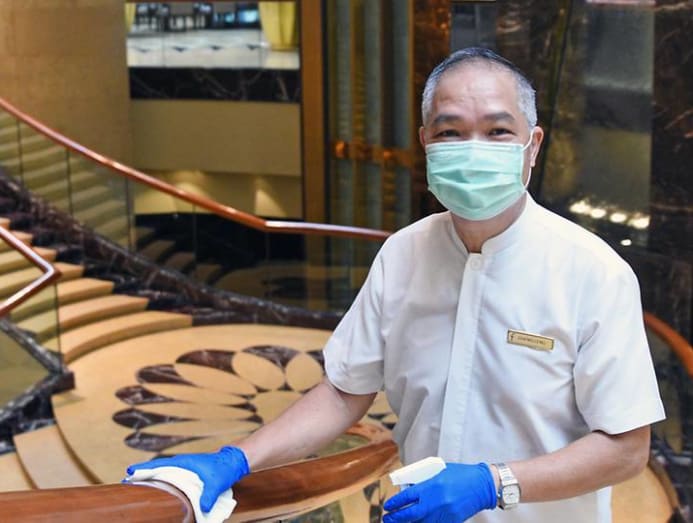 Hourly disinfection of high-touch areas, the installation of air purifiers in public spaces and the replacement of dining buffets with individually plated or boxed meals are some of the measures that Fullerton is undertaking to reassure guests of health and safety.
Both The Fullerton Hotel Singapore and The Fullerton Bay Hotel Singapore and their F&B outlets have received SG Clean certification, while the team at The Fullerton Hotel Sydney will go through the Australian government's COVID-19 Infection Control Training.
HILTON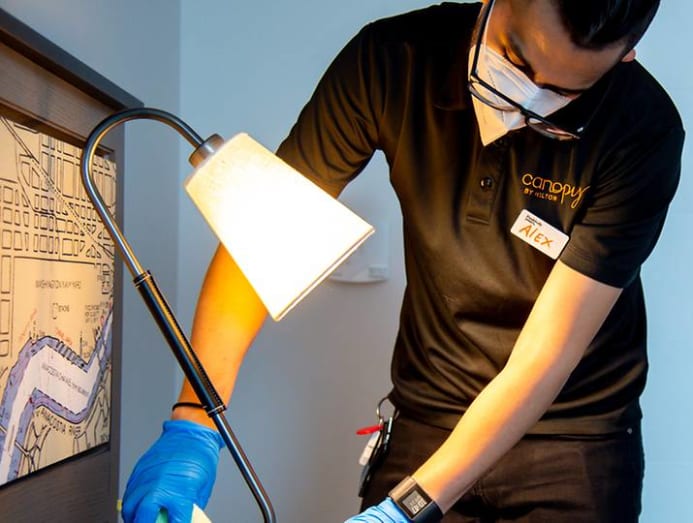 Hilton's more than 6,100 properties worldwide have implemented the Hilton CleanStay programme, which includes partnerships with hygiene, health and nutrition conglomerate RB, which carries the Lysol and Dettol brands, and the well-known Mayo Clinic, whose Infection Prevention and Control team will advise on aspects such as cleaning and disinfection protocols, new technologies and employee training.
Rooms that have been thoroughly cleaned will display the CleanStay Room Seal and additional technologies such as electrostatic sprayers and ultraviolet light are being explored to sanitise surfaces and objects.
HYATT
Grand Hyatt Singapore was the one of the first hotels in Singapore to receive the SG Clean stamp, and the Hyatt Group as a whole – which includes the Andaz, Alila, and Park Hyatt brands – has committed to third-party accreditation by the Global Biorisk Advisory Council (GBAC). This global body helps organisations and businesses prepare for, respond to and recover from biological threats and crises.
It is also increasing the frequency of inspections by independent third parties on standards of hygiene and safety such as ISO 22000 and HACCP. Other measures deployed include installing purification and sanitisation devices designed to kill airborne bacteria and viruses, and facilitating safe distancing through the re-configuration of dining venues and providing a knock-and-go room service.
IHG HOTELS & RESORTS
The IHG Way of Clean programme, developed in 2015 with Ecolab and Diversey, has been strengthened to include the IHG Clean Promise, which will use new science-led protocols and include partnership with Cleveland Clinic, an American multi-speciality academic medical centre.
Guests staying in any of the over 5,900 IHG hotels worldwide can be assured of regular deep cleaning and contact minimising measures, including visible verification of sanitised items such as glassware and remote controls, front desk screens and the use of electrostatic technology for cleaning guest rooms.
MANDARIN ORIENTAL
Pre-pandemic, Mandarin Oriental's health and safety standards have been audited annually by independent third-party assessor Lloyds Register. During these times, an additional We Care programme has been implemented, which includes pre-arrival enquiries on the preferred level of interaction between guests and staff, the installation of thermographic CCTV cameras and introducing private areas for physical training and wellness treatments.
MARRIOTT INTERNATIONAL
A Global Cleanliness Council consisting of in-house and external experts in food and water safety, hygiene and infection prevention and hotel operations was established in April to map out even higher standards of cleanliness for Marriott International's over 7,300 properties worldwide.
New cleaning technologies such as electrostatic sprayers with hospital-grade disinfectant that can rapidly clean and disinfect entire areas and ultraviolet light technology are among the measures being considered.
MONTE-CARLO SOCIETE DANS BAINS DE MER
With some of the most luxurious hotels and top-end restaurants in Monaco under its belt, Monte-Carlo Societe des Bains de Mer is coming up with innovative ways to keep guests and diners safe.
Restaurant menus can be downloaded into mobile phones via a secure code, while occupancy is restricted to one person for every four square metres. At the Monte-Carlo Bay Hotel and Resort, you can have breakfast on floating trays beside the lagoon, brunch brought straight to your table or dinner by your own private sunbed.
PAN PACIFIC HOTELS GROUP 
The group developed its Pan Pacific Cares promise of cleanliness together with Diversey. Measures include using Ultronic UV lights to inspect disinfected guestrooms and introducing electrostatic sprayers to apply healthcare grade disinfectants such as Oxivir. 
The environmentally-friendly Oxivir breaks down into water and oxygen after use and is certified by the US Environmental Protection Agency to be effective against COVID-19.  Guests will receive Pan Pacific Care Packs of hand sanitisers, surgical masks and disinfectant wipes upon check-in and get care tips from a new wellness channel in their rooms.

SHANGRI-LA GROUP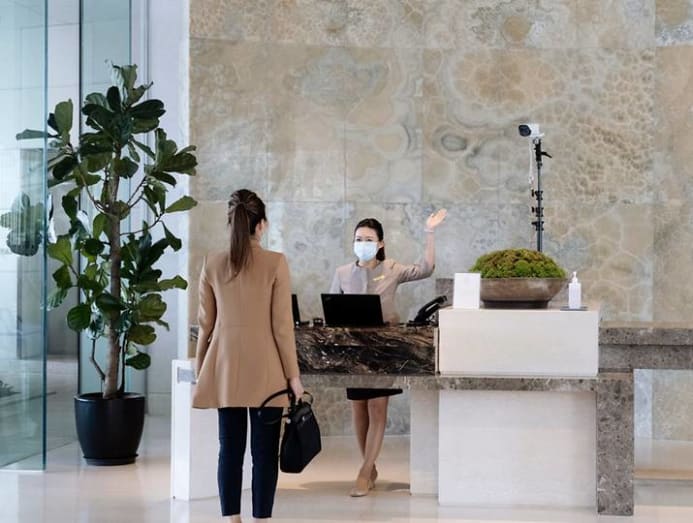 Stay safe at over 100 hotels under the Shangri-La, Kerry, JEN and Traders brands globally, including four properties in Singapore. Under the Shangri-La Cares commitment, hygiene measures include disinfectant floormats at hotel entrances, serving dishes with a cloche and more frequent cleaning of air filters and air-conditioning systems.
Shangri-La Hotel, Singapore is the first local hotel to be awarded the Safe Guard Hygiene Excellence and Safety Label by Bureau Veritas. Its employee training in cleaning and sanitisation is certified by Diversey.
SMALL LUXURY HOTELS OF THE WORLD (SLH)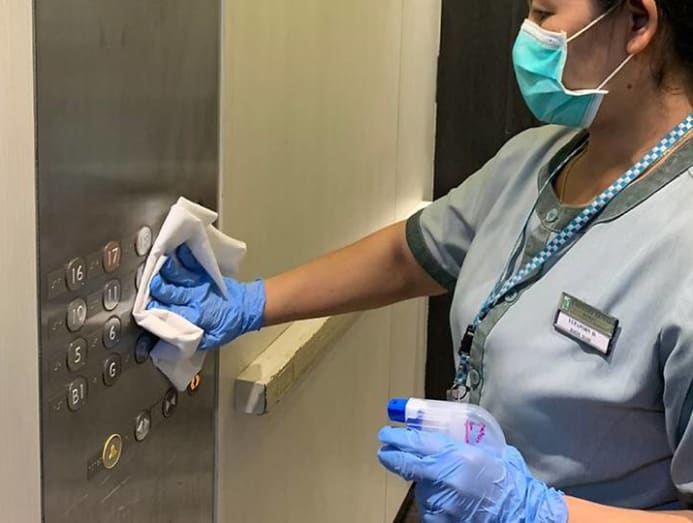 Independent hotels are among the hardest hit by the pandemic, but they have been busy finding ways to bounce back again among enhanced safety measures, especially these ones under the 520-member SLH collection.
The Canal House in Amsterdam and L'Hotel in Paris have a new mobile app for guests to manage their stay digitally, including requesting for items such as hairdryers, irons and mini bars, and calling the reception for enquiries. All telephones have been removed.
The Romeo Hotel in Naples, Italy, has re-opened on May 29 with the Romeo Special Care programme. It includes the installation of a medical facility and the provision of compulsory and complimentary immunochromatographic tests for all guests and staff, which yield results in as short as 10 minutes.
Every 24 hours, rooms and enclosed areas are sanitised with special nebulisers, and the ventilation system, curtains and sofas are treated with dry steam. The wellness centre, fitness area and rooftop pool are disinfected every two hours.
Nearer home, the Anya Resort Tagaytay in the Philippines has launched its Virtual Anya Experience Assistant for digital access to personalised services such as breakfast in bed or getting a fresh set of towels, while the Cape Kudu and Cape Fahn hotels in Thailand are disinfecting rooms with 75 per cent alcohol and leaving the room empty for 48 hours before the next guests arrive. Samples of water from drinking water to swimming pool water are sent to a certified laboratory weekly to verify its cleanliness and safety.
ULTIMA COLLECTION
At this group of five-star luxury hotels in Greece, Switzerland and France, sampling tests and biological analyses of hard surfaces are sent to a partner laboratory that is able to identify the presence of pathogens such as COVID-19 or other similar strains, before new groups arrive at the villas and residences.
During ski seasons, guests can choose to skip busy ski lifts and cable cars and take a helicopter transfer to mountain and glacier tops for heli-skiing expeditions. They are also given disposable masks that are compatible with eyewear and are designed to keep them warm and protected against water, perspiration, and the cold, while allowing ease of movement. Ski equipment is also disinfected at the end of each day.