Entertaining guests at home? Here's how to do it safely and responsibly
Five is now the magic number for home gatherings, and that brings new considerations to the dynamics involved. Here, Singapore's top event organisers offer their tips on how to pull off a successful – and meaningful – soiree.
After nearly two-and-a-half months of hunkering down with only immediate household members, news of Singapore's Phase 2 re-opening on Jun 19 was received with much thrill. That first weekend saw a surge in restaurant bookings and a flurry of messages as people immediately called their extended family and friends to hang out.
Socialising and entertaining have taken on a whole new dimension ever since COVID-19 happened. Five is now the magic number for home gatherings, and that brings new considerations not only to the dynamics involved, but also a deeper reflection on who we want to spend time with – and how – in a meaningful way.
Olga Iserlis, founder of Adagio Events, is well known for her expertise in organising unique and memorable events from large-scale balls to intimate stylish functions and experiences. She feels that the new normal of limited travelling, socialising and entertaining has led to a greater focus on the "authenticity, meaning, originality and kindness around the event" rather than the number of events one is attending or is invited to.
"We start to plan guest lists a bit differently by bringing together a group of people who will genuinely enjoy each other's company in small and close environments, and will feel safe about doing so."
She suggests grouping people who would be comfortable with each other and being transparent in letting everyone know who is coming. "Dis-inviting someone after they have accepted your invitation a few weeks ago is certainly a faux pas and will put you and your guest in an awkward situation. Be sure to carefully curate your guest list so that you feel comfortable with everyone's attendance in advance."
Greetings should be mindful of safe distancing precautions, and conversations should be kept light, sincere and positive. Iserlis said: "If someone isn't ready for a warm hug, remember that a smile, a wave, even an elbow-to-elbow tap, can go a long way! It's important to be open to other people's preferences when they enter your home. Always remember that the authentic and positive energy coming from within you is always better than an 'air kiss'."
There is only one golden rule: Give your guests the same respect as you would yourself.

"It's hard to know what the career situations are like for the people around you, especially during this time. Give yourself credit for your hard work, but be careful not to over-emphasise your achievements to the point where it sounds like self-promotion." Having the right and appropriate codes of conduct, and understanding basic elements of different traditions also help to make the mood light and comfortable.
Dietary restrictions should be asked in advance and preparing an extra dish or two to accommodate would always be well appreciated. Iserlis also feels that the menu should have a combination of traditional and new dishes, so that conversations can be sparked around the table.
"I tend to prepare dishes that I have mastered before or traditional dishes that I know. But I also like to challenge myself to try something new. A breath of fresh air always helps, especially when you might want to have a particular theme to a dinner."
Elaine Kim, creative director of Milk and Honey Event Design, says that celebrations at home can be equally memorable and meaningful even if the numbers are pared down.
The company recently launched virtual party packages starting from S$300, which includes customised e-invites and backdrop, a six-inch buttercream cake and cake stand, themed decor items and complimentary party hosting and management by a staff. Clients can opt to add on curated gift boxes, fun favours for kids, healthy bentos, or a three- to seven-course dinner with wine pairing.
Kim added: "We organised a 40th birthday celebration for a household with two groups of five guests on separate days. Two staff set up a backdrop and dessert table, and decorated the dining table with candles and flowers – all safely done with masks on and appropriate distancing. The food was fine-dining and arrived individually plated."
For Jeremy Nguee, who is behind Mrs Kueh, Batu Lesung Spice Company and gourmet caterer Preparazzi, the key to memorable times is great food, which has been the highlight of the family gatherings he has had so far since Phase 2 began.
"Food is a huge thing in my family and we always take the chance to prepare something that you don't normally eat at home. We had to split up our usual family gatherings, so our nieces and nephews who celebrated their belated birthdays had multiple parties with the family. They were very pleased to have multiple birthday cakes, of course!" shared Nguee.
He usually prefers communal dinners as there would be a variety of things to eat, "but someone is bound to be lazy and use their own spoon," he said. So during a recent gathering where his brother's family came over, Nguee whipped up prawn noodles for the adults and gyudon (beef bowl) for the children.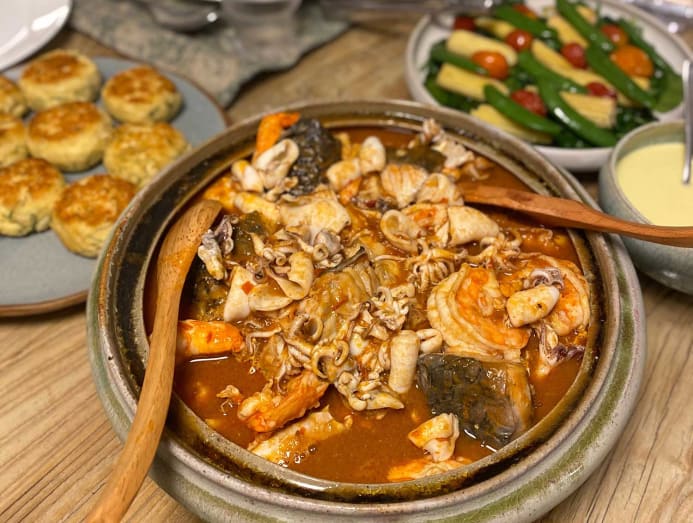 He explained: "Prawn mee is perfect because you can make it in a large batch and everyone assembles their own bowl, adding as much of their favourite components as they like."
Other dishes that can be individually plated: Chirashi bowls, laksa, ramen, satay and burgers. To prevent the children from laughing and shouting at one another in close proximity, Nguee and his brother made them go swimming in the condominium pool and zip around the playground on their skate scooters instead.
"During this time, we try not to have friends and their kids over to minimise the risk. Younger kids who stay at home may have a lower risk of transmission, but older kids have to go to their respective schools. Otherwise it is a great chance to do intimate dinners and really get a bit of quiet time with the family."