Have a Michelin-starred meal delivered to your home – for a good cause
Fine dining establishments like Saint Pierre, Iggy's and Alma by Juan Almador are offering Michelin-starred meals delivered right to your doorstep, with part of the proceeds going towards various causes aiding COVID-19 relief.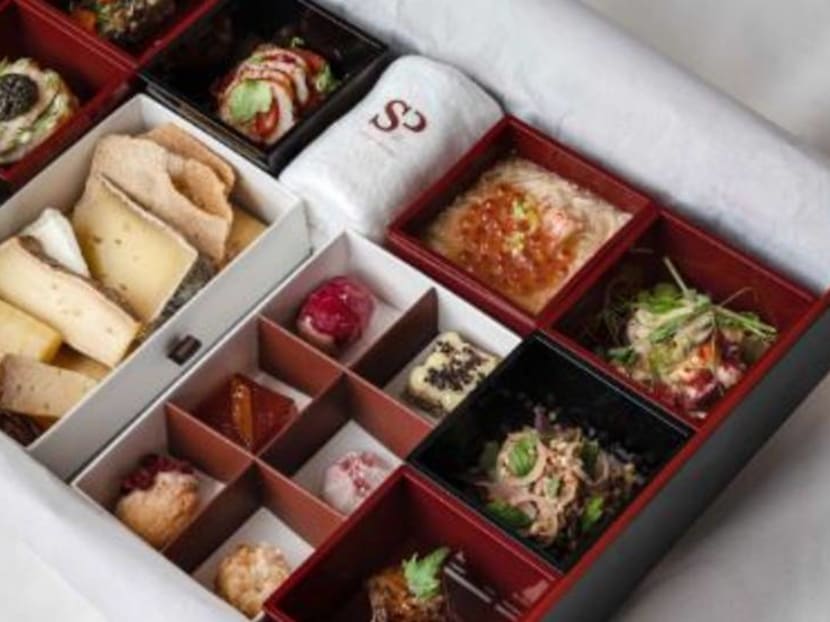 As stricter (but necessary) government-mandated restrictions are enforced in response to the COVID-19 pandemic, Singapore's F&B industry has unfortunately been turned on its side and hit extremely hard.
Even our island's most lauded restaurants – those with major accolades, Michelin stars and months-long waiting lists – haven't been immune to the dire disruption.
However, despite the mammoth challenges facing the local industry, some of the most impassioned chefs and emboldened owners in Singapore's fine-dining scene have responded to the coronavirus circuit breaker by offering home delivery services, ensuring that quality dining doesn't have to be put on pause.

Take chef-owner Emmanuel Stroobant of two Michelin-starred Saint Pierre. He recently launched Virtual Saint Pierre – a new culinary experience where diners can indulge in his restaurant's elegant contemporary French cuisine in the comfort of their own homes while enjoying a virtual get-together with friends and families using a video conferencing app.
But can you really package the essence of what the much beloved St Pierre represents simply into a few boxes which is then zipped off to someone's home?
The restaurant believes it so. "Trying times like what we are experiencing right now have only spurred us further to be more innovative with our approach to dining," shared Stroobant.

The unique dining experience begins with a member of the Saint Pierre team in black tie personally delivering a specially curated omakase meal (S$180++ or S$220++ per person) to the diner's home in a premium bento box. To start the digital party, diners will have to enter a virtual room on a video conferencing app, using a link provided.

Once all guests have gathered, Virtual Saint Pierre commences with an appearance by Stroobant himself, who will interact with the diners and introduce them to the menu's selection. The party can then, of course, continue at the diners' leisure.
"Virtual Saint Pierre is our way of bringing friends and families from different parts of Singapore together," explained Stroobant. "Bonded by a shared love for fine cuisine and sparkling conversation."
But wait, Michelin-starred food in bento boxes? Would it still taste as good by the time it reaches you?
Rest assured that this was the very conundrum that the restaurant had thoroughly thought through.
The specially curated menu for Virtual Saint Pierre takes inspiration from the restaurant's adventurous 26-course A-Z menu that was first executed back in 2017. But this time, instead of a course-by-course journey, Virtual Saint Pierre will be presenting eight dishes – a selection of amuse-bouche, starters, mains and desserts – which boasts Stroobant's respect for quality produce.
Most importantly, the dishes are designed to travel well, without losing its character.

It's all in keeping with Saint Pierre's commitment of "delivering an exceptional gourmet experience as they would if guests were to visit the restaurant".
Stroobant shared that the restaurant is working with an exclusive source who is able to procure premium ingredients to meet the restaurant's needs, down to absolute last-minute requests. Which is why the menu for Virtual Saint Pierre changes according to the seasonality of ingredients. Diners can also request for a menu to suit their needs and dietary requirements.
This is possibly the most delicious way to celebrate a special occasion during the circuit breaker – and best of all, it comes with a comforting side order of knowing that you are supporting the Singapore F&B industry in its darkest hour.
On top of that, diners would be heartened to know that Saint Pierre has also partnered with investment company Rapzo Capital to contribute S$25,000 worth of in-kind donations. This means, for every order of a Virtual Saint Pierre menu, the restaurant will purchase a Coronavirus Prevention Care Packet (CPCP) from Project Chulia Street, that will benefit migrant workers in Singapore affected by the crisis.
In addition, Saint Pierre will donate 100 specially prepared meals to frontline healthcare workers every week until circuit breaker measures are lifted.

Other Michelin-starred restaurants are also doing their part.

One Michelin-starred Iggy's at the Hilton is offering takeaway items like Roast Angus Prime Rib, Sakura Ebi Capellini and Oxtail Risotto with Black Truffle to raise money for charity.
To do your bit, call or send a WhatsApp message to +65 8188 3200 with your order by Wednesday, and self-collect at Hilton Hotel's main entrance driveway by Friday or Saturday.
Half of the restaurant's gross sales will go to The Food Bank, a non-profit that aims to end food insecurity in Singapore.
Alma by Juan Amador is also extending help.

The one Michelin-starred establishment, which offers food like Jerusalem Artichoke Soup (S$14), Lobster Risoni (S$25) and Kuhlbarra Barramundi (S$27) for delivery and drive-through collection, has committed to delivering 50 lunchboxes to the National University Hospital (NUH) twice a week.

These lunchbox seats are also available for takeaway with 10 per cent of the proceeds going to NUH.
There are two menus for Virtual Saint Pierre, priced at S$180++ or S$220++ per person. A minimum of 15 people is required for Virtual Saint Pierre, with a maximum of 30. For reservations, please email info [at] saintpierre.com.sg or call +65 6438 0887. A minimum five-day advance notice is required.