Mindfulness meditation and daily afternoon tea: Surviving a 37-day cruise
It may sound more like a survival reality show than a relaxing holiday, but a recent five-week cruise on the Seabourn Encore turned out to be one of the best holidays ever for one writer.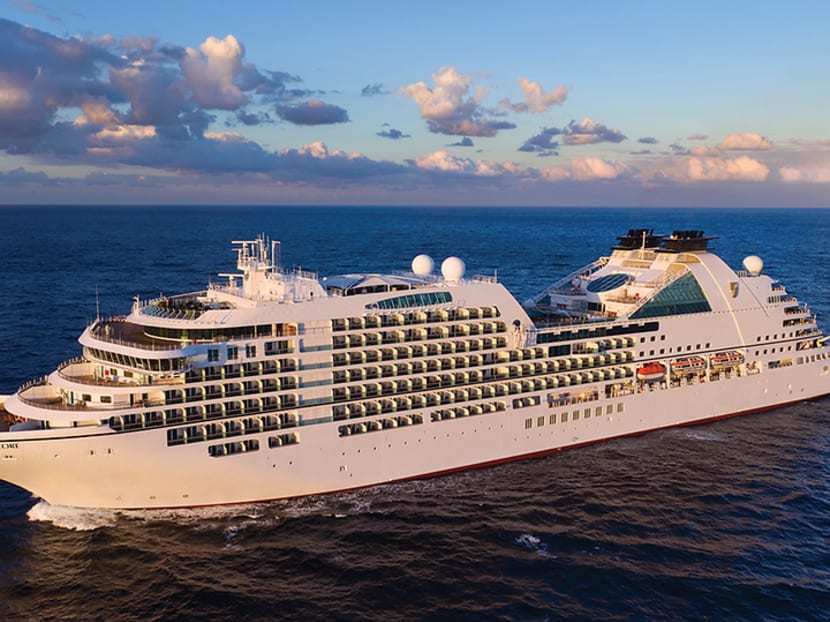 When I told people I was off on a 37-day cruise from Athens to Singapore, the reaction was quite universal.
"Thirty-seven days?" said my best friend, Tanya. "Stuck on a ship?"
"Are you mad?" my mother said.
"Wah, confirm you will be bored!" said the security guard at my condo.
Expecting rapturous envy, I was a little wounded by the reaction, which then made me nervous. I wondered if I'd made a serious mistake. Maybe Mother was right. Five-and-a-half weeks did seem like a very long time, even if the ship was the Seabourn Encore.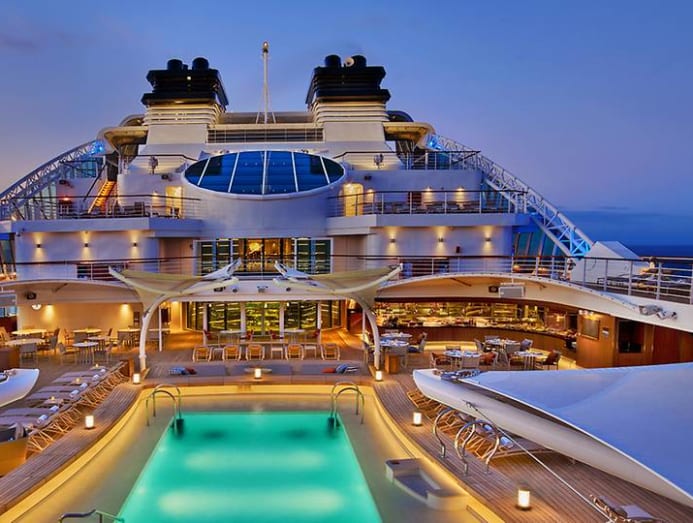 I pulled out the brochure to have another read. Measuring 690 feet by 92 feet (210m by 28m), the Encore holds 600 passengers in 300 all-suite cabins, each featuring a separate sitting room, balcony and two-sink bathroom. Which sounded a lot more intimate compared to a friend's recent cruise with 2,000 passengers. Tick.
The Encore has nine guest levels, a swimming pool, six whirlpools, a casino, seven lounges and bars, a Dr Andrew Weil spa, and nine complimentary dining options, one of which is conceived and operated by Thomas Keller, the super-chef behind the legendary French Laundry. Tick. And free flow alcohol. And Tick. Surely, I wouldn't be bored?
As it turned out, that cruise from Athens to Singapore – sailing through 17 ports – was, hands down, the most amazing trip I've been on. Ever. I visited places I never imagined I would (looking at you, Petra and The Louvre Abu Dhabi). I met such interesting people and ate so well. And I rested in a way I'd never been able to on land.
The 37-days just flew by. Each morning, I woke up and suddenly, it was dinner time and I had absolutely no idea where the day had gone. I was never bored. Not once. And here, in a very random and unscientific way, is how I did it.
SPRING FOR WIFI
Or not. If, like me, you can't switch off entirely from work and emails, pay for the unlimited Wifi. It's worth every cent. Especially on a long cruise. There are two-hour packages, but I bought the unlimited package that lasted the entire cruise for US$300 (S$404) which provided fast connectivity. On the other hand, some passengers remained blissfully disconnected from the world the entire cruise, so there's that.
READ THE HERALD
Every evening, the turn-down service included The Herald, a schedule of the next day's activities so you could plan. Invariably, they would all be at the same time, though the subject matter might differ.
The 10am art class, for instance, covered everything from watercolour to batik making. And the daily lecture topics by a crack team of British peers, novelists and university academics, covered such diverse topics as Brexit 101, a primer on Hindu gods before we arrived in India, and cyber-attacks.
WATCH A MOVIE EVERY DAY
Each suite had a high-definition TV with more services than you knew what to do with. You could book spa treatments, check out the day's programme, or see where in the world you were on the cruise map. Or you could, like me, just end each day with the latest (on-demand) Hollywood blockbuster or binge-watch a TV series.
INDULGE IN AFTERNOON TEA
Every day, without fail, at 4pm, I showed up in the Observation Bar for its wonderful afternoon tea of live pianist/guitarist, cakes, yummy cucumber sandwiches and really toothsome scones. Once, I stayed till 6pm and, discovered, to my surprise that the whole afternoon tea buffet morphed into a canape buffet.
FORGET THE DIET
For better or worse, each meal is an exercise in excess. You think you should restrain yourself, but then you see the crisp Parmesan-coated Seabourn Chips (so good, they have their own name) go by, and you weaken and order a serving. The daily buffets could feed a village, and though I'm now back on land and on a strict detox diet, some nights, I still dream of the desserts.
MINGLE
The restaurants on-board were all open-seating and, except for The Grill by Thomas Keller, no bookings were required. After the first few days, passengers, lulled into cozy familiarity by sun and sea breeze, began having meals together in changing permutations depending on who was in the restaurant when they showed up. I found it a great way to meet people in a non-stressful setting, many of whom have become actual friends.
EXERCISE
The Mindful Living coach was a Spaniard who'd spent most of his life touring the ashrams of India and generally being spiritual. Which meant his twice daily yoga and meditation sessions were a god-send. As were the facial acupunctures I did with the resident Japanese acupuncturist. Otherwise, there were Pilates and stretch classes to go with the crystal quartz sound baths and Thai massages.
EXPLORE
One of the joys of cruising is that you get to see a lot of places without the hassle of packing and unpacking, checking-in and out, and the nightmare of airports. Sure, the experience is a little superficial, but think of it as a tasting menu. You get to decide what you like and will come back to, and what to never see again.
My favourite stops on this trip: The golden sandstone city of Petra, the crazy architectural marvels of The Louvre and National Museum in Abu Dhabi, the Museum of Islamic Art in Doha, the Wailing Wall in Jerusalem, and the otherworldly Mahabarata murals at the Dutch Palace in Cochin.
DANCE THE NIGHT AWAY
Literally. The Encore had a full-on menu of dance classes which primed you for the evening entertainment of live performances – including a 3D show of Tim Rice's musicals – followed by a live band and dancing from about 11pm till late. Which, now that I think about it, might explain why I never saw some people at breakfast.
RELAX
It's all psychological. Thirty-seven days sounds like a lot, but it's really not. By the 20th day, I was already eyeing the 146-day round-the-world cruise on the Seabourn Sojourn from Miami to San Francisco. My mother, of course, is horrified.